ggCircuit Highlights How Education & Gaming Collide with "Controlling Esports S*cks"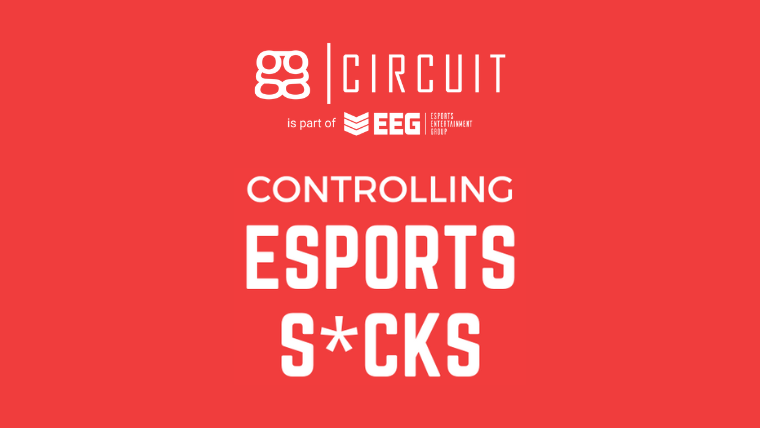 Esports is getting much more attention now as a competitive platform in educational institutions, from K-12 to universities. Opening an esports facility for these initiatives is a complex process requiring much more work than just setting up several gaming machines in a computer lab.
Jason McIntosh and Jacob Pitcher of the ggCircuit product recently held a webinar that highlights several of the things educational institutions need for an esports venue. In case you missed the video, you can watch it below.
The difficulty scales on the size of the facility, add to the equation the frequency of game updates, network configurations, network security, user management, and more; that's the least of what you can expect on a daily basis with an esports lab.
We haven't mentioned that sourcing the products for your esports facility is another matter. Picking out the hardware, and getting things up and running can be quite a handful. McIntosh, having operated a LAN center for 4 years, has provided a lot of insight into what is needed to successfully start and run an esports facility. A school's esports venue is not that different from a traditional LAN center but may require additional configuration depending on the needs of the school.
---
---
Type of Venues
A couple of years ago, we asked our university clients what type of esports facility they have on campus. Not surprisingly, we got varied responses from each school that we asked. Here are the three types of school esports venues based on our research:
Esports Lab
This type of venue is commonly used for team practice and competition. Depending on the school, the facility may or may not be accessible to the general student population.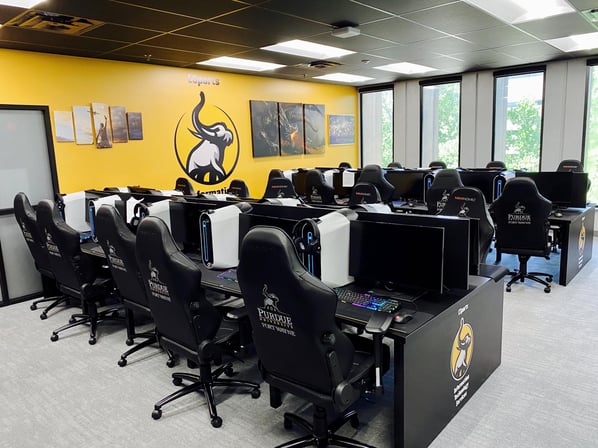 Purdue Fort Wayne Esports Lab
Multi-function Esports Room
This is a school facility that is open to students, clubs, or esports teams. It can also be utilized as a computer laboratory where classes can be held.
Campus or Public Facility
This type of facility is usually managed by the school's Student Union or an equivalent organization. Typically larger than the average esports venue, it is open to students, faculty, and in some cases, even to the public. Some charge for the use of the PCs, while other schools do not.
Sign up for ggCircuit Updates!
Esports Problems and Solutions
Discussed were important issues that need to be addressed when running an esports facility. Thankfully, the collective experience of the ggCircuit team in esports has enabled us to learn and identify key problems that most venue operators have to contend with. The following is not an exhaustive list of the challenges that venues, traditional and educational facilities alike, will encounter.
Desktop Control
A malicious user with unchecked access to the Windows desktop can wreak havoc on a machine or even the entire network. An esports venue has to prevent unauthorized access to the desktop but have administrative access when needed due to some games.
ggCircuit's flagship software, ggLeap, has addressed this age-old problem. It is one of the basic yet essential tools to have when managing esports venues. ggLeap is comprised of two things: the Esports OS and the Cloud Web Admin.
The Esports OS addresses several important issues such as the prevention of unauthorized user access to the desktop and it also limits the things a user can access (e.g. Windows settings.) The Esports OS can be unlocked by the web admin for maintenance or if the machine will be used for classes.
The cloud web-based administrator allows the esports admin to monitor and even operate the facility from anywhere. Some of the important features are being able to monitor users, employees, and PCs remotely; lock and unlock desktops; select games and apps that can be accessed by users; and track time if needed. This amongst many other features makes it popular with over 130 universities.
Authentication
Client access is usually a simple process such as providing a user account to log in on the machine. However, most schools prefer using their existing SSO system in their network. Traditional software does not have the means to integrate an SSO system, let alone provide several methods of authentication.
Users can authenticate and log in safely using QR codes
ggCircuit can integrate a school's SSO which simplifies how students log in to the client. If the facility is open to the public, users can authenticate using their existing account (Google, Facebook, or Apple.) Additionally, ggLeap has "Guest Mode" which allows quick access to the client without the need for authentication.
License Management
Most esports games are free-to-play, however, there are some games that are still required to be purchased and it will hinder some students who do not have a copy (or license) of the game to play it competitively or casually. This feature is a must for esports venues as it will enable users to borrow game licenses. It also allows users to continue playing a story-driven game at a later time as it saves game progress via the platform.
ggLeap's license manager automatically logs in users to their chosen game which makes things easier, and more convenient, and it keeps the account safe from being stolen. ggLeap also supports all game platforms which is the only software in the esports management system market to do so.
Network and Updates
Imagine that your entire esports team is about to practice for a tournament, but the game they are playing just released a large update. How are you going to handle this? You can try to update each PC in the facility but it's going to take a lot of time and effort. Not an ideal situation to be in, but that's the reality of esports gaming.
As mentioned above, one of the major problems an esports venue faces today is frequent game updates. This issue scales with the number of PCs in the venue and the size of the game patch. This problem can only be solved with a diskless boot setup.
ggRock is a diskless boot solution that provides much-needed network security and allows an esports facility to quickly apply an update to all of their PCs (just apply an update to one of the PCs and send the update to all of the PCs via the server). The client PCs will also no longer need to have a local disk, enabling the venue to save money on hardware costs. Additionally, restarting the client PCs will be like booting from a fresh install.
Education Features
K-12 and universities require more features from esports management software and ggLeap provides much-needed support and tools to enable the smooth operation of their esports facilities.
Admin Single Sign-On
Aside from removing the need to create additional admin accounts, this allows admin to also use their existing school account to log in to a client PC. The ggCircuit team works with the school's IT department to integrate SSO with the ggLeap Esports OS.
UI Customization
ggLeap UI customization not only allows a school to put its team logo or a short video on the client but also allows certain UI elements to be removed or added (e.g. remaining time, financial info, etc.)
No Shop Experience
This allows non-profit esports facilities to disable the shop functionality on the client. ggCircuit recognizes that this is very important to some schools and we have made sure that ggLeap has this feature.
Easy Switch to Classroom Mode
The ggLeap Esports OS prevents full access to Windows and we have provided a quick and easy method of disabling the client so that schools can easily switch to the desktop during classes.
Click here to test the ggLeap client!

Arcade
The Arcade is the newest ggLeap feature that enables esports venues to offer esports challenges and events to their students. This automatically tracks the gameplay performance of players which will be posted on an online leaderboard. Arcade supports a wide variety of popular esports titles and includes a template creation module to fully customize your esports event which is perfect for tryouts!
How can ggCircuit Help Your Esports Facility?
Managing your esports facility can be a lot of work and can be downright frustrating at times. Having the right tools for the job can negate a lot of headaches that are associated with running a venue. ggLeap is the proverbial Swiss knife of esports management and this is the one tool you shouldn't be without for your esports facility.
But what if you can outsource some of your operational tasks so that you can focus on other important things? That's where the ggCircuit Managed Services team, "SpecOps", comes in. No, our SpecOps team doesn't do surveillance on competing esports venues but we can ensure that you are fully prepared when you open your venue.
Our SpecOps team is comprised of individuals who have extensive backgrounds in the esports industry ranging from running a venue, to network configuration. SpecOps does esports consulting which can shorten an otherwise long learning curve of running a venue into a few days. Need a hand with setting up the venue and network configuration? SpecOps also provides on-site support to assist with network configuration, installation, and more.
But our SpecOps team doesn't stop after your grand opening. If you want to opt out of doing the laborious tasks of doing game updates and maintenance, SpecOps also provides remote support services that include regularly updating games remotely and private support for complex technical issues*.
*Facility must utilize ggRock to avail of this service.
Summary
Opening and running an esports facility inside a school campus or otherwise can be a frustrating ordeal. Trust us, we know very well how difficult it is to operate an esports venue. That's why we have developed ggCircuit, to address the common problems of esports operators and staff.
ggCircuit is happy to help you reach your goals with an esports facility in your university or K-12 school. Unlike many esports consultants we have run venues for over 20 years, we built our software tools from those experiences, and provide unprecedented consultancy and support. Let us help you make controlling esports NOT suck.
ggCircuit is a part of Esports Entertainment Group (GMBL).