The Best Competitive Esports Games 2023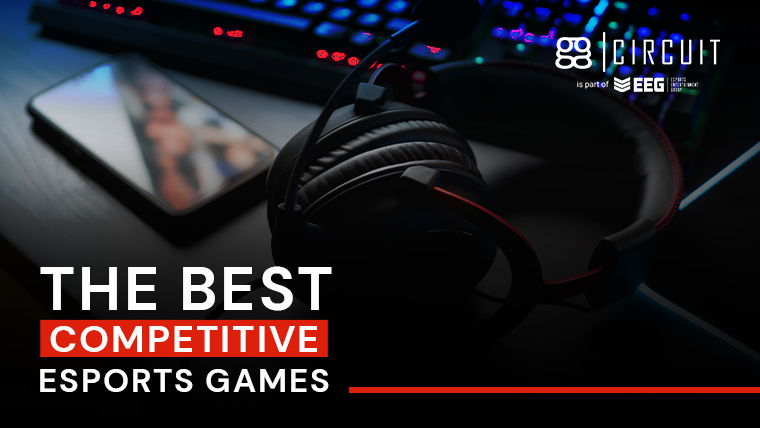 If you've got an esports facility but haven't the slightest clue on what games to offer, you're in luck. The gaming world abounds with competitive esports games. With hundreds hitting shelves and Steam catalogs yearly, choices aren't hard to come by.
In short, you can choose any game on the market and still have a fair share of gamers. However, if you're looking to take your customer traffic up a notch, choose the best competitive games that have set the competitive game scene on fire.
Look no further — we've come to bring you some of the most epic games in the competitive gaming circuit. So grab these esports titles to give your customers a competitive gaming experience they'll keep coming back for!
---
---
The Best Competitive Games for eSports
Surely, many games can fit the mold of what an esports game should be. Nonetheless, not all of them have quite the following as the games on this list.
Below are the best competitive games that are taking the competitive scene by storm:
Fortnite
The zombie apocalypse theme has long been an easily refillable premise for games. Throw in the element of environmental interaction and manipulation, and you've got one of the top games on our list — Fortnite.
In Fortnite, players battle hordes of zombies and zombie-like creatures as they wander across an expansive world. Also, players can interact with many environmental elements, using them to build forts as a refuge against zombies.
The game was the brainchild of the North Carolina-based game developer, Epic Games. When Fortnite came out in 2017, there were no competitive elements like most popular games under the sandbox genre.
However, due to its success and the clamor for PvP, Epic Games was quick to release the Battle Royale game. Since introducing the competitive multiplayer element, Fortnite has grown into one of the best competitive games. Gameplay and playability on many major platforms also make Fortnite one of the best competitive games in esports.
In 2019, the first-ever Fortnite World Cup came to NYC. Successful in its inaugural outing, Fortnite was meant to ignite the esports scene yet again in 2020. But unfortunately, with the announcement of the COVID-19 pandemic, the Fortnite World Cup had to sit the year out.
Yes, esports events are in store for this year. Why not? After all, this video game consistently ranks high in our ggCircuit network stats as one of the Top Games Played!

Valorant

One of the best things to come out of 2020 was Valorant. Riot Games released Valorant in two phases. During the game's first release in April 2020, it was available for limited access. Its official release came on June 2, 2020, setting the competitive scene on fire with its stunning character design, free-to-play availability, and familiar first-person shooter controls.
Valorant is a first-person shooter on PC where players duke it out on various maps using unique characters. The characters of the game — called agents — have special abilities. These unique abilities range from blinding flashes to slowing down enemies to providing teammates with defensive and tactical support.
There are 18 agents players can choose from, each with unique abilities that can be the keys to victory (alongside the player's skill, of course). Besides characters, players can also select from a range of game modes.
Like many first-person shooter games, there's the all-too-familiar Deathmatch format. However, there are also other game modes for competitive gaming like Unrated, Spike Rush, Escalation, and Replication, to name a few.
Valorant's competitive leagues draw some of the best players from the esports scene. Last 2020, Riot Games launched the Valorant Champions Tour, a series of events with prize money and competitive gaming glory on the line.

Counter-Strike Global Offensive

The Counter-Strike franchise has long been an esports staple for casual and professional players. From its early beginnings in 1999, Counter-Strike has remained a game known to many players who have grown up with competitive gaming. Due to the first game's success, it wouldn't be long until Valve would release the franchise's esports flagship — Counter Strike Global Offensive.
Valve, NAMCO, and Nexon released Global Offensive in 2012. Faithful to the original Counter-Strike game, Global Offensive incorporates elements of the original game but takes the competitive multiplayer experience and multiplies it by a factor of 10.
Counter-Strike Global Offensive puts players into teams, pitting them against other teams. The teams are separated into terrorists and counter-terrorists. The former wins by executing tasks like planting and detonating bombs or preventing hostages from getting rescued. While the latter can win after killing the terrorists, defusing bombs, and saving hostages. Needless to say, killing every member of the other team is the straightforward path to victory — whichever side the player belongs to.
Counter-Strike Global Offensive, unlike its predecessors, is playable on many platforms beyond Microsoft Windows. It's also available on the Xbox 360 and Playstation 3. However, these versions haven't received updates in years.
With a following of 200 million players all over the globe, the game gives a new definition to the word "global."

League of Legends

League of Legends came out in 2009. Created by Riot Games, League of Legends was one of the pioneers of the MOBA genre. With time, the game grew into a worldwide phenomenon, making it one of the best competitive games in the esports world.
League of Legends is a free-to-play multiplayer online battle arena game that incorporates elements of MMORPG games. League of Legends also includes other gameplay elements of other genres like tower fortification and strategy.
Since its release in 2009, League of Legends has become an esports proving ground. The League of Legends Championship Series and the caliber of players who participate in it are proof of the game's success as a titan of the competitive esports landscape. Other high-profile tournaments have also had League of Legends at the forefront — some with a prize pool amounting to hundreds of thousands of dollars.
In short, this free-to-play giant of the MOBA genre has set the competitive scene of esports ablaze.

Call of Duty: Modern Warfare

Modern Warfare is a cult classic, generating a following, and pop culture references primarily attributed to it. In addition, the game's active community has contributed to the Call of Duty franchise's domination of the game world and esports. As a result, Activision released the 2006 cult classic for esports nearly a decade later.
In 2019, Activision answered the clamor of the esports world and released the latest iteration of Modern Warfare. Boasting the gameplay, characters, and graphics fans have grown to love; Modern Warfare allows players to duke it all out on an even playing field.
Modern Warfare is a hub for some of the world's top esports players, but it's only one part of the Call of Duty series. Other installments of the COD franchise are on Activision's Call of Duty League. One of these is Call of Duty: Modern Warfare 2. It was released in October 2022 and is available on Windows, Xbox One and Series S/X, as well as Playstation 4 and 5.
Upon its release, Modern Warfare 2 was met with incredible support. As of writing, the game has sold more than 100 million copies worldwide, topping sales charts many years after the original was released.
No esports center would be complete in its offerings without this video game and these other installments of the COD franchise.

Call of Duty: Warzone
Warzone is what got most keyboard spec ops operators through the 2020 pandemic. This installment of the COD series was announced last March 9, 2020, and became available for free the day after.
Warzone's notoriety was undeniable from the first week of its release. Within the first 24 hours after its release, more than six million players had already downloaded the game. After a week, the video game had already made its way to 20 million users!
Warzone is specifically tailored to be a competitive game. Warzone features the same control scheme as other first-person shooter esports games with added twists like individual player rewards and in-game purchases.
Players can earn XP and cash to purchase weapons and gear from various buy stations in the game. The weapons and equipment are available in varying degrees of rarity, with legendary weapons and attachments costing the most.
Warzone allows players to earn XP and cash as a battle royale game in several ways. The most straightforward way is to play against other teams in a typical deathmatch fashion. Alternatively, players can also take on sidequests called "contracts."
Warzone is one of the biggest competitive games in the esports scene. With more than 100 million players, this installment of the COD franchise is making waves, living up to the bar set by its predecessors.
In November 2022, Activision released a new version of this battle-royale title called Call of Duty: Warzone 2.0. For this one, players are transported to the war-torn Republic of Adal, a sprawling locale filled with dangers, adventure, competition, and gritty war scenes.

Apex Legends

EA Sports released Apex Legends back in 2019. Since then, gamers have never been disappointed.
Apex Legends is an online multiplayer first-person shooter game that features stunning and realistic graphics. Powered by the Source and Unreal engines, the environmental interaction and player movement are nothing short of life-like.
Players can play against each other in teams of three. There can be as many as 23 three-person teams, all duking it out battle royale style on a map.
The video game is set in the near future and in the same universe as other games in the Titanfall series. Apex Legends adds a much-needed competitive element, so fans of the series will have something to look forward to when they start feeling the competitive itch.
Apex Legends is a free-to-play first-person shooter battle royale game available on Microsoft Windows, Xbox One, and Playstation 4. In 2021, EA released Apex on the Nintendo Switch. The mobile version, Apex Legends Mobile, was released on May 17, 2022.
Apex Legends' appearance on the esports circuit began with the inaugural EXP Pro-Am Apex Legends Exhibition. In the same year as the video game's release, the EXP Pro-Am Apex Legends Exhibition took place simultaneously with the 2019 ESPY Awards.
In December of the same year, EA Sports and the game's developer, Respawn, held the Apex Legends Global Series. That year, the Apex Legends Global Series had a prize pool amounting to over $3 million. The second Apex Legends Global Series kicked off in 2021. In 2022, the 3rd Global Series had the top esports players battling it out for the $2 million prize pool.

Dota 2

What began as a mod for Warcraft 3 has become one of the world's most recognized and biggest esports games. Enter Dota 2. Dota is a MOBA masterpiece from the same game developer who gave the world Counter-Strike — Valve.
Dota 2 is a MOBA where two teams of five battle each other. Besides trying to eliminate the members of the other team, each team needs to defend its base from destruction. Every successful kill gets player points and — in some cases — items of varying degrees of rarity.
Players can select from various characters — each with abilities that can level the playing field. Abilities range from spell casting to high defense points (especially tank-type characters).
Since its release, Dota 2 has received massive acclaim, with millions of players worldwide spending hours playing the game. The demand for competitive play and worldwide notoriety in the game is so great that there's always a league tournament each year — especially at the professional level. Because of the attendance of each Dota 2 event, the prize pool almost always gets past the $1 million mark.
Dota is one of the most-played esports games on the competitive scene. With the international reception and the game's superb graphics and gameplay, it's easy to see why.

PUBG: Battlegrounds (Playerunknown's Battlegrounds)

One of the games that have taken both the mobile and PC competitive scenes by storm is Playerunknown's Battlegrounds — known to all as PUBG: Battlegrounds. PUBG: Battlegrounds is the brainchild of Krafton and Microsoft Studios. The mobile version was released by the Chinese game developer, Tencent Games.
Released in 2017, the game began as a mod created by Brendan Greene, known in the gaming space as Playerunknown. Under the inspiration of the 2000 Japanese cult classic Battle Royale, the game features a free-for-all third-person shooter bedlam style of play.
The game begins with players parachuting onto a map alongside other players. Upon landing, the players can start fighting by picking up weapons from various locations on the map.
Contributing to the competitive gaming experience is the shrinking of the map. Players beyond the periphery of the map will lose HP (health points) until they die. At one point, the circle will be too small to the point that only a few players will fit. The last player alive on the map wins the match.
Since its release in 2017, PUBG: Battlegrounds has already been raking in gaming awards left and right. In 2017, it was the recipient of the Best Multiplayer Game and Best PC Game Awards in the 35th Golden Joystick Awards. In addition, the mobile iteration of the game won Best Mobile Game of the Year a year later at the 36th Golden Joystick Awards.
Among other games, PUBG: Battlegrounds also received numerous nominations — one of them for the title of 2019 Esports Game of the Year.

Rocket League

Who would've thought that soccer and fast cars would go together? Rocket League has both in spades. Oddly enough, these elements have propelled it up the esports rankings, becoming one of the most popular competitive games around today!
Bringing in the elements that make an awesome arcade game, Rocket League is a video game where cars play the role of soccer players. Players get to control vehicles of varying builds and play as part of a squad. Rocket-powered vehicles jostle the ball to knock it into the opposing team's goal. Of course, since cars are involved, expect the usual element of smashing into other vehicles on the road to victory.
Rocket League entices players of various skill levels owing to its uniqueness and relatively flat learning curve. Easy to learn and can fit into a short coffee break, the game is a treat for the casual player and the professional-level aspirant.
Rocket League is available on many platforms and consoles, including Microsoft Windows, OSX, and Xbox One. It's also available on the Playstation 4 and the Nintendo Switch.
Whichever console or platform you're on, you can bet on this — the game delivers a refreshing take on the role of fast cars in the world of games. The unique gameplay and premise of Rocket League make it stand out in a world of MOBAs, real-time strategy games, and first-person shooters.
Think of it as the demon lovechild of Twisted Metal and FIFA!

Overwatch 2

Overwatch 2 is the highly anticipated sequel to Blizzard's successful esports title. Its developer never ceases to amaze gamers since Warcraft and Starcraft II. And Overwatch 2 is just as great, if not better, than its predecessor. It's fresh and vibrant, and it revamps the original completely. For this version, Blizzard Entertainment has brought in some new gameplay changes that elevate the first-person shooter experience.
It's still a highly enjoyable game filled with familiar heroes and classes. However, the number of Tanks has been reduced to just one. This means that each squad only has five members instead of six, with Damage and Support members still being two. This is meant to speed up gameplay, according to the game directors.
Aside from this, not much has changed in Overwatch 2. Players will still enjoy the vibrant color pallet, gorgeous maps, various game modes for defending and attacking, and engaging heroes with new skill sets.
One exciting addition to Overwatch 2 is the Role Queue rank mode. In the original, you can only rank yourself with heroes and achieve one universal rank. This is now called the Open Queue rank mode in Overwatch 2. On the flip side, the Role Queue allows your squad to rank, which decays at the start of a new season.
All these changes made Overwatch 2 an immensely popular game when it was released in October 2022. Critics and esports players alike saw the opportunities presented by the 5V5 team, with the game amassing 35 million users during the first month after release — more than double of the original Overwatch.

Rainbow Six Siege

Realistic tactics from the mind of Tom Clancy and in-game gadget wielding make for an excellent tactical FPS — as awesome as Rainbow Six Siege.
Rainbow Six Siege came out in 2015 but was released for Playstation 5 and Xbox in 2020. According to Ubisoft Montreal, the delayed release for other consoles resulted from optimizations for LAN events and multiplayer competitive play — optimizations that worked perfectly.
The tactical FPS has several game modes to choose from, including ones where you'd have to rescue hostages with your team or diffuse bombs. In addition, the Situations game mode serves as a tutorial for those new to the game, consisting of 10 missions designed to show new players the ropes.
There are modes for solo play. Given that the franchise is the brainchild of Tom Clancy, there are more modes for team play. The team modes are the ones played in esports.
When Ubisoft optimized the game for esports, the game developer added 100 added characters for players to choose from. This brings in variety not present in many FPS esports games, much to the delight of long-time fans of the franchise.
The first Rainbow Six Pro League was held in May 2016. Since that year, Ubisoft — with the organizational assistance of ESL — has been holding many international invitationals and tournaments.

Super Smash Bros.

Nintendo is the epitome of what any game development company wants to be — iconic, timeless, and, most importantly, prominent enough to make crossovers that break sales records. Of course, when it comes to record-breaking crossovers, there's no way we'd miss the Nintendo Switch hit, Super Smash Bros.
Super Smash Bros brings together everyone's favorite characters from the Nintendo universe. In addition, everyone from various gaming franchises within Nintendo and beyond is in the game, so anyone fantasizing about Charizard and Mario going toe-to-toe will find their dreams come to fruition in this game.
The game is one of the best esports beat-em-ups for Nintendo Switch esports gamers. Super Smash Bros pits one player against another, as with most fighting games. Players can select from 90 characters from various franchises, including Assassin's Creed, Pokemon, Street Fighter, and Legend of Zelda. Recently, Kazuya and other Tekken characters have been made available as DLCs for the Nintendo Switch, with more coming out soon.

Street Fighter V

There are very few fighting games that can stand the test of time. One of them is the Street Fighter franchise. The arcade game classic has crossed generations, becoming not just one of the most competitive games around but also the most beloved. With Street Fighter V, the fighting game genre has excellent representation in the world of esports.
Street Fighter V brings back familiar characters from the past iterations of the game with lots of new additions. As far as gameplay goes, it is simple — beat the other opponent in a one-on-one test of skill. Capcom retained the 2D side-scrolling gameplay, making nostalgic players feel at home.
As of its release, it's available on the Playstation 4, Windows PC, and arcades.
Indeed, Street Fighter V is one of esports' most loved and competitive games. The timeless fighting game's fifth iteration delivered the same fun factor as the original game when it came out in arcades in 1987.

What is the #1 Competitive Game?
Fortnite is arguably the number one competitive game in esports today based on our stats and others. The game has at least 4,931 professional players and has had 750 professional league events that award prize pools in millions of dollars. Part of the game's popularity has been attributed to the hype that surrounds it and cross-platform play.
Other games come close to the success of Fortnite. For example, Dota 2 boasts a player base of at least 4,238 pro players and has had more than 1615 tournaments since its release.
Sign up for ggCircuit Updates!
What Game Has the Best Esports League?
Dota 2 has the best esports league of any game on the list. The esports leagues of Dota 2 include The International, a major annual tournament organized by Valve. There's also the Dota Major Championships which pits the best players against each other for a six-digit cash prize and bragging rights.
Besides the two major leagues mentioned, Dota 2 is also a game in other major esports leagues like the ELeague.
Who Is the Best Esports Gamer?
The best gamer at the professional level is the League of Legends king, Lee "Faker" Sang-hyeok. The South Korean esports professional is arguably the most recognized name, being a mainstay in many LOL major tournaments.
The young Lee Sang-hyeok has already added numerous LOL tournament championships to his name, winning a total of $1.3 million.
Though not as celebrated as his South Korean counterpart, Johan "N0tail" Sundstien is also worth mentioning in our list. The Dota 2 Dane has been in esports for a long time, winning the prestigious International back-to-back. To date, "N0tail" is esports' top earner, winning a total of $7.2 million.
Is Competitive Gaming a Career?
Sure, a career playing multiple games isn't your regular nine-to-five. For the average gamer, other career paths are worth considering. However, gamers earn hundreds of thousands of dollars and sometimes millions at the highest levels.
In other words, gaming can be a career — but only for those who rise to the top of the esports rankings.
Click here to test the ggLeap client!

Is Competitive Gaming a Sport?
The short answer is "yes."
Indeed, esports doesn't require the same physical prowess as traditional sports. Esports may not be in the Olympics, but in the absence of physical skill, it retains one essential element of any sport — competition.
Gamers battle tooth and nail for online supremacy, even at the sport's amateur levels. As a result, these matches aren't just tense but also fun to watch. Does this sound familiar? It sounds like the traits of any sport.
Take Your Game to the Next Level With the Best Competitive Games
The world of esports abounds with games. Look no further than the games on this list for a competitive gaming experience that stokes the competitive flame of gamers.
Also, make sure to read our article about the 5 types of gamers in an esports venue.