ggCircuit SpecOps: PXE Configuration and Other Services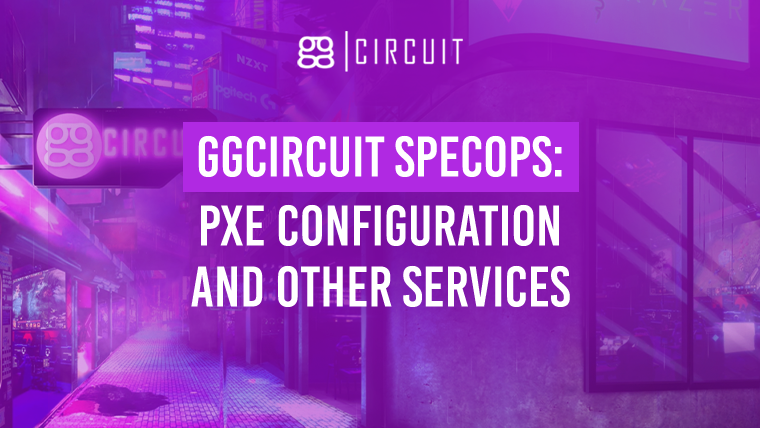 The ggCircuit SpecOps team recently provided services for several clients that were looking to get their esports centers improved or ready for operation. In case you didn't know, we have more than 16 years of experience (and counting) in operating esports centers.
Over the years we have accumulated a vast knowledge of best practices on how to successfully run an esports center and we are more than happy to impart and apply that expertise for the successful operation of your esports venue.
Aside from doing consulting, we also offer a myriad of other services that include: PXE server setup, installation, and configuration; on-site setup, staff training, remote game installation and updates, server maintenance, and more!
As a testament to the fine work done by our SpecOps team, here are three recent clients that have sought our expertise. We took this challenge head-on and have provided the necessary hardware and software that will enable those clients to manage and operate their esports centers efficiently.
Florida Institute of Technology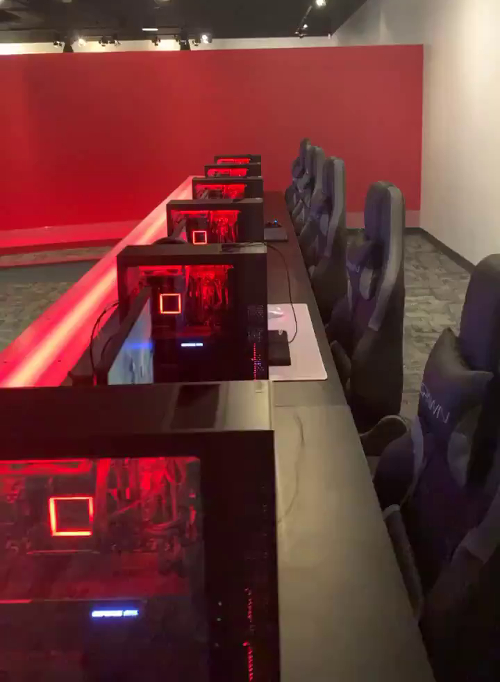 Florida Tech takes competitive esports seriously and anyone interested to be part of their varsity team can sign up and have the chance to represent their team. They also gave non-gamers a chance to learn something in an esports environment by providing openings for staff and volunteer opportunities.
Florida Tech wanted to renovate their esports facility as a place for varsity practice, club use, and casual gaming. They enlisted the services of our SpecOps team to help them with purchasing and setting up their PXE server.
The Florida Tech esports center has a PC cafe room with 24 high-end computers, consoles, and a lounge where students can hang out. The facility also has a competition stage with 12 gaming computers in a 6v6 setup.
Image is taken from a video posted on Florida Tech's Twitter page.
Miami University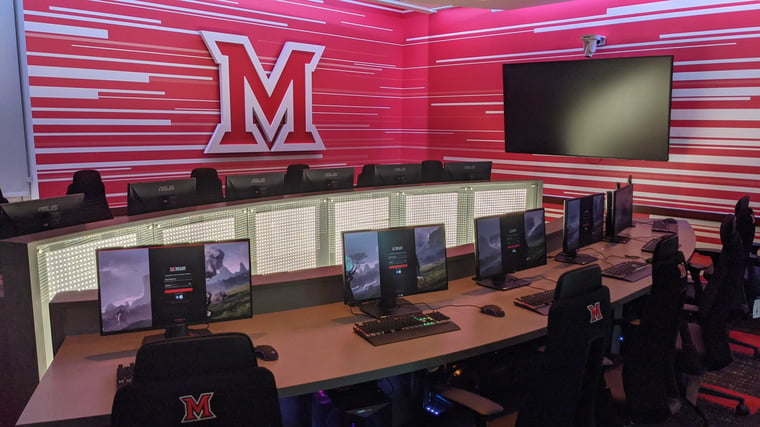 Miami University's varsity esports program was established in 2015, they saw that esports was growing rapidly and their students were eager to participate in collegiate esports competitions. Since then the program grew and other programs relating to esports were offered to interested students.
As such, improvements and upgrades were needed so that their facilities could accommodate the demands of their esports program. Miami University sought the help of the ggCircuit SpecOps team for setting up their PXE server and more.
Miami University opted for a PXE boot solution in order to provide a safe gaming environment and internet browsing for their varsity team and students. This setup also allows for easier maintenance and faster booting of their computers with the help of ggRock!
Sign up for ggCircuit Updates!
Route 7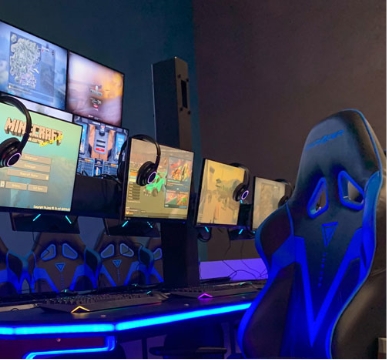 Route 7 Adrenaline Warehouse is a family entertainment center that delivers a premium entertainment experience in Florida. Their attractions include indoor go-kart, laser tag, obstacles course, arcade, and more!
Of course, no entertainment center will be complete without esports! Route 7 has high-end gaming PCs, peripherals, and ambiance to get gamers excited. Our SpecOps team installed and configured the PXE server to get the venue ready for business.
Route 7 will open its doors to families and gamers in the last week of September 2021.
Image is taken from Route 7's website.
SpecOps Services
Below are some of the services offered by our SpecOps team. The following are also the services that were rendered for the esports centers that are featured in this article.
ggRock Hardware Procurement
This entails sourcing the hardware with the necessary specs to build the server for ggRock and the size of the facility. The server was sourced directly from Lenovo.
ggRock Installation and Configuration
ggRock PXE software is installed on the server and configured to allow the esports facility's client computers to boot from the network.
Aside from the added benefits of making things easier when doing maintenance on your PCs, ggRock is proven to boot faster than any competing PXE software.
On-site delivery, setup, and training of staff
The built server is delivered to the customer's location and then a member (or two) of the SpecOps team goes on-site to set up the server for network (diskless) boot. Once everything is configured, the team will train the staff of the facility in order to operate the server and the ggRock software properly.
Server management services
This is our service wherein the ggCircuit SpecOps team will do regular remote maintenance of the esports facility's server images.
PXE Server

Maintain PXE Server updates
Driver updates
OS updates

Master Boot Image

Maintain updates
Driver updates
Device updates as requested by the client
Update ggLeap

Game drives

Update Blizzard, Origin, EPIC, Minecraft, & Steam games
Install new games at the client's request within 2 business days
Click here to test the ggLeap client!

Why get a PXE for your esports venue?
Esports games updates are getting bigger and more frequent as of late. Game devs and publishers want to push more content to their games and it resulted in esports centers without PXE setup to hire more staff or halt operations during peak hours to download the latest updates for a game.
Another thing to consider is that your computers are at risk, especially you don't exactly know what your customers are doing on the internet.
Having a PXE setup can prevent headaches associated with game updates and maintenance. Malware no longer poses a threat to your computers as a simple reboot will remove anything that was downloaded. Those are just a couple of things that a PXE solution will bring to your business.
If you are planning on getting PXE for your venue, make sure to get the right people to do it for you. The ggCircuit SpecOps team members are experts when it comes to diskless setup, configuration, installation, and maintenance.
If you need consulting on how you can start your esports venue business or if you need improvements or upgrades in your facility, get in touch with our SpecOps team at services@ggcircuit.com.