Best Prebuilt PC for Esports Center 2023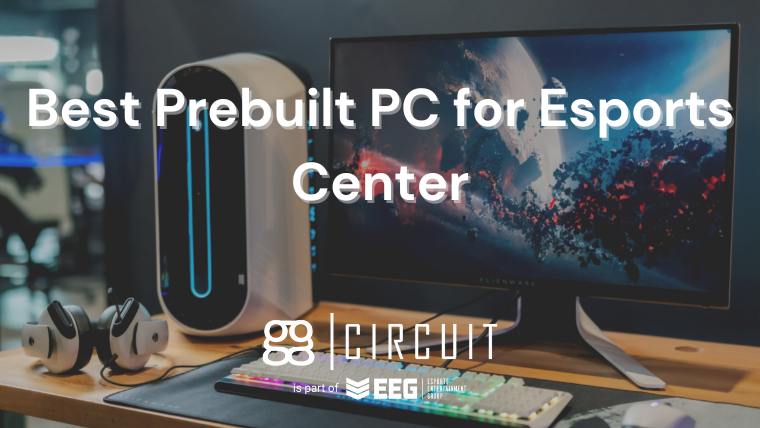 Although gaming consoles and handheld gadgets are pretty appealing and straightforward to use for entertainment, there's really nothing that beats PC gaming. Gaming PC enthusiasts know that the quality of gameplay provided when you play on your own PC is unmatched despite all the technology we have nowadays.
In order to fully enjoy your gaming PC, you must first make sure it can run and play games with the best performance possible. People who have the money can get their computers built by experts. However, those who are keen on research can easily find gems in the form of prebuilt gaming PCs.
A prebuilt gaming PC is a desktop designed and built by a manufacturer that contains parts that improve the responsiveness and speed of video games. The main advantage of prebuilt gaming PCs is that owners are assured that everything in their system works together.
Another benefit of choosing prebuilt gaming PC brands over custom designs is that they are ready to use as soon as you get them. A PC built using custom specifications can take hours or even days to complete when you request them from a manufacturer or provider.
To give you an idea of the best-prebuilt PC options available, we've prepared a guide that lists and details each gaming PC we believe is ideal for users today.
---
---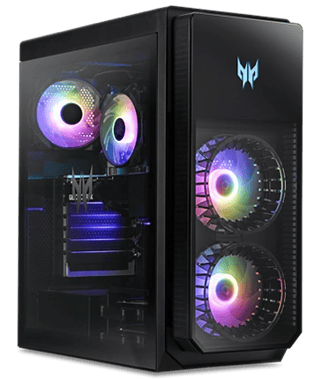 Image: Acer
The Predator line has always been at the forefront of premium gaming, and the Orion 7000 consolidates the line's reputation even further. Its "spartan" inspired chassis features a front panel that appears to jut out is nothing we have seen before.
This is available in an Intel Core i7-12700k CPU, Nvidia GeForce RTX 3080 GPU, 32GB DDR5 RAM, 1TB SSD, and 2TB HDD configuration for around $2,900. While the pricing is steep, this build can sustain 100+ FPS for AAA titles on the highest graphics settings.
The Predator Orion 7000 uses liquid cooling to keep CPU temperature in control. The top panel of its chassis provides access to three USB 3.2 ports, a USB-C port, audio jacks, and a 2.5-inch drive bay. In addition, you can customize the ARGB LED lighting, control fan speed, and even overclock using the PredatorSense app!
The only thing that stops us from fully recommending this prebuilt PC is its pricing. Additionally, Acer doesn't provide a more recent CPU and GPU configuration for the Orion 7000. Nevertheless, for all the power it can give your esports center's hardcore gamers, you can't go wrong with this model.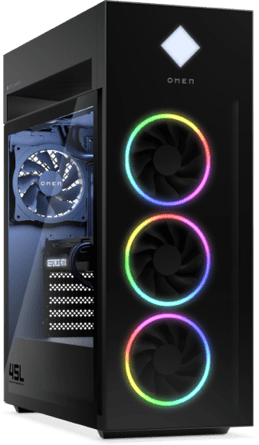 Image: HP
The best-prebuilt gaming PC that we believe works great for esports centers is the HP Omen 45L. The HP Omen gaming desktop is the flagship product of HP and provides owners with the aftermarket look and feel they want in a prebuilt PC.
What makes HP a good choice is that the brand will happily build its Omen gaming desktop for you in either AMD or Intel. But, of course, you can also choose between an AMD or Nvidia GPU.
At this time, you can get the Omen 45L to come with an Intel Core i7-13700K processor, Nvidia GeForce RTX 3060 Ti GPU, 32GB DDR memory, and 1TB NVMe SSD storage. This configuration will cost around $2,099.99. In addition, you can obtain an extended warranty for your PC gaming hardware.
For those who are used to the size of ATX mid-towers, you might be surprised by what the HP Omen 45L has to offer. This big box gaming PC has dimensions of 21.8 x 8 x 18.5 inches in HWD or an equivalent space of more than 45 liters.
The Omen 45L has a unique "cryo chamber," which gives it an exotic appeal. The primary purpose of this area is to allow the CPU cooler to obtain outside air and not the warm air within the case itself. This is beneficial as it lowers processor temperatures significantly, especially when using demanding graphics cards.
If you're looking for a powerful gaming PC for your esports center, consider the HP Omen 45L. Not only does it look great, but it also offers a unique cooling chamber and liquid cooling for the CPU.
It offers excellent expansion capability while being easy to service as well. Its tempered glass and metal construction both give it a premium feel for owners.
Sign up for ggCircuit Updates!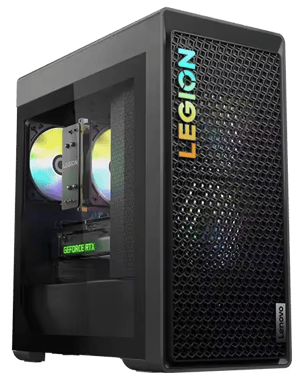 Image: Lenovo
If you're looking for a budget gaming PC, check out this Lenovo product. One of the available configurations of the Legion Tower 5i comes with a 13th-generation Intel Core i7-13700F CPU, 12GB Nvidia GeForce RTX 3060, and 16GB of DDR5 RAM. It also comes with a 1TB M.2 solid-state drive. This setup only costs around $1,599.99, making this the most affordable prebuilt PC on this list.
The current generation of the Legion Tower 5i got updated with a "battlestation" inspired chassis with a storm grey finish. In addition, the improved front mesh now has better airflow, allowing the system to stay cool under extreme gaming load.
Like the previous iterations of the Legion Tower 5i, it features a couple of front and one rear 120mm fans that offer ARGB lighting support with up to 16.7 million colors. In addition, the processor is equipped with a 150W 120mm air cooler that is more than enough to manage the CPU temperature.
Aside from letting you appreciate the beauty of the Legion Tower 5i's components, the glass side panel can be easily removed even without using tools. Allowing for easy access to swap internal components for future upgrades.
This nimble little battle station comes with two USB 3.2 ports on the top panel. While the back provides access to four USB 2.0, two USB 3.2, and USB-C 3.2 ports.
This gaming PC is perfect for esports centers looking for a low-cost but powerful machine.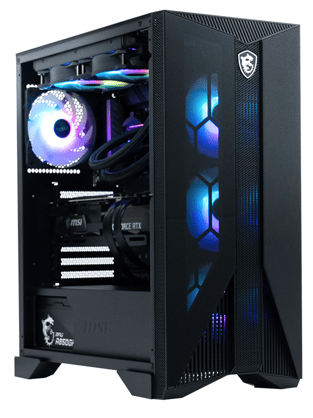 Image: MSI
The MSI Aegis RS 13th is one of the best-prebuilt gaming PCs you can find today. You can get this build with an Intel Core i7-13700F CPU, Nvidia GeForce RTX 4070 Ti GPU, 32GB DDR5 RAM, and a spacious 2TB SSD. Priced at around $2,399.99, it comes with a one-year warranty.
It's essential to remember that the Aegis RS is only available as a preconfigured model, which means you can't custom order a package. Nevertheless, this tower is suited for all sorts of gaming experiences, whether you plan to game on AAA titles at 4k resolution or bring it to your esports center.
The front panel is stylish yet at the same time functional with its tempered glass and airflow grate design. You can remove the front panel by tugging at it from the bottom, giving access to three 120mm RGB fans and a dust filter that you can wash.
There's also another dust filter at the top that is magnetically attached to the case. Meanwhile, its top-mounted ports sport a single USB 3.2 Gen 2 Type-C, two USB 3.2 Gen 1 Type-A ports, and audio jacks. The LED, reset, and power mode buttons are all nearby for users to access.
If you need to access the interior of the Aegis RS tower, you simply have to take out the thumb screws located on both sides of the panel. Additionally, you can expect an airflow exhaust available thanks to its 120mm rear fan. The CPU is equipped with a 240mm AIO liquid cooler that ensures the optimal operating temperature.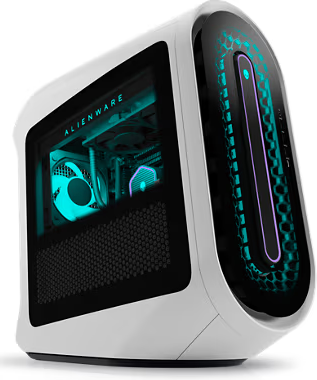 Image: Dell
For those searching for a great prebuilt PC with the looks and the hardware to back it up, check out what the Alienware Aurora R15 has to offer. This flagship gaming desktop from Dell provides excellent aesthetics and performance.
The Alienware Aurora R15 is available in a configuration that boasts the latest 13th Generation Raptor Lake Intel Core i7-13700F processor, Nvidia GeForce RTX 3060 graphics card, 16GB DDR RAM, and a 512GB SSD. This setup costs around $2,049.99 and may go up depending on the components that you will add.
As for its design, you'll notice that almost nothing has changed except for the addition of a side vent on the glass panel (effectively showing less of the internal components). However, this means the temperature will be better thanks to the improved airflow.
Speaking of temperature, Dell has also opted to improve the AIO cooler that comes with the Aurora. Instead of a 120mm radiator, the Aurora R15 now has a 240mm liquid cooling system.
Alienware Aurora R15's LED lighting can be customized using the AlienFX software. Giving you access to up to 16.8 million RGB colors on its three Aurora lighting zones.
The chassis of this gaming PC has three USB 3.1 ports, a single USB-C port, and a headphone jack on the front panel. The back has an impressive array of four USB 2.0 ports, two USB 3.2 ports, two USB 3.2 type-C ports, Ethernet, various audio ports, and an external antenna port.
While not much has changed in its appearance, the Alienware Aurora R15 provides users with a slightly improved chassis and liquid cooling to enhance gaming performance. As a result, this prebuilt PC promises both efficiency and power for its owners.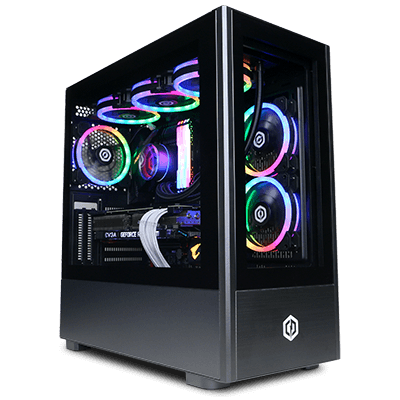 Image: CyberPowerPC
Finding which gaming PC to choose can be challenging if you're starting an esports center. If you find yourself in such a dilemma, take our advice: choose a prebuilt gaming PC with high-powered components that can last a few years.
Where do you find such a gaming PC with unlimited upgrade potential? Look no further than the CyberPowerPC Gaming PC Xtreme XT.
The CyberPowerPC Gaming PC Xtreme XT is one of the most robustly equipped prebuilt PCs in the market today. Boasting impressive hardware fresh off the box, the Gaming PC Xtreme XT has an Intel Core i7-13700KF processor, RTX 3070 Ti GPU, a massive 32GB DDR5 6000MHz RAM, and a 1TB NVMe SSD. The PC also has a 240 mm AIO liquid cooling.
The best thing about this build is that it only costs $1945! CyberPowerPC Gaming PC Extreme XT provides premium components for a reasonable price that guarantees a smooth gameplay experience.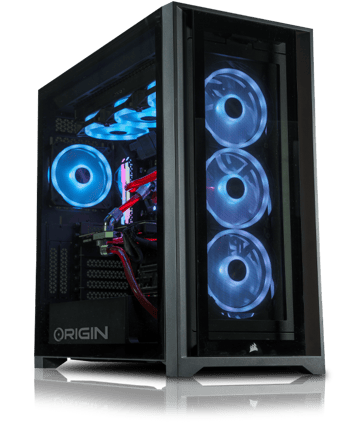 Image: Origin
There may be many PC brands that offer high-end gaming desktops today, but the Millennium from Origin stands out. The Corsair-built case of this package can be equipped with an AMD Ryzen 7 7700x CPU, Nvidia GeForce RTX 3060 GPU, 32GB DDR5 RAM, and 1TB SSD storage. However, this setup will cost a premium price north of $2,500.
Origin uses the Corsair 5000T chassis for this build, which has excellent airflow thanks to its mesh front and top panels, which can accommodate case fans or liquid cooling radiators. This guarantees optimal temperature during intense gameplay.
The Millenium is impressive in terms of how it's assembled. It boasts three RGB fans that are clearly visible through the front panel, with the left panel made with tinted tempered glass. Users can see the arrangement of its awesome interior lighting through the glass.
In terms of size, you'll have to clear some desk space if you plan to bring in the Millennium setup home. Its case has a measurement of 22.1 x 9.9 x 20.9 inches (HWD), so it's not exactly a compact gaming PC if you're looking for that.
If you're looking to expand on any of the components of this tower, then you'll definitely have room to do so. The interior of the 5000T chassis provides users access to three 2.5-inch drive slots and two 3.5-inch bays. You also have enough clearance for a 250mm power supply unit, a 170mm CPU cooler, and a 400mm graphics card.
The top panel of the PC case has an impressive array of four USB 3.0 ports, one USB-C connector, and a headphone jack. You'll also find the power and reset buttons near the ports mentioned above.
The high-end components of Origin PC Millennium will provide gamers with high frame rates and ensure excellent performance, even when gaming at 4K resolution. While its pricing may turn off some people on a budget, you can rest assured that this build will be a reliable gaming machine.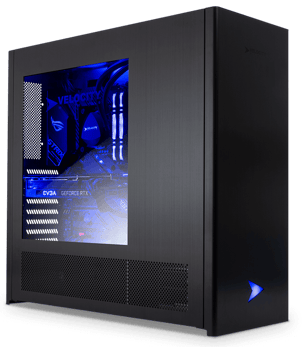 Image: Velocity Micro
Many would say that the Velocity Micro Raptor Z55 is among the best gaming PCs on this list, and there's a good reason for that. Not only does this tower provide outstanding performance for esports gamers, but it also offers professional aesthetics and solid U.S.-based support.
You can get the Raptor Z55 with the latest 13th generation Intel Core i5-13500 processor, Nvidia GeForce RTX 3060 GPU, 16GB DDR4 3200Mhz RAM, and 500GB NVMe M.2 SSD, for around $2,400. Its clean build, top-end parts, and custom tuning make the Raptor Z55 an excellent choice for heavy gaming at any resolution.
Velocity Micro is known for its gaming desktops' clean and professional styling, and the same can be said with the Raptor Z55. The tower is made of an aluminum frame and is quite sturdy, a trait many of their builds have.
If you find the exterior professional and clean, wait until you see the interior. The inside is all silver matched with black fittings, with all cables set neatly to where they are needed. All of the fans have bluish lighting and some flair.
Despite its minimalistic appeal, this gaming desktop doesn't mean it will look out of place in an esports gaming center. On the contrary, one can easily bring their Raptor Z55 to various gaming environments and will not feel inadequate, thanks to the high-end components in its arsenal.
Click here to test the ggLeap client!

Are Prebuilt PCs Worth It?
Many people consider the prebuilt desktop the best gaming PC available due to how easy you can get them up and running. One simply has to purchase them from a provider and can start using them as soon as they bring their unit home.
Prebuilt gaming computers are ideal for people who don't have the time, money, or experience to tinker with components on their own. It's definitely a convenient choice for many gamers today.
How Much RAM Is Enough?
Getting at least 16GB of RAM is enough for most esports gamers today. This amount of memory will be useful in providing PC gamers with the speed and performance they need when playing video games.
Upgrading to 16GB from 8GB of RAM will give players a significant boost in terms of capabilities. This is also recommended as it supports today's broadest selection of PC games.
Conclusion
Many prebuilt gaming desktop units available today make for ideal use in esports centers. However, we believe that the HP Omen 45L is the best gaming PC overall.
The package provides owners with the durability, performance, and capabilities they need to meet their esports expectations. In addition, the innovative liquid cooling solution of the Omen 45L makes it quite the unique option out of the ones provided in this list.
If you're looking for the best-prebuilt gaming desktop today, you should definitely consider what the Omen 45L from HP has to offer.
ggCircuit is a part of Esports Entertainment Group (GMBL).