List of the Best CPU for Gaming and Streaming 2023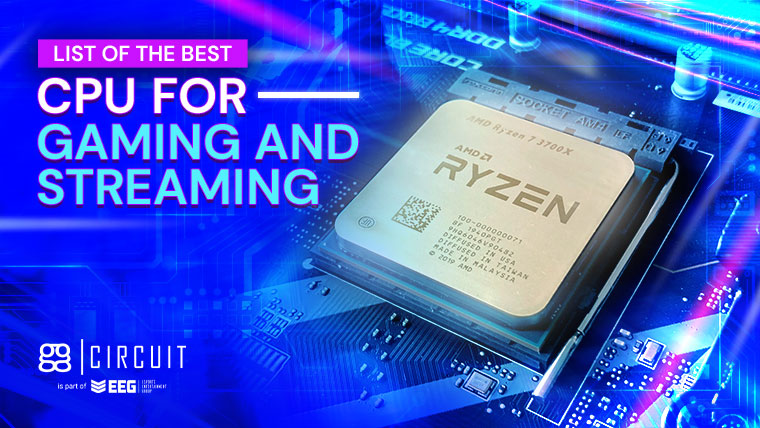 There are around 1.3 billion PC gamers worldwide. As the gaming and streaming industry continues to grow every year, gamers are becoming more competitive. To retain their edge, they constantly demand better computer hardware. Aside from the graphics card, no other computer part is as essential for gamers, streamers, and content creators as the central processing unit (CPU).
A CPU upgrade is the first step in improving computer performance. However, there are so many processors available in the market that it might be challenging to find one that will yield higher frame rates. So read on to learn 10 of the best CPU options for gaming and streaming.
---
---
The Best CPUs for Gaming and Streaming
As you look for the best processors for desktop computers, you have two brands to choose from — Intel and AMD. These two companies release new CPU lineups annually. These processors are divided into different tiers that offer varying levels of CPU performance.
Their top-tier processors have the most number of cores and can produce high frame rates in any modern AAA game. These CPUs also generate enough power to excel in other tasks like video editing and content creation.
The Ryzen 5 5600X is an AMD chip that many gamers consider to be the best value CPU. Currently priced around $170, this processor is the most affordable in the Zen 3 architecture lineup.
It has six cores and 12 threads. For clock speeds, it runs on a base clock of 3.7GHz that can max boost up to 4.6GHz. It has the same I/O die as those found in Zen 2 processors and is made from a single-core complex with 32MB of L3 cache.
The Ryzen 5 5600X has a relatively low thermal design power (TDP) of 65W. The good news is that this is an unlocked chip, meaning you can overclock it to get better gaming performance.
These specs translate into a great gaming and streaming experience for the price, provided that you pair this CPU with an equally capable GPU. Despite having only six cores and 12 threads, it performs well on demanding tasks like video editing and 3D rendering.
It will still lag behind CPUs with higher cores and clock speeds. However, if you're on a tight budget and are looking for a CPU with a reasonable price, the Ryzen 5 5600X is an excellent choice.
While the Ryzen 7 5800X3D is no longer AMD's best gaming CPU, it's still the perfect choice for many gamers. This processor sells for around $450, but some retailers sell them for just $329. Given its current price point, the Ryzen 7 5800X3D has become a more compelling option.
This highly capable CPU has eight cores and 16 threads. Its base clock speed of 3.4 GHz can max boost to 4.5 GHz. In addition, it has a 32MB L3 cache and 64MB 3D V-Cache, giving it an impressive total of 96MB L3 cache. Having more cache is beneficial since it allows your system to easily access game assets, resulting in smoother gaming performance.
This chip has a TDP of 105W, and it can get really hot. If you don't have a good cooling solution, the heat can cause dips in performance. Another minor flaw is that this CPU cannot be overclocked. This isn't much of an issue since this processor already delivers excellent default performance.
The Ryzen 7 5800X3D is the right processor for you if gaming or video editing are your priorities.
Sign up for ggCircuit Updates!
If you're looking for the fastest Zen 3 processor in the market, AMD's Ryzen 9 5950X is the CPU for you. Retailing for around $500, it's not a cheap chip. However, its performance may justify its premium price tag.
With 16 cores and 32 threads, this CPU's multi-core performance can easily get through any task. It has a decent base clock speed of 3.4GHz that can go up 4.9GHz. Its 64MB total L3 cache size is impressive but expected.
Despite having a 105W TDP, the Ryzen 9 5950X is power efficient. As a result, its thermal design power and cooling system requirements are also low. This means that this CPU will consume less power and remain relatively cool even after prolonged use — maintaining good overall system performance.
The gaming experience you'll get with this CPU is excellent, especially if you also use a top-of-the-line graphics card. However, most games require only four to six cores. The additional cores are a bit overkill for gaming, but they will come in handy if you stream while gaming or do more CPU-intensive tasks like 4K video editing.
Priced at only around $250 to $300, AMD's Ryzen 5 7600X is another excellent value CPU for gaming, streaming, and general productivity use. It's also made from the new Zen 4 architecture, which provides significantly better performance than previous architectures. This chip can go toe to toe with an older high-end CPU.
Since it's a new processor, the AMD Ryzen 5 7600X comes with modern standards such as PCIe 5.0, USB4, display-out integrated graphics, and DDR5 support. The downside is that this processor is not backward compatible and only supports DDR5 memory modules. It likewise requires an AM5 motherboard.
It has six cores and 12 threads. Despite not having as many extra cores as the other options, this CPU makes up for it with its newer architecture. It can also be overclocked to reach higher speeds. Speaking of speed, this chip runs at a base clock speed of 4.7GHz with a top boost frequency of 5.3GHz. Moreover, it has a respectable TDP of 105W.
This CPU is an excellent option if you're on a budget but still want solid gaming performance.
If you want the latest and greatest CPU, then go for the AMD Ryzen 9 7950X. However, with much power comes less affordability. This chip has a current MSRP of $699, making this processor the most expensive AMD option in this list.
The AMD Ryzen 9 7950X proves its worth with its 16 cores and 32 threads. Only a few processors have a higher core count than this chip. The processor already has an impressive base clock speed of 4.5GHz. However, it can still reach insane higher clock speeds of up to 5.7GHz.
It has 16MB of L2 cache and 64MB of L3 cache. Moreover, it's built from Zen 4 architecture, so it has DDR5 support, PCIe 5.0 support, and other modern support standards.
As for power consumption, the AMD Ryzen 9 7950X is relatively power efficient thanks to its 5nm lithography and 6nm I/O die node. It has a TDP of 170W, and thermals can get quite high. Use a high-capacity CPU cooler to avoid thermal throttling and frame rate drops.
It goes without saying that this CPU offers top-notch gaming and streaming performance as far as the AMD lineup is concerned.


The Intel Core i5-12600K is a great CPU if you're planning to make a mid-tier gaming rig. This chip is in the $320 to $380 price range. It offers a great price-to-performance ratio, especially when compared to the Ryzen 7000 lineup.
This CPU has six P-cores and four E-cores with 16 threads. The P-cores or "performance-cores" handle heavy and demanding tasks, while the E-cores or "efficiency-cores" manage background tasks while consuming less power. This gives the Intel Core i5-12600K powerful yet efficient multi-core capabilities, which will allow you to play games at good frame rates for a longer time.
In terms of clock speed, its E-cores have a base frequency of 2.8GHz that can turbo boost to 3.6GHz. Its P-cores run at a base of 3.7GHZ with a turbo frequency of 4.9GHZ. This chip not only has excellent multi-core performance, but its single-core performance is also likewise impressive.
The thermals of this CPU are decent. It has a Processor Base Power (PBP) of 125W and a Turbo Boost Power (TBP) of 150W.
The overall performance of this chip is solid, especially given its price. It's the better choice compared to more expensive options if all you need is a casual gaming and streaming system.
Being one of the most anticipated 12th Generation "Alder Lake" processors, the Intel Core i7-12700K does not disappoint. It offers excellent performance in gaming, 3D rendering, high-resolution video editing, streaming, and just about any other computer task. It's also competitively priced at just over $400.
It has 12 cores, with eight being hyper-threaded P-cores. This gives this CPU a total of 20 threads. The other four cores are power-efficient E-cores. These P-cores have a base frequency of 3.6GHz and a maximum boost clock of 5GHz.
These cores and clock speeds translate to high frame rates in all modern games, even when played on higher resolutions. Streaming while gaming should also be easy. If that's not enough, you can improve performance by overclocking the CPU.
With its 10nm lithography, power delivery, and efficiency are decent. Moreover, its TDP is set to 125W, and its temperature does not go alarmingly high.
If you're going to build a gaming and streaming PC with a beefy Intel Core i7-12700K, you should also get good monitors. Again, monitors with high refresh rates are the best option since they can fully utilize the high frame rates that the CPU can deliver.
Click here to test the ggLeap client!

The Intel Core i5-13600K is a popular choice among mainstream gamers. It offers a sweet spot between price and performance. Despite costing only around $329, this chip packs enough power to deliver better performance than its Ryzen 7000 counterpart.
This processor has excellent multi-core performance thanks to its 14 cores and 20 threads. As a 13th generation "Raptor Lake" processor, it likewise has P-cores and E-cores, so you get the best of both worlds in terms of performance and efficiency.
Its clock speed is also notable, especially since it's only a midrange chip. It runs on a base clock frequency of 3.5GHz and can reach a maximum boost clock of 5.1GHz. This quality CPU can easily handle even the most demanding video games. Video editing and 3D rendering software are also fair game.
Even if you don't use a dedicated graphics card, this CPU will still allow you to play games — at lower resolutions and graphics settings. This is thanks to the improved Intel UHD Graphics 770 built into the chip.
For thermals, it has a TDP rating of 181W and gets hotter than the Core i5-12600K. So you'll need an excellent cooling solution like a 240mm water cooler to keep its temperature in check.
The Intel Core i7-13700K is the best gaming CPU in the 400$ to 500$ price bracket. It can go on par with the more expensive Ryzen 9 7900X and is relative in gaming performance to a higher tier Core i9 processor.
This Raptor Lake processor has 16 total cores, with eight P-cores and eight E-cores. The P-cores are hyper-threaded, so this chip has a total of 24 threads. As for cache size, it has a 30MB Intel smart cache and 24MB total L2 cache. This gives this chip a 15% performance improvement in single-threaded workloads and a 41% boost when it comes to multi-threaded tasks.
Its E-cores have a base clock speed of 2.5GHZ with a max turbo frequency of 4.2GHz. However, where this processor truly shines is in its P-cores. These cores have a base frequency of 3.4GHz with a boost clock speed of 5.3GHz. All of these factors make the Intel Core i7-13700K a powerhouse for gaming, streaming, and all other demanding activities.
This chip also supports both DDR4 and DDR5 memory modules, making it more versatile. It can even be overclocked for better performance.
However, with a PBP of 125W and a whopping TBP of 253W, this CPU has high power consumption and requires a robust cooler to avoid overheating.
Intel's Core i9-13900K is currently the best Intel CPU — and hands down the most powerful CPU in the market. This 13th Generation "Raptor Lake" flagship is also competitively priced at $589. However, some retailers price it at around $659. At either price point, the performance delivered by this CPU makes it worth every penny.
With 24 cores and 32 threads, this CPU has the highest core and thread count in this list. It has eight hyper-threaded P-cores and 16 E-cores. The E-cores have a low base clock speed of 2.2GHz that max turbos to 4.3GHz. The P-cores have a base frequency of 5.4GHZ and an astonishing max turbo frequency of 5.8GHZ. Moreover, this chip has an excellent cache size of 36MB Intel smart cache and 32MB L2 cache.
Assuming that you have a powerful graphics card, this CPU will allow you to game at 4K resolution while still getting high frame rates. You can even stream and have several background tasks running while you play.
However, this processor has a max TDP of 253W, and its temperature can reach 100°C. Therefore, an equally good cooling solution like liquid cooling is required to retain good performance.
Which Is Better for Gaming and Streaming: AMD or Intel?
In recent years, both AMD and Intel have enhanced the architecture of their chips exponentially. Before, CPUs only had an average of four cores and eight threads. Now, you can have processors with three to four times more cores and threads. Clock speeds, cache sizes, and power efficiency have also been improved.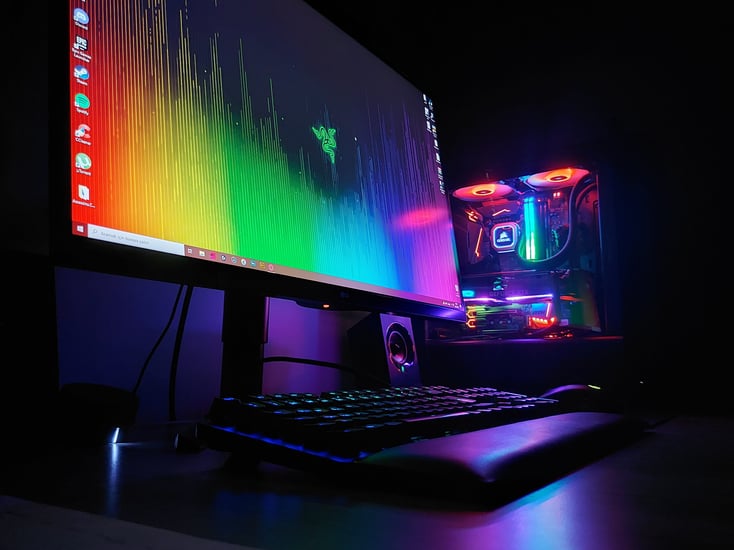 Intel CPUs generally have higher single-thread clock speeds and instructions-per-clock (IPC). These are needed to calculate complex AI systems in games, so Intel CPUs are well-suited for gaming. Moreover, both Intel and AMD processors have good enough integrated graphics to play modern games without a dedicated GPU.
Meanwhile, AMD processors generally offer better multi-core performance. This makes them ideal for multitasking. Thus, if you're going to stream while you game, an AMD processor is a good choice. However, some Intel processors with insane core counts, like the Intel Core i9-13900K, tip the scale in favor of team blue.
AMD and Intel have impressive CPU lineups offering great gaming and streaming performance. The better choice would mainly depend on your personal preference and budget. However, if you want the best CPU for both tasks, Intel, more specifically, its Core i9-13900K processor, is the superior option.
How Much RAM Do You Need for Streaming?
The amount of random access memory (RAM) you need will depend on what you are streaming and at what resolution. For example, if you're only going to stream videos or movies in Full HD, 8GB of RAM is sufficient. However, you might need more when it comes to streaming games.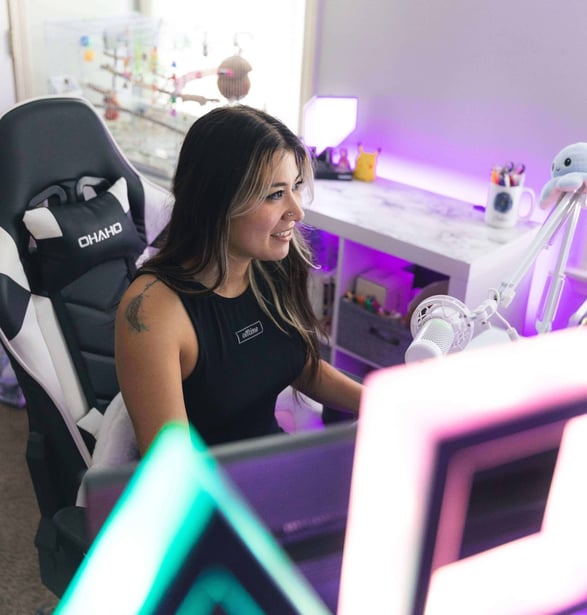 Games — especially AAA titles — have become progressively demanding. Playing these games alone requires a lot of system resources, including memory. Thus, 4GB of memory is not enough to stream, and 8GB of RAM is the minimum you'll need.
Your system might experience a memory shortage if you only have 8GB of RAM. This is especially true if you play a modern game at high resolutions and stream it simultaneously. For best performance, it's a good idea to have at least 16GB of RAM, even on dedicated streaming builds.
If your gaming rig has a top-tier video card and processor, consider getting 32GB of RAM. This will allow you to stream games at 4K resolution easily. It might be a bit of an overkill, but getting more RAM will make your gaming and streaming setup more future-proof.
Summary
The central processing unit, or CPU, is the brain of your gaming PC. So even if you have one of the best graphics cards, you wouldn't have a good gaming and streaming experience if you don't have a capable processor.
There are many excellent options in the market, so you have to choose carefully if you're searching for better-value performance. Both AMD and Intel offer great choices, especially with their new releases.
ggCircuit is a part of Esports Entertainment Group (GMBL).