22 Best Esports Arena Event Ideas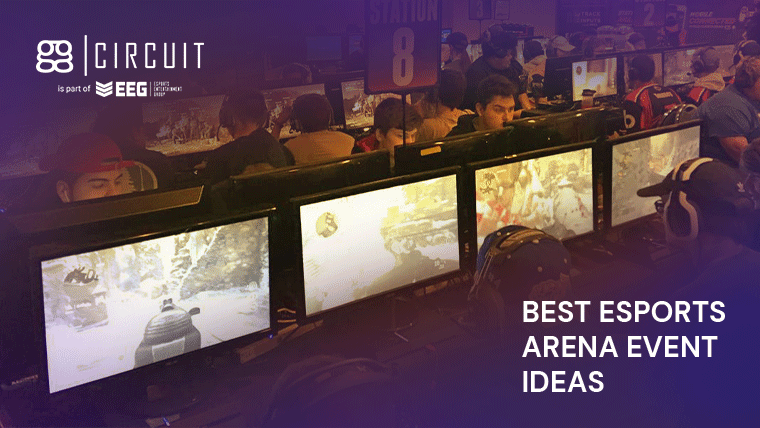 Considering the world of video games can be played by a couple of people huddled around an Atari a few decades ago, it's pretty unreal to think people are now hosting esports arena events with hundreds of people in attendance. It's true, though.
Technology has come a long way to make this possible. The ggLeap Management System, for instance, provides esports event organizers with an automated leaderboards system that they can use for their arena's gaming event.
You can be part of this technological revolution by hosting some of these 22 event ideas for your esports arena or venue. Or all of them, if you'd like -- it's up to you.
---
---
List of Esports Arena Event Ideas
The following are the most popular esports event ideas you can start implementing for your next campaign:
Sign up for ggCircuit Updates!
Bracketed Tournaments
Bracketed tournaments in esports arenas can follow either the single elimination bracket or double elimination bracket.
In a single-elimination format, the groups qualifying for the esports tournament will place on the bracket according to their assigned seed. Then, the positions are played out, with the winner advancing to the next stage.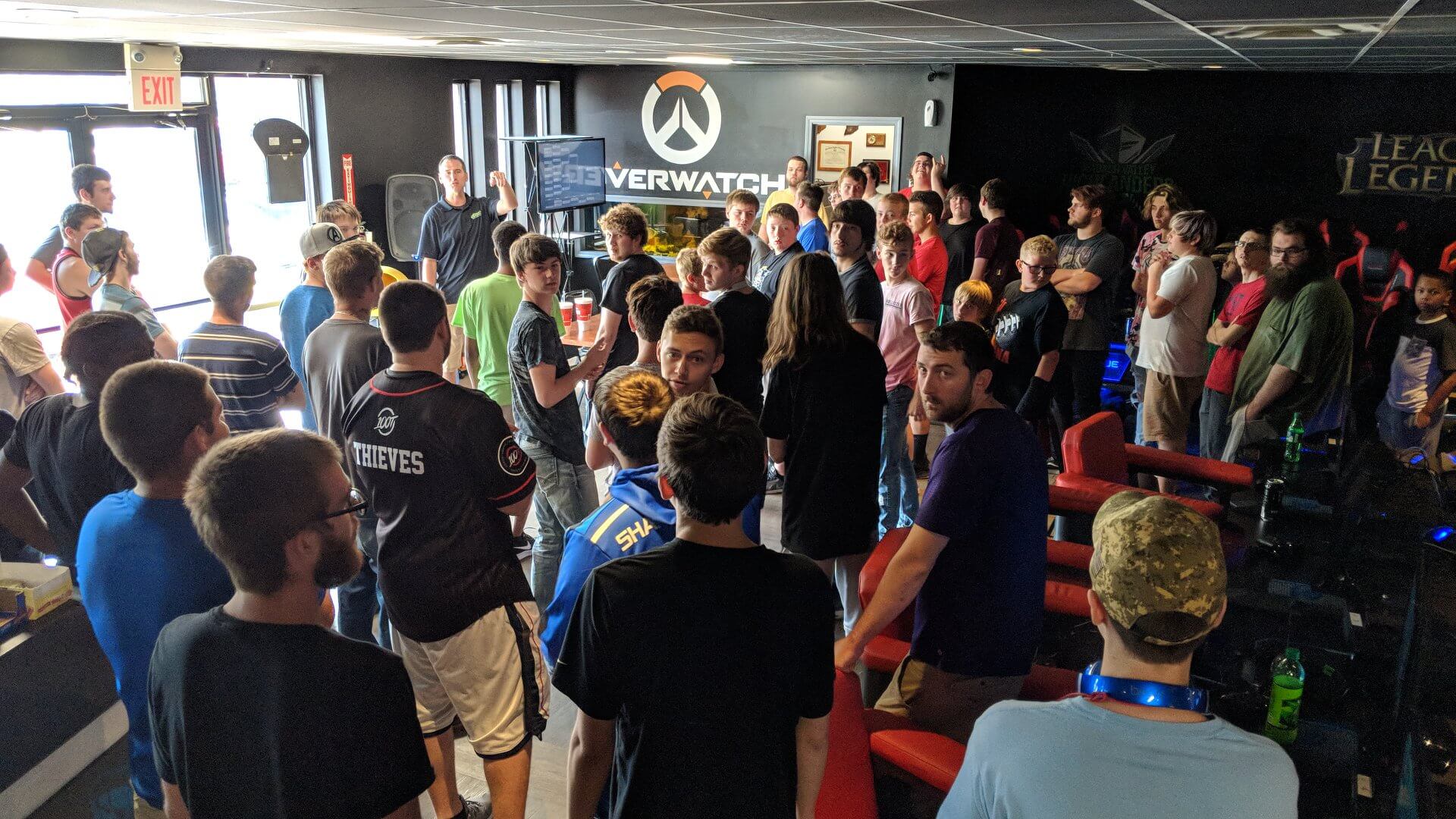 Fortnite Duos Tournament in eBash
The double-elimination format is similar to the single elimination. Instead of being removed from the tournament, losing teams will drop down to a lower bracket where they can continue playing and still have a chance to win the grand finale.
There are many esports tournament systems out there to build your brackets and various options and modes. A few notables are Smash.gg, Challonge, Battlefy & Toornament.
Fighting Game Communities
Fighting game communities are video gamers who participate in friendly or competitive matches through fighting games like Mortal Kombat, Marvel vs. Capcom, Street Fighter, and Tekken.
Countless online tournaments are still being held each year worldwide, with entrants reaching as many as 10,000 in all. These fighting game tournaments can have a range of entry fees, prize pots, and a range of games to choose from.
The biggest thing about fighting game communities in esports arenas is that many of the players gathered want to be together in a space playing each other. This is why your venue is perfect for that. There is definitely traditional sports feel to having these events. Treat these players like gold and you'll have customers for life.
Automated Leaderboards With Incentives
Automated leaderboards can be set within a local esports arena event where the administrator will assign the amount of prize purse winners can get as a reward.
Platforms like the ggLeap Management System can let organizers configure the coins players can get upon winning. Of course, there should also be appropriate prizes to redeem to make it more enticing.
Stat-Based Challenges
Stat-based challenges are pretty much what they mean – achieving the highest statistics among players in a given video game to win the challenge.
Statistics could be anything from the total takedowns within a given time to the longest time a character has survived without respawning.
Specific In-Game Achievements Events
Many video games have specific achievements that people can accomplish to show that an average esports fan has achieved a meta-goal outside of the game's parameters. These extra challenges are usually added to games as players can use them to unlock bonus material (or for bragging rights).
Future esports arenas can also incorporate events where entrants can attempt to complete in-game achievements before others.
Community Nights
Community nights are evenings shared among players so they can play online video games together. These games are often played casually, but some esports competitions can be encouraged as well.
Hosting a community night is an excellent idea when you invite people new to esports and introduce them to a group they can hang out with in the future.
With this idea, it is good to find gamers well-versed in the game. This way they can promote to the local community unique events and a wider customer base to gather in your venue. You will need to decide if this is paid, unpaid, or based on the number of customers they bring in.
Gaming Lock-Ins
Video game lock-ins are sporting events where players can play countless hours of online games. Then, upon paying the entry fee, they can sit down and enjoy any game they like.
Some esports venues allow people to come and go as they please, which is different from the original lock-ins.
Esports Leagues
In the competitive gaming world of esports, there are always teams that will try to compete with others to be recognized as the top players in their region. Event organizers can do the same with their dedicated esports arena events by having their players form local leagues.
These teams can then compete with one another, such as in League of Legends, to see which one is the best among them all.
A few examples of organizations that provide either league software or league setups are Mission Control, XP League, and Vanta Leagues.
Birthday Parties
Birthday parties aren't limited to just family and loved ones, but they can also be held in local esports arenas. Such parties are ideal because it makes the celebrants feel special while also bringing players together to enjoy.
Everyone can hop in on a given online game and play matches with each other casually or goof around in-game.
From a parent's perspective, this type of event is one of the easiest birthday parties you will have. You get to relax and connect with other parents while the kids are busy duking it out with the best of gaming and virtual reality.
Minecraft/Roblox Nights
Minecraft or Roblox nights are events where players play either two games or sometimes both on the same night.
Minecraft and Roblox are quite popular video games because they are easy to mod, providing users with the freedom to play however they want.
Another benefit to these games is that they are targeted to a younger demographic with the ability to connect locally in servers where everyone is playing together.
School Field Trips
Another exciting event idea organizers can set their minds on is to provide school field trips to their gaming facility. Students can visit their locations to see and personally experience how these esports centers operate.
School field trips are ideal because they encourage individuals to take part in tours to learn something while having fun. Many times the individuals leading the way in gaming are the complete opposite of those leaders in the classroom. We've found that the leaders want to bring others up a level with their knowledge of gaming in a really awesome show of flipping the learning economy upside down.
Tech Learning Events
Tech camps can give audiences a deeper look at how the online gaming community is thriving through the various technologies we have available.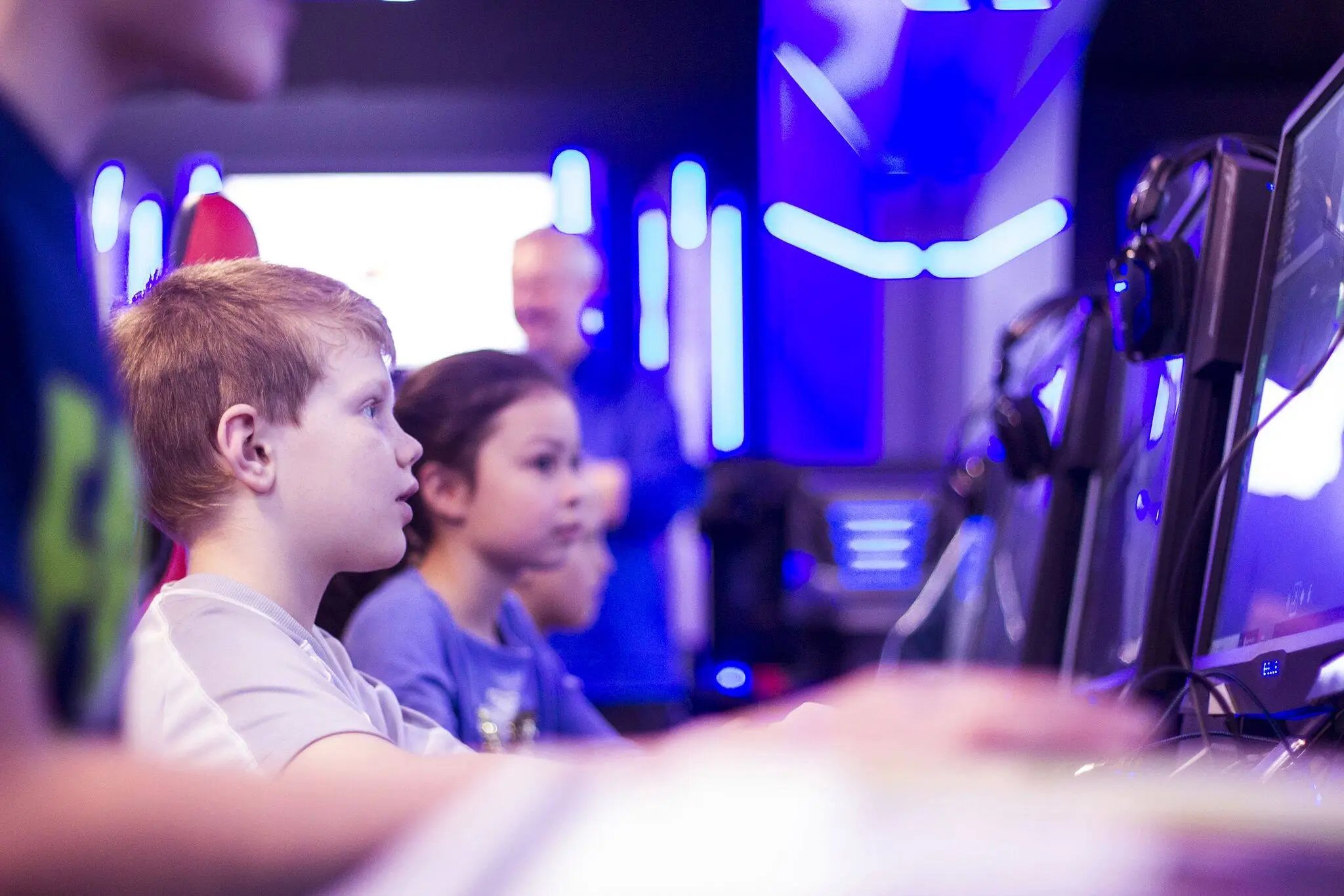 Esports Center Technology Summer Camp
Esports is rapidly becoming an excellent tool in the education system. Schools, colleges, and universities can start using it to educate students on the tools, trends, and experiences that combine both.
Boy Scouts/Girl Scouts
Boy scouts or girl scout esports arena events can be about giving people the gaming badges they deserve for completing specific in-game tasks or accomplishing certain feats.
There are badges available for both computer programming as well as game creation. How can you build a program around this that can assist in meeting their challenge to obtain these badges?
Church Youth Night
Organizers can invite churches over to their esports arenas where only members can take part and play video games.
Church youth nights are quite popular among teenagers who are fond of video games to engage and interact with one another.
Speed Runs
Speed runs are esports events that aren't the same as traditional sporting events. Instead, speed run participants try to finish a video game in the shortest time possible. Such events can be quite fun as players will race to achieve their goals faster than others.
Achievement Fests
Achievement fests are events where esports fans can gather and discuss their gaming achievements with each other. This type of event is for people who are always looking to rack up their accomplishments in particular video games.
Extra Life
Extra Life is a noble fundraising event designed to help local children through the power of playing video games. Event organizers can set their proceeds to go to hospitals or charities of their choice.
Many locations across the US have Extra Life guilds to belong to.
Influencer Appearances
Influencer appearances are events where well-known figures in the video gaming community show up to discuss and share insights on various games.
Most influencers have loyal followers worldwide because of their skill in gaming or the popularity of their streaming channel.
Esports Coaching Seminars
Esports coaching seminars teach aspiring professional gamers to become better at a specific video game.
These seminars often require an entry fee before joining, but some would allow free passes to promote their sponsors or their esports gaming center.
Customer Appreciation Night (Free Night of Gaming)
Customer appreciation night is another potential esports arena event idea that can drive people to recognize a gaming facility.
Organizers can set their esports space to let their loyal customers play for free and enjoy the company of others like them.
Obviously, you want to do these sparingly, BUT they do bring in a lot of new customer bodies and you can upsell them on snacks/drinks/memberships for the future.
Holiday Party Lock-Ins
Holiday party lock-ins are events where the doors to the esports arena are locked, and everyone inside plays video games. The people inside will sleep over at the arena.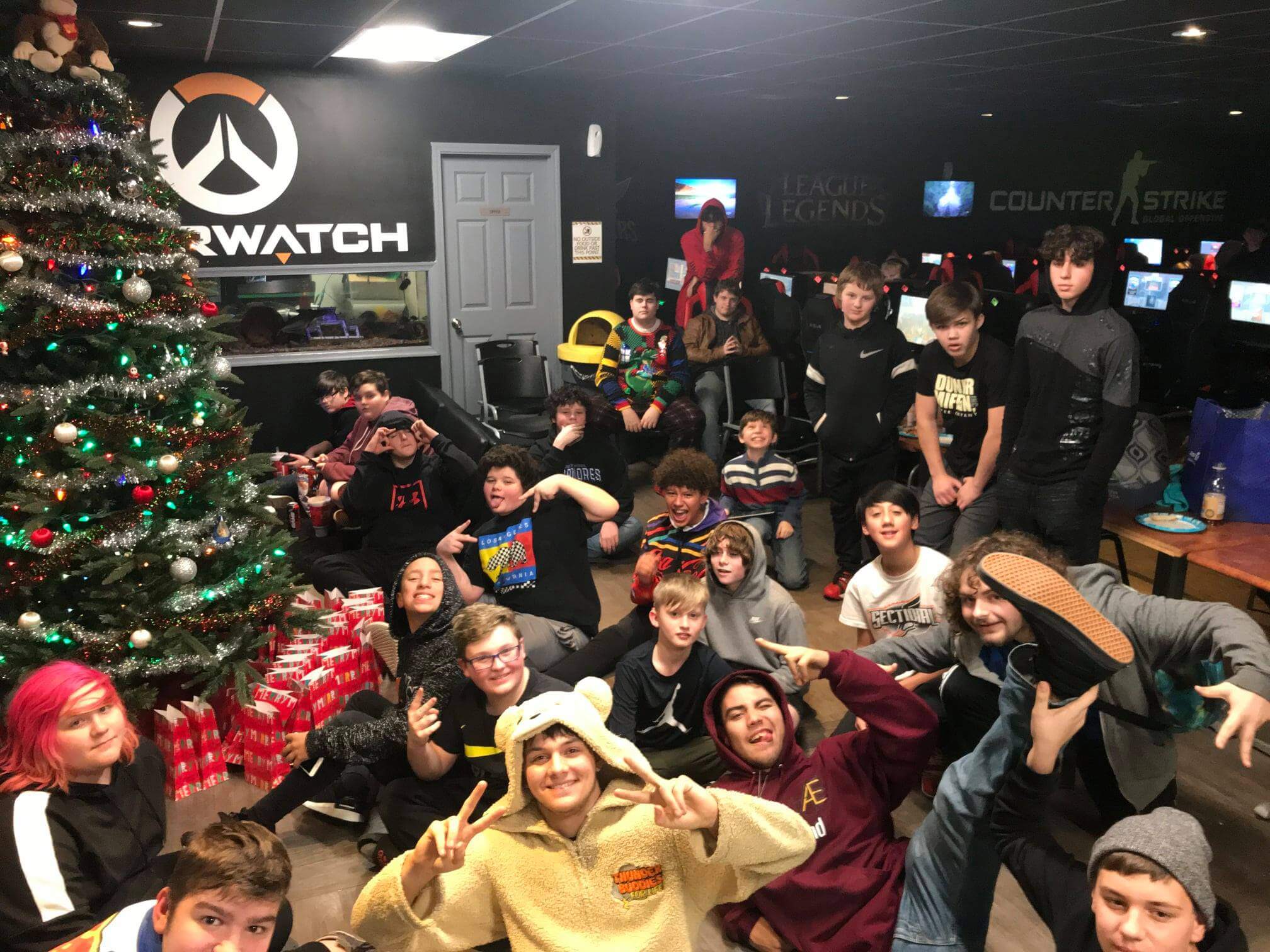 Christmas White Bantha Lock-In in eBash
Compared to other lock-ins, this type of party is often done during the holiday season so that people have more time to play without worrying about school or work after. The Christmas holiday is always a good one to do these as you can do things in conjunction with your esports experience like white elephant gift exchanges.
Black Friday Deals
Black Friday deals for esports arenas can provide new or existing members with discounts on their subscriptions. For instance, users who wish to continue their membership can renew them during Black Friday at a significantly lower price than they would on other days of the year.
This is also a great time to offer bulk packages of hours at a lower rate to bring in more revenue to your bottom line.
Click here to test the ggLeap client!

What Are Esports Arenas?
Esports arenas are indoor locations where gamers can enjoy competitive or casual multiplayer gameplay. They're equipped with PCs, consoles, or both. They're all about engaging the community, which is why event organizers are always looking for event ideas like esports tournaments.
People who want to join in the fun can search for "gaming lounge near me" or "esports near me" on Google to find them.
Conclusion
Truthfully, there's no shortage of esports event ideas that you can start implementing today. From deals to lock-ins and more, you're sure to create buzz once gamers start enjoying all the new events you have to offer. Then, you can start doing a few or space all of them throughout the year. Either way, you'll be hosting a social experience games are sure to love.