Ohio State Esports: Cultivating Future Gaming Professionals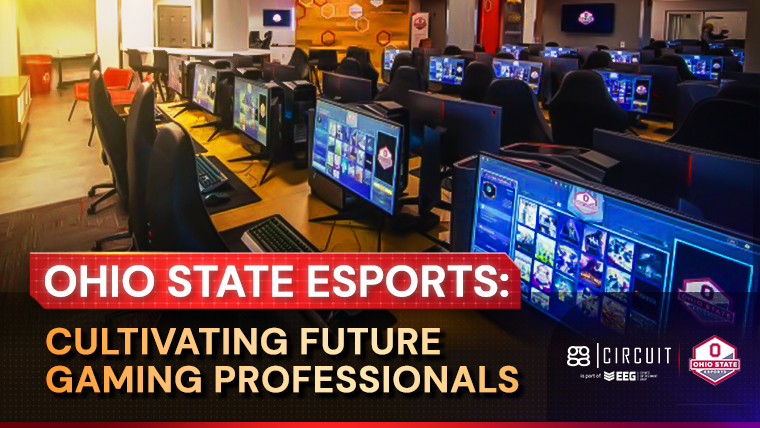 Ohio State University is one of the leading public universities pioneering an educational movement in the esports industry. In today's digital age, champions are no longer made solely from traditional sports — the digital playgrounds are a prime place to find talent and skill.
OSU has worked hard to open one of the best gaming facilities in the United States, offering students the opportunity to test out their capabilities and limits. Here, everyone can play, learn, and take part in game studies to further enhance student knowledge and passion for gaming.
Read below to see how Ohio State esports has been cultivating future gaming professionals and details on their esports programs.
---
---
The Ohio State Esports Arena
The Ohio State Esports Arena is a state-of-the-art gaming facility that rivals any other arena for collegiate esports. The new esports arena features PCs, gaming consoles, and a virtual reality headset located at the Lincoln Tower.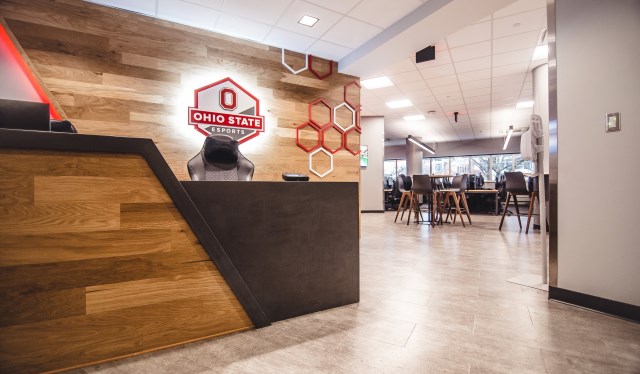 Powered by 80 units of Alienware PCs and high-definition monitors, the facility also makes use of ggLeap esports management software to ensure that everything runs smoothly within the arena. The entire second floor of the Lincoln Tower has been renovated just for this purpose, where Xbox, Switch, and Playstation controllers are lined up through the walls of this brightly lit area.
This arena also comes with a training room dedicated to competitive gaming against peer universities and a broadcast booth where students can practice their commentary based on live gameplay. The various equipment you'll find inside the arena includes the following.
Alienware Gaming PCs:
9th Gen Intel Core i7 9700 (8-core/8-Thread) CPU

NVIDIA GeForce 2080 OC 8GB GDDR6 GPU

32GB DDR4, 2933MHz Dual Channel RAM

512GB M.2 SSD
Gaming Consoles:
Sony Playstation 4 Pro

Nintendo Switch

Microsoft Xbox One S
Virtual Reality:
Both elite and casual players will find something to play here. With so many different titles to choose from, they'll enjoy playing using PCs or consoles.
PC Games
Apex Legends

Call of Duty: Warzone

Halo Infinite

League of Legends

Overwatch

Fortnite

Minecraft

PlayerUnknown's Battlegrounds

Rocket League

Valorant

And more
Console Games
Call of Duty: Black Ops III

FIFA 19

NBA2K20

Mario Kart 8 Deluxe

Madden NFL 20

Super Smash Bros. Ultimate

Street Fighter V
The operating hours of Ohio State Esports Arena are as follows:
Mondays to Wednesdays from 2:00 PM to 11:00 PM

Thursdays to Fridays from 2:00 PM to 1:00 AM

Saturdays from 12:00 PM to 1:00 AM

Sundays from 12:00 PM to 10:00 PM
This arena is the university's most recent and visible change since the university committed to excelling in esports and game studies. However, it's only one part of OSU's comprehensive esports program.
The Esports Arena will also be open to casual players while serving as the home for the Ohio State Buckeyes, who will be competing against the best of the best. Students that have a BuckID may enjoy plenty of other perks aside from using the facilities, such as:
Participating in competitions

Attending in-person events

Hosting student organization events
All these come at no extra charge, while visitors may check out video games, controllers, headsets, and more for free when inside the facility.
Sign up for ggCircuit Updates!
What are the Esports Programs Available at Ohio State University?
Ohio State's esports academic program is supported by research, academics, and student engagement, which helps to strengthen the university's collegiate esports and game studies. Because of the fast growth of the esports industry, OSU is dedicated to delivering the most comprehensive esports program as well as cutting-edge technology to Ohio students.
Some of Ohio State's game-related and esports efforts include a wide range of professionals within the university. Various teams from The Office of Student Life, the Wexner Medical Center, and other colleges from the Office of Academic Affairs conduct research and create new ways for students to learn.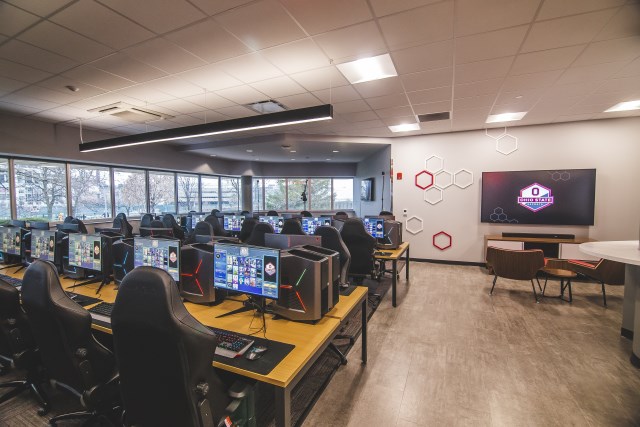 At the same time, they also build programs to give every student unprecedented opportunities in the video game industry. For example, a game studies undergraduate course is currently in development under the guidance of faculty members from five colleges.
The curriculum will be based on esports business, game creation, and game applications for medicine and health. Moreover, the Ohio State esports program has been developed to support OSU's Premier Teams while covering competitive video gaming through the university's broadcast studio.
This program aims to give students hands-on experience in all facets of broadcasting. Whether they want to be a director, caster, or editor, OSU is ready to help every student fulfill their goals.
Does Ohio State Have an Esports Team?
Ohio State University has a competitive team in each of the esports programs they offer this year, which includes the following:
League of Legends

Overwatch

Rocket League

Valorant
Each esports team — known officially as OSU's premier teams — has successfully completed tryouts for the 2022 fall semester. This era of competitive gamers will be battling in a new arena. Those who missed tryouts may try again next semester.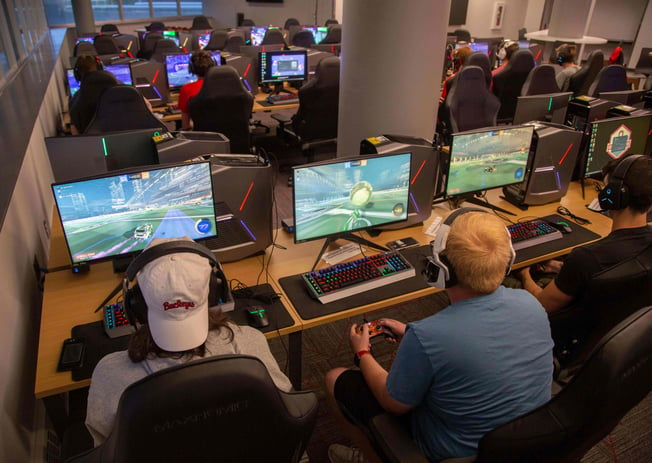 While each team has already been assembled, the university's premier overwatch team is currently looking for student staff to lead the great roster that has recently been filled in. Those skilled enough to make it into a team will receive a hoodie, jacket, and jersey, while other Premier and fan gear may be manufactured and distributed by the program.
However, not all games are suitable for competition. There are also a few factors that must be considered before a team is assembled for a particular game, such as:
Team Game Structure

Collegiate Popularity

Game Content

Availability of Tournaments and Leagues
Does Ohio State Offer Esports Scholarships?
At this time, Ohio State University doesn't offer scholarships for its esports program. However, team members, managers, and analysts can get access to their competition and practice rooms while getting gear as part of the program.
OSU will also provide the required fees for tournament entrance, along with other resources needed for approved competitions for the premier team since they are official members of Ohio State University.
Click here to test the ggLeap client!

Summary
There's no doubt that esports has become a lucrative industry, where the love of gaming can now become a source of life skills, even in the real world. Thanks to Ohio State University, students can now take the first step towards getting a college degree towards their interest in digital courses apart from information technology.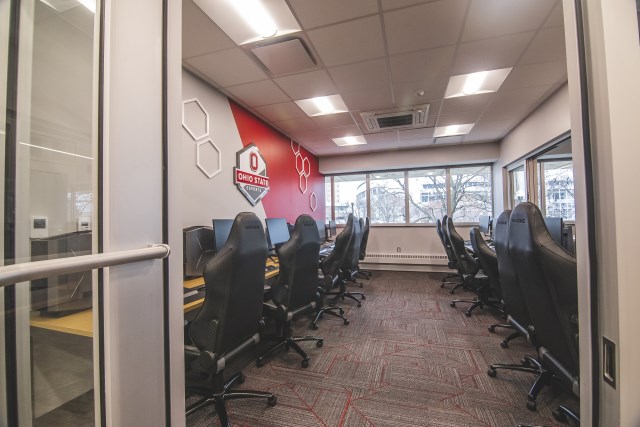 The Ohio State Esports Arena was built to become a leader among esports venues, where it is powered by ggLeap, an essential tool for the efficient management of gaming facilities. Through these tools, OSU's ingenuity, and its students' skills and passion for gaming, the future of electronic sports in the country certainly looks bright.
All images are courtesy of The Ohio State University - Esports.
ggCircuit is a part of Esports Entertainment Group (GMBL).