The 11 Best Gaming Monitors for RTX 3080 Graphics Card (2023)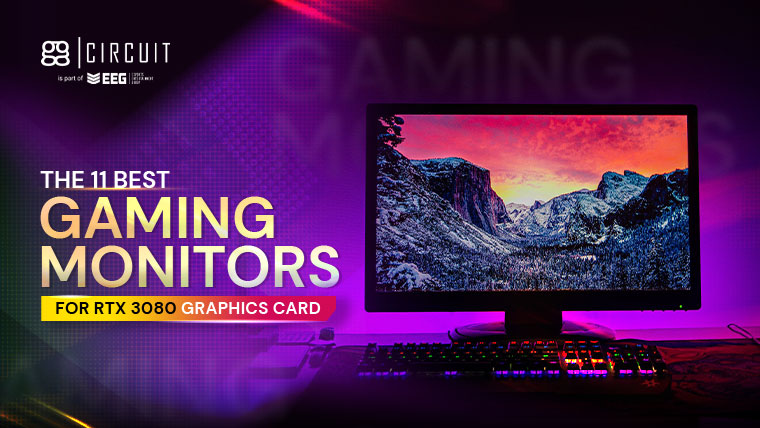 When NVIDIA released the NVIDIA GeForce RTX series in 2020, the gaming world was never the same. Gamers and content creators alike were ecstatic about the RTX 3080 graphics card, a revolutionary hardware that provides blazing-fast performance and an amazing gaming experience.
But many people fail to consider the best monitors to complement this powerful GPU. Thankfully, we have curated a list of the top gaming monitor for RTX 3080. Keep reading to learn more!
---
---
RTX 3080: A Revolutionary Gaming GPU
Those in the gaming world are already familiar with the wonders of the RTX 3080 GPU. But for the uninitiated, this hardware is considered one of the most significant leaps in GPU history. It was 30% more powerful than its successor, the NVIDIA RTX 2080 Ti, and it comes at a much lower price tag.
The true appeal of the RTX 3080 GPU is its beast-like performance. It offers 120 FPS for the smoothest details and is built for maximum ray tracing, giving gamers a truly immersive experience. In addition, it can handle 1440p and 4K HDR resolutions, which provide the clearest images anywhere. The NVIDIA TRX 3080 is truly a powerhouse.
Sign up for ggCircuit Updates!
What Are the Best Types of Gaming Monitors for RTX 3080?
You'll want to pick a gaming monitor with the following features to make the most out of your RTX 3080.
High Refresh Rates:

The RTX 3080 can push to 240 Hz, so you need a monitor that can match this ultra-high refresh rate for the smoothest gaming experience.

Fast MS Response Time: Response time refers to the speed at which pixels change colors. This feature is necessary for high-intensity programs like shooting games that use mice. In general, a 0.8 to 1 ms gray-to-gray (GTG) speed is needed for a high DPI mouse.
4K Resolution: As mentioned, a monitor with 4K will allow you to make the most out of your high-performance graphics card.
Adaptation Capabilities:

The RTX 3080 uses the NVIDIA G-Sync, which matches the GPU frame rate and your monitor's refresh rate. Having a monitor that can support this adaptive measure will reduce stuttering and allow for a fluid gaming experience.
With that said, here are the 11 best gaming monitors for the RTX 3080, in no particular order.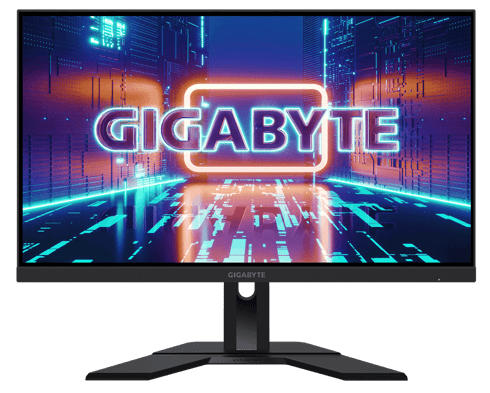 GIGABYTE is one of the leading manufacturers of top-notch gaming hardware based in Taiwan, and one of their most well-known offerings is the GIGABYTE M27Q. This model promises outstanding specifications and upscale performance without being too harsh on the pocket. Its main selling point is the KVM functionality, which allows users to switch devices in a snap while using the same keyboard, video monitor, and mouse.
Notables Features and Specs
● 0.5ms Response Time: The GIGABYTE M27Q is equipped with SuperSpeed IPS Technology, a feature that diminishes response time to only 0.5 ms! In addition, the IPS panel provides the most accurate colors for vibrant images.
● 170 Hz and QHD: With the GIGABYTE M27Q's 170 Hz refresh rate and a QHD display, you can expect smooth and fluid animations.
● 8-Bit Color and DCI-P3 at 92%: Digital Cinema Initiatives - Protocol 3, or DCI-P3, offers a greater range of colors than sRGB, creating a wide color gamut on the device.
Pros
● Large screen at 27 inches
● High refresh rate
● Great response time (one of the fastest on the list)
Cons
● Blacks may look gray in the dark
● Simplistic design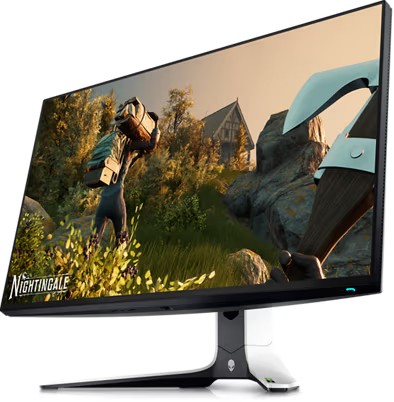 The sleek Alienware AW2723DF is another gaming monitor with a 27-inch display screen and 2560 x 1440p resolution. Compared to the GIGABYTE M27Q, the maximum refresh rate of this monitor clocks in at 280 Hz. However, the response time is slightly slower at 1 ms. The 1440p resolution provides a sweet spot for those who don't want to settle with 1080p but can't afford 4K. Thanks to the excellent pixel density, things look just right — nothing too sharp or blurry. It's perfect for the RTX 3080's capabilities.
Notable Features and Specs
● IPS Panel: The IPS display renders 89% DCI-P3 and 100% sRGB, providing vibrant colors and accurate images.
● G-Sync Compatible: The Alienware AW2723DF syncs with the RTX 3080 to match the frame rate and refresh rate. This creates a seamless experience and total immersion.
● Extreme Mode: This mode maximizes the 1 ms GTG response time, diminishing issues for a lag-free gaming session.
● Wide Viewing Angle: With the InfinityEdge screen and IPS panel, the Alienware AW2723DF provides the best viewing angles for dynamic gameplay.
Pros
● Sleek monitor with superb ergonomics
● Ultra-high refresh rates
● IPS panel for vibrant colors
● G-Sync Compatibility
Cons
● Expensive
● HDR performance is limited
● Not a true 4K monitor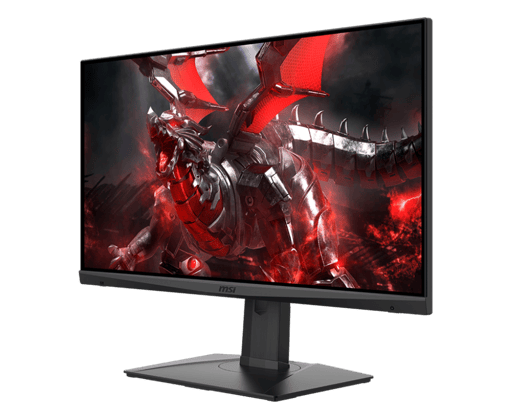 MSI has already established itself as a top hardware manufacturer in the video games industry. So it comes as no surprise that their MSI Optix MAG281URF is among the best gaming monitors for RTX 3080. This monitor has a 27.9-inch screen — among the widest on our list. It also boasts a 4K display at 3840 x 2160 resolution. Like the Alienware AW2723DF, the MSI Optix MAG281URF has a 1 ms GTG response rate powered by the Rapid IPS panel. This monitor also optimizes colors and brightness while also reducing blue light.
Notable Features and Specs
● HDR400: The MSI Optix MAG281UR has the VESA HDRDisplay 400 Certification, the industry-standard test for HD performance. So users can enjoy almost true-to-life colors.
● KVM 2.0: Like the GIGABYTE M27Q, this monitor is equipped with KVM capabilities. However, the MSI Optix MAG281URF has a newer version, which allows for faster switching, file transfers, and control over multiple devices with just a single keyboard.
● HDMI 2.1: This latest iteration of the HDMI technology allows the GPU to send 4K 120Hz outputs to the monitor.
Pros
● Inexpensive
● 4K 144 Hz resolution
● HDMI 2.0
● G-Sync compatibility
Cons
● Low color contrast
● Backlight leaks prominent in darker scenes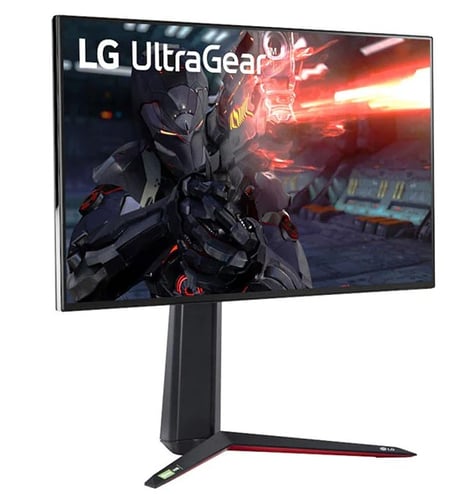 The LG UltraGear 27GN950-B touts itself as the world's first gaming monitor with a 4K Nano IPS and a 1 ms GTG response time. This resolution and response time promise an unparalleled gaming experience with a refresh rate of 144 Hz, well within the capabilities of the RTX 3080. At 27 inches and a 16:9 aspect ratio, the screen also offers excellent viewing angles and enough display real estate.
Notable Features and Specs
● VESA DisplayHDR600: The LG UltraGear 27GN950-B has a higher VESA certification than the MSI Optix MAG281URF, so you can expect ultra-sharp details and vivid colors on the UHD screen.
● 98% DCI-P3: Compared to the other monitors, the LG UltraGear 27GN950-B achieves the highest color gamut. This helps with content creation and gaming, especially in dimmer light settings.
● G-Sync Compatibility: Through HDMI 2.0, you can connect the monitor to the RTX 3080 and take advantage of the G-Sync feature. This reduces screen tearing and gives you more fluid gameplay.
Pros
● High refresh rate (can be pushed to 160 Hz)
● 4K UHD resolution with VESA DisplayHDR600 certification
● Wide viewing angles
Cons
● Poor ergonomics
● Low contrast ratio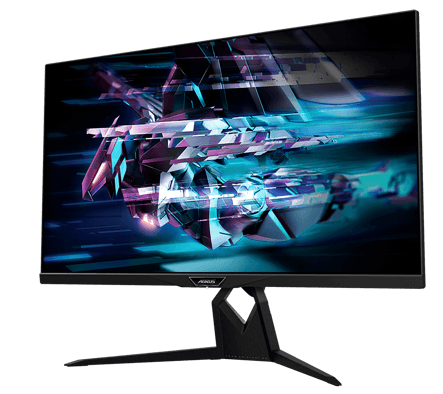 The sleek GIGABYTE AORUS FI32U is the 4K offering from GIGABYTE, with more capabilities and features than the GIGABYTE M27Q. It's one of the ultrawide monitors on this list, with the display clocking in at 31.5 inches. It also has a 144 Hz refresh rate and a 1 ms GTG response time for fluid gameplay.
Notable Features and Specs
● Ergonomic Design: This ultrawide gaming monitor is attached to a stand that allows it to swivel, pivot, and tilt. You can also adjust the height by up to 130 mm.
● HDMI 2.1: This is the latest HDMI version, and it is built for console gaming that demands a higher bandwidth. GIGABYTE AORUS FI32U can handle next-generation consoles like the PS5 and the Xbox Series X.
● SS IPS: Super Speed IPS bridges the gap between response time and image quality. This provides high contrast and extreme color accuracy without slowing down gameplay.
Pros
● Ergonomic monitor
● 4K resolution with blazing-fast response time
● Latest HDMI version for PS5 and Xbox Series X gaming
Cons
● Blacks may look gray in dim light settings
● Low contrast ratio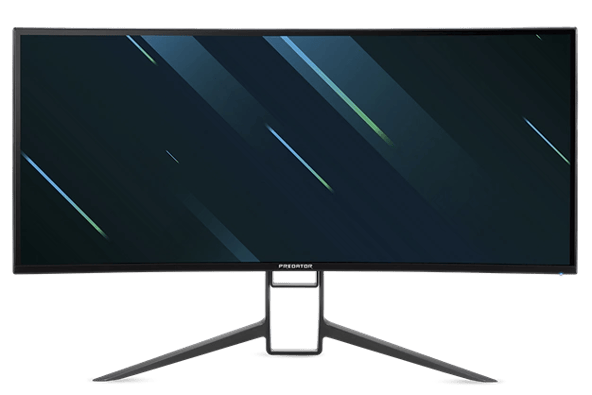 The gorgeous Acer Predator x34 is the first curved monitor in our list and one of the widest, boasting a 34-inch display. Acer created this beast for one single purpose: complete, total immersion. Thankfully, the Acer Predator x34 delivers with its 180 Hz refresh rate, Agile-Splendor IPS Panel, and 0.5 ms GTG response time.
Notable Features and Specs
● Wide and Curved Screen: The ultrawide, curved screen of the Acer Predator x34 elevates the gaming experience to the next level. With a 21:9 aspect ratio, the display covers even your peripheral vision, turning your game into a panoramic masterpiece.
● Agile-Splendor IPS: This type of IPS display uses fast crystal liquid innovations, allowing for a wide color gamut while maintaining 0.5 ms GTG response time. And at 95% DCI-P3, the Acer Predator x34 is among the best options to get.
● Numerous USB Ports: The Acer Predator x34 is a port haven. It has three HDMI ports sporting HDMI 2.0, a USB-C port, and a USB 3.0 hub.
Pros
● Curved display at 1900R for total immersion
● G-Sync compatibility
● Stunning colors
● Solid speakers
Cons
● Pricey
● Hard-to-navigate menu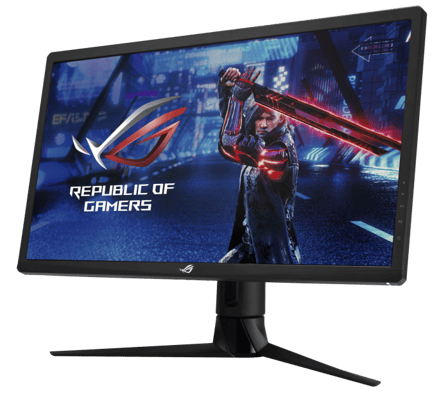 We're back to the 27-inch monitors with the Asus ROG Strix XG27UQR. This product boasts a 4K IPS screen at 144Hz. While these features may seem basic given the specs of the others, the Asus ROG Strix XG27UQR supports Display Stream Compression Technology, which allows for high-definition video streaming, even at high speeds, and a single interface.
Notable Features and Specs
● Display Stream Compression Technology Capable: Enjoy crisp and vibrant images at high settings with no noticeable loss of quality.
● G-Sync Compatibility: The Asus ROG Strix XG27UQR works with the RTX 3080 to create a tear-free gaming experience.
● VESA DisplayHDR 400 Certification: With this, you can expect true color accuracy and a 90% DCI-P3 color gamut.
Pros
● HDMI 2.1 for blazing-fast performance
● Wide color gamut
● Display Stream Compression Technology
● Great ergonomics
Cons
● Contrast ratio can be better
● Colors can look washed out from side angles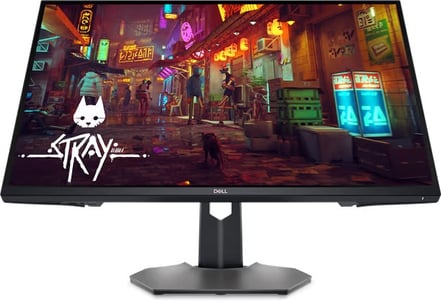 With a screen size of 23 inches, the Dell G3223Q is a massive monitor that offers the most immersive experience. It's Dell's first 4K gaming monitor, promising a 144Hz refresh rate and an HDMI 2.1 bandwidth. In addition, with a 1 ms GTG response time, the Dell G3223Q provides a seamless and lag-free gaming experience. It's also G-Sync compatible, making it a great partner to the RTX 3080.
Notable Features and Specs
● Impeccable Colors: The Dell G3223Q has the VESA DisplayHDR 600 certification and DCI-P3 at 95%, giving viewers astonishing graphics for PC gaming.
● Single Color Backlight and Bold Venting: The Dell G3223Q is built for gamers, with a backlight that provides a premium look and a vent that provides top-notch thermal regulation.
● Multitasking Capabilities: This monitor lets you handle multiple tasks even while you're playing, thanks to the picture-in-picture (PIP) and picture-by-picture (PBP) integrations.
Pros
● HDMI 2.1
● High resolution with 144hz refresh rate
● Quick response time
Cons
● Mediocre contrast ratio
● HDR local dimming can be better
Asus ROG Swift PG27UQ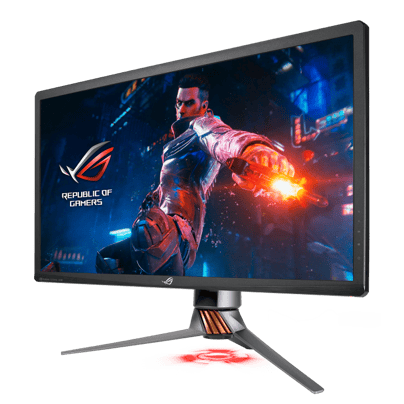 The Asus ROG Swift PG27UQ is an older cousin of the Asus ROG Strix XG27UQ, with the former released in 2018. They have many similarities, like a 27-inch screen, 4K UHD resolution, and a 144Hz refresh rate. However, the Asus ROG Swift PG27UQ has a few additional features that help enhance image quality and elevate the gaming experience.
Notable Features and Specs
● Quantum Dot Display: The Asus ROG Swift PG27UQ sports an IPS panel equipped with quantum dot technology. This monitor supports the DCI-P3 color gamut and delivers cinematic imagery.
● Aura Sync: This exclusive ASUS technology provides ambient lighting synced with other Aura-enabled gaming equipment. With this, your gaming setup will have lighting that pulses, radiates, and moves according to the game's sound or music.
● Ambient Light Sensor: The monitor can detect light conditions around players and adjust brightness accordingly.
Pros
● Incredible lighting features
● 144Hz in UHD for crisp images
● G-Sync compatible
Cons
● Older model
● High price tag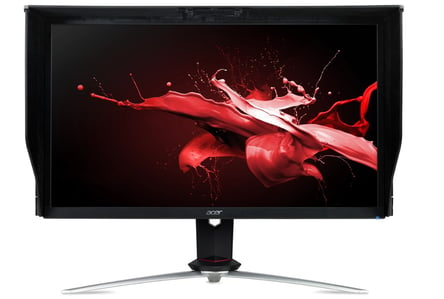 Like most of the other monitors above, the Acer Nitro XV273K Widescreen LCD Monitor has a 27-inch display boasting a 4K UHD resolution and a 144 Hz refresh rate. However, it has another edge: it's the most affordable option on this list. In addition, this monitor makes premium displays accessible to more gamers, making it an in-demand option.
Notable Features and Specs
● FreeSync: While the Acer Nitro XV273K doesn't have G-Sync, it's still compatible with the RTX 3080 since NVIDIA now detects FreeSync technology. The only sacrifice is that gamers won't be able to enjoy true HDR resolutions.
● Gamer Aesthetic: The monitor has been designed for gamers, with a sleek design, silver metal prongs, and RGB LED on the monitor's bottom for atmospheric lighting.
Pros
● Inexpensive monitor; best choice for those on a budget
● DCI-P3 at 90%
● Strong brightness, even in bright environments
Cons
● Needs dual DisplayPort cables to achieve 144hz refresh rate and 4K display
● Backlight bleed is significant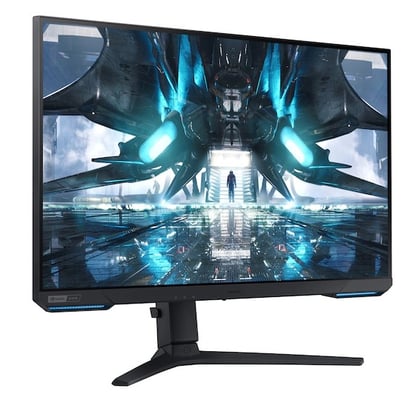 One of the Korean brand's top entries for 4K gaming is the sleek Samsung Odyssey G70A. This monitor boasts a 4K UHD LED screen clocking in at 28 inches, making it a tad bigger than the other monitors. This additional inch makes a noticeable difference, especially with the 3840 x 2160 resolution.
Notable Features and Specs
● Color Core Customization: Make your monitor match your setup with the color core feature. You can adjust this backlight to whatever hue you prefer.
● Auto Source Switch+: Using the HDMI 2.1 ports, the monitor can detect new devices in the blink of an eye and switch the display. No need to flip through several input sources.
● Adjustable Mount: The mount is height adjustable, and you can tilt, swivel, and pivot the monitor by up to 90°, effectively turning it into a vertical monitor.
Pros
● Affordable
● G-Sync compatible
● VESA DisplayHDR 400 certified
Cons
● Low contrast ratio
● Local dimming needs improvement
Click here to test the ggLeap client!

Final Thoughts
Thanks to the RTX 3080's robust capabilities, like high frame rates and 1440p configuration, you'll want a monitor that allows you to maximize these features. So if you're looking for monitors with excellent performance, high refresh rates, and 4K capabilities, our list can serve as your starting point.
Frequently Asked Questions (FAQ)
Is the RTX 3080 Good for 1440p?
Yes, the RTX 3080 is made to power 1440p resolutions in monitors. In fact, you'll need a monitor with at least 1440p resolution at 144 Hz to get the most out of the RTX 3080.
Is a 4K Monitor Worth It for RTX 3080?
Yes, it's totally worth it. The RTX 3080 is made for 4K resolution, so it should be able to handle a 4K monitor at 144 Hz. This will provide the smoothest animations for an immersive and highly-realistic gaming experience.
Can You Tell the Difference Between 120Hz and 144Hz?
For the uninitiated, Hz, or hertz, refers to the refresh rates of a monitor. This is the number of images a screen can display in a single second. For example, for a 120 Hz screen, the viewer will "see" 120 images in a single second. The higher the refresh rate, the more fluid the images. We also want to point out that refresh rates are different from frame rates.
So, will you be able to see a difference in image quality between a 120Hz and a 144Hz monitor? For the most part, there's only a tiny distinction. It's just a 24-image difference, after all. Of course, playing games with fast movements and animations will make the difference more apparent, but it will take a keen eye to see them.
What Is Needed for 4K Gaming?
There are three main components you'll need to play games in 4K resolution:
● GPU: A powerful graphics card like the NVIDIA RTX 3080 is necessary for processing a tremendous amount of information in a single second.
● Processor: While not as important as the GPU or monitor, a high-performance processor is still needed to run your 4K setup. This hardware feeds the information to your graphics card so the latter can send images to your monitor.
● Monitor: You'll need a monitor capable of displaying a 4K screen resolution. It also needs to have a high refresh rate for extra fluidity and detail, both for gaming and video editing.
● HDMI: The HDMI port and cable will serve as the interface that connects your GPU to your monitor. Currently, the latest version is HDMI 2.1.
ggCircuit is a part of Esports Entertainment Group (GMBL).