Best Streaming Setup Ideas for Esports Centers 2023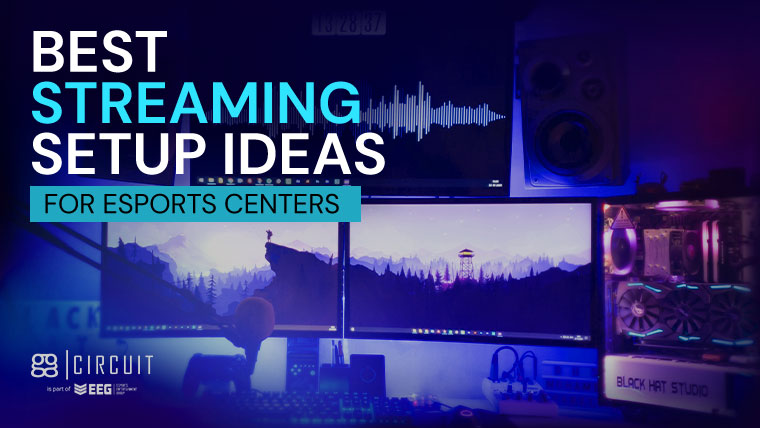 Live streaming is one of the most popular forms of entertainment today. With the rise of platforms like Twitch, gamers have switched over to showcasing how they play their favorite games for others to watch.
Many players have found that streaming is an ideal way to earn money while enjoying something they're passionate about. But to succeed, one must first know how to configure the right streamer setup.
Various gaming and streaming setups nowadays can make it difficult for a newbie to know where to begin. If you're interested in showcasing your gaming talent in your own esports center, then you need to learn about the basic streaming setup ideas to help you get started.
---
---
Here are the top gaming room ideas to consider that will help you prepare your live streaming room.
Idea #1: Use Custom Neon Lights
Many streamers today use glowing neon and RGB lighting because it gives their streaming rooms the right ambiance for gaming. That's why one of the first things we recommend is to add custom neon lights to your streaming setup.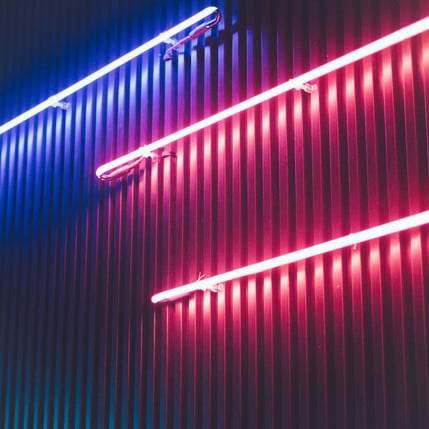 You can choose to have your custom lighting showcase your name or brand. You can even have lighting made by simply shaping it based on your logo.
Not only will these signs look great on camera, but they also give off an excellent glow for your entire room setup. What makes neon lights ideal is that you don't even need much space to get them up and running, so even users with small space can take advantage of them.
Idea #2: Install a Shelving Unit
Installing shelves as part of the backdrop when streaming is a great way to add design to any game room. In addition, a shelving unit with all your favorite items can help showcase your personality to your viewers.
You may have noticed that there are streamers who have floating shelves in their background filled with game collections, toys, and items related to the main video games they play. You can easily add these items and rearrange them as you see fit to make your live stream more interesting.
Idea #3: Set Up LED Lighting
One thing that will work well with your shelving unit is LED lighting. Using RGB lighting, as stated above, can set the ambiance and mood in a room. In addition, they are highly affordable and easy to install, so you don't have to worry about having them.
What makes these LED strips great is that you can add them to almost anything. Some players choose to install them behind their dual monitor setup, around the corners of their room, or on their shelves and home décor.
Idea #4: Place Cardboard Cutouts
Do you have a favorite game character or actor that you adore? Then, you can make or buy a cardboard cutout of them so that you have something to display in your stream's background.
Such displays can be a wholesome way of adding more depth to your stream while also creating interest in the character. It's easy to get cutouts and other accessories from celebrities or icons, and some companies also sell custom cutouts.
Idea #5: Take Advantage of the Green Screen Feature
One of the most common streaming room ideas you'll find today is taking advantage of the green screen feature. This capability allows users to change the background of their live stream to almost anything they want so long as they use a green backdrop.
The great thing about the green screen feature is that you can remove your existing background and replace it with something fancier. This means you don't have to make a lot of preparations ahead of time to prepare your room for streaming.
Idea #6: Add Posters and Canvases
Similar to adding collections on your shelves, you can add posters and canvases as part of your background when you go live. These displays can be anything — your favorite video games, movies, or TV shows.
Not only will posters and canvases look appealing, but they also help engage viewers who relate to them. You don't have to go overboard with your displays; you can easily go for the minimalist look, and your game room will still look awesome.
Idea #7: Set Up Your Own Nanoleaf Panels
You may have noticed streamers using Nanoleaf panels as part of their backdrops when they go live. These displays are considered by many as the original RGB lighting panels and will look amazing in nearly any background you have in mind.
The panels are also easy to customize, and you can have yours made based on your gamer tag, streamer name, or logo. The only negative aspect about these Nanoleaf panels is that they can be costly for those working within a budget.
The good news is that there are other affordable brands available for you to choose from today.
Idea #8: Include a Whiteboard
You can also add a whiteboard on the opposite side of your stream to increase the interaction with your viewers as you go live. You can put things on your board, such as the top donors of your stream or people who have gifted the most subscriptions to your profile.
No matter the challenge, people enjoy taking part and competing for the top spot. When you have a whiteboard in your stream, you can let supporters know that you recognize their effort, which can potentially result in more donations later on.
Sign up for ggCircuit Updates!
Tips When Setting Up Your Streaming Room
Now that we've discussed the top ideas for your live streaming room, it's time to consider the best tips to help you maximize your new location's use.
These tips below will be helpful for both beginner and veteran streamers in creating a highly effective room for streaming:
Apply Soundproofing
It's easy to get carried away when you go live, and the people around you will appreciate it if you can add some way to soundproof your gaming room. Unless you don't plan on using your microphone as much, adding soundproofing solutions to your area will give you more freedom to express yourself. It also gives peace and quiet to any roommates or housemates you may have.
Furthermore, many video game streamers enjoy the aesthetic appeal of soundproofing in its own right. These elements will also help you block out any unwanted noise from outside your room that can ruin your live stream.
Ensure Your Decorations are Relevant
Another tip to consider is to make sure that the decorations you decide to add to your streaming room are relevant to your target viewers. This includes anything you add, whether it's on your streaming desk, gaming chair, or monitor setup.
For example, if you enjoy first-person shooter games, you could consider adding figurines and other wall art related to your favorite icons that are easily seen on your stream. Alternatively, you can include iconic accessories or gadgets on your shelves or walls to showcase the appeal you wish to cultivate.
Decide on an Overall Look
Before buying things for your gaming room, you should first decide on the overall aesthetic you want to achieve. Settling this ahead of time will make it easier for you to decide on the specific streaming items you wish to add.
If you wish to go the minimalist route, you can simply get black and white decorations to help viewers focus on you instead of your background. On the other hand, you can also drastically change how your streaming room looks based on the type of video games you plan to play and stream to your viewers.
No matter what you choose, deciding on the overall appearance of your room will help narrow down the specific items and home décor you'll be using in the future.
Install Appropriate Lighting
When you go live, you want your viewers to see you as much as the game they intend to watch. That's why making sure your streaming room is well-lit is essential.
As mentioned above, you can use simple LED lights for starters, but you want to ensure they are bright enough to emphasize you and your background. You can also go with RGB lighting, which allows you to customize the colors to create vibrant backdrops.
Make sure you don't go overboard since too much lighting can be painful for viewers.
Have the Right Equipment
Besides the decorations that you plan to include in your gaming room, you should also make sure that you have the right equipment that will allow you to stream successfully.
For instance, you'll want to ensure that your monitor setup lets your viewers see your gameplay while allowing you to access your nearby webcam. You can also use a gaming chair or comfortable seating to help you get through extended gaming sessions.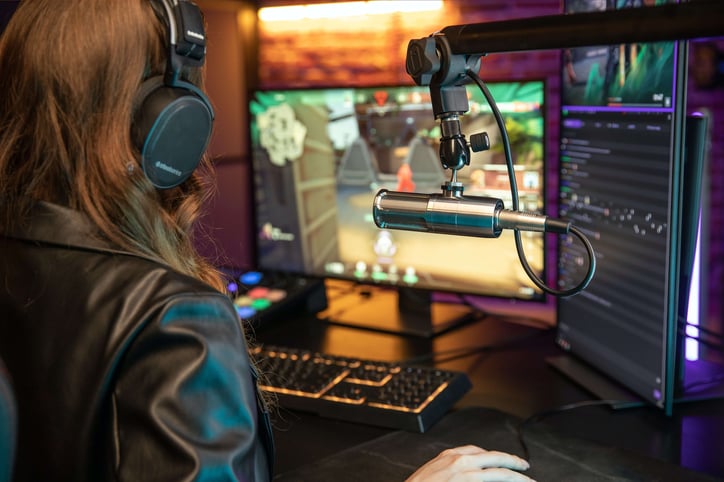 You might find a headset handy when talking to your viewers compared to using an on-desk microphone. You should also practice good cable management to ensure you don't worry about random wires cluttering your gaming environment.
What is gamrpod?
The thing is, if you are living in a shared space or a small apartment, chances are, you will find it difficult to find a place to put your streaming setup. Applying soundproof in a room can be a bit costly, and you might also find yourself in a situation where your roommate will be walking behind you during a live stream.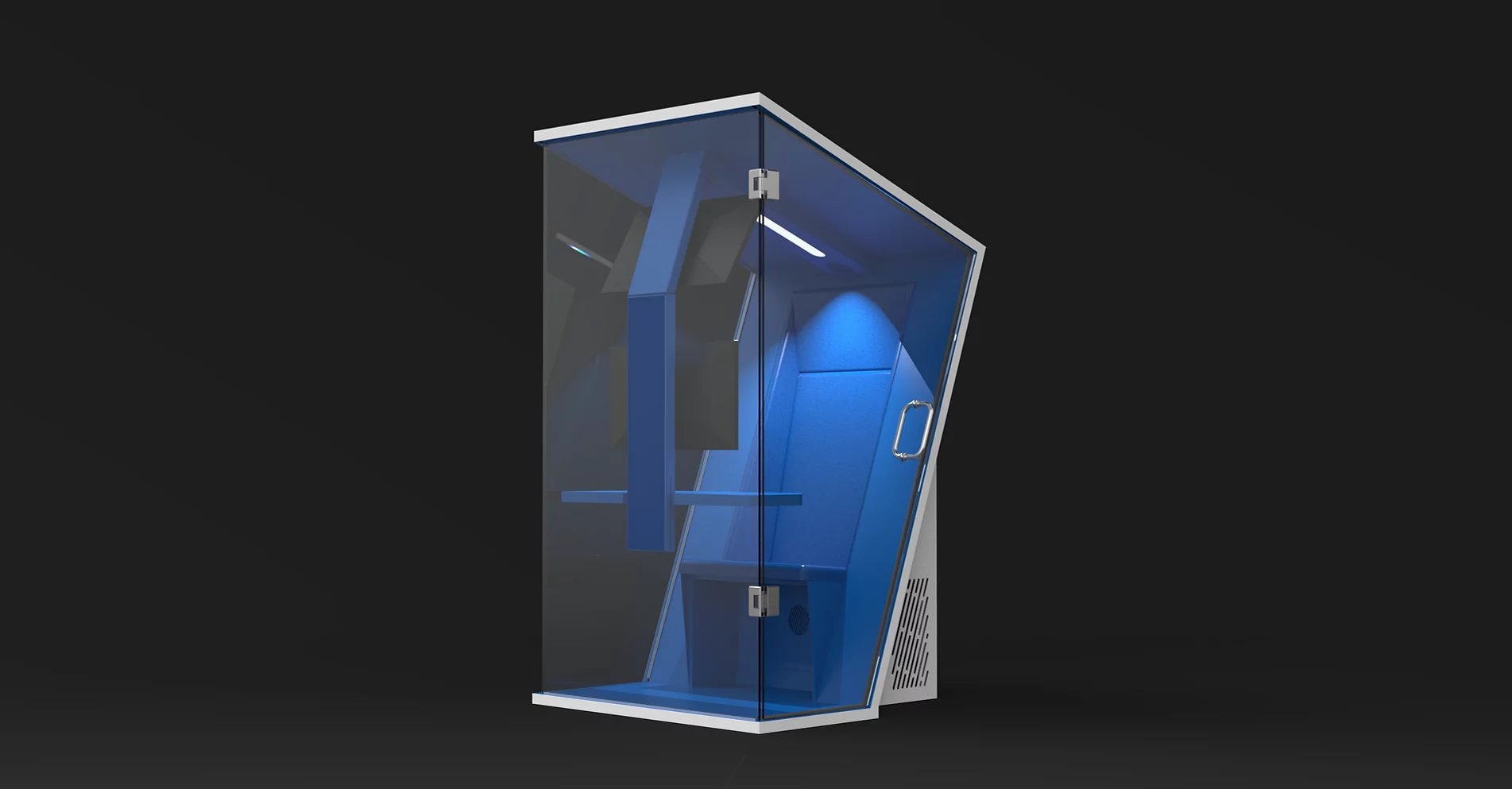 If that sounds like your situation, you ought to get yourself a gamrpod. What's a gamrpod, you ask? It is a 4ft x 4ft streaming pod designed to house everything a game streamer needs in their setup. Here's a list of things that you can expect in a unit of gamrpod:
Soundproof

- No need to worry about disturbing anyone while you stream!

It's easy to move

- Due to its small profile, two people can easily move it.

It comes with a USB hub

- Each unit has a USB hub that will prevent cable management problems.

Built-in blue screen

- Similar to a green screen, it will allow you to remove the background or put something else behind you digitally while keeping the camera's focus on you.

Computer housing

- Your gaming PC will be located behind the unit and comes with proper ventilation to prevent overheating.

Monitor placement and lighting

- Each unit has a height-adjustable monitor mount for maximum eye comfort. It also comes with lighting units affixed overhead and at the monitor mount, ensuring proper visibility in the stream.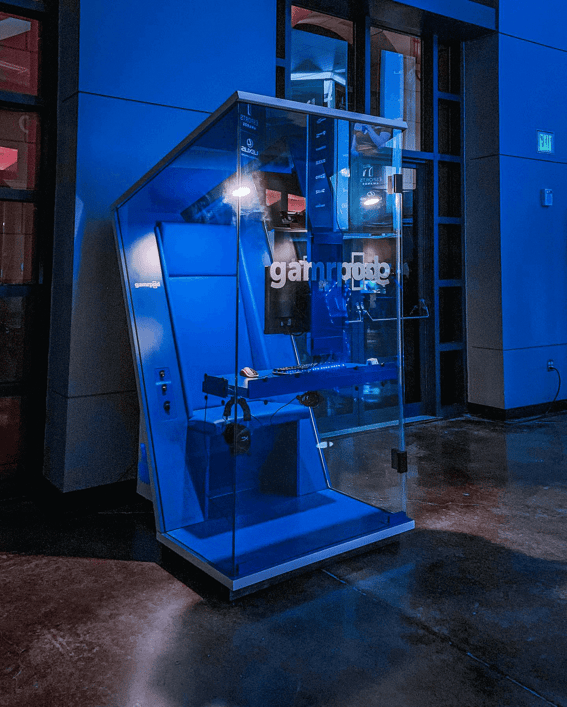 The gamrpod practically eliminates the need for the above ideas since it provides an all-in-one solution for a steaming room. However, if you are interested in getting one, check out gamrpod's website for more details.
Next, we'll talk about using the right equipment in the next section.
What Do You Need in a Streaming Setup?
You don't have to spend a fortune or go all out for some overly complicated setup to create a high-quality live streaming room. However, you need to possess the right pieces of equipment to make sure you can stream without distractions.
Here are the main components you'll need to secure so you can get started:
Good internet connectivity: A reliable internet connection is one of the first things you should have for your gaming and streaming setup. Any unstable internet connectivity will significantly affect the quality of your live stream as well as the viewing experience of your audience. It's best to invest in a solid connection to provide a fast streaming upload rate.

Get a computer: The second most essential component you need for your live stream is an actual computer. You'll need to decide whether you should get a laptop or a desktop. Choosing either one of these two options will depend on your budget, requirements, and preferences. Many gamers start with a laptop and upgrade to a desktop once they've saved up.

Live streaming application: The right streaming software or encoder is another essential piece esports center streamers need as part of their setup. This application will convert your audio and video content into a streaming format so your viewers can watch what you're doing. When deciding on streaming software, make sure it has all the functionalities you need for your live stream.

Video camera: A good quality video camera is necessary if you want to become a successful streamer. Choose a camera that offers features such as autofocus, at least 30 frames per second, and a minimum of 720p in output resolution.

Microphone: Having a reliable microphone will help you communicate with your audience when you go live. Good audio quality will benefit streamers greatly as it not only makes your voice easy to hear but also adds to the overall production quality of your stream.

Headphones: Another thing to consider for your gaming room setup is to have a pair of comfortable yet durable headphones. Such an accessory will help you differentiate between different sound sources, such as in-game noise and live stream notifications.
Click here to test the ggLeap client!

How Much Does a Stream Setup Cost?
Your live streaming setup cost will highly depend on your overall budget as an aspiring streamer and the requirements you want for your stream.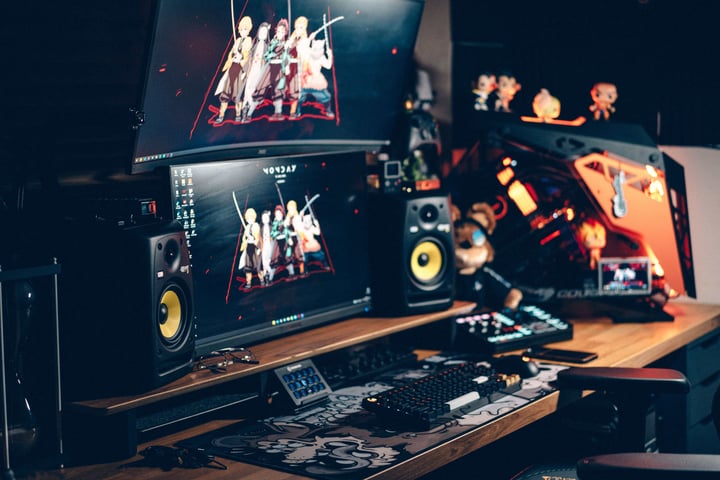 If you own a gaming desktop, you can expect to shell out an additional $500 to get the necessary components to complete your live stream configuration. But if you don't have a PC, you can expect to spend at least $1,500 to get things started.
Make sure you decide on a streaming setup that suits your needs and budget. You don't need to spend a fortune as a newbie streamer since you can always upgrade your equipment later on once you have the money.
Conclusion
Live streaming is a popular activity that many gamers today are doing. As a result, many players are investing in the right design and configuration to ensure they have the appropriate setup for their needs.
The streaming room ideas we've provided in this post are designed to help gamers prepare when they decide to stream for the first time. However, even experienced streamers can benefit from these ideas as they can learn new things about what they can add to improve their live streaming experience.
By following the tips above, you should have a general direction of what you should get to ensure your streaming setup has everything you need to successfully go live from your esports center.