The Best League of Legends Mouse Pad 2023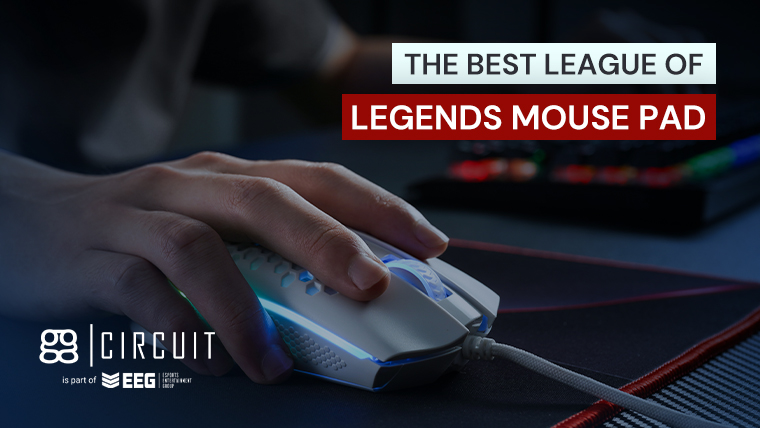 As far as we're concerned, the best gaming mouse pads are a lot like race car tires. Even though your car is fast and your driver is top-notch, using worn-out tires will limit your chances of taking home the checkered flag at the end of a race. However, casual gamers tend to overlook the mouse pad, despite the fact that it is an essential component of any amateur and professional gaming setup.
There are a wide variety of mouse pads available, each with its own set of features and specifications, so it's essential to pick one that complements your playstyle and personal preference. As a result, not only will you be able to play more comfortably, but you'll also be able to perform better.
If you're looking for a new mouse pad that can both improve your game and inspire you as a League of Legends player, keep reading! This article will highlight one of the superior gaming mouse pads on the market.
---
---
The Logitech G840 XL League of Legends Mouse Pad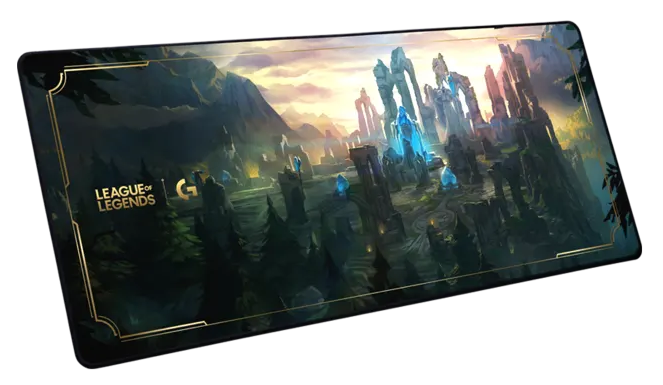 Logitech G840 XL League of Legends Edition Mouse Pad
More Space to Play
Thanks to its huge surface area, you have more room to play on the G840 than ever before. Enjoy the perks of setting up your system however you like, without the limitations imposed by a smaller mouse pad. Because of its extra-large 15" x 35" dimension with stitched edges and an even, stable 0.10" height, it eliminates mouse interference while allowing maximum setup flexibility.
Because it's larger than the typical mouse pad, you won't have to constantly pick up and put down your mouse. Gamers should pay particular attention to this because lifting and re-centering your mouse can be a significant distraction. This is especially true in games that call for lightning-fast and peak accuracy in mouse movement. Your gaming experience will improve with less time spent picking up and adjusting your mouse. If you're a League of Legends fan or just looking for something to keep you motivated while gaming, this extended mouse pad featuring the stunning scenery of Summoner's Rift or signature League of Legends colors is for you!
Surface for a Tuned Performance
The Logitech G840 XL League of Legends gaming mouse pad offers maximum precision and reliability for gaming mice that translate mouse movement to cursor movement by providing optimal sensor imagery.
This mouse pad is meticulously constructed to provide a comfortable and reliable gliding experience. In addition, its smooth surface will allow you to move your mouse faster and more fluidly, improving your gaming performance.
Because they're made for optimal tracking, their playing surface is free from irregularities. As a result, your mouse's sensor can consistently detect what you're doing correctly and guarantee a reliable and consistent experience and smooth mouse movement.
Moderate Surface Friction
For low-DPI gaming, a surface with moderate surface friction provides the right degree of traction for the mouse feet when moving abruptly. In addition, having a mouse that can precisely follow your movements is critical to the success of your gameplay. When it comes to games like LoL and shooter games, where accuracy and consistency are vital, the Logitech G840 XL League of Legends gaming mouse pad is an excellent choice. Improved mouse control is a long-term benefit that will make you a stronger player over time.
Stable Rubber Base
Sweeping and fast hand motions are common in low DPI players. The rubber base prevents the material from bunching up so the mouse can move smoothly around the tabletop without slipping. The stability required for both the mouse and keyboard from such a large mouse pad is provided by the 0.10" thickness. When you enjoy your favorite game, you can rest assured that this mouse pad's non-slip rubber base will keep it in place and prevent any unexpected movements. You won't have to worry about it slipping around when moving your mouse aggressively.
Roll and Go
The Logitech G840 XL League of Legends gaming mouse pad can be easily rolled up and stored in the transport tube that came with it. Additionally, the G840 mouse pad's tube is exceptionally durable and a must-have accessory for any PC gamer who's always on the move.
Wherever you go, bring the comfort and functionality you require for your mouse and keyboard. You can take your new G840 XL mouse pad anywhere and use it on any surface. When carrying the mouse pad to LAN events, utilize the durable transport tube to keep it safe.
Sign up for ggCircuit Updates!
Honorable Mentions
Official Riot Games Merch Mouse Pads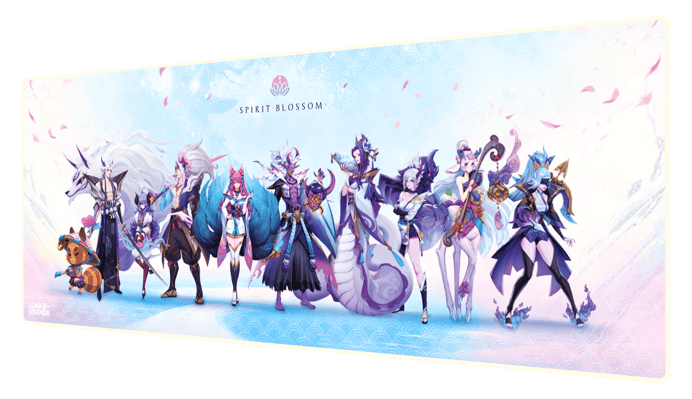 Image: Riot Games
Hardcore League of Legends fans will be glad that Riot Games offers their brand of mouse pads featuring League of Legends characters and designs. In addition, their online shop also sells various merch such as apparel, collectible items, and more!
The mouse pad is made of spandex and rubber, which should prevent slipping during gameplay. Edges are also double-stitched to prevent fraying. There are several available designs to choose from and are available in 14" x 10" in or 31" x 11.5" (XL) sizes.
Are you interested in making a purchase? Then, be sure to visit Riot Games' online store.
League of Store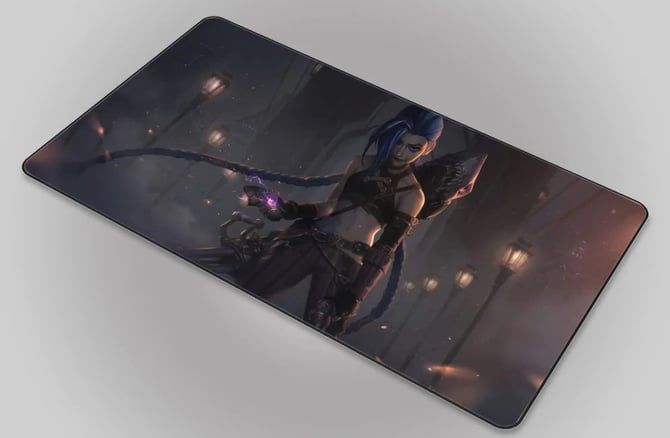 Image: League of Store
League of Store is an online shop that sells products exclusively about League of Legends. Self-proclaimed fans of League of Legends created this shop, and their products certainly show it!
The mouse pad comes in several sizes and thicknesses to accommodate every player's preference. It also features a non-slip rubber bottom to ensure that it stays in place during a hectic match. In addition, edges are reinforced with strong fabric to ensure the product's longevity.
Visit League of Store to see their entire catalog. They also accommodate custom printing of your preferred LoL Champion and skin.
What mousepad do LoL pros use?
Professional League of Legends players typically use brand names when it comes to a gaming mouse pad. Logitech, HyperX, and Corsair are the most popular mouse pad brands among professional LoL gamers.
Do pro gamers use mouse pads?
Yes, absolutely! A mouse pad provides an even surface for the mouse to glide on, ensuring that the mouse sensor will accurately detect the player's hand movement, particularly with low-DPI mouse settings. In addition, a good mouse pad can provide minimal support and comfort to a player's hand and wrist.
Another benefit of having a mouse pad is the consistency that it brings. If the event organizers allow it, players using their own mouse pad will no longer need to "acclimate" to an unfamiliar table surface.
What is Tfue's mouse pad?
Tfue is currently using Artisan FX Hien as his mouse pad of choice.
Do gamers need a mouse pad?
This may depend on the preference of a gamer. However, a regular gamer can get the same benefits that a pro gamer does by using a mouse pad. On top of that, a mouse pad can prevent scratches on a gaming table and will minimize wear on the mouse's paddings.
Of course, a mouse pad can also provide aesthetic improvement to a gamer's PC setup, particularly ones with RGB lighting.
Click here to test the ggLeap client!

Wrapping Up
Because of the constantly evolving requirements of professional players all over the globe, having a mouse pad has become unquestionably essential for comfort and ease when gaming. The best gaming mouse pads aren't just for show; they are critical to any serious player's setup.
League of Legends players will find inspiration in the Logitech G840 XL gaming mouse pad. To accommodate the mouse and the whole keyboard, it has a massive and ergonomic surface that spans the entire desktop area. Without clashing with your mouse, you'll find better comfort and a wider range of possibilities in keyboard positioning. In addition, reliable sensor imaging and maximum cursor precision are made possible by a performance-tuned texture.
The fabric surface is also engineered to have the perfect amount of friction so that you may target by feel and enhance both low-speed control and high-speed flicks. Despite the demands of gameplay, the rubber base keeps things in place. Advanced mouse control and comfort are at your fingertips thanks to a durable tube and a rollable design that is both sturdy and flexible.
Part of a larger League of Legends collection than just a gaming rig, these are legendary weapons: forged through the might of magic, hardened through the application of science, and held in the hands of great warriors.