The Best Keyboard for Valorant 2023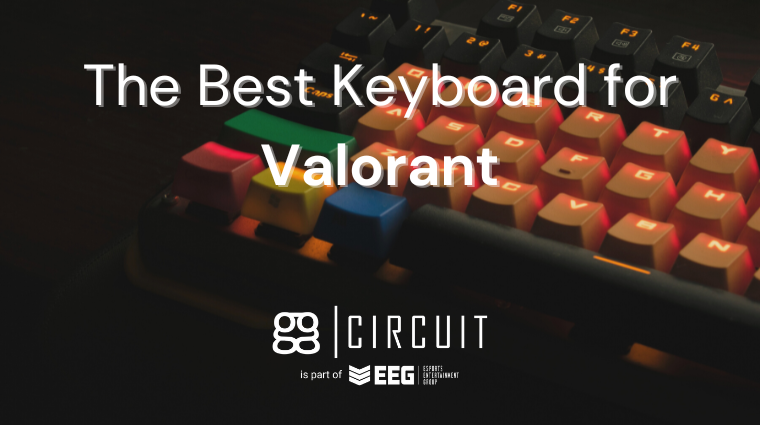 Precision plays a key role when playing first-person shooter (FPS) games, and Valorant is no exception. Being precise during a match can be pretty rewarding for players — not only for aiming but also for other aspects.
The movement system alone is fun but requires skill and practice to master. Actions such as bunny hopping and air strafing are quite common, and being able to hone your knowledge in using these movements can give you a significant advantage over your opponents.
That's why it's essential for all Valorant players to have their movement under control. This is where the best gaming keyboards come in.
This post will discuss the top gaming keyboards available today to give you an idea of what great features to look out for as you play games. We'll then share our insights on what we believe is the best keyboard for Valorant.
---
---
What Keyboard Is Best for Valorant?
The best keyboard for Valorant is the one that provides the user with the most reliability, accuracy, and responsiveness while playing. A common option is a mechanical keyboard, but a membrane keyboard is also a good choice for competitive games.
In other words, there are many high-quality options available today, and it will all go down to preference. Even Valorant pros are using everything from compact keyboards to full-sized keyboard models when playing games.
Despite being based on preference, there are still options available today that many consider the best gaming keyboards. So let's take a look at a list of the best keyboards you can use to improve your Valorant gaming experience.
Sign up for ggCircuit Updates!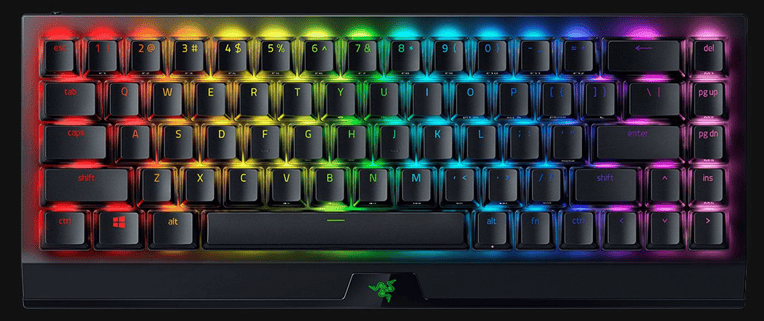 Image: Razer
The Razer Blackwidow V3 Mini is the best mechanical keyboard on our list. It features the multi-award-winning Razer Mechanical Switches and Phantom keycaps designed to actuate at the right distance. This gives users exceptional speed and responsiveness that can't be found on other keyboards.
Since the Razer Mechanical Switches were introduced, they have been seen as the latest standard for mechanical keyboards. After all, a mechanical gaming keyboard is only as good as the switches it uses.
What makes the Razer Blackwidow V3 Mini a great option for Valorant players is the excellent build quality it has to offer. Its patented mechanical switches are each designed to withstand up to 80 million keystrokes, allowing you to take advantage of this near-perfect keyboard for a longer time.
Because of its features, many players consider the Razer Blackwidow V3 Mini the best keyboard for Valorant. Despite its compact layout due to its 65% size, it provides users with all the essential keys they need in a sleek and lightweight design that you can bring with you even on the go.
Take a look at the top features of this mechanical gaming keyboard:
It uses the patented

Razer Yellow Mechanical Switch

that can withstand 45g actuation force

It has a keystroke lifespan that can reach up to 80 million strokes

Compact layout with fully programmable keys

Wireless connectivity via Razer HyperSpeed Wireless and Bluetooth, or wired connection via USC-C cable

1000Hz ultra polling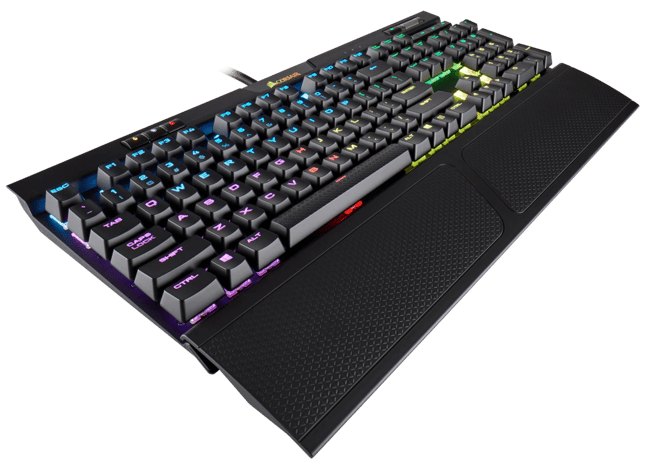 Image: Corsair
If you're not into compact boards but want the versatility of a full-size keyboard instead, then you can't go wrong by choosing the Corsair K70 RGB MK.2 to enhance your Valorant experience. The brand is known for providing some of the best full-sized boards you can find today.
As for the keyboard, you can expect it to have a brushed aluminum finish with its own media keys and volume wheel. You can also record your own macro keys for that unique game mode, while its programmable keys can be reassigned depending on your need.
Besides being well-built and reliable, the Corsair K70 RGB MK.2 offers excellent RGB lighting thanks to its in-depth lighting software. It also has a detachable wrist rest, so you can install and remove this accessory as needed.
As for available switch types, you can choose Cherry MX red, brown, blue, and speed. Cherry MX switches are the most popular choice among these options.
These are the top features of the Corsair K70 RGB MK.2:
8MB profile storage with hardware playback

Full RGB backlighting and lighting control with iCUE software

It offers a durable aluminum frame that is rugged yet lightweight

Has textured and contoured keycaps for maximum grip

100% anti-ghosting with full-key rollover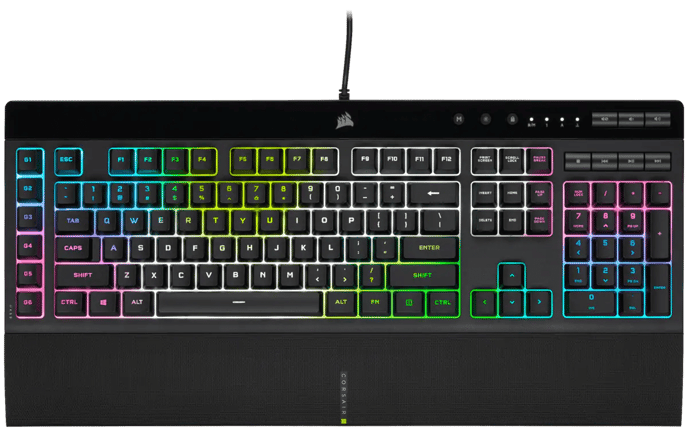 Image: Corsair
Did you know that you can still be good at playing Valorant without an expensive keyboard? The Corsair K55 RGB PRO XT is the most affordable keyboard on this list.
Although it's not a mechanical keyboard, the rubber dome switches of the K55 and its RGB lighting capability make up for it. There are 110 keys in total for this keyboard, six of which are fully programmable macro keys.
For its RGB backlight modes, you have 10 in total so that you can switch between them quickly. Meanwhile, its 8-key anti-ghosting accuracy feature allows you to press eight keys simultaneously, and all eight will be registered. The K55 also has a report rate of 1000Hz, which makes for a good choice for your Valorant keyboard.
Here are the top features of the Corsair K55 RGB PRO XT to consider:
Customizable onboard lighting effects

Program your own lighting using the iCUE software

RGB lighting reacts dynamically to real-time events and in-game actions

IP42 protection guards make the K55 spill-resistant

Six dedicated macro keys to program complex macros

Supports Elgato Stream Deck software for streaming commands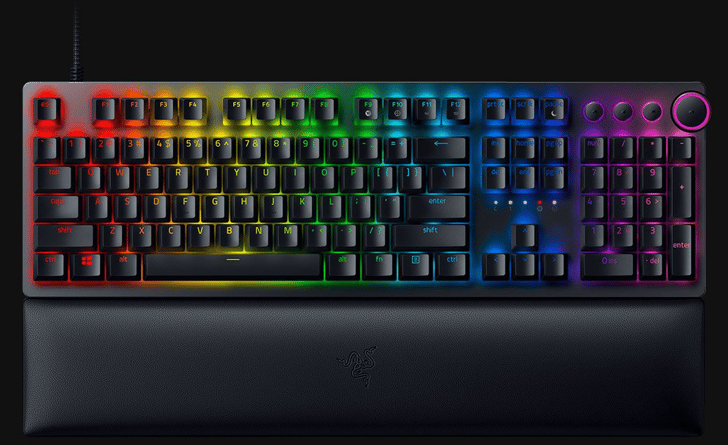 Image: Razer
The Razer Huntsman is designed for non-stop action, which has caused many people to say that it is the best keyboard for Valorant. And the second iteration of the Razer Huntsman will not disappoint, with features that provide all of the controls you need without much fuss.
This high quality keyboard from Razer provides a multi-function digital dial, linear switches, and doubleshot PBT keycaps. It also leverages innovative sound dampening technology, resulting in an almost silent typing experience.
The Huntsman V2's full-sized layout means gamers with larger hands will be comfortable using this keyboard when playing video games. In addition, the switches that come with the Razer Huntsman V2 are designed to give users the speed and durability they need for extended gaming sessions.
When it comes to customization, owners of the Razer Huntsman will be spoiled with the options available. It comes with the Razer Chroma that enables custom backlighting with over 16 million color options. It also comes with hybrid storage, allowing users to store up to 5 keybinding profiles.
Here are the top features of the Razer Huntsman V2:
Uses the patented Razer Linear Optical Switches technology for maximum speed

Clicky feedback with each keypress while staying light and balanced at the same time

Press up to 10 keys simultaneously with its anti-ghosting feature

Personalize macro keys to maximize in-game control

The top plate is made of a solid aluminum matte that adds durability and smoothness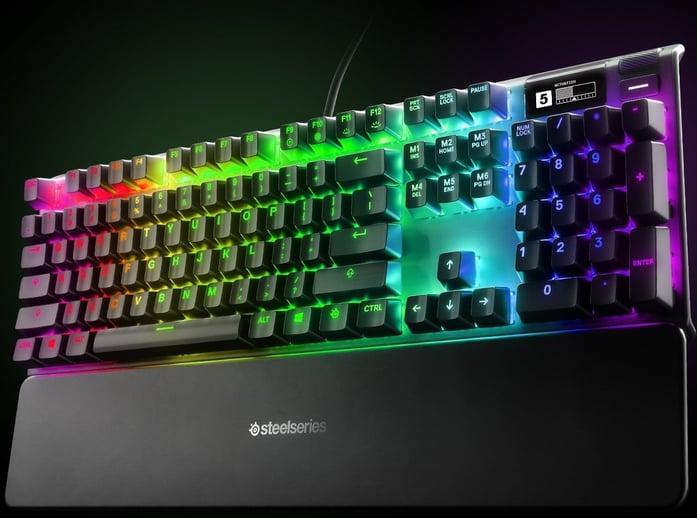 Image: SteelSeries
In the past few years, SteelSeries has been trying to release peripherals that are both unique and breathtaking at the same time. Although they haven't achieved their goal in every attempt, we can say that their Apex Pro is one of their most successful thus far.
This premium gaming keyboard comes with a programmable OLED display, a dedicated volume dial, media button, USB passthrough, and a wrist rest that can be detached. All of these features make the Apex Pro a better option compared to other boards, but it's not really what makes it unique.
The feature that makes it stand out among its competition is its customizable OmniPoint switches. These linear switches let users change the actuation point of every key on the board. So, for instance, it's possible to set the WASD keys to make them extremely light while setting other keys to be much heavier.
Although this feature isn't for everyone, some Valorant players will find such customizable keys to be quite handy, especially in intense matches. Some would even say that it's the best keyboard for Valorant at this time.
These are the top features of the SteelSeries Apex Pro:
First ever adjustable mechanical switches that can be customized for sensitivity

Provides 8x faster response, 5x faster actuation, and 2x more durability than other keyboards

Its OLED Smart Display provides users with direct in-game information

The overall build uses Series 5000 Aircraft-grade aluminum frame

It comes with a detachable, premium magnetic wrist rest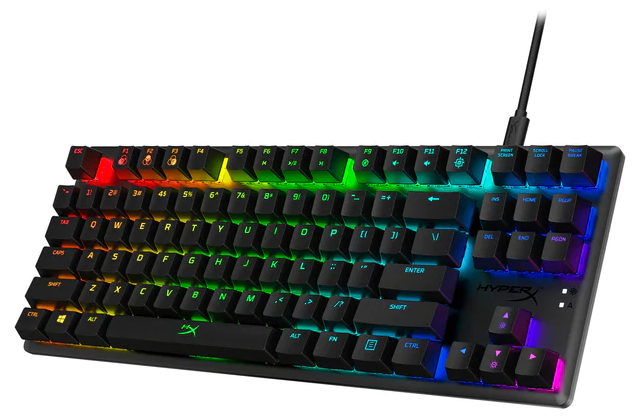 Image: HyperX
Despite its minimalistic design, the HyperX Alloy Origins Core is one of this list's most popular choices for Valorant gamers. This keyboard comes with RGB lighting and is fully customizable using the NGENUITY Software. You can also expect excellent build quality as well as reliable performance when you own one of these.
The keyboard is made using aircraft-grade aluminum, allowing it to survive despite being carried from one place to another. Its portability also makes it easy to bring around.
Besides that, the HyperX Alloy Origins Core takes advantage of the HyperX Red switches, which gives it an 80 million keystrokes lifespan. So people who want a sturdy and reliable keyboard can find what they need here.
These are the top features of the keyboard:
Extremely minimalistic tenkeyless design that is ideal for FPS games

Uses HyperX Red mechanical key switches

Durable and portable TKL design with a detachable USB-C cable

Game mode, 100% anti-ghosting, and N-key rollover functionalities

Made from aircraft-grade aluminum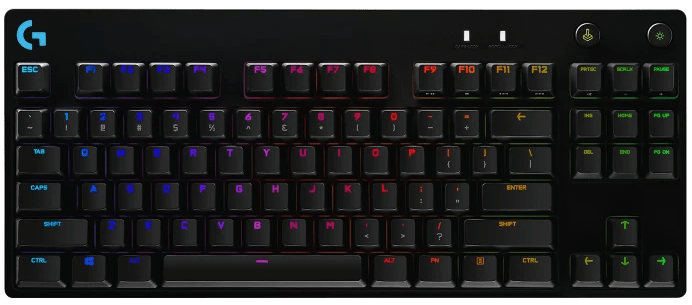 Image: Logitech
Many people claim that the Logitech G PRO X is the best keyboard for Valorant — for a good reason. Logitech is known for producing gaming products that are not only cutting edge but quite reliable as well. Although it's still new to the scene of keyboards, the G PRO X keyboard has already started to gain traction among many gamers.
On the outside, the G PRO X looks quite the same as its predecessor: the Logitech G Pro gaming keyboard. It has similar traits, such as its compact layout, tenkeyless design, detachable cable, and two buttons that let you change game modes. Meanwhile, the switches for the G PRO X are hot-swappable, which means you can quickly swap them out for other switches if you want.
The Logitech G PRO X mechanical keyboard is compatible with clicky, linear, and tactile switches. The feel of these switches is quite the same as Cherry MX counterparts, so getting familiar with them will be easy.
Here are the main features of the Logitech G PRO X:
Hot-swappable pro-grade switches for customization

Compact layout and tenkeyless design for lightweight yet long-lasting use

Takes advantage of Logitech's Lightsync with programmable RGB lighting

It comes with a detachable cable for easy and safe transportation

12 programmable F-key macros

It offers three angles along with rubber feet to keep the keyboard in place

Image: Logitech
Another candidate for the best keyboard for Valorant is the Logitech G915 TKL Lightspeed Wireless. This wireless keyboard is considered by many as an ideal mechanical gaming keyboard because of its long battery life, perfect feel, and fantastic gameplay performance.
Users can make the most of this keyboard's RGB lighting options with the help of Logitech's G HUB software. In addition, you'll be able to customize every key from an array of 16.8 million colors to choose from.
Looks aren't the only thing that makes the G915 TKL Lightspeed Wireless awesome; its low-profile mechanical switches are rated to last up to 70 million keystrokes. This means this keyboard can last longer than other boards within the same category.
What makes the keyboard even better is that its keys have a 1.5mm distance from each other. This allows for speedy transitions, which is essential when playing Valorant.
These are the top features of the Logitech G915 TKL Lightspeed Wireless:
It provides users with a premium look that not many keyboards can match

Low-profile mechanical switches that are highly responsive to the touch

Offers discreet macro keys for customization options

Fully programmable RGB backlights mean you can customize lighting the way you want

Tenkeyless and compact design takes up minimal space in your battle station
Click here to test the ggLeap client!

Is the Razer Huntsman MINI Good for Valorant?
Besides the gaming keyboards mentioned above, there is another board that many Valorant players use: the Razer Huntsman MINI. Unlike its bigger counterpart, the Razer Huntsman, the MINI offers a smaller keyboard that gives users only the essential keys they need when gaming.
The Huntsman MINI is a 60% keyboard with only 61 optical purple switches. There are no number pad, function, or arrow keys to worry about. This allows those playing FPS games to have more space to move their mouse around.
Is the Razer Huntsman Mini good for Valorant? Our answer is yes; it's definitely one keyboard to keep an eye out for.
What Keyboard Does TenZ Use?
Tyson Ngo, otherwise known as TenZ, is a Canadian gamer known for being the first Valorant player in the popular esports group Cloud9. He took part in the Valorant hype in 2020 and eventually became the first player in North America to reach the rank of Radiant.
At this time, TenZ uses the Xtrfy K4 TKL RGB gaming keyboard for Valorant. This tenkeyless design keyboard is minimalistic for any desk, has a compact layout, and is durable enough to withstand many hours of gaming. In addition, it comes equipped with red mechanical key switches that provide a light touch and fast actuation.
What Keyboard Do Most Gamers Use?
The top keyboards that most gamers use today are the Corsair K100 RGB, SteelSeries Apex Pro, and Razer BlackWidow V3 Pro.
The K100 RGB is seen as the best keyboard for Valorant by many users and is followed by the Apex Pro for its quality PBT keycaps and the Blackwidow V3 Pro for being the fastest wireless keyboard for gaming.
Summary
As you can see, numerous gaming keyboards are available out there to choose from. However, many options like wireless, membrane, and mechanical boards can make it difficult to decide.
We believe the Razer Blackwidow V3 Mini is the best keyboard for Valorant gaming. Its patented mechanical switches, fully programmable keys, and high keystroke lifespan are major reasons why many players choose it over others.
ggCircuit is a part of Esports Entertainment Group (GMBL).