Best Gaming Keyboard and Mouse Combo for Esports Arenas 2023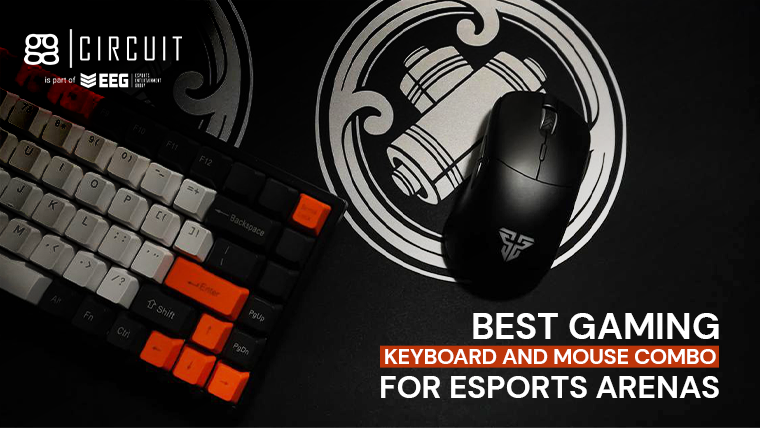 Do you have an esports arena with avid PC gamers? If so, then you're probably aware of how every player will always try to find an edge over their competition. In terms of computer accessories, having the best gaming keyboard and mouse combo is essential to compete at the highest level of gaming.
However, nowadays, choices can be overwhelming for people looking for new hardware. Moreover, there are many specifications to consider, making things even more difficult.
To help you with your decision, we at ggCircuit have compiled the top gaming keyboard and mouse combinations you should consider to help your esports arena stay competitive.
---
---
What Are the Best Gaming Keyboard and Mouse Combos?
The best gaming keyboard and mouse combos are the ones that are the most responsive and ergonomic to use. The ideal gaming keyboard should provide that tactile feel when pressing down the keys, while a good gaming mouse doesn't fatigue the wrist and is light enough to make quick adjustments.
With that said, here are the six keyboard and mouse combo packages we'd recommend: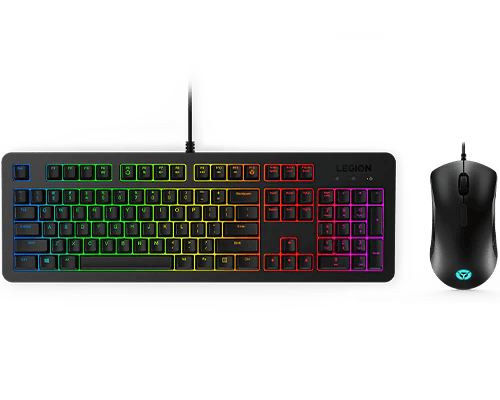 Image courtesy of Lenovo
Overview
The Lenovo Legion KM300 RGB gaming keyboard and mouse combo offers entry-level gamers the accessories they need for esports gaming. The full-sized keyboard offers programmable keys and a 24-key rollover membrane with RGB lighting on five zones.
Meanwhile, the Legion M300 RGB gaming mouse that comes with this package offers eight programmable buttons, an ambidextrous design, customizable RGB lighting, and an 8,000 DPI adjustable sensor.
Highlights and Features
The Legion K300 gaming keyboard combines a smooth frame with durable components. Start dominating tournaments with advanced 24-key rollover for simultaneous commands and anti-ghosting for precise outputs.

The compact yet adaptable body of the K300 is light to bring around yet sturdy enough to withstand up to 20 million key presses.

Unlock your full gaming potential with precise clicks on the 8,000 DPI adjustable tracking of the Legion M300 gaming mouse. Its microswitches can last for as many as 10 million clicks, while its 1000 Hz polling rate is more than enough for esports gaming.

Play video games for hours without worrying about pain or discomfort as the Legion M300 gaming mouse is ideal for both right and left-handed players. It also matches those who prefer the palm grip or claw grip type of mouse hold.

The K300 can be customized to meet your gaming needs using the Legion software. Choose from one of the presets or personalize the lighting effects to match your style.

The M300 gaming mouse from Lenovo boasts 16.8 million RGB colors that will show up on the Legion logo.
Pricing
The Lenovo Legion KM300 gaming keyboard and mouse combo are priced at $74.99 for the standard pricing. But, of course, you can always get discounts and promos depending on when you buy them.
Lenovo also has special financing available via Lenovo Financing.
Bottom Line
The Lenovo Legion K300 is one of the best gaming keyboards you can use in your local esports arena. Combine that with the Legion M300 gaming mouse, and then you have a setup that will let you meet or even surpass today's PC gaming needs.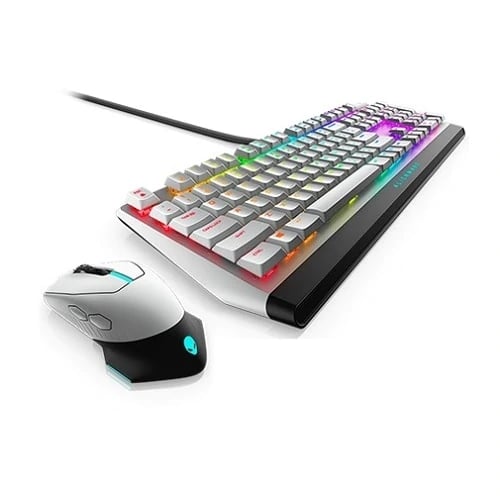 Image courtesy of Dell
Overview
This mouse and keyboard combo from Alienware offers esports arena players the accessories they need to perform to the highest level during tournaments.
The AW510K gaming keyboard has its dedicated volume control for changing audio on the fly and programmable keys for customization. Meanwhile, the AW610M gaming mouse offers dual options for wired and wireless users and has seven programmable buttons available.
Highlights and Features
The unique and iconic design of the AW510K and AW610M adds excitement and immersion to any gaming experience. Besides their sleek appearances, this mouse and keyboard combo offers top-notch ergonomics not easily found in many gaming setups.

Take advantage of the AlienFX RGB backlight that can be personalized according to desired zones. Furthermore, users can enable dynamic lighting effects to match what's going on in-game.

All keys of the AWK510K have N-key rollover capability, and anti-ghosting included. Additionally, users can set their programmable macro keys to provide the needed functions for an improved gaming experience.

The AW610M can support both palm and claw grip styles.
Pricing
In terms of pricing, this Alienware gaming keyboard and mouse bundle costs $259.98 at standard pricing. Promos are available at different points in the year and can give as much as 30% off on your purchase.
Bottom Line
The Alienware AW510K gaming keyboard and AW610M wired/wireless gaming mouse combo is a worthy set to bring during tournaments, thanks to its excellent design, performance, and ergonomics.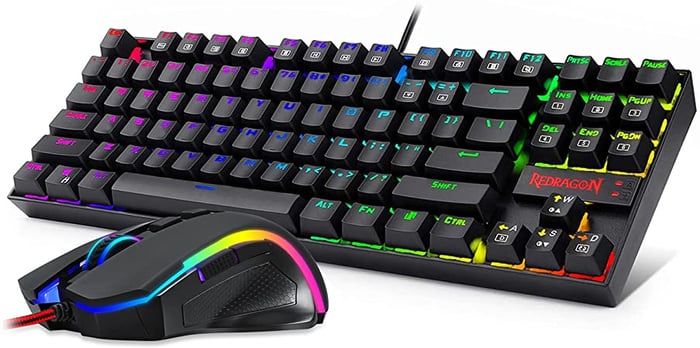 Image courtesy of Amazon.com
Overview
The Redragon K552-RGB-BA mechanical gaming keyboard and mouse combo offers gamers the entry-level essentials they need to stay competitive during tournaments.
The K552-RGB-BA keyboard is a tenkeyless model designed to help save space. Despite its compact design, though, it doesn't compromise on ergonomics. Meanwhile, the Redragon M602A-RGB "Griffin" gaming mouse that comes with this package has pinpoint accuracy and excellent responsiveness with user-adjustable DPI values.
Highlights and Features
The K552-RGB-BA gaming keyboard from Redragon has 87 keys and custom mechanical keys that are a Cherry Blue equivalent. Users can expect responsive and audible click sounds as well as tactile feedback.

The multimedia keys for the gaming keyboard are splash-proof, while its ABS and metal construction provides the sturdiness users need for extended gaming.

The wired gaming mouse from Redragon has a DPI of up to 7200, including 10G acceleration. Its gaming-grade micro switches are designed for durability and longevity even after countless hours of competition.

The Redragon M602A-RGB gaming mouse is designed to provide players with the most comfort during gaming. The mouse minimizes click fatigue and is a natural fit for most hands.

The K552-RGB-BA gaming keyboard and M60sA-RGB gaming mouse are compatible with Windows 10 and work well with all major gaming PC setups.
Pricing
In terms of pricing, the Redragon K552-RGB-BA mechanical keyboard and mouse combo costs $54.99.
Bottom Line
For esports gamers looking for a budget keyboard and mouse combination, this setup from Redragon offers the affordability and performance they need for an entry-level configuration.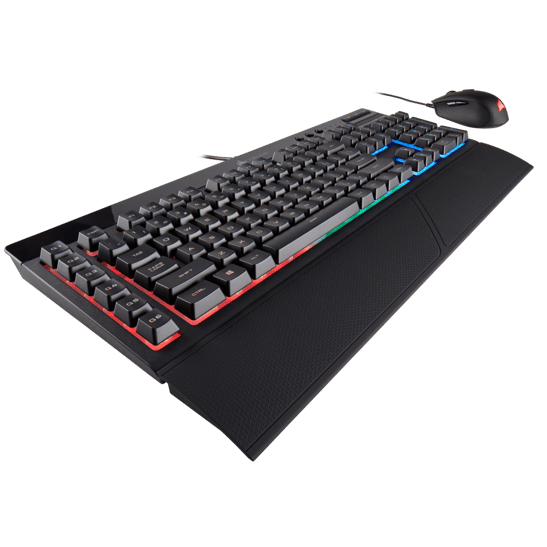 Image courtesy of Corsair
Overview
This mouse and keyboard combo is a package that offers gamers the essentials they need to perform during matches.
The K55 RGB keyboard comes with dedicated macro keys, backlighting modes, anti-ghosting capabilities, and media buttons for control and customization. On the other hand, the Harpoon RGB gaming mouse included in this setup is lightweight with a 6000 DPI optical gaming sensor for accurate and responsive performance.
Highlights and Features
The Corsair K55 RGB gaming keyboard provides more than ten vivid RGB lighting modes. It lets you select options for multicolor static or dynamic lighting effects.

The keyboard comes with its dedicated volume and multimedia controls. These buttons will allow a user to adjust audio without interrupting matches.

Besides being quiet and responsive, the K55 RGB gaming keyboard has multi-key anti-ghosting support. This feature ensures that every command you input is accurately registered.

The Harpoon RGB mouse offers 6000 DPI with advanced tracking that allows for precise and responsive control. As a lightweight mouse, it easily supports fast movements to win games.

Harpoon RGB Mouse is made to fit naturally in the hands of its users. Additionally, it supports several grip styles for maximum flexibility.
Pricing
The price of the Corsair K55 RGB keyboard and Harpoon RGB mouse combo is $69.99.
Bottom Line
Overall, this keyboard and mouse combo from Corsair offers esports gamers the versatility and performance they need to exceed expectations and win matches.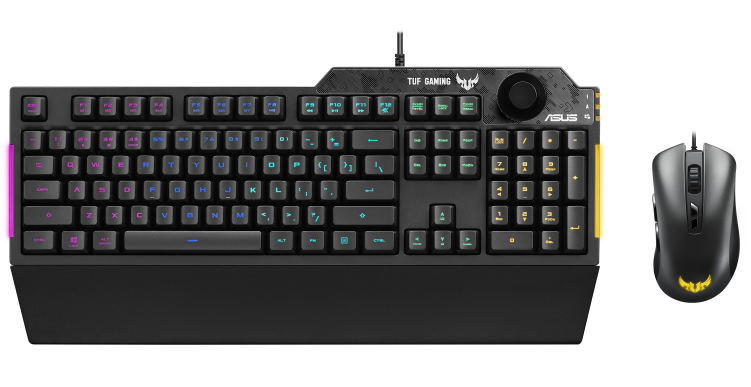 Image courtesy of ASUS
Overview
This package from ASUS combines the TUF K1 gaming keyboard and the TUF M3 gaming mouse to provide gamers with excellent performance and durability.
The keyboard has tactile membrane switches, a detachable wrist rest, and a dedicated knob for audio control. Meanwhile, the gaming mouse is lightweight and ergonomic with a high-quality optical sensor that provides much-needed reliability during matches.
Highlights and Features
The TUF K1 gaming keyboard comes with five individual RGB lighting zones. It also provides two light bars that are mounted to the side for beautiful illumination.

The keyboard is made with a reinforced plastic frame for added durability. It also has a 300ml spill-resistance rating to withstand such accidents while gaming.

For quick audio adjustments, ASUS decided to include a dedicated volume knob in the K1. The keyboard also has a wrist rest that can be easily detached depending on the user's needs.

The M3 gaming mouse from ASUS offers a 7000 DPI optical sensor for precision tracking and responsive movement. It also comes with 2 DPI buttons to make adjustments easier on the move.

The mouse has seven programmable buttons that are tactile for improved ergonomics. Meanwhile, it also has onboard memory, so gamers can customize their button configurations the way they want.
Pricing
The ASUS TUF gaming keyboard and mouse combo cost $69.99 on Amazon.
Bottom Line
The TUF K1 and M3 gaming keyboard and mouse combo can give gamers ergonomics, durability, and customization to maximize their gaming capabilities. Today, many users consider this the best keyboard and mouse combo for esports arenas.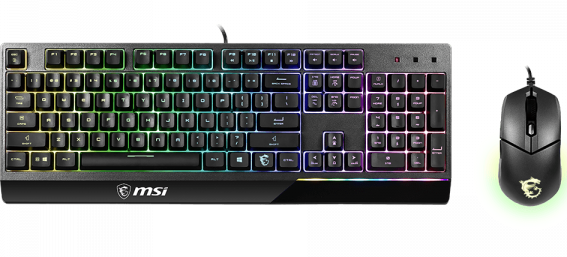 Image courtesy of MSI
Overview
The MSI Vigor GK30 gaming keyboard and Clutch GM11 gaming mouse are one of the more affordable choices on this list.
The keyboard has special membrane switches that provide a responsive yet smooth feel when its buttons are pressed. In addition, its RGB illumination extends to 6 regions of the keyboard with eight light effects.
As for the Clutch GM11, this mouse offers an asymmetric design that lets both right- and left-handed users operate it easily.
Highlights and Features
The Vigor GK30 gaming keyboard has plunger switches that are mechanical-like when pressed. It provides esports gamers with a crisp typing experience with an audible sound.

A total of 6 areas on the keyboard benefit from its stunning RGB lighting effects. It also supports MSI Mystic Light for an even better ambiance while gaming.

The GK30 is water-resistant and can be fine-tuned via the Dragon Center.

The Clutch GM11 gaming mouse is ergonomic and asymmetrical; right- and left-handed users can use it without problems.

More than seven lighting effects are available with the Clutch GM11. This gaming mouse also offers a DPI sensor that matches five different colors.
Pricing
In terms of cost, the standard pricing of the MSI Vigor GK30 gaming keyboard and Clutch GM11 gaming mouse is priced at $69.99 on Amazon.
Bottom Line
All in all, this gaming mouse and keyboard package from MSI is a relatively affordable choice for gamers who enjoy ambient lighting and customization during matches.
Sign up for ggCircuit Updates!
What is the Difference Between a Mechanical Keyboard and Membrane Keyboard?
A mechanical keyboard has a different feel compared to a membrane keyboard. Mechanical keyboards have spring-loaded switches, which allows the keycaps to produce an audible 'click' sound and a smooth action each time they are pressed.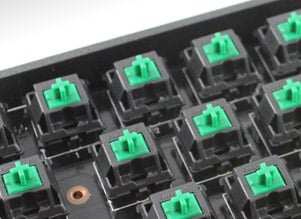 Image courtesy of MechanicalKeyboards.com
On the other hand, membrane keyboards have a certain soft feel when the keys are pressed, thanks to the rubber underneath each keycap.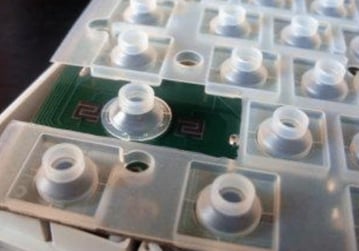 Image courtesy of Hackaday.com
The best keyboard and mouse combo for PC gaming is the one that provides the right balance of durability, ergonomics, and performance.
What are the Types of Keyboard Sizes?
There are different types of keyboard sizes available for esports gamers today, with each of them providing its advantages and disadvantages. The right keyboard type will depend on what the user wants to accomplish.
Here are the three most common keyboard types you can find:
Full-sized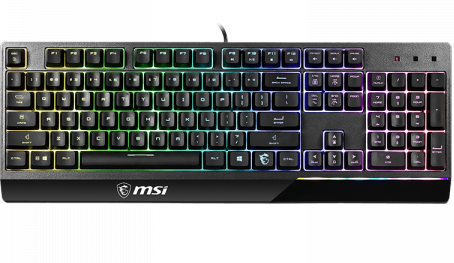 The MSI Vigor GK30 Keyboard - Image courtesy of MSI
The full-sized keyboard is one of the most common keyboards sold today. It offers 104 keys and comes with a standard number pad, function keys, arrow keys, and home cluster.
For gamers, full-sized keyboards mean that they have a wide selection of keys at the ready. As a result, they can program keys to meet their gaming needs. Additionally, a full-sized keyboard is a more comfortable option since most of them come with wrist rests.
The main disadvantage of using such a keyboard is that it can be bulky. Esports arenas with a smaller setup for PC gaming won't find a full-sized keyboard an ideal choice for their needs.
TKL (Tenkeyless)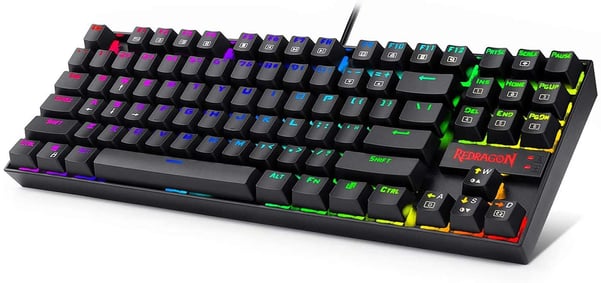 Redragon K552 Mechanical Keyboard - Image courtesy of Amazon.com
Tenkeyless (TKL) keyboards usually only have 87 keys in total. They provide gamers with a balance of functionality and size. One can consider TKL keyboards to be the middle ground in the list of keyboard sizes available today.
A TKL keyboard doesn't have a number pad compared to a full-sized keyboard, which gives it a more compact appearance while also making it easier to bring along during tournaments.
Many gamers don't rely on the number pad as much as others and will find TKL keyboards a suitable option while playing. TKL keyboards still retain the home cluster, function keys, and arrow keys, allowing gamers to play and still type with ease.
60% Keyboard Size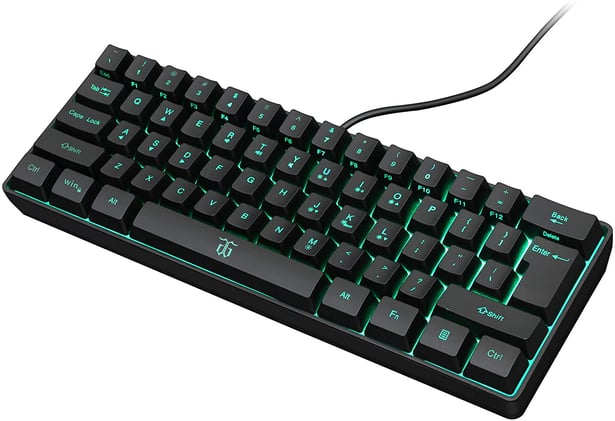 DGG K60 61 Keys RGB Keyboard - Image courtesy of Amazon.com
The third most common keyboard size is the 60% model. These keyboards are a popular option for many gamers and those simply into mechanical designs. In addition, thanks to their compact, miniature, and symmetrical appearance, 60% keyboards are commonly used by enthusiasts for their custom keyboard builds.
The main benefit of using a 60% keyboard is that customizing and building it out can be cheaper than buying full-sized gaming keyboards. Pre-building your keyboards is ideal for those working within a budget but still want an ergonomic and personalized keyboard design.
However, 60% keyboards may be quite small for most gamers. In addition, without its home cluster, arrow keys, number pad, and function row, typing with a 60% keyboard can be quite difficult for those using it for the first time.
Click here to test the ggLeap client!

Benefits of a Gaming Mouse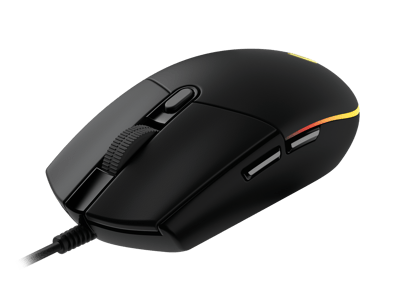 Logitech G102 - Image courtesy of Logitech
Gaming mice are designed to be durable and rugged to allow gamers to achieve high performance during matches. That's why they are made with high-quality materials and are proven to last a long time.
Compared to standard mice, gaming mice are made to be more comfortable in the hands of gamers even after many hours of use. Conforming to the human hand allows for increased ergonomics, accurate controls, and responsive movements all around.
Furthermore, a gaming mouse has buttons that users can customize based on their needs. Macros can be set to execute specific actions with just a click of one of the extra buttons that come with a gaming mouse.
Summary
The best gaming keyboard and mouse combo offer gamers the ability to perform at the highest level of gaming. The keyboards and mice mentioned in this article are among the top choices for an esports venue.
The Lenovo Legion KM300 RGB keyboard and mouse combo are among the highest-rated options today. Its gaming keyboard can withstand as many as 20 million presses, while its 24-key rollover membrane lets you take advantage of its various RGB lighting effects.
The options for Alienware, Corsair, and ASUS are worthy contenders for the top choice. Their combo packages offer versatility, customization, and durability unmatched by other brands.
For esports arenas on a budget, the ones from Redragon and MSI are ideal choices to consider. The MSI Vigor GK30 gaming keyboard and Clutch GM11 gaming mouse is the most affordable package on this list.
Need help with your esports venue? Get in touch with the ggCircuit sales team today!