The 11 Best Gaming Headsets for Call of Duty: Warzone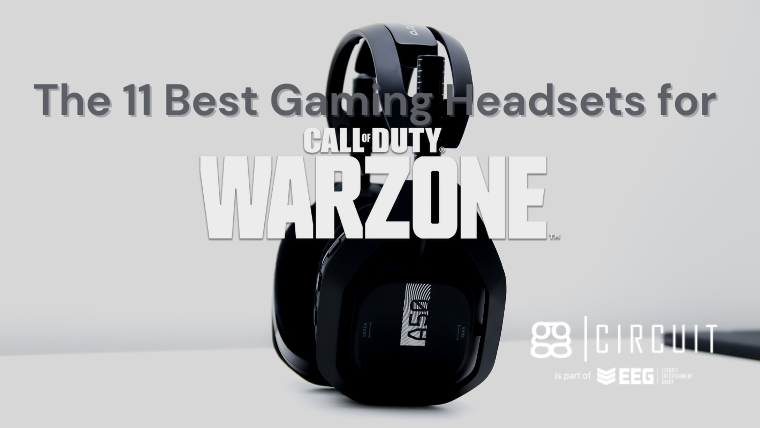 Would you like to know what would be an excellent headset for FPS games like Call of Duty: Warzone? If you're in the market for a high-quality gaming headset that will help improve your performance, then you've come to the right place.
A good gaming headset can significantly improve your performance in-game and your enjoyment while playing. In addition, a headset with the right build quality can provide outstanding sound effects that will make your marathon gaming sessions more enjoyable.
Besides that, they also give you quality voice chat capability that makes coordinating moves with your squad mates easier. A headset with extra features such as active noise cancellation and a boom microphone is also a great choice.
To help you identify and decide which gaming headset would be ideal for Call of Duty: Warzone, we've prepared a guide that will discuss the main features of the top choices available today. So check out our list of the best headsets (in no particular order) to make the most of your online games.
---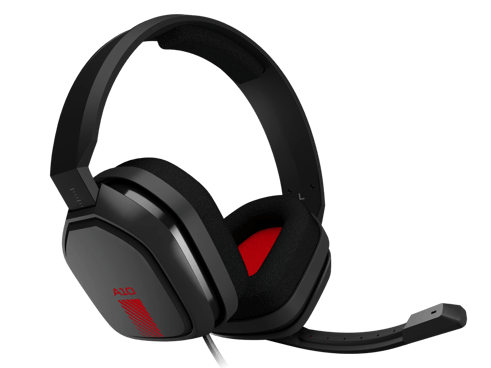 Astro Gaming's A10 headset is a great gaming headset designed specifically to cater to Call of Duty players. This accessory has COD artwork embedded in its design that shows it is intended primarily for enthusiasts.
What makes the Astro Gaming A10 headset great is that it's made with an anodized aluminum headband that comes equipped with a polycarbonate blend exterior. Such material is the reason for its lightweight design while adding some much-needed structural integrity.
In terms of comfort, you can expect large ear cushions made of memory foam that help improve airflow while gaming. In addition, it has a microphone you can flip up as needed and in-line volume controls added to the headset for convenience. Unfortunately, the cord that connects the 3.5 mm headphone jack could be better and can get easily tangled.
Another feature is that its microphone can capture a user's voice with excellent detail thanks to its omnidirectional capability. Combine that with high-quality audio drivers, and you have a gaming headset that can produce amazing sounds.
For esports gamers, the low latency design of the A10 allows it to transfer audio in real-time. You can also use it to play on PS4 and Xbox One in addition to your desktop. This means that you can switch gaming platforms easily whenever needed.
Besides having a sleek and comfortable design, you can expect the gaming headset to be environment-friendly as well since it is produced through sustainable solutions. Connect the Astro Gaming A10 to a 3.5mm jack, and you're good to go!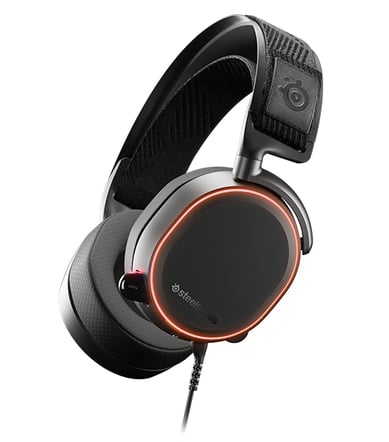 Many individuals who enjoy gaming with quality headsets will be familiar with the products that SteelSeries provides. In addition, the manufacturer itself has made some significant changes throughout the years, starting as a producer of bassy headphones to headsets that will delight audiophiles.
After quite some time since the SteelSeries Arctis 7 was introduced, the company has been spending time making perfections to its already top-notch design. The result has led the Danish manufacturer to come up with an even better variant: the SteelSeries Arctis Pro.
The Arctis Pro is all about being an elegant gaming headset. While major competitors are trying to design the most outrageous headsets, SteelSeries produces accessories that are simple, minimalist, and effective in what they do.
With regards to design, the manufacturer opted for a matte appearance while ensuring it stays ergonomic. The headband is made of steel and has a gunmetal finish that comes with a padded underside. Meanwhile, users can swivel the ear cups, remove plates as needed, and benefit from the Airweave cushions.
The Arctis Pro has a secondary headband that allows wearers to fit the headset on their heads perfectly. It's also possible to replace the magnetic ear cup covers and headband for something more personalized.
One advantage that this product has over many gaming headsets for Call of Duty Warzone is that it can be worn for long hours and doesn't hurt the ears. In addition, thanks to its removable ear cups and headband, users can customize their headset with a wide range of designs and color options.
These headphones have LED lights running on the edge of the ear cups that will enhance your gamer's appearance. The lights can be customized by using GameDAC. Additionally, you can twist the microphone in any direction and push it internally when not being used. It also has its own LED light that lights up when you mute it.
Speaking of the GameDAC, this is the best feature that you can get along with the Arctis Pro. It allows you to override existing audio settings so you can achieve excellent sound quality and performance when playing Call of Duty: Warzone.
Sign up for ggCircuit Updates!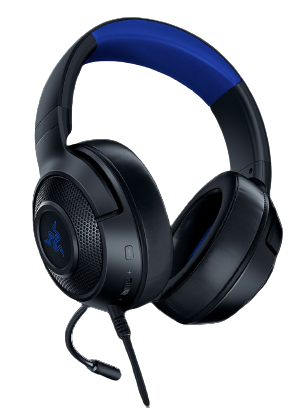 The Razer Kraken X is one of the best-looking gaming headsets you can have for playing Call of Duty: Warzone. Compared to many of its predecessors, this headset follows a more traditional design while being more practical.
It measures 7.5 x 6.5 inches and is relatively lightweight at only 8.8 ounces. The chassis is made with all-black plastic, subtle honeycomb designs, and the Razer logos on the ear cups. The headband is padded and fits appropriately to each user.
On the left ear cup, you'll find the typical extra features, including the mute button and volume dial. The microphone is flexible but doesn't retract and isn't removable, so it can impede peripheral vision and get in your way if you're not used to it.
Besides the microphone downside, the Kraken X from Razer provides users with a highly versatile gaming headset. It connects to anything with a 3.5mm audio cable, but it also has a splitter for those who prefer to use a separate mic/audio input.
Thanks to its overall size and weight, along with quality ear cups, one will find the Kraken X to be quite comfortable to wear even for long gaming sessions. In addition, its headbands use padded leatherette material, and the ear cups will only press down gently while in use, which is ideal for those wearing eyeglasses. Despite that, you can still get a tight seal on the ears without causing any discomfort.
The Kraken X delivers a high-quality audio experience on various platforms, making it an excellent choice for esports gamers who play Call of Duty: Warzone.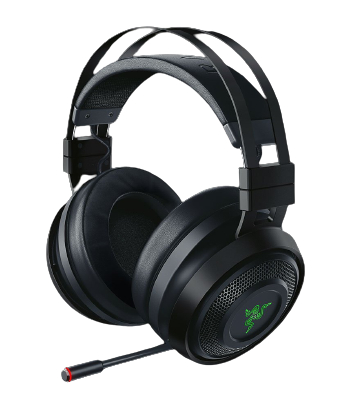 Compared to the Thresher console series or the more established Kraken lineup, you can expect the Razer Nari Ultimate to have a few differences between the two, namely, big padded ear cups that will fit snugly on the ears.
This wireless headset also provides cooling pads that will keep you cool throughout your gaming sessions. In addition, you'll find an aluminum headband frame holding the piece together to provide stability and strength. Users can easily adjust the padded headband so that it stays comfortable on the head.
What makes the Razer Nari Ultimate great for Warzone gaming is the connectivity options it has available. Users can connect through wireless 2.4 GHz using the USB dongle within the headset and analog using its pole cable. There is also a semi-wireless wired mode available via USB.
In terms of performance, you have a solid gaming headset in the Nari Ultimate when you use it for playing video games. Although you can purchase other headphones that offer a touch better in terms of frequency response, you won't get the same features that the Nari Ultimate provides.
These headphones offer a decent balance for a Razer headset, providing users with more bass than mids and trebles. Despite the added weight, they are comfortable to wear even if you play with them for several hours.
Overall, the Razer Nari Ultimate provides users with an interesting gaming headset they need to try to believe what it offers. The manufacturer has produced a solid pair of headphones with excellent features that will only make gaming even better.
Although there are a few things that Razer can iron out, the Nari Ultimate is one of the best wireless gaming headsets you can use for Warzone today.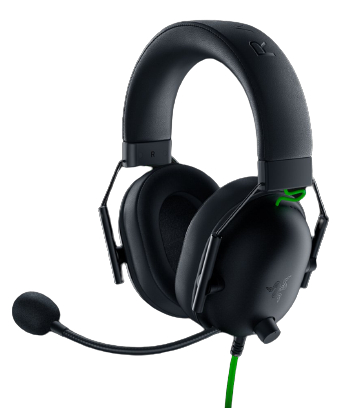 If you're looking for a more budget-friendly version of the Razer BlackShark V2 that offers the same excellent-quality build. Then you can't go wrong in choosing the Razer BlackShark V2 X. Despite lacking many notable features that make its predecessor great. This wired headset provides decent audio quality when it comes to playing Call of Duty: Warzone.
You can use the BlackShark V2 X headphones to play matches for hours on end without feeling any discomfort. Meanwhile, their full-wired capability makes them readily compatible with most consoles. They also have an excellent boom microphone that captures voice clearly even when gaming in a loud environment, such as an esports center.
The Razer BlackShark V2 X has a low-key design that is made of matte black plastic. They don't have RGB lighting, even for the Razer logo, which is offset in black. The only additional color you can expect from this gaming headset is the neon green cable that it comes with.
This headset offers comfortable headbands and ear cups thanks to the soft leatherette material used. However, the area of the ear cups that rests on the face is made of regular fabric. The great thing about the ear cups is that they utilize a light memory foam component that easily compresses when used and will fit nicely on the head.
Due to the stripped-down nature of the BlackShark V2 X, you can expect this gaming headset to be quite light. It only weighs 0.53 pounds — you can barely feel it while wearing it. In addition, the BlackShark V2 X headset is quite comfortable to use, with the only downside being that the ear cups don't have any swivel so they may squeeze your ears.
As mentioned above, this headset is readily compatible with most modern devices thanks to its single 3.5mm jack. In addition, desktop users can take advantage of its virtual 7.1 surround sound capability for added enjoyment while gaming.
However, you'll need to have a USB connection to take advantage of the 7.1 surround sound app, which isn't available right out of the box. Instead, the app is a separate download and will need to be activated using a code that you can find on the headset.
The HyperX Cloud II is a gaming headset that features precision 53mm audio drivers. This allows it to produce highly refined audio that will enable users to identify the direction of footsteps and other sounds in-game. Such a feature is extremely useful in games such as Call of Duty: Warzone, where audio is an important part of identifying enemy positions.
You'll find large ear cups on the headset that come with memory foam pads as well as a protein leather line. Such a combination is comfortable on the skin, while its unique black and red palette, along with the HyperX logo, make it visually appealing. Keep in mind, however, that the cord that comes with the headset can easily get tangled.
Another advantage of this gaming headset is that it's made with high-quality materials that enhance durability when playing matches. That's why many experts recommend using it to play AAA titles such as Call of Duty.
Besides that, the gaming headset supports virtual 7.1 surround sound while delivering sound in a 3D field. Just like many HyperX headsets, this one is readily bendable and has a detachable mic that has passive noise cancellation to reduce background noise.
Finally, the high-quality aluminum frame adds to its durability while making it lightweight and comfortable for regular use. It's also compatible for use on other gaming platforms, such as Xbox Series X and Nintendo Switch.
Click here to test the ggLeap client!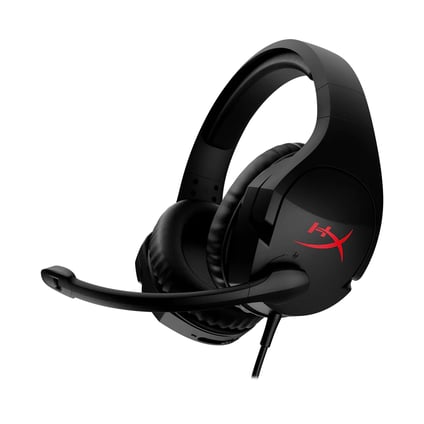 The HyperX Cloud Stinger is one of the top picks for Call of Duty: Warzone gaming for people looking for a lightweight headset that works well for the title. It offers an easy-to-adjust headband that can match any head size, while its ear pads are comfortable thanks to its memory foam material.
For communication capabilities, the microphone on the HyperX Cloud Stinger has noise-cancellation technology that will make it easier for teammates to coordinate with you. Unlike the Cloud II, however, this headset doesn't have built-in equalizers or 7.1 virtual surround sound capability. This model's advantage is its affordable price point can make it the best option for entry-level gamers interested in trying out a new headset.
As stated above, the HyperX Cloud Stinger is exceptionally lightweight thanks to the materials used in its production. In addition, it offers an intuitive design that many gamers will find interesting while providing the durability needed in esports gaming.
The microphone is readily detachable, while the headset is compatible with use on multiple platforms. This means that you'll be able to take advantage of its outstanding sound quality both on PC or PS4 without experiencing issues.
Thanks to its memory foam headband, you can expect the HyperX Cloud Stinger to be quite comfortable. It also uses velour fabric on its ear cushions that allow for many hours of comfortable gaming.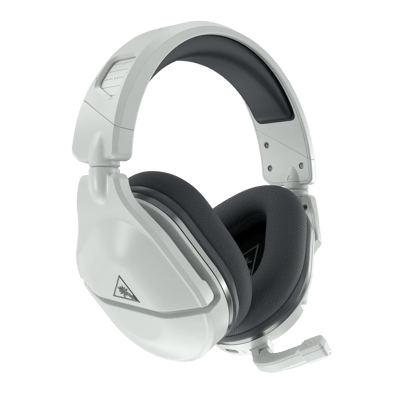 For those looking for an alternative gaming headset from the mainstream choices available today, you might want to check out this offering from Turtle Beach. The brand has already grown in popularity thanks to the wildly successful Stealth 600 gaming headset they released in the past. With its second-generation variant's introduction, Turtle Beach hopes this will follow in the footsteps of its predecessor.
The Stealth 600 Gen 2 is a fully plastic gaming headset that employs a durable hinge system. This system allows users to tilt and rotate the headset at various angles.
It features a headband made with a leatherette-covered cushion that feels very secure. This is probably intended since gamers will most likely be moving a bit more due to it being a wireless gaming headset.
As for the headphones, you can expect ear pads that are covered in mesh fabric. These pads are designed to have grooves underneath so that gamers who wear eyeglasses will be comfortable wearing the headset.
The great thing about their ear pads is that they are soft, and you can get a decent seal with them if you want. Although the mesh fabric itself doesn't isolate as much as leatherette materials, it still handles heat well, making it ideal for long gaming sessions.
In terms of visual appearance, the Stealth 600 Gen 2 looks quite similar to the Turtle Beach Recon 200 model, except for its microphone. While the older model has a mic on the left side of its headphone, the Stealth 600 Gen 2 has its mic easily foldable within the headset. The microphone will still work the same, but the way users can fold it inside makes it more subtle.
When talking about controls, you can expect the same layout as that of other Turtle Beach models. It has a power button, volume dial, audio mode button, and mic sidetone dial that you can find at the back of the left headphone.
To connect the Stealth 600 Gen 2, you'll need to use a 2.4 GHz wireless USB dongle. The good news is that it's plug-and-play, which means that you don't need to set anything up once you have it connected. However, you might have to take at least 30 seconds to pair the headset with the dongle.
Finally, a single charge of the Turtle Beach Stealth 600 Gen 2 lets you use the wireless gaming headset for up to 15 hours. However, many players claimed that it has more than 21 hours of battery life from being fully charged, especially when using it on a lower volume than max.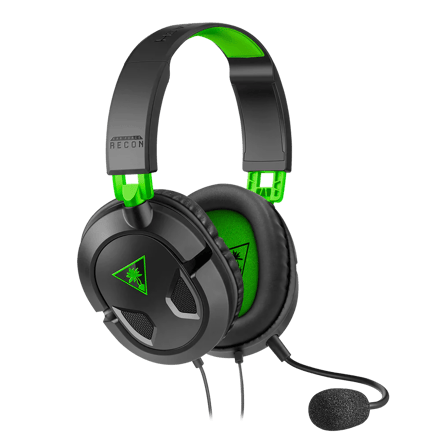 For Warzone gamers who don't have that much of a budget but still want a gaming headset from Turtle Beach, then the Recon 50X provides an entry-level model for their needs. This headset comes with a 3.5mm jack that you can use on PC, Mac, PS4, and Xbox One. It is quite the budget headset and gives the Astro A10 a run for its money.
The Turtle Beach Recon 50X has a green-and-black color scheme with a plastic headband that features green padding underneath and extension forks. In addition, you'll find a small Turtle Beach logo embellished on the ear cups, which are wrapped in synthetic leather.
Its users can extend the headband itself, but people with larger heads might struggle to put it on. In addition, it has more tension that can be tight for some users.
In the ear cups, you'll find 40mm drivers that power its audio output, which is the same as those on the Astro A10. The advantage that it has over the A10 is that it provides better sound output overall.
As for the cable, you'll only have a single affixed connection ending in a four-pole 3.5mm jack. This allows users to connect the gaming headset to different gaming platforms.
You'll also find an inline volume control panel that provides a mute switch and volume slider. These two controls are easy to use, even just by feeling them with your fingers.
As for performance, the Turtle Beach Recon 50X offers strong bass notes that allow you to hear explosions well. You'll also find that the mids and highs on footsteps and rifle fire are pretty decent too.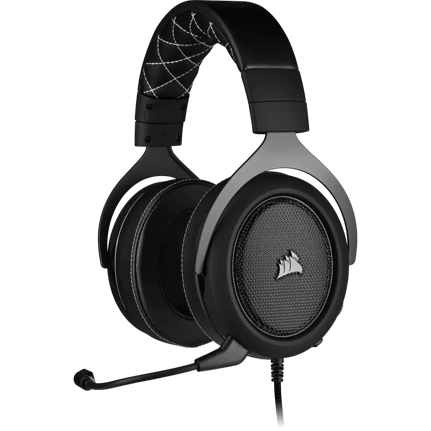 Gamers that are searching for a simple and practical gaming headset for Call of Duty: Warzone will find this option from Corsair to be an ideal choice. Although it doesn't provide the gamer look most people expect from gaming headsets, it does offer an audio solution for those who enjoy listening to high-quality sound.
The HS60 Pro is a solid gaming headset that is made using a lightweight metal frame. It sports leatherette ear pads and a leather cushion headband that clamps down with just enough force to stay on your head.
In other words, you'll find that the Corsair HS60 Pro stays on your head despite moving around. As a result, you don't have to worry about it falling off, and it also provides a decent seal even for gamers who wear glasses.
Using the HS60 Pro is painless thanks to its plug-and-play capability. However, you'll need to install Corsair's iCue software if you want to take advantage of its surround sound feature.
With the setting activated, you'll be able to feel the surround sound kick in right away and enjoy the fantastic quality audio you'll get from this gaming headset.
In terms of on-ear controls, you have a volume dial as well as a mic button on the left earphone. The 3.5mm microphone is easy to detach, so you can put it on or remove it as needed. What makes this mic great is that you can set it to almost any angle, allowing you to adjust it to the position you desire for maximum convenience.
As you can already tell based on its features, gaming with this headset is going to be a straightforward experience. You'll find that it can handle Call of Duty: Warzone well and even other popular AAA titles too.
Specifically, the surround sound feature of the headset can be helpful in matches where you need to track down enemies to gain an advantage over them. But even if you don't have it on, you'll still enjoy the extraordinary audio output that the Corsair HS60 Pro has to offer.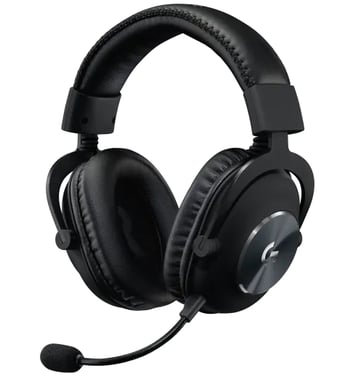 Last but not least is the Logitech G Pro X, which is another amazing headset that users should check out when they want one for Call of Duty: Warzone. This durable gaming headset is made with a metal frame with thick cushion support for its headphones and headband.
You can say that Logitech did a great job in balancing tension and comfort with the G Pro X because it clamps down just enough to stay on your head without causing discomfort. A major contribution to such capability is that the headset has hinges that allow for various adjustments depending on the user.
The pads are comfortable yet thick, so you can expect to get a decent seal with them quite easily. You can also find additional velour pads with the G Pro X, which will be of good use for those playing with eyeglasses. Although velour isn't that great in terms of providing isolation, it does make it easier for gamers with glasses to use headsets that have them.
Despite all of the cords and attachments of the gaming headset, using it is pretty straightforward. Its in-line controls are there for manual use, while everything else will be handled by the Logitech software.
Conclusion
Games in the Call of Duty franchise rely heavily on having good audio for players to succeed in their matches. So besides having a quality gaming headset, these headphones should also be comfortable to use even after several hours of gaming.
Features such as directional audio will be extremely useful as well since this will allow gamers to identify where their opponents are located. A gaming headset that offers good frequency response and precise audio controls will come in handy.
If you're in the market for a new Warzone headset, then consider the choices above. The information provided should be sufficient to guide you to make the right decision moving forward.