ggRock Customer Review and Feedback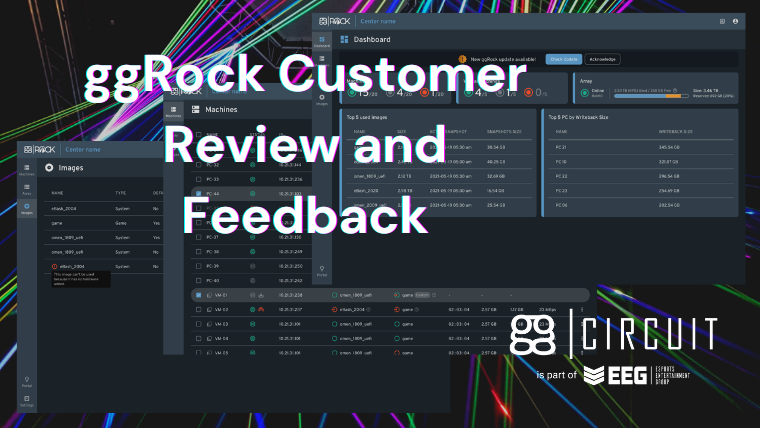 Esports arena and LAN center owners around the world have been looking for reliable PXE boot software to manage their client machines and the sporadic game update that is now the norm with online games. ggCircuit, whose founders operated esports centers for more than 16 years, had been using software from a now-competitor PXE software provider, found it lacking, and went ahead to create a more robust and reliable network boot solutions that many esports centers are now enjoying.
If you are an esports center owner and are still on the fence about getting a PXE solution for your business, we would like to show you the feedback of other venue owners that have made their lives a lot easier with the ggRock PXE solution. The following reviews can also be found on our Discord server.
---
---
Reviews and Feedback from our Customers
Never going back to ccBoot

"Have been using ggrock since Dec 7th it is 1000 times better than it's current competition never going back to ccboot"
-Henry
PXE boot system with excellent write-back management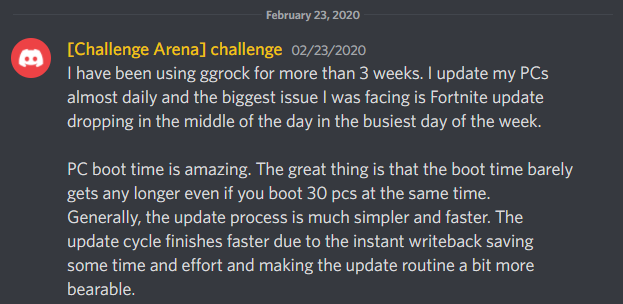 "I have been using ggrock for more than 3 weeks. I update my PCs almost daily and the biggest issue I was facing is Fortnite update dropping in the middle of the day in the busiest day of the week.
PC boot time is amazing. The great thing is that the boot time barely gets any longer even if you boot 30 pcs at the same time.
Generally, the update process is much simpler and faster. The update cycle finishes faster due to the instant writeback saving some time and effort and making the update routine a bit more bearable.
Fortnite is the biggest achievement. I have seen 3 update cycles for Fortnite including a season update. The time to update went down by 75%, I stopped seeing complains about fortnite update taking too long or customers getting upset when it lands.
Games like Rainbow6 and PUBG are seeing better FPS as well.
The system is quite stable for being in such an early version. Haven't seen a single interruption.
At the point of writing this review, the basic system functionality is there. It works as a PXE boot system with excellent write back management. However, many needed features are still under development. The interface needs a lot of work from visual and functional point of view to simplify the operation of ggrock. My biggest missing features are: DHCP Server, Image Backups, ability to remote desktop to clients (I use TV now)
I am very happy with it and will continue to use it because it solved some of my center's biggest issues."
-Challenge Arena
ggRock is so easy, so intuitive, and it just works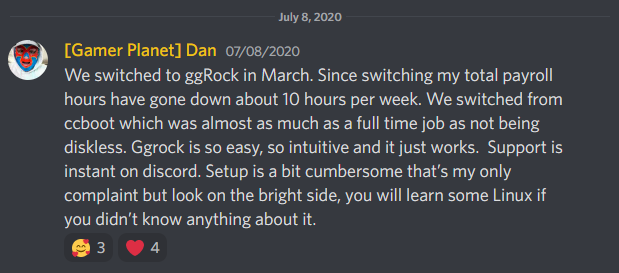 "We switched to ggRock in March. Since switching my total payroll hours have gone down about 10 hours per week. We switched from ccboot which was almost as much as a full time job as not being diskless. Ggrock is so easy, so intuitive and it just works. Support is instant on discord. Setup is a bit cumbersome that's my only complaint but look on the bright side, you will learn some Linux if you didn't know anything about it."
-Dan, Gamer Planet
So easy to use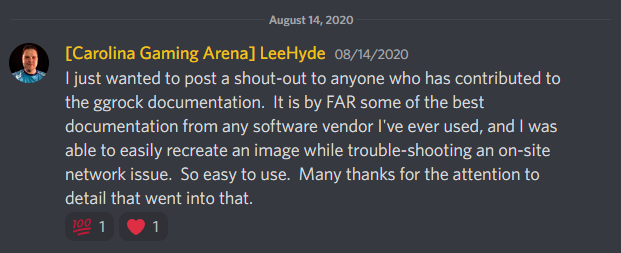 "I just wanted to post a shout-out to anyone who has contributed to the ggrock documentation. It is by FAR some of the best documentation from any software vendor I've ever used, and I was able to easily recreate an image while trouble-shooting an on-site network issue. So easy to use. Many thanks for the attention to detail that went into that."
-LeeHyde, Carolina Gaming Arena
I was amazed how fast was the boot time
"hello all
we changed from ccboot to ggrock i was amazed how fast was the boot time and quick. i regret the times I used ccboot
please keep doing the good job you guys doing. its super amazing job
thanks a lot"
-Epic Gaming Lounge
Amazing software
"Amazing software guys! Keeps everything soo easy to do! Thanks!"
-Dani, Net4Fun LAN House
Y'all are an impressive team

"I am only temporarily filling in while we have our vacant Esports position here at UNCG and I just have to say that y'all are an impressive team. The support discord is extremely useful and response time is prompt! Anyway, just sharing some kudos for the structure and service - it's solid."
-Mike, UNCG
ggRock / ggLeap combo always amazes me

"ggRock / ggLeap combo always amazes me with how much capability it has, being able to pivot setups is so crucial for a LAN environment that always have changing purposes for players. I am always finding more and more ways to utilize both ggLeap and ggRock to support our gamers for whatever they need! Much love"
-Oren, Fortress Melbourne
Sign up for ggCircuit Updates!
Should You Use PXE Boot in Your Esports Center?
Absolutely! PXE boot is a must if you want to efficiently operate your esports center. Manage your game library from a server and update all of your PCs at once. This effectively saves you time, money, and effort as you do not need to go to each PC to make sure that the games installed on it are up to date.
Another advantage of having a PXE boot solution is the security it provides. Each time a client PC is restarted is like getting a fresh install; any software that gets installed will be removed, thus also preventing any type of malware from infecting the PC. Additionally, it will also save you money since there will be no need to have SSD or hard drives in the client PCs as they will boot and load games or apps from the server.
Why Choose ggRock?
The management features of the ggRock server application will let you update your system and game images much faster and easier. Virtualization is also a feature that will enable you to remotely update and manage your ggRock server. Whereas other PXE software requires that the server be managed physically.
Aside from the above features, ggCircuit has 24/7 support that you can contact immediately. Any issues can be addressed swiftly and will not hamper the operation of your esports venue.
Click here to test the ggLeap client!

What Are You Waiting for?
Our customers have spoken about how they manage their esports venue has improved with ggRock. Now is the perfect time to get a hands-on experience with the next-generation premium software that you need! Get in touch with our sales team today!