The Best Gaming Shelves for Streamers and Game Rooms 2023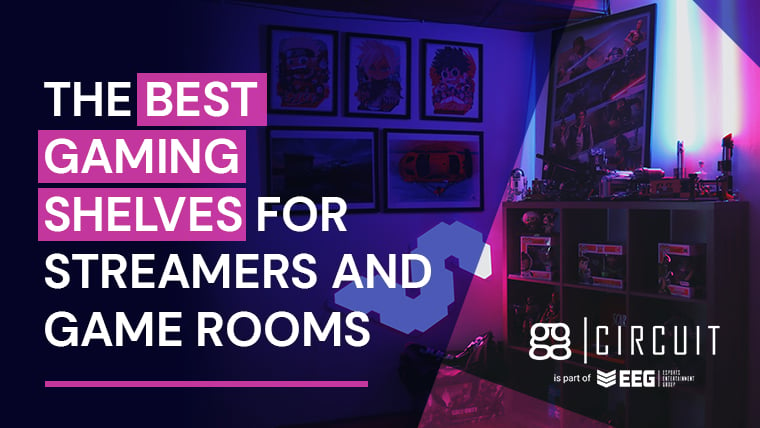 Any avid gamer knows that having a proper video game storage solution is a critical element for their game room. Streamers can also benefit from shelving units where they can quickly access any items they need while broadcasting their session.
This blog post features nine of the best shelves to include in your gaming room to keep it organized. You'll find different options for your needs with essential features such as modular design or adjustable shelving. We are confident that at least one of these products will work nicely for your gaming area and living space.
---
---
The 9 Best Gaming Shelves
When shopping for gaming shelves, you want to ensure it does not take up too much space in your game room, nor does it clash with the style of your existing environment. However, it should still have enough shelf space to store all your video game accessories, consoles, controllers, and even board games.
We made sure that all the shelving units in this post meet your various storage needs. Whether you have a massive collection that requires several shelves or just need a small bookcase for a few favorites, you should find something you like. Here are nine of the best video game shelves for your gaming room: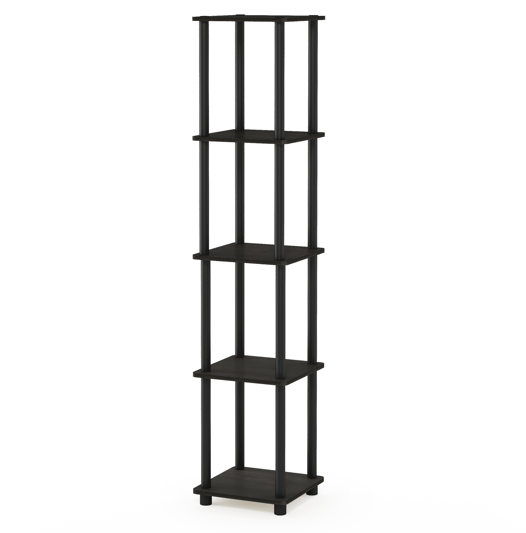 Storage for a large collection is no problem with this product's five-tier tower shelves. The Furinno Turn-N-Tube video game shelf has a simple design that fits into almost any game room decor style. Its color options include black, espresso, French oak gray, and light cherry.
Ideally, you would position this square rack in the corner of the room where you can display your favorite video game collection. This product is an open shelf, making it easy to pick up anything you store whenever you need it.
Safety is also a great feature of this shelf. It comes with a rounded-edge design, preventing potential injuries to you or any family members. Plus, you don't need any tools to assemble this unit. Each shelf can hold up to 15 lbs. or 6.8 kg, giving you enough space to store your media collections.
General Information
Width: 11.6 inches
Depth: 11.6 inches
Height: 57.7 inches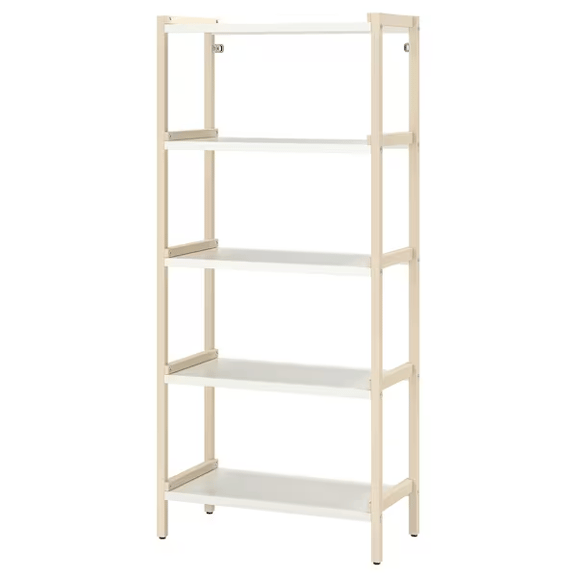 The Ikea Ekenabben is another open shelf where you can store your growing collection of gaming merchandise for easy access. This product is everything you would expect from a shelf in a living room, with each shelf having a max load of 44 lbs. or 19.95 kg.
If you are worried about sticky fingers touching your gaming consoles or items on display, this shelf has a spacious design where you can add boxes and binders to expand your storage options. This way, you can keep special items out of view.
The best feature of the Ikea Ekenabben is its material. It utilizes untreated wood for its shelving section, giving you complete creative control over the shelf. For example, you can smoothen it with sandpaper and paint it to match your gaming room, giving the shelf a personal touch.
General Information
Width: 27.5 inches
Depth: 13.375 inches
Height: 60.625 inches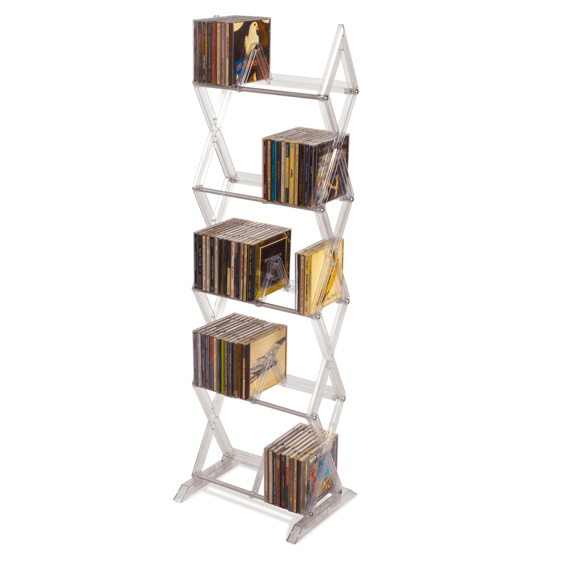 This eye-catching shelf features translucent panels and a stylish diamond pattern on the sides, a perfect solution for displaying your game cases, especially for Nintendo Switch, PS5, PS4, and Xbox 360.
The Atlantic Mitsu is a 5-tier media rack with sliding dividers, a clever way to keep your collection neat and categorized. You can also combine more than one unit to expand your storage space as your collection grows.
The Atlantic Mitsu has wide feet for stability. However, its lightweight construction makes it suitable for mounting on a wall, ideal for small spaces. In addition, the product includes wall mounting brackets for easy installation. Consider its wall mount feature to maximize your game room's vertical space.
General Information
Width: 9.88 inches
Length: 12.25 inches
Height: 40.50 inches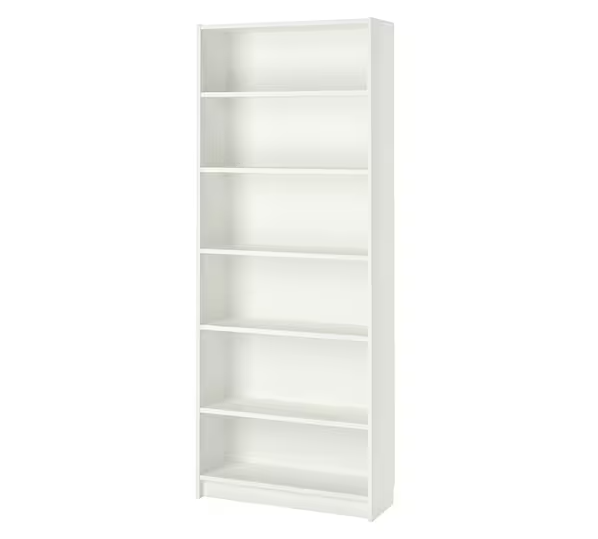 This top-selling bookcase comes with fully adjustable shelves, perfect for storing video games and books. It's a classic shelving unit that has been on the market since 1979. Billy bookcases also come in different widths, all of which fit nicely next to each other if you need to extend your storage space as your gaming collection grows.
As a 7-tier bookcase, this product may not be suited for a small gaming room. Its product page requires a minimum ceiling height of 80.75 inches to ensure the unit stays upright and secure. Each shelf can carry around 66 lbs. or 30 kg.
As far as color options, you can choose between white and different oak colors, specifically black, brown, and dark brown; going for any oak color costs extra. You might want to choose the plain white bookcase and personalize it yourself.
General Information
Width: 31.5 inches
Depth: 11 inches
Height: 79.5 inches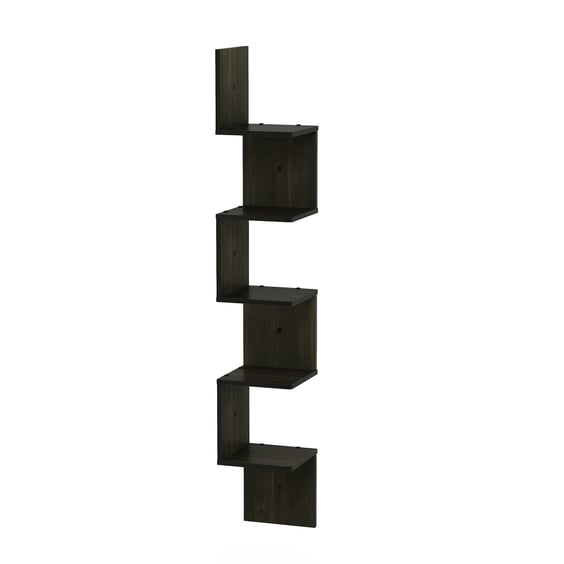 If you want to display your video game consoles and accessories in a creative, modern design, consider getting the Furinno Rossi. This piece of furniture features floating shelves and is an excellent solution for a small area.
These floating shelves are best for displaying items rather than for heavy storage. Each shelf can hold up to 5 lbs. or 2.27 kg in weight, so you can imagine how many games and consoles you can fit with all five tiers.
You only need a few screws to attach this shelf to your wall and give you five tiers to display video game discs, game franchise collectibles, and even photos from conventions. Its espresso finish also makes it blend with any home design.
General Information
Weight: 7.8 inches
Depth: 7.8 inches
Height: 48.8 inches (7.8 inches per shelf)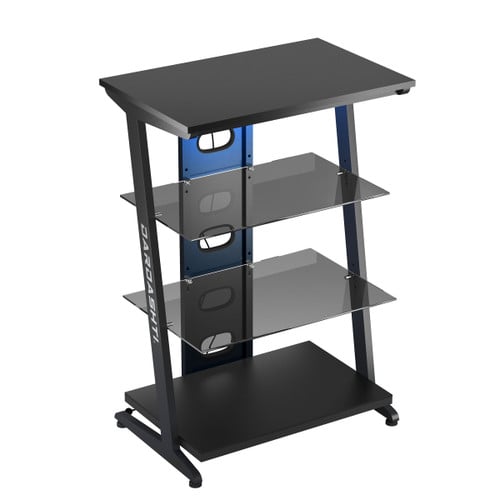 The Dardashti Gaming Shelf has a compact size with four separate shelves. As open shelves, you have easy access to your gaming accessories and necessary hardware. In addition, two out of the four shelves are adjustable 5mm tempered glass in smoke color, making your accessories pop.
This shelf takes appearances seriously, as it comes with a built-in, remote-controlled LED light system to make your display look even better. It also has cable management ports to help you manage any unsightly wires attached to your entertainment system.
Finally, its metal frame has five different spine accent colors, giving you many options to match your shelf with the rest of your gaming room's theme. Dardashti must have developed this durable shelf primarily for any gamer or streamer's immediate needs.
General Information
Width: 24 inches
Length: 15.75 inches
Height: 35.25 inches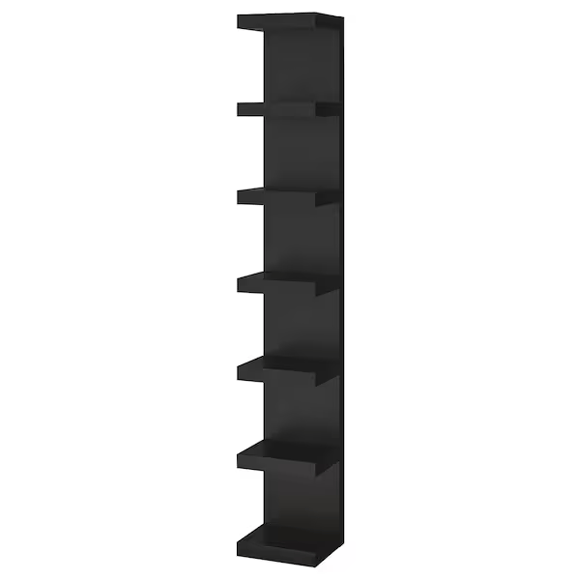 Utilize your home's wall space with this shelf unit that you can easily mount on the wall. The Ikea Lack features shallow shelves, making it a perfect display for large game consoles. You can also choose whether you want to mount this shelf horizontally or vertically, allowing you to maximize areas in your home with minimal space.
This shelf's space-saving design helps you store all your gaming peripherals. You can also place storage bins on the shelf to keep smaller items, as long as they stay within the shelf's maximum load: 55 lbs. or 25 kg when horizontal; 7 lbs. or 2.7 kg per shelf when vertical.
General Information
Width: 11.75 inches
Depth: 11 inches
Height: 74.75 inches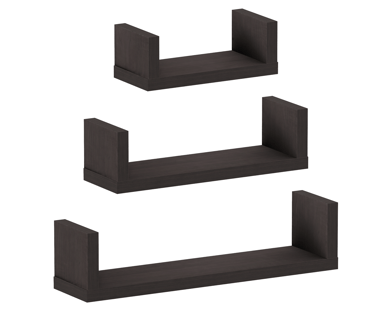 The Furinno Indo is another shelving unit featuring floating shelves. Each set comes with three U-shaped shelves of varying sizes, giving you triple-width wall storage capabilities. This unit is excellent for displaying and storing games, photo frames, memorabilia, and more.
These hanging shelves also make a nice focal point in your room. Although the stylish espresso color blends with most walls and decorations, placing your favorite games and merchandise on these shelves will improve your game room's aesthetic appeal.
You can easily follow the instructions for a smooth assembly process. In addition, this shelf's material is CARB-grade particle board, making it even easier to handle. Likewise, they are easy to clean. Simply wipe them with a damp cloth and then dry them with a clean one.
General Information
Width: 8.6 inches (small shelf); 12.6 inches (medium shelf); 16.6 inches (large shelf)
Depth: 3.9 inches (all three shelves)
Height: 3.1 inches (small shelf); 3.5 inches (medium shelf); 3.9 inches (large shelf)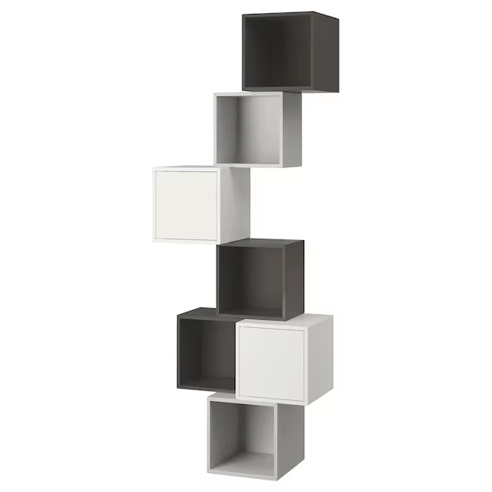 This wall-mount shelf is another perfect solution for maximizing your vertical area while freeing up floor space. The Ikea Eket features an asymmetrical, elegant design that you can assemble quickly and easily. It comes with a wedge dowel and pre-drilled holes, making it easy to click into place.
The Ikea Eket has a durable frame made of galvanized steel to carry reasonably heavy gaming media. Note that the maximum load per shelf will depend on your wall material. Still, the mounting materials already come with the product, making it easy to start displaying your media collection.
General Information
Length: 27.5 inches
Width: 31.5 inches
Depth: 13.75 inches
Height: 82.75 inches
Sign up for ggCircuit Updates!
How Should I Store My Gaming Stuff?
Storing gaming items requires care to ensure they still function when you take them out of a storage unit. While gaming shelves are great for displaying and keeping the video games and consoles you are currently enjoying, you might need to keep the rest of your collection safe in a unit. Here are some best video game storage practices:
Keep the Original Cases and Boxes
As much as possible, keep the original cases and boxes that came with your gaming items. Not only will it keep them safe from dust and scratches, but they also act as a safeguard against missing pieces.
Clean Your Items Before Storing
Avoid keeping items that still have dirt, dust, or pet hair on them. Even if you are storing the items for a long time, always clean them before boxing them up.
Store Items in Airtight Containers
Once you have cleaned your consoles and merchandise completely, put them in sealed containers. This will help keep moisture, dust, and dirt away from your items while they are stored away.
Label the Things You Keep in Storage
Proper labeling is also essential for keeping your gaming items organized and accounted for. Make sure to label the lids and containers accordingly.
Choose a Climate-Controlled Storage Unit
Finally, make sure to choose a climate-controlled storage unit with temperature and humidity control. This will help protect your gaming items from too much heat and moisture.
Click here to test the ggLeap client!

Is It Cheaper to Build a Video Game Shelf or Buy One?
Buying a video game shelf is significantly much cheaper than building one from scratch. For example, the average price point between the storage shelves featured above is around $97, with the lowest-costing item being $22.99 and the highest-costing one is $299.99.
Meanwhile, shelf assembly has a low average of $97 and a high average of $274. These figures only include basic labor fees and the cost of related materials. You can expect these numbers to go well beyond the fixed prices of the products mentioned here, especially if you choose high-quality materials.
Although buying is cheaper, you might find value in building a shelf. For instance, you can determine what kind of materials you will use for your shelf. You can go for solid wood or solid metal shelving, whichever is readily available in your area.
In addition, it's up to you how big or small you want it. After all, you will be storing your video games and all your accessories in them, so you know how much space you will need. Moreover, you can factor floor space into your design and adjust accordingly, so you have enough storage space. And if you have a lot of items, you can add multiple shelves if you want.
Generally, the freedom of choosing materials and sizes helps give you a shelf that you specifically designed for your space and all your games. However, with that freedom comes the labor of gathering everything you need and building the shelf itself. As such, you can save time, effort, and resources when buying a shelf instead.
What Should Every Game Room Have?
Apart from shelves for game storage, the perfect streaming setup or game room needs a few other things to make it complete. Consider these items for yours:
Mounted TV
If you're primarily a console gamer, installing a TV on your wall space is a popular way to improve your gaming experience. Be sure to get a set that is compatible with your console and sound system.
High-definition Sound System
Maximize your gaming experience with a headset or speakers that can deliver the game's music and effects the way the creators intended. Also, consider getting a wireless system that connects with your consoles and TV.
Mood Lights
Set the atmosphere with your choice of colored lights. Go for natural tones like blues and purples, or make it fun with pinks and greens.
Summary
There are several styles, designs, and size options of gaming shelves available on the market today, so you have plenty to choose from. However, consider what size and design best suits your needs before getting one.
Next, remember the best practices in storing gaming technology to ensure they work properly when you need them. Finally, consider buying a shelf for time and resource savings instead of building one. Check out the great options we provided above to fill up your game room!
ggCircuit is a part of Esports Entertainment Group (GMBL).