The 10 Best Gaming Chairs Under $300 (2023)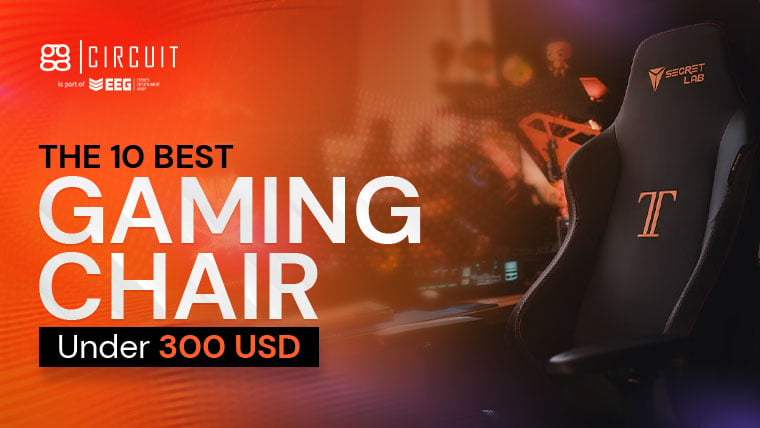 Perhaps you've had your current chair for a long time, and it's at the end of its life. Maybe this is your first time looking for a comfortable chair to sit in during your new Call of Duty campaign. No matter why you're looking for a new gaming chair or the price point you're after, you've come to the right place.
In this blog post, we list our top picks for the 10 best gaming chairs under $300, where you can choose from various designs, features, and a wide price range to fit your budget.
---
---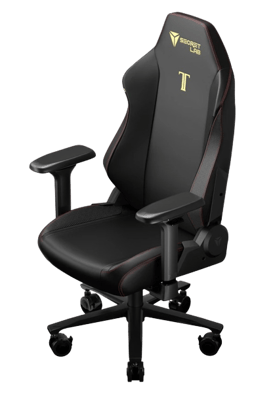 The Secretlab TITAN XXS is probably the best gaming chair for kids or those with a smaller frame. This chair has good value, especially considering the brains behind this amazing chair — Secretlab, a legend among gaming chairs.
TITAN XXS at a Glance:
Variants: Stealth (Hybrid Leatherette) – $299; Plush Pink (SoftWeave Fabric) – $319; Frost Blue (SoftWeave Fabric) – $319

Adjustable armrests that provide the right height for your needs

Locking casters that make it safe for little gamers

Requires a minimum weight of 90 lbs and above for the hydraulic piston to activate

Certified for durability and safety through international authorities

Must be assembled by an adult to ensure proper function

Maximum height: 63 inches

Maximum weight: 155 lbs
Known as the smallest member of the Secretlab family, the TITAN XXS has been designed with younger gamers in mind. The creative team behind this chair had spared no detail when it came to this miniature version of their world-famous TITAN chair.
Using the same design and engineering found in their original size, you can enjoy the same functionality and features in a smaller package. While the TITAN XXS was designed to be a collectible chair, kids will be kids, and there may be times when they use it for themselves.
If this happens, the chair can support as much as 155 lbs and has kid-friendly locking casters. Finally, TITAN XXS has been certified under the category of children's furniture according to the Furniture Industry Research Association (FIRA) standards.
Sign up for ggCircuit Updates!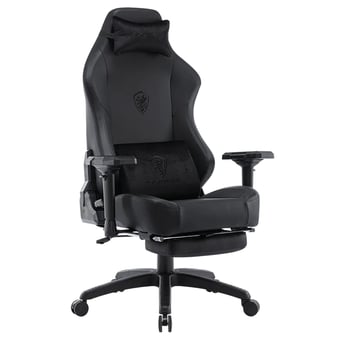 With the help of esports professionals, the Dowinx Ergonomic Computer Chair was designed to be the ultimate gaming chair to provide comfort and luxury. It also doubles as an ergonomic option for your office needs. It comes with a strong and durable steel frame enveloped in faux leather and cold-foam upholstery to provide office workers with hours of comfort.
Dowinx Ergonomic Computer Chair at a Glance:
Only one model for $229.00 each

Black color

Adjustable headrest

Supports as much as 400 lbs

Uses a rocking mechanism and 4D armrests

Comes with a one-year warranty
Whether you're playing games late at night or pulling an all-nighter at work, the Dowinx Ergonomic Computer Chair has been designed to give all-day comfort. It also comes with an adjustable lumbar support cushion, a thickened backrest, 4D armrests, and a massage function.
Built with durable steel and paired with breathable polyurethane (PU) leather and cold-foam upholstery, you'll feel the sophistication of a luxury gaming chair without breaking the bank. With an enlarged backrest and seat base, the design of this gaming chair can fit neatly in any home.
You'll also enjoy their one-year warranty, so you never have to worry if anything happens to your brand-new Dowinx Ergonomic Computer Chair.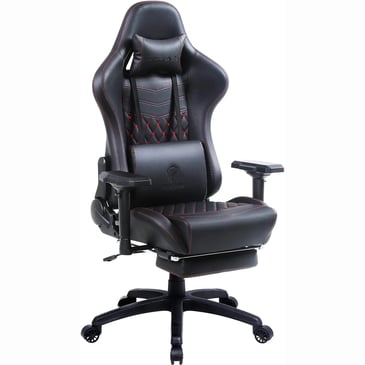 This is another good gaming chair for people looking to use their chair for work and play. The Dowinx 6689s Classic Series Chair features a winged back that allows for multi-point contact to the lumbar and spinal regions while keeping an ergonomic shape and massage support.
Dowinx Gaming Chair – Classic Series – 6689s at a Glance:
Low price from $229.00 each

Black color

Uses a USB-powered massager

Comes with a 360-degree swivel and 90° to 180° reclining functionality

Has an adjustable seat height and 350 lbs capacity

Uses a rocking mechanism and 4D armrests

Comes with a one-year warranty
Keeping with an ergonomic theme, Dowinx 6689s opts for a bucket seat design along with a USB-powered massage function that can be powered through the computer or a power bank. As such, you'll be able to enjoy a comfortable massage for extended periods of playing video games.
With 360° swivel and smooth caster wheels for enhanced mobility, there's nothing you can't do with this chair. This chair allows you to work, game, read, or even nap. Made from vintage leather, this chair can match a wide range of settings, while the lumbar and headrest pillow can provide support for any kind of body type.
Apart from the one-year warranty the chair comes with, the company also provides 24/7 customer service for smooth transactions and excellent after-sales services.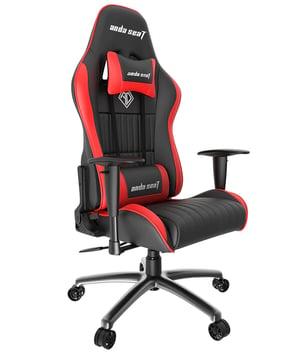 The AndaSeat Jungle Series Premium Gaming Chair is the perfect choice if you're looking for resilience and strength. AndaSeat's Re-Dense Moulded Foam completes this ensemble, enhancing the chair's density, longevity, and correcting sagging problems that chairs experience over time.
AndaSeat Jungle Series Premium Gaming Chair at a Glance:
Reasonable price of just $159.99

Black and red color

Medium-sized chair

Comes with a 90° to 160° reclining functionality

4.8 out of 5 stars from 67 reviews

Made using PVC leather
The AndaSeat Jungle Series Premium Gaming Chair proves that not all chairs need to be expensive to deliver a luxurious experience for gamers. With a medium-sized neck pillow and an extra-large lumbar pillow, this chair helps to keep your spine in the proper alignment while supporting your lower back.
This ergonomic design helps prevent a range of potential health issues that may result from sitting for long periods. The chair also boasts of having the best Class-4 gas piston that has been certified by the Société Générale de Surveillance (SGS), which is also explosion-proof and durable.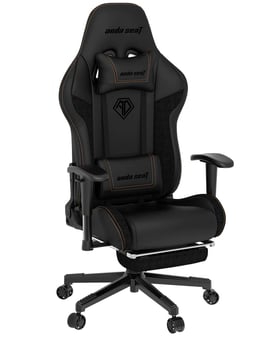 Here's another ergonomic gaming chair from the AndaSeat Company, which provides an upgrade from their first chair. Unfortunately, in addition to the upgraded materials and features, there is an increase in price, but it's one of the more affordable options on this list.
AndaSeat Jungle 2 Series Gaming / Office Chair with Footrest at a Glance:
Retail price of $212.99

Black color

Medium-sized chair

Comes with a 90° to 160° reclining functionality

5 out of 5 stars from 13 reviews

Made using PVC linen fabric
Much like its more affordable counterpart, the AndaSeat Jungle 2 Series Gaming / Office Chair also comes with great comfort from its medium-sized head pillow and extra-large lumbar support pillow. Because of these, the chair can support your whole back while helping your spine retain its natural shape.
Likewise, this chair also has a Class-4 gas piston certified by SGS, along with a reactive rocking feature. Moreover, you'll find that this chair can recline between 90° to 160° thanks to its full-mechanism backrest, which can adapt to any position you want.
With the AndaSeat Jungle 2 Series Gaming and Office Chair, you can sit any way you want without getting strained as you watch a show, play your favorite games, or work all night.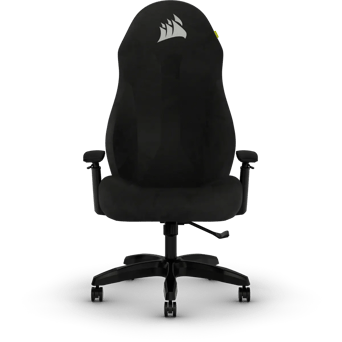 When you use the Corsair TC60 FABRIC Gaming Chair, you'll feel a difference in its build quality and overall design choices. With a breathable cloth exterior combined with a relaxed and comfortable fit, this chair is certainly one to consider if you're looking for the best office chair and gaming chair.
Corsair TC60 FABRIC Gaming Chair With Footrest at a Glance:
Retail price of $289.99

Black color

Package size: 38.5 in x 69.5 in x 15 in

Gross weight: 56 lbs

Weight capacity: 265 lbs

Adjustable features such as the tilt angle between 0-10° and back angle up to 105°

Comes with a two-year warranty
Equipped with 60mm dual wheel casters, this chair can easily glide across all surfaces, while its high-density foam ensures that your whole body gets the support and comfort it deserves. With a soft fabric material for the seats, a wide seat, and adjustable armrests, this chair is as functional as it is pretty.
The Corsair TC60 FABRIC Gaming Chair also comes with extra features like adjustable armrests that move in three dimensions, while the 105° reclining seat is in sync with the 10° seat tilt, giving you maximum comfort in any kind of angle.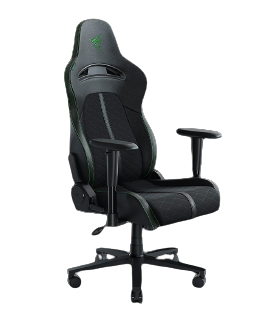 If you're looking for something a bit more adjustable, the Razer Enki X offers a 152-degree recline to help you achieve the ultimate comfort, whether you sit back and relax or sit up. It also makes use of an integrated headrest to provide a seamless and sleek aesthetic.
Razer Enki X at a Glance:
Retail price of $299.00

Black / Green

Height capacity: 5'2″ to 6'4″

Weight capacity: 300 lbs

Material: EPU synthetic leather

Comes with a three-year warranty
The Razer Enki X has been designed to offer all-day comfort with its optimized cushion density as well as its built-in lumbar arch. If this is your first time considering a product by Razer, you'll be thrilled to know that the company offers a 14-day risk-free trial where you can try this chair without worrying about the cost of return.
The chair is made out of a steel base and metal frame, along with 2D armrests, and is equipped with 2.5 in PU-coated casters, making it one of the most stable and durable chairs on this list. You can also expect to get built-in lumbar support, a Class-4 gas lift, high-density PU molded foam, and a three-year warranty for this Razer chair.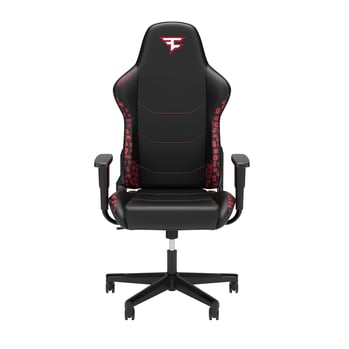 The Respawn 110 is another good chair that offers a 135-degree recline, combined with its infinite angle lock for relaxed sitting or serious gaming. You'll also find that its headrest has been integrated for a seamless and sleek aesthetic.
Respawn 110 at a Glance:
Retail price of $249.00

Gray fabric

Package size: 53.7 in x 28.7 in x 26.4 in

Weight capacity: 275 lb

Material: EPU synthetic leather

Comes with a three-year warranty
The Respawn 110 aims to redefine the standard in gaming chairs by providing a sleek and clean look while providing the practicality, support, and comfort you don't get from other gaming chairs. It also offers a contoured foam seat and integrated lumbar support, allowing this chair to keep the body comfortable and secure.
With a tilt tension knob, you can get a rocking motion with the Respawn 110, so you can move easily. You'll also enjoy its low-key color palette and low-maintenance fabric, so you can game in your style while getting the most comfortable seat of your life.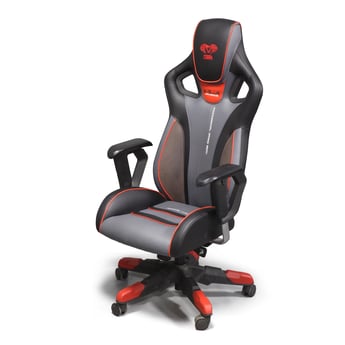 A racing-style gaming chair, the Cobra Gaming Chair can perfectly support the body with all the comfort you need. It's also made from high-quality materials and has customizable features to deliver a gaming experience you didn't think was possible.
EEC313 Cobra Gaming Chair at a Glance:
Retail price of $215.00

Color options: red and gray, blue and gray

Package weight: 55.5 lbs

Package dimensions: 27.5 in x 27.5 in x 51 in

Adjustable angles: 95°-105°-115°-125°

Weight capacity: 264.5 lbs

Material: High-grade PU leather

Comes with a one-year warranty
With a ventilation-focused design and extreme comfort in mind, the EEC313 Cobra Gaming Chair is an excellent example of function and form in perfect unison. No matter how long you plan to play, you can be sure that you'll get the support and comfort you need the whole time.
The armrests can be adjusted back and forth to provide your forearms with support at any position and height. The backrest can be adjusted up to 118 degrees and can also be locked, while its durable five-armed cross made from glass fiber and nylon provides a safe and stable base.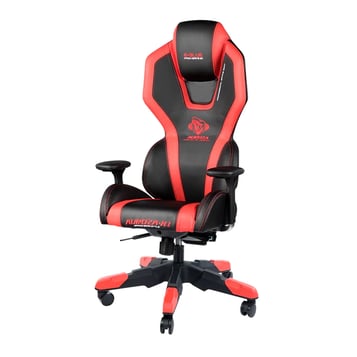 As the more affordable counterpart to the entry above, the EEC410 Auroza Gaming Chair comes in various color schemes for a smaller price. Using a combination of foam filling, 50% density, and PU leather, you'll feel like you're in the driver's seat, which provides a soft touch, lasting endurance, and simple maintenance.
EEC410 Auroza Gaming Chair at a Glance:
Retail price of $165.00

Different colors: red, blue, and white

Comes with a 4D armrest

Adjustable angles: 90° to 130°

Weight capacity: 330 lbs

Material: High-grade PU leather
To prevent the foam from becoming deformed, the EEC410 Auroza Gaming Chair uses a cold-form sponge to offer comfort and durability. It's also equipped with anti-scratch and noise-reduction wheels to provide greater mobility for this tall gaming chair.
The chair has also been designed to support the head, the lumbar region, shoulders, waist, and arms through the backrest's unusual shape. It also has a 4D armrest which means you can move your arms dynamically and still get the support you need.
Click here to test the ggLeap client!

What Chairs Do Top Gamers Use?
If you're wondering what chairs the best gamers use, you'll be happy to know that PewDiePie and Ninja are fans of gaming chairs from high-quality manufacturers like Secretlab and Clutch Chairz. Because live streamers and professional gamers need to sit for long hours, they generally prefer ergonomically designed chairs.
These are usually developed around the human spine's natural curvature. Moreover, popular gaming chairs will also be adjustable and have ergonomic features, such as:
Tilt

Seat depth

Tilt lock

Seat height

Headrest height

Armrest movement

And more
In general, a more adjustable gaming chair will tend to work for good posture and back health. While ergonomic chairs can be more expensive, it's best to think about an option that will work best for your needs and protect your back.
Are Gaming Chairs a Waste of Money?
Gaming chairs are a good investment if you work or play long hours. Some people try other solutions like standing chairs, medicine balls, or even a combo between a desk and an exercise bike. However, these will either cost much more or won't be able to give you comfort for hours.
Gaming chairs can support the spine's proper alignment thanks to features like memory foam. As such, they are an excellent option for people who sit for a living since they can provide support for the body when your muscles are too tired to do so.
Are All Gaming Chairs the Same?
Most gamers know that a standard gaming chair will look similar to an office chair. However, a deeper look into the various features and designs available today will let you know which is the right gaming chair for you.
Below are just a few of the different kinds of gaming chairs that you can choose from.
PC Gaming Chair
This will resemble a typical swivel chair and is an excellent option for the average gamer who frequently plays on their PC. To offer a better gaming experience, PC gaming chairs are often designed similarly to the look and feel of racing car seats which offer better endurance and comfort for long hours of gaming.
Racer Chair
As its name suggests, these chairs are designed primarily for people who play racing games. These are mostly made from polyvinyl chloride (PVC) leather or genuine leather and will offer more support, cushioning, and adjustability compared to a PC gaming chair.
Rocker Gaming Chair
Gaming on the PS5 is much more fun when you're sitting close to the floor, which is why rocker chairs were invented. Designed without a swivel or legs, these are placed on the floor and are rocked using their L-shaped body. They're designed to give more comfort compared to your sitting posture.
Are Office Chairs Better Than Gaming Chairs?
Finding the best budget gaming chairs will depend on your needs, so be sure to consider the following aspects:
How long will you be using it?

Where will you put the chair?

How much are you looking to spend?

Are you after a particular design?
Because gaming chairs will often provide better support for longer sessions and will have more adjustment options, lumbar cushions, and a higher back, they are a popular ergonomic option. If your budget isn't an issue for you, then a premium office chair can provide a better experience overall if you're willing to splurge more money.
It's also good to keep in mind that the aesthetics of a gaming chair may not be suitable for smaller spaces or in a home office, so you may want to consider going with an office chair instead.
Conclusion
Regardless of your specific gaming setup, you can be sure that affordable gaming chairs can give you a better bang for your buck compared to office chairs — especially if you plan to use them purely for gaming. Just remember that not all gaming chairs are created equal and that the best chair will depend on your needs and preferences.
ggCircuit is a part of Esports Entertainment Group (GMBL).