Telia Esports and Nordic Choice Hotels Unveil Gaming Rooms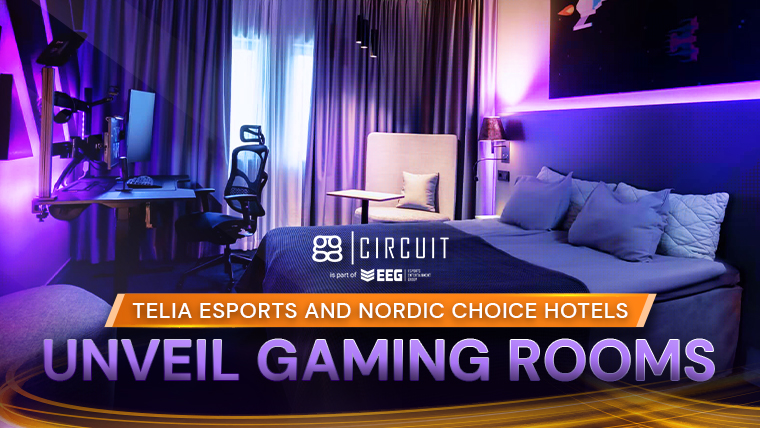 Are you a hotel owner? Have you had to answer questions about whether or not you have gaming amenities? In case you haven't heard, hotel gaming is spreading like wildfire as Telia Esports and Nordic Choice Hotels have paired up to launch the first gaming room services in the Nordic region.
The first Telia Gaming Center Services will open up in various hotels under the Nordic Choice franchise. Find out more about this groundbreaking service brought to you and other gamers by Nordic Choice Hotels and the brains behind the Telia Esports Series!
---
---
What Is the Telia Gaming Center Service?
Telia's Gaming Center Service offers accommodation establishments like hotels the ability to outfit their own gaming centers. The service includes hardware installations, guaranteed to work properly in commercial conditions.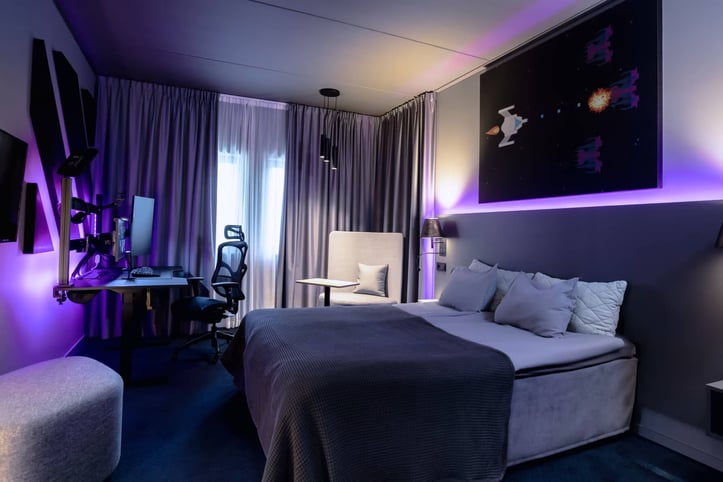 Image: Telia
Here's what's included in the new gaming center service.
Hardware and Software Installation
Telia Esports will also provide hardware maintenance to ensure that people who use the gaming center get nothing but the best gaming experience while on vacation in the Nordic region. On top of that, the company also offers its gaming center clients software and server installations to provide five-star gaming to hotel clients.
Telia Esports also offers the same package for other uses. Hotels can grab the esports package for their offices and entertainment centers too. Talk about versatility!
Updates and Remote Support on Subscription
The gaming center service from the Telia Esports Series is available to hotels via subscription plans. For a recurring fee, Telia Esports provides client hotels with software updates and remote support. The company also includes staff training on equipment and server troubleshooting.
For more on the service, check out what Telia Esports has to offer. Visit the company page here.
Sign up for ggCircuit Updates!
What Kind of Experience Can Guests Expect in a Hotel Gaming Room?
Hotel gaming is a fairly new concept in the realm of esports. With Telia Esports providing its groundbreaking service, guests can look forward to esports center gaming even when on holiday — particularly in the Nordic region!
How? Let's count the ways.
A Full-on Gaming Experience While You're on Holiday
Telia Esports outfits hotel game rooms with the latest cutting-edge monitors and components, which are guaranteed to give you the full-on esports experience. The hardware links with a hotel's secure ethernet internet connection, ensuring a lag-free online gaming experience. All gamers need to do is create an account and log in.
Gaming in Your Room
Gaming rooms have terminals in every room, complete with a tower, monitor, and accessories like joysticks, mouses, and gaming keyboards. This offers a complete gaming experience and makes life easier for the avid gamer who's unwilling to leave the room.
Guests can participate in casual gaming, streaming, and even esports tournaments with the hardware and software provided.
What Hotel Is Currently Offering This Type of Accommodation?
As we speak, one Swedish hotel has embraced getting bitten by the gaming bug: Quality Hotel Globe. This popular hotel in the capital of Sweden is the first ever gaming hotel, with at least five rooms outfitted to give guests the complete gaming experience.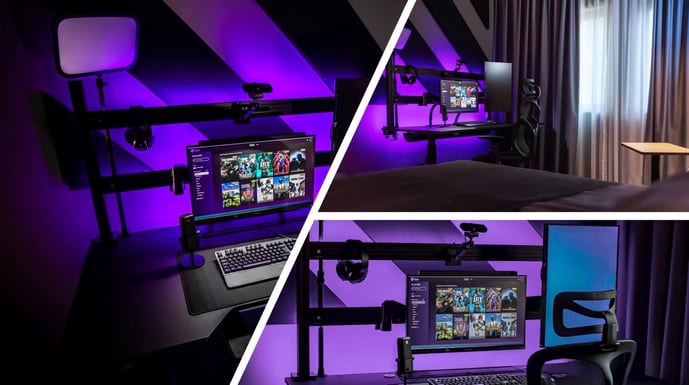 Image: Telia
Quality Hotel Globe's gaming room setup is individualized, with gaming units present in the rooms. Guests can book these rooms and be amazed at the all-around gaming vibe and amenities the room has. Complete with all the usual amenities in a typical room, Quality Hotel Globe's gaming rooms have game-themed art and ambient lighting. Each gaming room has everything from towers to computer peripherals.
At the time of writing, two more hotels in the Nordic region are expected to follow in their footsteps. Several hotels in the Quality Match franchise will be among the next Nordic gaming destinations. The next Quality Match hotels will be the branches in Jönköping and Bodo, Norway.
Click here to test the ggLeap client!

Review of ggCircuit's work with Telia
ggCircuit and Telia began a partnership in 2020 when Telia was looking for a way to engage sponsored communities with esports during the pandemic. Second, Telia released its esports gaming center service near the end of 2021. This service was to help anyone quickly build an esports gaming center backed by ggCircuit software and technologies.
With the addition of hotel esports gaming in the UK, with Telia, we hope to bring a new niche to the amenities of a hotel with gaming.
Summary
Hotel gaming is the next frontier of esports and gaming tourism, with more hotels adding gaming to their list of amenities — but we're just getting warmed up. With the gaming room service still in its infancy, Telia and Nordic Choice will have much room to improve. It'll only be a matter of time before hotels host high-profile esports events like the Telia Esports Series.
If you're looking to position your hotel as the next gaming destination for vacationers, don't delay. Check out Telia's Game Room Service and put your hotel on the gaming map for thousands of gamers to see!
ggCircuit is a part of Esports Entertainment Group (GMBL).