ESpot Esports Venue Invites All Types of Gamers in Paris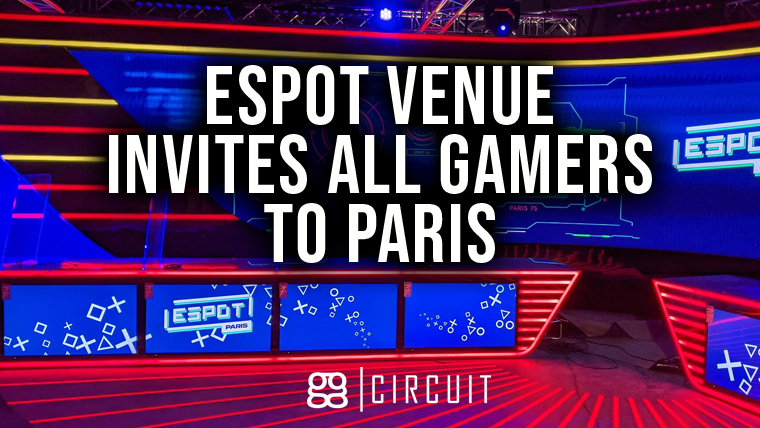 What comes into mind when "Paris" is mentioned? The first thing that comes to mind is the Eiffel Tower or the Louvre. However, do you think of fun places where one can play Call of Duty, have an Animal Crossing tournament, or attend a show of champions?
That one is no longer a trivial question but rather a reality: ESpot introduces esports in this magnificent city, the Parisian way.
A Paradise Designed for Gamers
ESpot is created by two independent and passionate gamers with a mission to promote gaming and esports to all types of audiences. With an area of 2,000 square meters, ESpot aims to bring families and friends together in one place where they can play esports games however they please.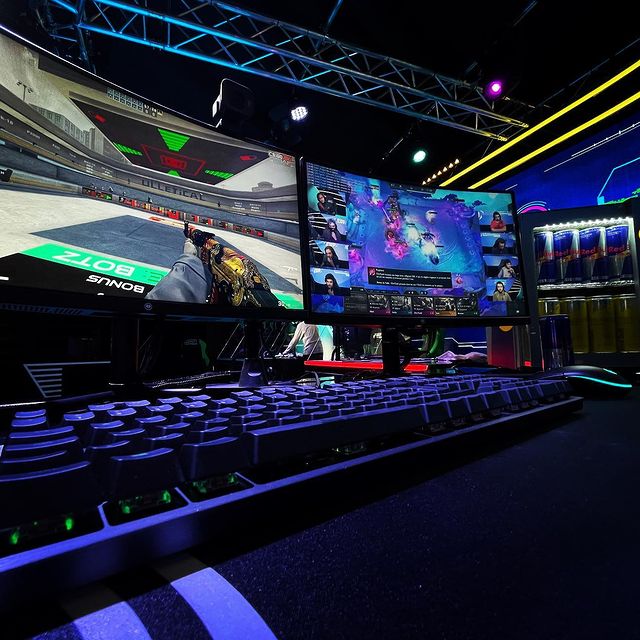 ESpot regularly holds competitive esports events in their Arena
This new gaming temple has recently opened its doors in the heart of Paris last June 2021. It took a year and an investment of five million euros to get Espot ready for operation. ESpot is located near the Louvre, the Halles, and the trendy districts of the city.
One of the founders, Aaron Buckstein, wanted to create a place where everyone is welcome and friendly to families and female gamers. Robin Leproux, Espot's co-founder, insists that their esports center is inclusive and offers a unique experience unlike other esports centers found in the US and Asia.
ESpot is open to the general public, especially targeting families. The venue welcomes anyone who wants to enjoy casual video games, competitive esports, and entertaining events. You can even celebrate your child's birthday party here!
Sign up for ggCircuit Updates!
Full Esports and Video Games Experience
ESpot houses 100 gaming PCs and 40 brand new Sony PS5 and Nintendo Switch consoles, all of which are managed via ggLeap. All of the gaming hardware are spread across all 3 floors of this awesome gaming facility. Sporting an urban art, this esports center is stylish and can be mistaken as another one of the major attractions of Paris (which is practically already true).
The following are the main attractions of this esports facility:
Arena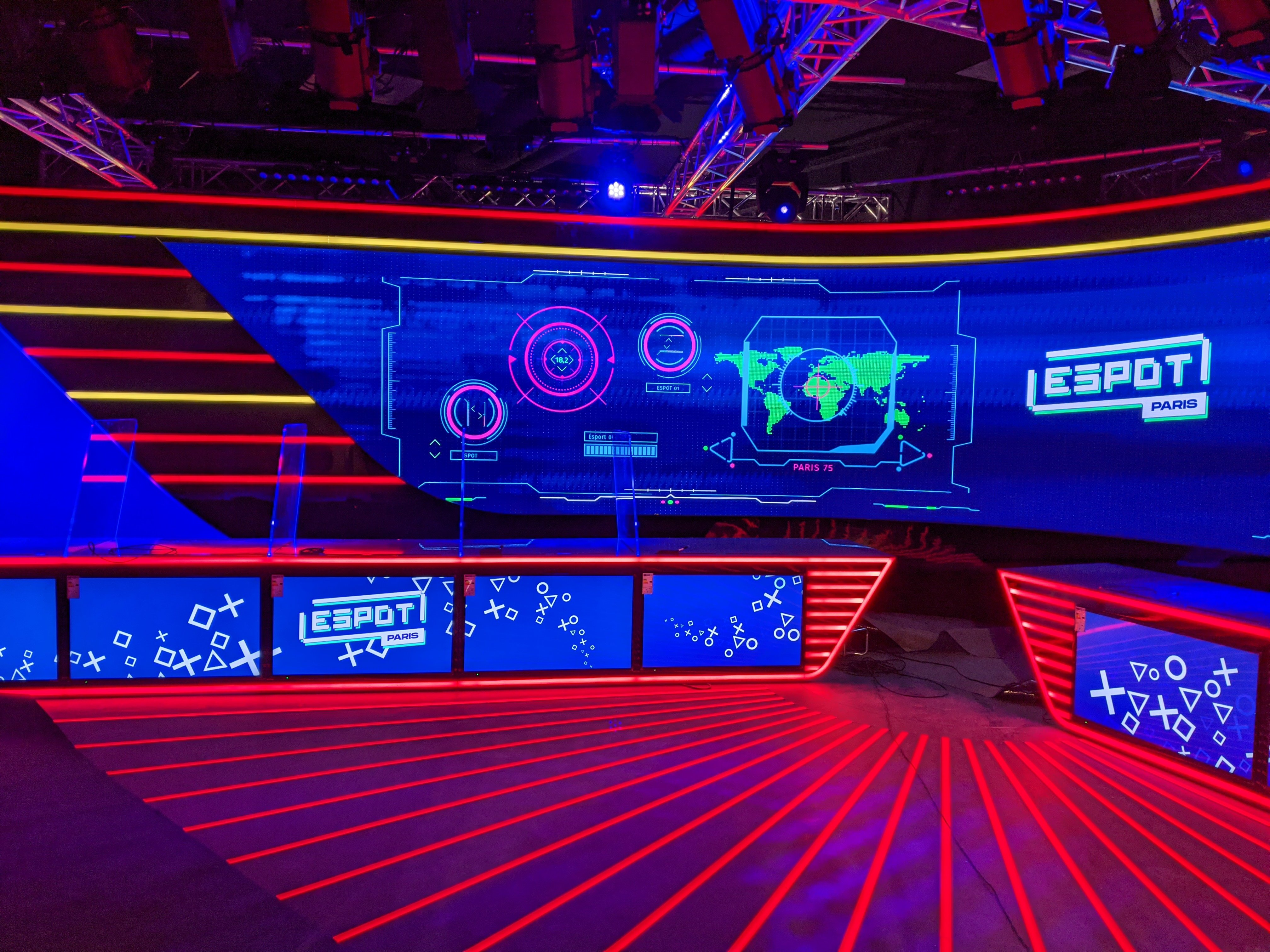 ESpot Arena's famous 30 square meters screen
ESpot's esports arena can put some dedicated esports arenas to shame. Boasting a 30 square meters screen that is absolutely stunning in itself, the arena can be modified to accommodate any type of esports event (even non-esports activity can be hosted here). It's practically a one-of-a-kind in the world.
This arena has professional-grade equipment that enables it to broadcast esports events. With its 150 audience seating capacity, any events from games like League of Legends to Rainbow Six tournament can be hosted here.
PC Gaming Space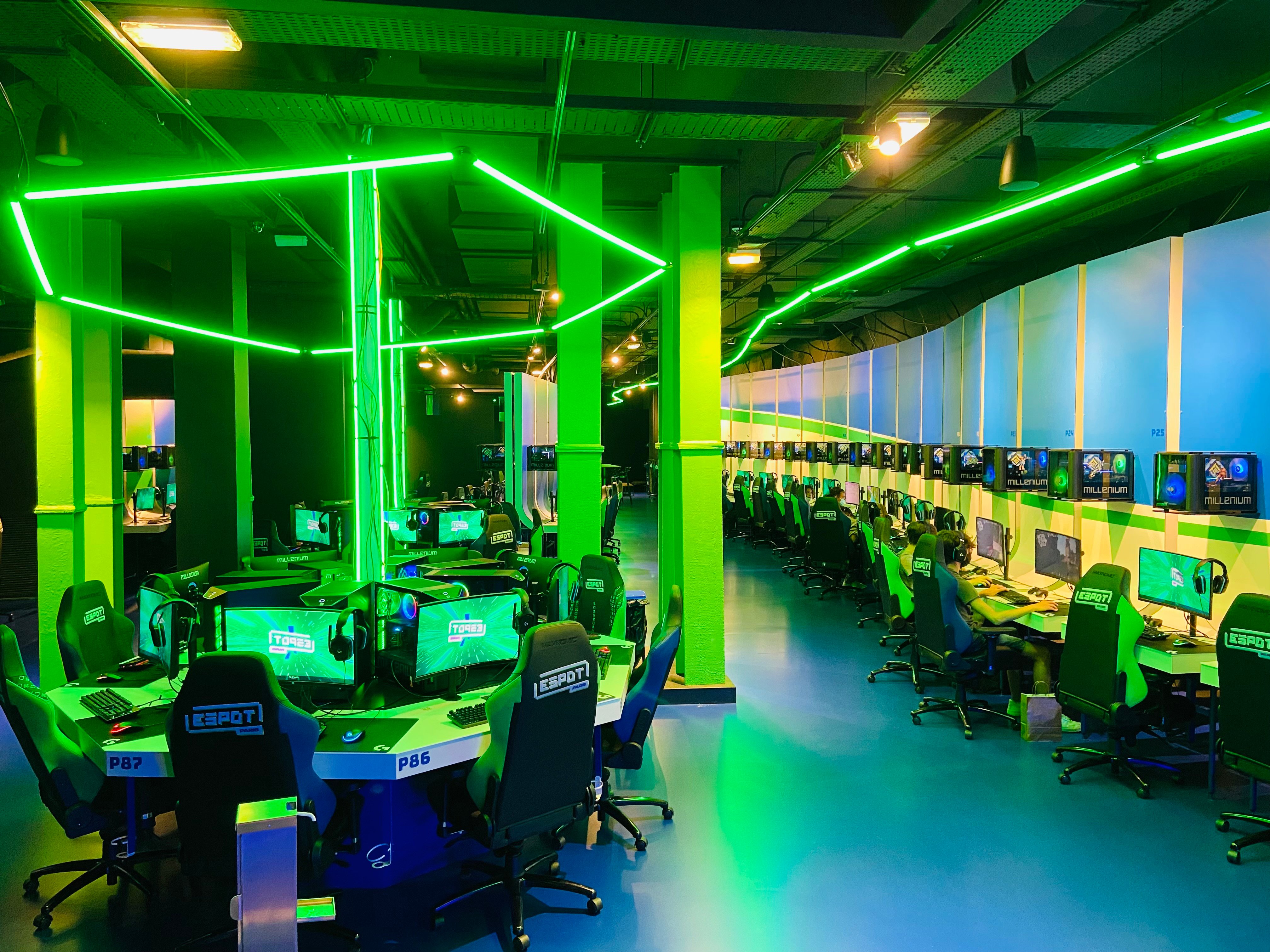 ESpot's PC gaming space is both stylish and spacious
The PC gaming area's stylish atmosphere can pass as a place where you can take great selfies. However, the area is the place for ESpot's 100 high-end gaming rigs that will satisfy any type of esports gamers out there.
ESpot raises the bar high in competitive gaming with the area's high ceiling and awesome lighting. Game enthusiasts around the world will truly appreciate this spacious and well-lit place.
Consoles
PC gaming isn't your thing? This lounge houses 40 Sony Playstations and Nintendo Switch consoles. ESpot has a huge library of games for each gaming platform. You can play alone or take some of your friends for a friendly match.
This section also houses some old-school arcades. When the founders said that all types of gamers are welcome in ESpot, they really meant everyone. No gamer is left behind.
Sim Racing
You know that ESpot also meant business that they want the best F1 simulator. ESpot partnered with the Alpine F1 Team to ensure an authentic experience that emulates the feeling of high-performance, 1,000 horsepower machines in their racing sims.
If you want a racing game experience like no other, be sure to check out this section of ESpot.
Relaxation Areas
ESpot esports center also has dining areas strategically placed at the entrance and inside between the Arena and PC gaming area. The one at the entrance can be accessed for free, any customer can purchase food without actually entering the gaming facility.
Both areas contain a widescreen TV where customers can watch esports programs. The menu ranges from sandwiches to salads.
VIP Areas
ESpot's VIP area offers a majestic view of the Louvre. According to ESpot's own website, this area represents the "harmony between gaming and Haussmannian architecture."
Complete with high-performance equipment, the VIP area is only accessible by reservation. The first floor can be included along with the VIP Area for reservation for private affairs and events.
Click here to test the ggLeap client!

An Esports Place Like No Other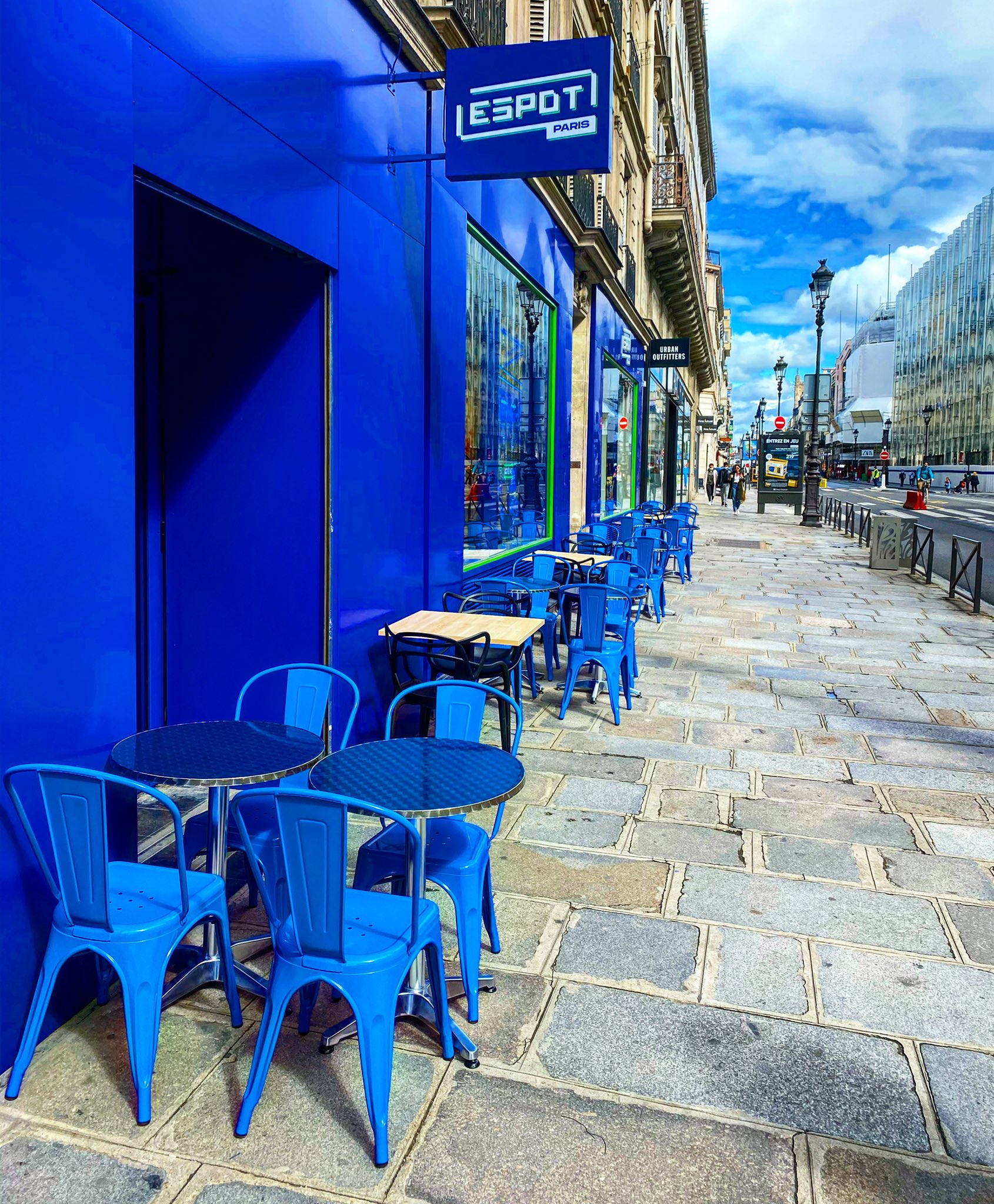 Paris can add "esports" to the list of things the city is known for
ESpot in Paris is only just the beginning. The founders intend to open other branches of ESpot esports centers in other European cities. With the kind of offering ESpot in Paris has, we are sure that it won't take long before ESpot becomes a benchmark in Europe's esports gaming community.
ESpot is in a league of its own when it comes to esports gaming. The best thing about it is that whatever kind of gamer you are, ESpot welcomes you with open arms.
Some of the images are taken from ESpot's Instagram and Twitter pages. Special thanks to Aaron Buckstein of ESpot for providing additional images.