Hotel Game Room: Esports Entertainment for Guests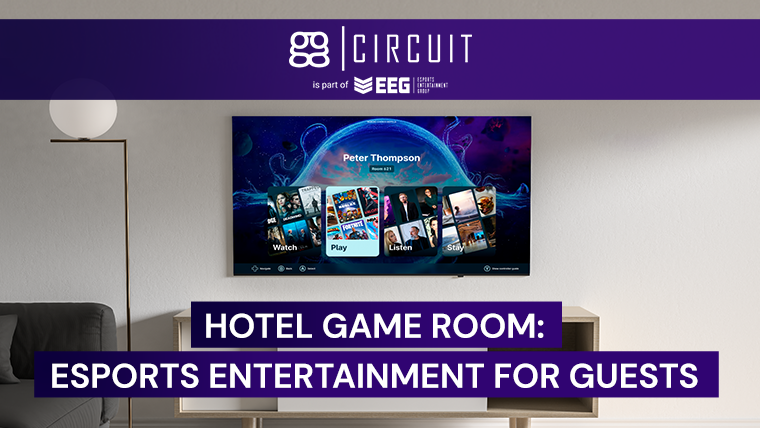 With the growing popularity of gaming and esports worldwide, hundreds of tournaments are held each year with a prize pool totaling millions of dollars. International esports events are held mainly in the esports arena and hotels.
From popular games like League of Legends, Fortnite, Valorant, CSGO, and Apex Legends, many guests visiting and staying in hotels are likely into gaming. That is why hotels with game rooms are becoming increasingly popular to prosper from offering esports to kids and adults. Adults continue to increase the statistical curve of the age of gamers which is now in its 30s.
As hoteliers, providing new revenue paths are critical for continued success. This article serves as a guide to implementing esports entertainment concepts for your hotel guests and all the pertinent information that you need to know.
---
---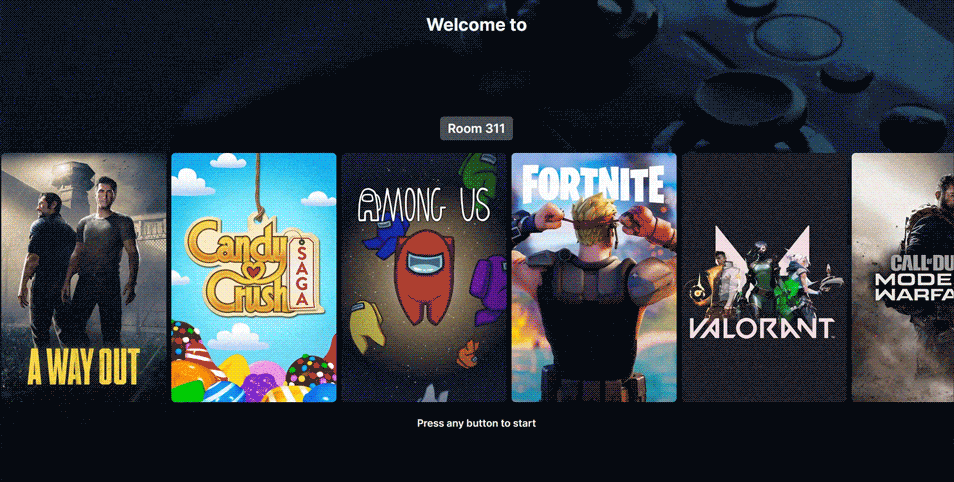 Hotel esports entertainment software concept
Types of Esports Amenities for Hotels
An esports arena is a fantastic addition to hotels because many people, from children to adults, are interested in gaming and esports. This can also attract visitors attending major gaming tournaments, who, in turn, will book rooms for the duration of the event.
However, the concepts introduced here are about two esports amenities that hoteliers can add to a hotel easily. These do not take up much space and are relatively more cost-efficient than other options. These amenities are esports experiences within the hotel room and in-lobby or on-location esports.
Game Room
A hotel game room is a type of room where guests can stay to play games and have an excellent esports gaming experience while staying in the hotel. In addition, guests can explore accommodations with specialized gaming amenities, such as a PC with online streaming capability, casual gaming with controllers for a family, virtual reality equipment, etc.
Alternatively, a hotel can add gaming setups in a regular room by connecting a PC to the room's existing digital TV or put a specialized desktop environment for high-end gaming.
How would the hotel game room work?
Whether you're utilizing a TV or monitor, as long as the PC is connected to the hotel ethernet Internet connection, it would have a controlled desktop environment where the guest could log in or merely click a button to access the approved games and applications available. This environment could be controlled with a mouse/keyboard or controller for every game they check out to play.
The games themselves would be set up through a license management system where games would be served up based on what the user selects. The environment would be flexible enough that licenses would be auto-logged in if the user did not own the game, or the user could log in to a game library with their only account and play the games they own that are installed. From a ggCircuit perspective, this environment would be through ggLeap or a modified version of a hotel entertainment system that includes gaming, entertainment & hotel actions.
How would the games be updated?
PC gaming titles change at a rapid rate. Especially for popular titles, there are updates and patches nearly every week, even multiple times per week. The hotel IT team would first need to evaluate its network infrastructure, but the best way forward would be through PXE boot technology.
PXE boot technology allows a central way to run a PC image off of a server. Utilizing this technology allows the hotel to provide the same gaming experience for all guests. Any time a game update happens, the game title would need to be updated and saved on one PC. Then that image would be distributed throughout the hotel. The best part is that the PCs do not need hard drives as it all comes from the server and with no latency. Without it, your staff would need to go to every room and update every game, which is a nightmare to handle.
ggRock would be the software recommended in this case. It is a standard for many of our gaming center clients and makes the efficiency of a location so much easier. On average, we save about $15,000 in staff costs just by implementing this technology.
In addition, our team manages nearly 100 locations through remote game updates. This is a service at 1/4 the cost of hiring technical support to remote into the server every day to do any game or software updates necessary and then notify the location of what was updated.
How would the hotel earn revenue?
There are a handful of options that a hotel could provide.
1) A hotel could add an esports package upgrade to the room.
This would allow guests to access the games or entertainment system at any time without needing an account.
2) A hotel could add a pass or hourly rate for access to the esports system.
Guests could use the gaming equipment but will be charged depending on the number of hours used. The guests could create a login account & pay via QR code via their phone directly on the screen without employee intervention. They could also just pay for a day pass or the number of days of their stay. This account could then be utilized across the hotel brand for future use with the ability to take both their account details and the time paid with them.
3) Room key tapping system to access the game room hub.
This is just as it sounds, the ability to do card swiping that serves as authentication of a PC exists, and ggCircuit has already developed it.
In-Lobby Esports
By simply putting a small gaming section in the lobby, your hotel can offer esports to gamers and allow them to experience next-level esports gaming.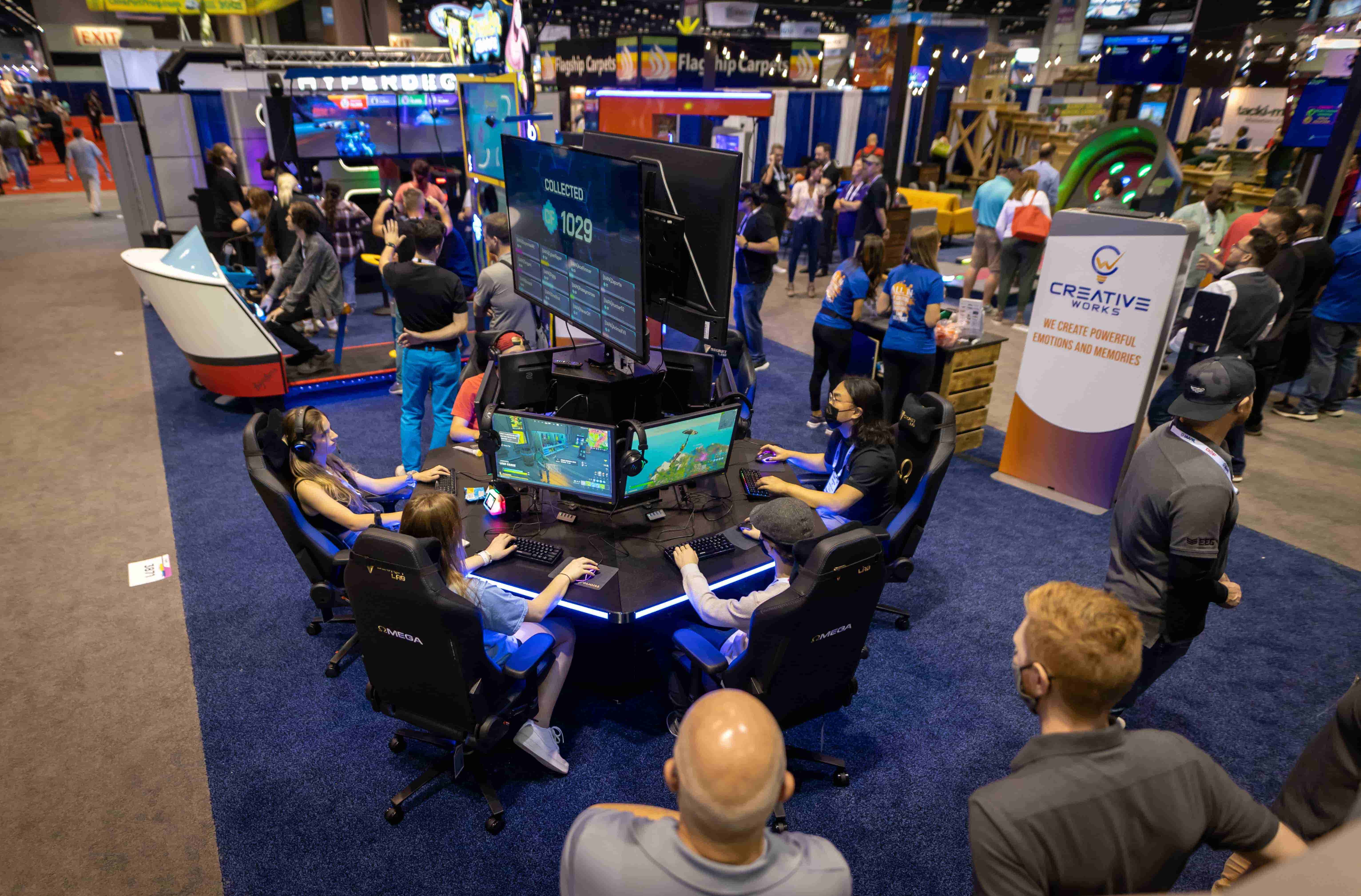 Example of how esports can be added in a hotel lobby. Note how it does not need much space to be operational.
Here's a list of what an in-lobby esports gaming area should have:
Self-service esports experience where customers are given the option to pay rates by tapping their room card on the reader or their mobile device using a QR code generated on the station.

The esports space will take a small footprint in the lobby and require at least 25 sq. meters of space.

Top esports titles and games are pre-loaded into the machines.

No additional staffing is needed to maintain and monitor the stations.

The PCs and gaming devices will be maintained remotely, and in case of emergency, support is on standby 24/7 to troubleshoot issues.
Gaming suites or gaming areas will be easier to manage if the above is implemented. It will also be cost-effective and practically a hands-off operation since there will be no need to hire special personnel to supervise the area. It is an effective self-service gaming option with a dedicated team remotely monitoring the gaming facility.
Vital Equipment, Software, and Services In Suites
PXE Server
With a PXE Server, you can boot machines from a pool of drives on the network server. This method is essential because that allows you to save the games you install to a network image you may share with another computer.
Easy maintenance: an update for a game or software will be done only to one PC, which will then be applied to all the PCs in the network via the PXE server.

Cost-efficient: there will be no need to purchase SSDs for each PC.

Excellent performance: Data from a network server is faster to access than data from a local storage device.

Secured: PCs will be secured from malware or viruses. Each boot will be like a fresh install.
Using reliable software with 24-hour support and assistance is essential for managing a PXE server. Additionally, there are options to have the server assembled, configured, and delivered.
Client Software
Client software is more than just an interactive desktop wallpaper. Its primary purpose is to enable access to a guest who has purchased rental time and prevent access to some parts of the Windows OS.
Beyond gaming, it is also meant to provide a premium experience that complements the superb accommodation of being a guest in your suite. This interactive demo will showcase how it works.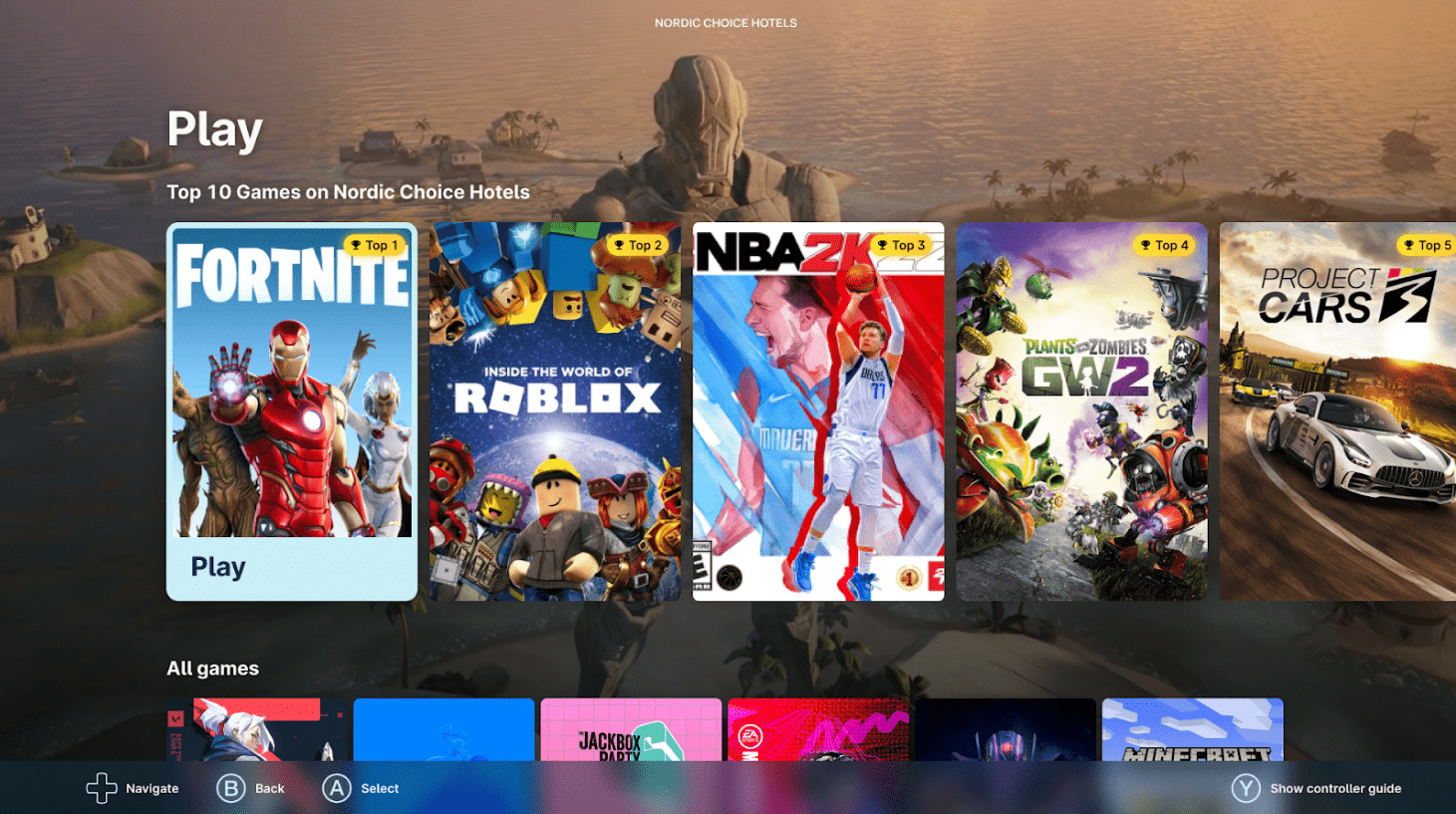 The hotel's IT or admin should be able to monitor the PCs and adjust settings via the web administrator that comes with the software. Features usually found only on high-end client software are custom branding, the ability to purchase and pay on the PC, and loyalty features, among others.
Maintenance Service
An esports gaming area requires regular maintenance to ensure uninterrupted services for your guests. Typically, operators of gaming venues have help from a dedicated IT employee to keep the business going. While it is a relatively effective method of maintaining computers, it can be costly.
A better alternative would be to get specialized service that will provide regular maintenance and service. You will only need three key factors to consider regarding the services for PC maintenance for your hotel's gaming equipment:
Game and software installation

Periodic update and maintenance

Support for hardware issues and replacement
There is also an option to have people come over to configure and initially set up the gaming facility. Then, a remote crew will regularly conduct routine maintenance to install requested games, run updates, and ensure that the PCs are working properly.
The hotel can also request assistance from a 24-hour support team should any problems arise. The support team can also facilitate a request to the equipment vendor for repair or replacement of hardware if necessary.
Additional Revenue
In our fast-paced modern technology, not only electronic sports are on the rise, but digital currency is always on the front pages of the news on the internet, social media platforms, and even television news. So while having a game room can bring in extra revenue by catering to competitive gamers and esports enthusiasts, the computers in your game room can also be utilized to mine cryptocurrencies if they are not in use.
Because cryptocurrency has become a game-changer and a source of income for many people, you can use the high-quality specs of your gaming computers to produce more revenue through crypto mining. These computers are more than capable of mining cryptocurrency and boosting your hotel's revenue.
Importance of Offering Esports to Hotel Guests
The esports industry has exploded with the increasing number of people watching the world's top players play popular esports games.
HyperX Arena Las Vegas
Whether you got a group of competitive gamers or a family on holiday, they always play their favorite games no matter where they are. Therefore, having a game room for esports fans is an excellent idea for your hotel. This additional income source requires less maintenance and management, and ggCircuit can make it happen for you.
For more information on how you can add esports to your amenities, check out our homepage or click the button below.