The Best AIO Coolers for Gaming PC 2023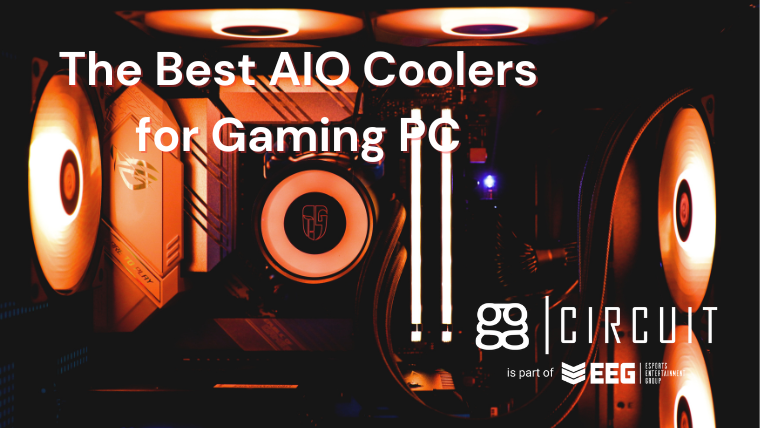 When it comes to PC building, most gamers rave about processors and graphics cards. However, there are other important computer components that not only ensure excellent gaming performance but also improve the aesthetics of your PC. One of these components is the cooling system.
Responsible for keeping your computer's temperature low, these systems can take the form of either an air or liquid cooler. While air coolers are the more popular variant and are ideal for the majority of computer users, an all-in-one (AIO) or liquid cooler is another solution for casual and hardcore gamers. Read on to learn more about liquid cooling and the best AIO coolers for a gaming PC in 2023.
---
---
What is Liquid Cooling in PCs?
If you haven't built a PC yet or only used air coolers in all your builds, you might have concerns about liquid cooling and what it even means. A liquid or water cooling system works like a car's radiator. However, instead of cooling the car's engine, it keeps your computer's thermal performance stable.
It does this by circulating liquid coolant through the heat sink attached to your CPU. As the coolant runs through the heat sink, the heat generated is transferred from your processor to the liquid. Tubes then move the hot liquid to a radiator at the back of your case. The heat is dissipated to the ambient air, and the now cool liquid flows back to the heat sink to repeat the cooling loop.
While having a liquid substance in close proximity to sensitive electronic components might be alarming, liquid cooling systems are safe. However, they should be properly installed, and the cooling system you pick must be high-quality.
Sign up for ggCircuit Updates!
Top AIO Coolers for Gaming
AIO coolers have different performance thresholds and form factors, so you should choose one that can keep up with your processor's heat output and fit in your PC case. However, if you need help deciding what to get, here are nine of the best AIO coolers available today.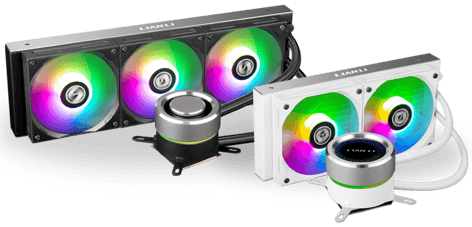 Image: Lian Li
Named after King Arthur's reliable knight, the Lian Li Galahad is an equally reliable AIO cooler that will keep CPU temperatures low even during prolonged gaming sessions. The fan speeds can go from 800 to 1900 revolutions per minute (RPM). Furthermore, it has a high airflow rating of 69.17 cubic feet per minute (CFM) and a triple chamber pump design.
Speaking of design, the Galahad comes in either black or white. Both versions have digital RGB lighting over the top cover, a magnetic cap, and AMD AM5 AM4 AM3 sockets support. Unfortunately, while it also has Intel LGA 1700 socket support, no upgrade kit is included, and it has to be ordered separately (you only pay for the shipping fee). Moreover, fan noise can get quite audible at extreme loads.
However, the rest of its feature set, coupled with its five-year warranty, still makes this AIO cooler a compelling option.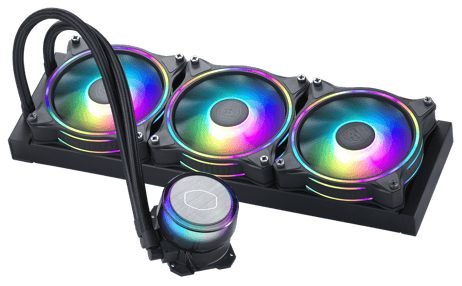 Image: Cooler Master
Cooler Master is an established manufacturer of high-performance AIO systems, and the Cooler Master MasterLiquid ML360 Illusion is no exception. It has an optimized dual chamber pump, expanded dissipation surface area, and a 360 mm radiator. Despite having three fans that can dish out 1,800 RPM at full speed, the cooler can retain a relatively low noise level.
This AIO water cooler also has a sleek, black design. In addition, it has a translucent dome and dual-loop Gen 2 RGB fans. The RGB lighting can be customized using the MasterPlus+ software, allowing you to set your own brightness, effects, and color patterns. It likewise has support for current-gen CPU sockets from both Intel and AMD.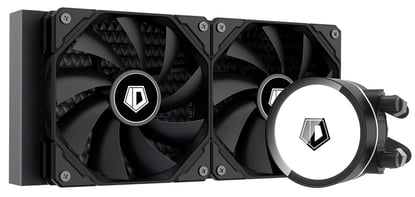 Image: ID-Cooling
If you're looking for an affordable yet high-performance AIO liquid cooler, the ID-COOLING Frostflow 240 XT is a great option. With its 116 L/HR water flow pump and high-density radiator fins, it can dissipate heat at a fast rate. Moreover, loud fan noise won't be an issue thanks to its eight rubber dampeners. The pump speed is also good, with a speed rating of 2,100 RPM and a life expectancy of 50,000 hours.
It likewise has a universal mounting kit for all mainstream processors. It can accommodate modern CPU sockets like Intel LGA 1200/115X, Intel LGA 1700, AMD AM4, and AM5. As for looks, it doesn't have any flashy RGB lighting. However, it does have a completely stealthy black design.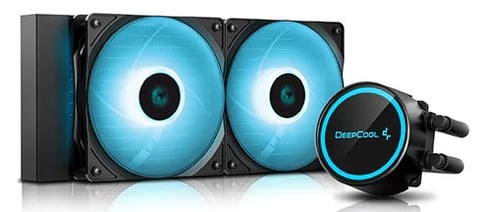 Image: Deepcool
Deepcool Gammaxx L240 V2 offers exemplary cooling performance and quiet operation. It's packed with a set of powerful yet cost-efficient fans and a water block. Moreover, its E-shaped micro water-channel architecture makes it highly effective at transferring heat and sustaining ideal coolant temperature. It likewise boasts an anti-leak tech feature that facilitates liquid pressure balance, further lessening the probability of leaks.
The Deepcool Gammaxx L240 V2 is also more robust than other AIO liquid coolers, thanks to its ceramic axle bearings and axle cores. For aesthetics, it has built-in 12V RGB lighting that is customizable and has multiple bright LED lights and effects. Lastly, it has mainstream Intel and AMD socket support, so you won't have to worry about CPU compatibility.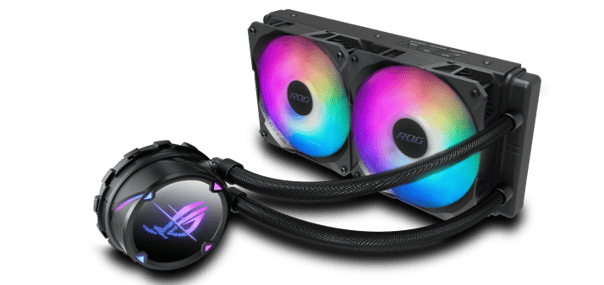 Image: Asus
If you want an AIO cooler with a strong gamer aesthetic and superb cooling capability, go for the ASUS ROG Strix LC II 240 ARGB. This sleek CPU cooler is all black and has ARGB lighting on its NCVM-coated pump cover and radiator fans. It also has Aura Synch support that allows you to coordinate lighting effects with other components from the ROG lineup. Moreover, the overall aesthetics of this AIO cooler complements the design of most ROG motherboards.
As for performance, the ASUS ROG Strix LC II 240 ARGB is a beast. With its modern cooling plate design that includes fine micro-channels, this CPU cooler can lessen thermal resistance, increase surface area, and lower overall CPU temperature. Its PWM-controlled pump and fans likewise produce minimal noise, especially when the CPU is idle or not under a heavy workload.
Furthermore, this CPU cooler is compatible with a wide array of Intel and AMD motherboard platforms and has CPU socket support for Intel LGA 1700, 1200, 115X, 2011, 2011-3, 2066 and AMD AM5 AM4, and TR4.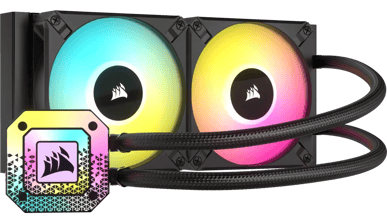 Image: Corsair
Are you looking for an efficient and silent AIO cooler? Consider Corsair's iCUE H100i Elite Capellix XT. This AIO cooling system has high-performance AF RGB elite fans and XTM70 thermal paste. These facilitate maximum heat dissipation even when the CPU is under heavy load. Moreover, the fans can retain low noise levels even during prolonged use.
This CPU cooler also looks great, especially when you use the 33 ultra-bright CAPELLIX LEDs that come with its RGB fans. Furthermore, it has iCue Control support, which allows you to control both the lighting effects and fan speeds. It even has modular and tool-free mounting brackets for easy installation. Moreover, it can accommodate the latest-generation Intel and AMD sockets like LGA 1700 and AM5.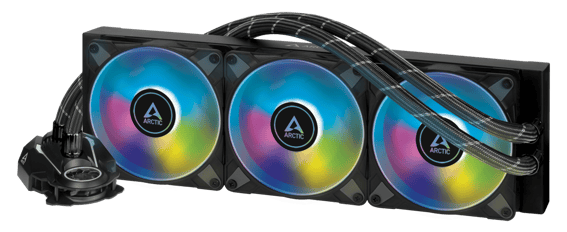 Image: Arctic
The Arctic Liquid Freezer II 360 A-RGB is the deserving recipient of the "European Hardware Award 2022" for the best CPU water cooler. While other AIO water coolers use a generic water pump, the Arctic Liquid Freezer has a proprietary pump that is more efficient and produces less noise. The pump is also PWM-controlled, so its speed can be easily adjusted.
As for radiator size, this AIO cooler uses a 38 mm radiator with high fin density. Hence, more water can run through the circuit and sustain low temperatures. Moreover, it has fiber-reinforced 45 cm tubing that prevents coolant evaporation. The integrated cable management system likewise makes installation a breeze.
While this AIO cooler is optimized for AMD Ryzen and supports AM5 sockets, it can also accommodate Intel's LGA 1700. As for its looks, this cooler has a sleek design and can produce multi-color lighting effects. Furthermore, since it has ARTIC's A-RGB Gen.2 technology, the light effects and patterns can be customized to your liking.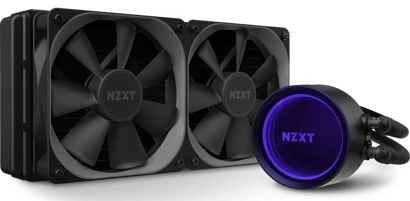 Image: NZXT
If you want a simple yet capable AIO cooler, then the NZXT Kraken X53 is for you. This water cooling system has a relatively compact form factor and can fit in most cases. Furthermore, it supports all modern Intel and AMD sockets, including LGA 1700 and AM5. It also has two 120 mm Aer P radiator fans. Each one has a chamfered intake and fluid dynamic bearing, thus providing high cooling performance.
This AIO cooler also has fine nylon mesh sleeves that reinforce the rubber tubing and prevent leaks. It even comes with a rotatable top that allows you to reorient the illuminated NZXT logo. Moreover, unlike other coolers whose warranty lasts for only three to five years, the NZXT Kraken X53 has a six-year warranty.

Image: MSI
MSI's MEG CoreLiquid S360 is an extremely silent and capable water cooling system. It comes with three MEG SILENT GALE P12 silent gaming fans and even has a 0 RPM fan mode. Moreover, its Astek 7th Gen pump and evaporation-proof tubing give it excellent cooling performance. Other components, such as the M.2 SSD and VRMs, are likewise cooled thanks to the 60 mm fan placed within the cooler's water block.
Unlike most CPU coolers that only have a static logo at the top cover, the MEG CoreLiquid S360 has a 2.4-inch customizable IPS LCD. This display can show your hardware information. Alternatively, you can set it to display custom GIFS, videos, photos, texts, system clocks, or even live weather details. While this AIO water cooler lacks RGB lighting, it makes up for it with its classy and stealthy design.
The MEG CoreLiquid S360 also provides out-of-the-box support for both AMD AM5 and Intel LGA 1700 sockets.
Is an AIO CPU Cooler Worth It?
Whether or not an AIO CPU cooler is worth it depends on what kind of PC user you are. If you're just a general user who only makes documents, browses the internet, and uses non-demanding software, then an air cooler should be enough for you. However, for power users and gamers, a water cooling system is worth it for the many benefits it offers.
Better Heat Dissipation
Liquid can dissipate heat faster than air. Thus, AIO coolers offer a superior cooling capability. While light programs like MS Word won't cause too much heat buildup, demanding programs like modern AAA titles can cause CPU heat to ramp up fairly quickly. To avoid thermal throttling and reduced game performance, you need high-performance CPU cooling that only AIO coolers can deliver.
Less Maintenance
An AIO cooler is easier to maintain than alternatives like a custom water cooling loop. To clean the fans, all you need is some compressed air and a small brush. There's no need to do any complex and risky disassembly. Premium water cooling systems are also quite robust, with some units lasting for over ten years.
Lower Noise Level
A CPU cooler's fans can get noisy, which can distract gamers and ruin immersion. Fortunately, most AIO coolers have an efficient radiator that can keep PC temperatures stable even when the fan speed is set to low. Hence, if you're a gamer who doesn't want to constantly use headphones, an AIO cooler can offer you a quiet gaming experience.
What Liquid Is Used in AIO?
AIO coolers use a liquid coolant solution to dissipate heat from your CPU. Here are the most common liquids and additives used on AIO cooling systems.
Distilled Water
Distilled water is a popular and inexpensive non-conductive coolant. It's essentially vaporized water that has been turned back to liquid. Despite being initially non-conductive, distilled water eventually regains conductivity as it passes through the cooling loop and collects ions from the radiator and other AIO components. Hence, you should ensure that your cooling system is properly installed and conduct regular inspections to avoid damage from leakage.
Deionized Water
Deionized water is a more expensive coolant that has undergone a complex chemical process. This process removes most of the ions and dissolved minerals in the liquid, making deionized water the better coolant option in terms of conductivity.
Coolant Additives
Essential coolant additives are likewise mixed with distilled or deionized water. One of these additives is ethylene glycol. This compound prevents bacterial growth and corrosion. Moreover, dyes and colors are sometimes used to make the system pop even further. However, the solution is often kept clear to avoid slime buildup and avoid pH imbalances.
Click here to test the ggLeap client!

Do You Need To Refill AIO Coolers?
AIO coolers do not need to be refilled and are almost maintenance-free. These CPU coolers have a closed-loop system. The pump, radiator, and tubing are all built-in, making the liquid coolant inside well-secured and less prone to contamination. Since the coolant is unlikely to get compromised, there's no need to refill or replace it.
This is in contrast to open-loop liquid cooling systems, whose pumps, reservoirs, and radiators are divided into different segments. Because of their complex and less compact design, open-loop systems need to be inspected, drained, and cleaned every year or two. The liquid coolant within likewise needs regular refilling and replacement.
How Long Do AIO Pumps Usually Last?
The lifespan of AIO pumps will depend on the overall quality of the cooling system. For example, an AIO pump from a subpar manufacturer can fail in just a couple of months. Meanwhile, a water cooling pump from reputable brands like Cooler Master, Corsair, and MSI can last anywhere between seven to ten years, sometimes even longer.
To put things into perspective, modern motherboards have the same average lifespan. Hence, the longevity of AIO coolers is within industry standards.
Moreover, there are several factors that impact the lifespan of AIO pumps and coolers in general. Installation issues, such as incorrect tubing placement, can cause bubble buildup and hamper liquid movement. These can damage the pump. Corrosion due to poor coolant mixture, substandard welding, or leakage can also cause premature pump failure.
Thus, to lengthen the life of your AIO cooler, you should properly install the cooling system and regularly monitor its performance.
Which Is Better? Liquid Cooler or Air Cooler?
If you're a gamer or someone who uses demanding computer applications, a liquid cooler is generally the better choice. However, some arguments in favor of air coolers can be made. Here are the factors you should consider to determine the right PC cooling solution for you.
Performance
In terms of temperature regulation and noise levels, liquid coolers have a clear advantage over air coolers. An air cooler dissipates heat using a heatsink and a fan. The fan sits at either the top or side of the heatsink and blows air away from the CPU. This cools the processor down. While air coolers can keep CPU temperatures low, a liquid cooler can keep your system cooler more efficiently and quickly. Moreover, liquid coolers produce less noise compared to even the most silent air cooler.
Price
Generally, air coolers are more affordable than AIO coolers. This is expected since AIO coolers have a more complex cooling mechanism and provide better performance. For power users, the difference in price is justified. However, there are gamers who only use a budget gaming PC and don't need the performance boost of a liquid cooling system. Moreover, some PC builders prefer allocating more funds to other components like the CPU, GPU, RAM, and storage. For these people, an air cooler would be a better option.
Space
Air and liquid coolers have completely different architectures. Most air coolers have a huge heatsink, although the rest of their components tend to be compact. In contrast, liquid coolers don't have any bulky parts, but they need enough space for the radiator, CPU block, and coolant tubes. Hence, when it comes to space accommodation, the type of CPU cooler that's best for you will depend on the size and type of your PC case.
Installation
Since air coolers only consist of two main parts, they're easier to install. Meanwhile, installing a liquid cooler requires more skill, especially since you have to find a proper place for its individual components. Moreover, you have to be more cautious when installing an AIO cooler to avoid leaks. If you're a veteran PC builder, then either of these CPU coolers would be a breeze to install. However, if it's your first time building a gaming PC, it's advisable that you get an air cooler.
Summary
Liquid coolers are great CPU coolers if you're after superior cooling and noise reduction. From the Lian Li Galahad to the MSI MEG CoreLiquid S360, there are several excellent AIO coolers available in the market. Just make sure to consider all factors, like case size and your PC-building experience, before you select a water cooling system.
ggCircuit is a part of Esports Entertainment Group (GMBL).