ggLeap Esports Center Management Software Adds Significant Features This Spring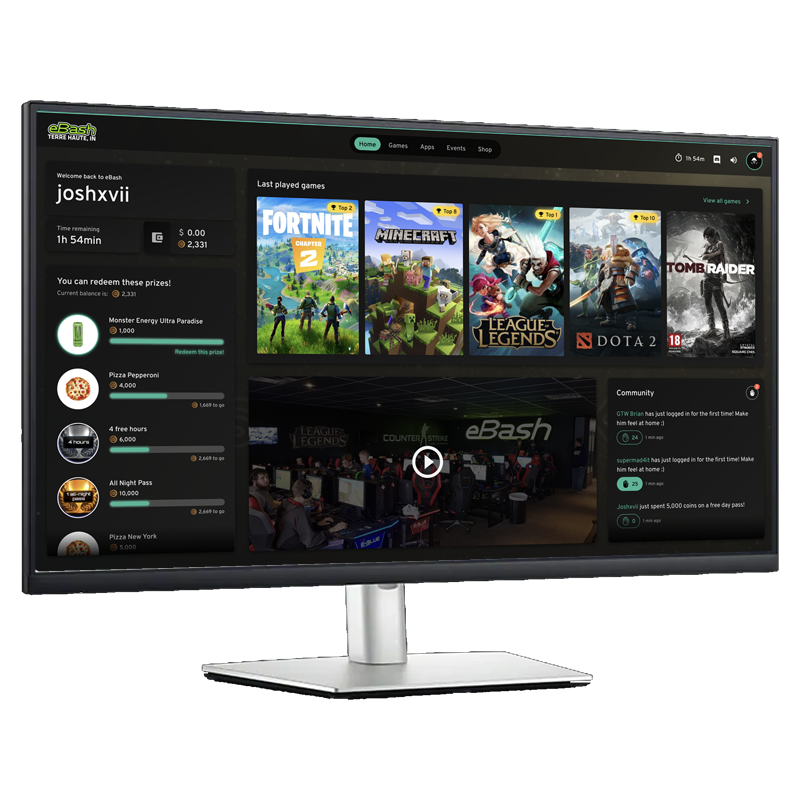 The ggLeap development team has been reinventing and improving our esports center management software since its inception. After the release of ggLeap 2.0 last April, our devs have been hard at work to add extra features that will help esports center owners with their day-to-day business operations. If you are still on the fence about our software, read on to see how much we have improved ggLeap with its recent May 2021 update.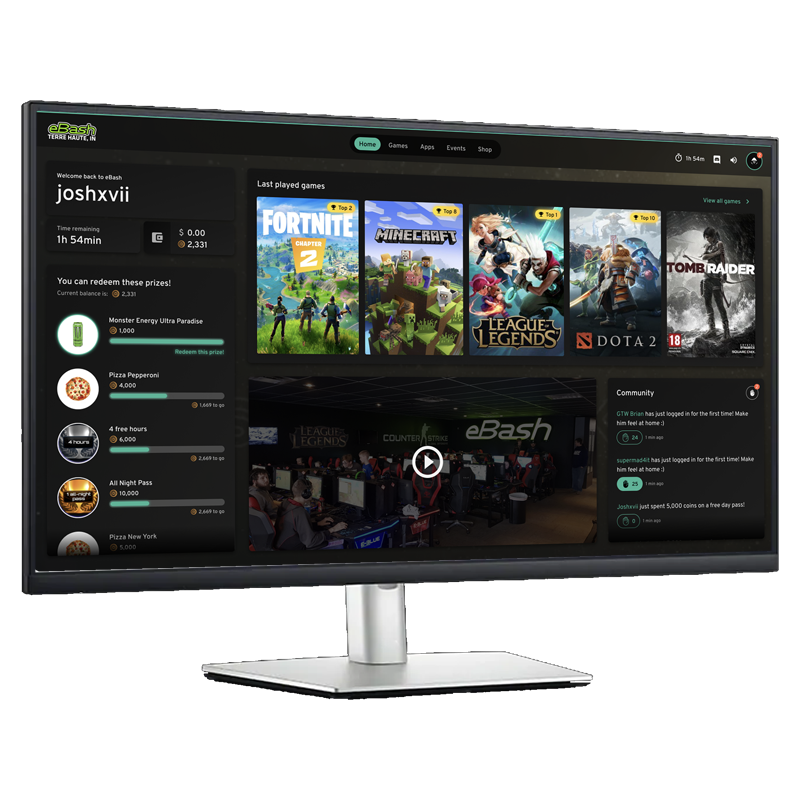 Manage your center with a solution catered to your esports center.
ggCrypto Earns Passive Revenue for Esports Centers
Because of the pandemic, a lot of esports centers have been using third-party mining apps to bolster their revenue. The ggLeap development team built solutions for those who are interested in crypto mining but do not have the time to research the best mining app.
This newest addition to the ggLeap management software will enable esports centers to mine Ethereum cryptocurrency with their idle client PCs. It is fully automated for an esports center business and can be set up even without prior knowledge of cryptocurrency. ggCrypto also comes with a Crypto wallet, which eliminates the need of finding a separate wallet outside the system. An esports center business owner gets this feature for free through the ggLeap platform which creates a 24-hour revenue solution at the click of a button.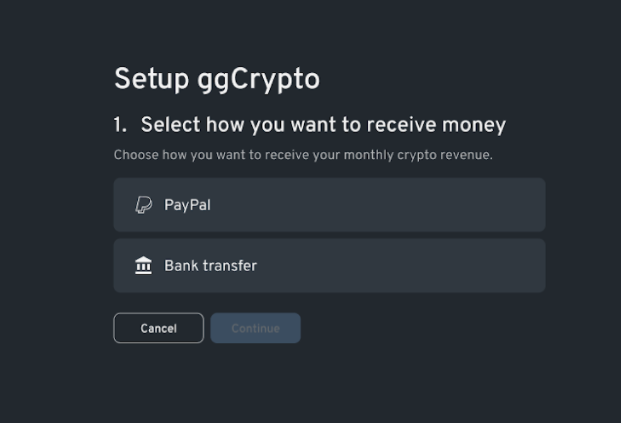 ggCrypto's built-in wallet also lets esports center owners choose their preferred payment method
ggCrypto incorporates the ability to track GPU temperature. This lets users know the exact readings of their GPUs. Optimization and scheduling options will be available in an upcoming update release to the cloud-based platform, so you can always keep your miners running at maximum efficiency! Multiple dashboards let esports center admins monitor ggCrypto and track their cash earnings & payments from this solution.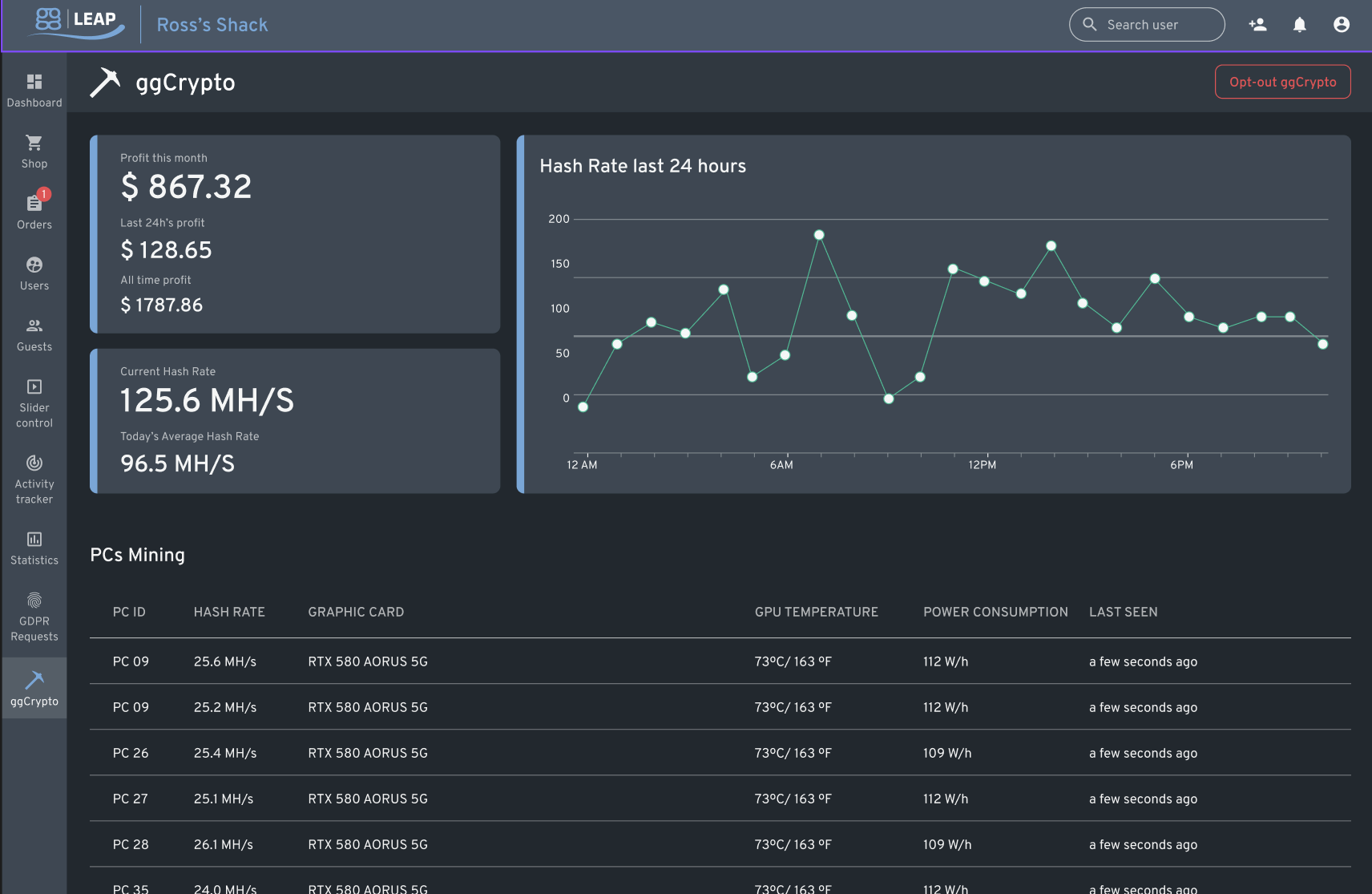 ggCrypto includes GPU temperature and hashrate monitoring solutions
Added options for Employee roles enable administrators to control which staffers have access — enabling this tool is completely customizable based on esports center owner's preference!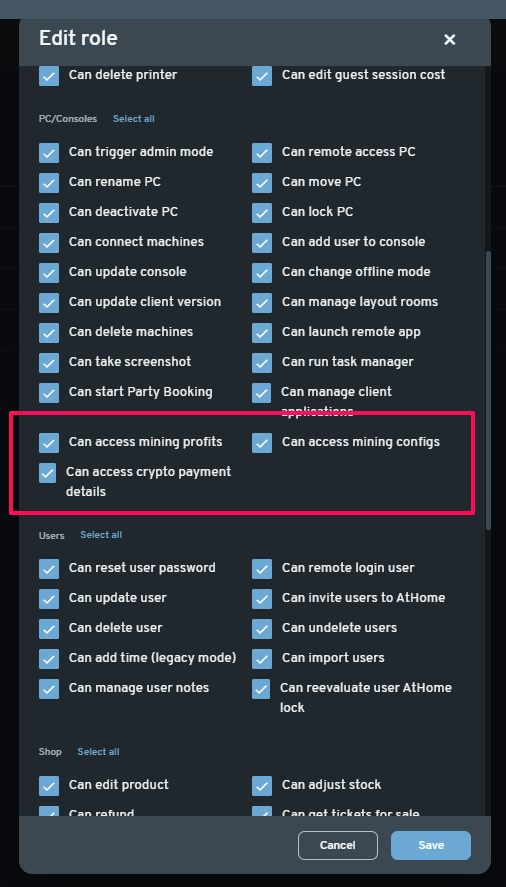 Esports center employee role option to enable or disable access
Putting the client PC in admin mode will stop the mining process. The same goes when a user or guest logs in to the client PC. ggCrypto can also be installed on select PCs and opting out of this feature will remove the module automatically. ggCrypto will only be engaged when esports customers are not using the PCs and they are sitting idle. Management of the center can just run it at all times or only when they are closed.
ggLeap Management Software Client Updates
Aside from the aforementioned feature, ggLeap's development team also released updates for the client user interface and web admin. See the list below for some changes made in the recent patch:
Added a secured Windows Explorer taskbar in the client user interface.

Windows Explorer taskbar in the ggLeap client user interface
Added ability to launch Windows/Microsoft applications and games.
Spanish localization for the client user interface.
Significant updates to the Security policies to prevent boot loop issues for esports centers with PXE.
Optimization of web admin access in Android and iOS (testing mostly done for Chrome browser).
Color scheme updates for the PC dashboard.
Updated customization page to include a

live preview.
Fixed known issues with the client and web admin.


The ggCircuit team is always looking for additional features and updates to make ggLeap the best esports center management software in the industry. Check out our changelog for a list of recent improvements that have been made, or submit your feature request so we can tailor-made ggLeap for you!
ggLeap continues to be a dominant player in the esports management software market. Be sure to check the ggLeap Discord channel for our next update releases.