Game Merch: How Many Fortnite Funko Pops are There?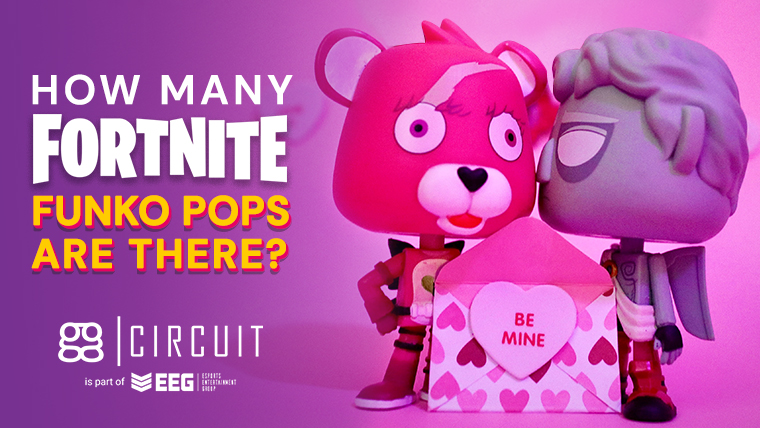 Who doesn't love a good game of Fortnite? So what's even better than playing the game? Why it's collecting the accompanying Funko Pops of your favorite game character, of course!
It's no secret that Fortnite is one of the hottest Funko Pop collectibles out there right now. Because of its popularity, it's hard to deny that these trendy figures are flying off shelves everywhere. With new skins being released all the time, there's always something new to add to your collection.
Whether you're a seasoned Fortnite player or you're just getting into the game, if you're looking to start (or add to) your Funko Pop collection, here is a comprehensive list of things you need to know about Fortnite Funko Pops!
---
---
How Many Fortnite Funko Pops Are Out There?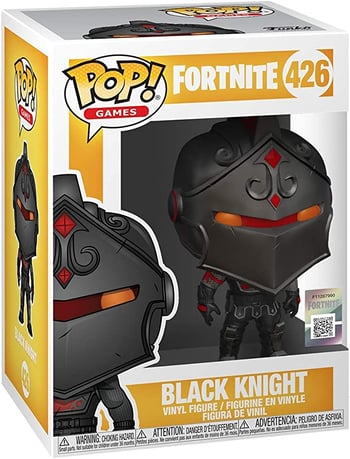 Fortnite - Black Knight Funko Pop Figure
With the release of Fortnite Chapter 3 came a whole new batch of Funko Pops. In total, there are 61 different Fortnite Funko Pop figurines available — each with its own unique design. The vast majority of these pops are of characters sporting their default skin, with a few exceptions. Some of the most popular designs include:
Fortnite Funko Pop vinyl figures have become increasingly popular, to the point where some people are carrying them around as key chains! The reason is probably that their Funko toy is so well made and looks just like the in-game characters.
The Rarity of Certain Fortnite Funko Pops
As with anything collectible, some Funko Pops are rarer than others. Because of this, they can be pretty valuable. There are several factors that contribute to the rarity of Fortnite Funko Pops, such as:
Weapons/Pickaxes: Pickaxes are the primary tools used in Fortnite and are often not included as an accessory with the character pops. However, the Skull Trooper figurine comes with his signature Reaper pickaxe, making it quite rare (and expensive).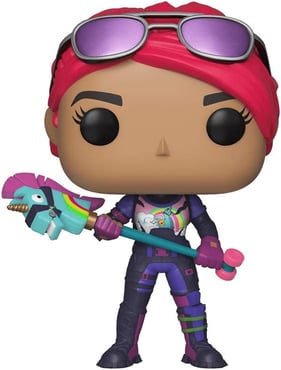 Brite Bomber figure holding a unicorn pickaxe
Limited-time skins:

Some favorite skins are only available for a matter of time before they're gone for good. A perfect example of a rare skin is the Black Knight pop. This in-game skin was only available during its earliest stages of the game, making it one of the rarest and most sought-after Funko Pops.

Other rare items combined:

The perfect example of this is the famous Loot Llama, which often contains valuable items such as gold weapons, lots of ammunition, and medical supplies.

Fortnite figures that are no longer available:

Two of the rarest Funko figures that are no longer in production and highly sought-after by collectors are Black Knight and Skull Trooper.
Now that you know how a Fortnite Funko Pop's rarity is determined, you're probably wondering how much your collection is worth. While there is no definite answer, a good rule of thumb is that the rarer the item, the more it's worth. So keep your eyes peeled for these items if you want to find some of the rarest and most valuable Fortnite Funko Pops!
Sign up for ggCircuit Updates!
Pricing and Availability of Fortnite Funko Pops
Funko Pops have been all the rage lately, and it seems like everyone is trying to get their hands on them. While some people are content with just collecting them, others see them as valuable investments. If you're thinking about starting your own vinyl collections or investing in some Funko Pops, here's where you can find them and how much they'll cost you.
Online Stores
Online shopping has become the norm for many people looking to purchase Funko Pops, with the convenience and variety of items available making it a popular option. Not only do they offer a wide selection of items, but they also typically have competitive prices. Plus, you can often find coupon codes and free shipping offers that can help you save even more.
There are a few different online stores and major retailers that sell Fortnite Funko Pops, such as Amazon, Best Buy, eBay, Walmart, and GameStop. However, it's important to note that not all stores carry the same selection of items, so it's always a good idea to check multiple places before making a purchase.
Walmart exclusive Fortnite - Skull Trooper (Glow) Funko Pop figure
It's also important to be aware of the different prices that stores charge for shipping, as this can add a significant amount to the overall cost of your purchase. For example, Amazon offers free shipping on orders over a certain amount of money, while other stores charge a flat rate for shipping.
When shopping for a Funko Pop, be sure to check the seller's feedback rating to ensure that you're buying from a reputable source. Also, be aware of any extra charges that may be associated with your purchase, such as taxes and duties.
Local Stores
While online shopping is convenient, sometimes you just need to see the item in person before you make a purchase. Many local stores now carry Fortnite Funko Pops, so be sure to check your favorite store's shelves. You may even be able to find them at a discount!
When you shop at a local store, you can take your time to browse the selection and find exactly what you're looking for. In addition, the staff is usually happy to help with any questions you might have. For example, if you're not sure which Funko Pop to get, they may be able to give you some suggestions.
Keep in mind that local stores typically have a limited selection, so you may need help finding what you're looking for.
Funko's Main Website
If you want to be sure that you're getting an authentic Fortnite Funko Pop, then your best bet is to purchase it directly from Funko's website. They offer a wide selection of items, and you can even find some exclusive items that aren't available anywhere else.
The downside to shopping on Funko's website is that their prices are typically higher than other stores. However, they offer free shipping on orders over a certain amount. The website is easy to navigate and user-friendly. Many payment options are available, including PayPal and credit/debit cards. Shipping is typically very fast, and the customer service is excellent.
Factors Affecting Price and Availability of Fortnite Funko Pops
Fortnite Funko Pops have quickly become one of the most coveted items among gamers and pop culture enthusiasts. However, there are many different factors that affect the price and availability of these items, including the following.
The Game's Popularity
Fortnite is one of the most popular video games in the world, and it's no surprise that its Funko Pops are also some of the best sellers in the market. Unfortunately, the high demand for Fortnite Funko Pops may result in higher prices and lower availability.
The Production Process
Another factor that has affected the price and availability of Fortnite Funko Pop is the production process. The manufacturing process for these figurines is extremely complex, and only a limited number of factories can produce them that meet Funko's high standards. This factor has led to production delays and shortages of certain items.
Limited Edition Releases
Many of the Fortnite Funko Pops that are currently available are part of limited edition releases, which means that there are only a certain number of them in existence. This scarcity makes them even more valuable to Fortnite Funko collectors, and it has caused prices to increase even further.
The Current World Situation
The current world situation has had a significant impact on the price and availability of Fortnite Funko Pops. With the COVID-19 pandemic causing widespread panic and economic instability, many people are cutting back on their spending. Additionally, the closure of factories and other businesses due to the pandemic has made it difficult for Funko to produce new Pops, leading to a shortage of certain Pops.
Click here to test the ggLeap client!

Fortnite's Influence in the Esports and Gaming Industry

Fortnite has swept the globe, becoming one of the most-played shooter games in recent memory. However, its influence extends far beyond just being a fun game to play. Fortnite has also had a significant impact on the esports and gaming industry. For starters, the game's popularity has drawn in legions of fans with more than 250 million players worldwide, many of whom are willing to watch professional gamers compete in tournaments. This has resulted in a boom in the esports industry and attracted more sponsors and investors.
Also, Fortnite's battle royale games are a great example of how a game can be made for a specific audience and be enjoyed by a wider audience. The game was originally designed for a younger demographic, but it has since been embraced by older gamers as well. This has inspired Epic Games and other game developers to create more games that can be enjoyed by people of all ages.
Finally, Fortnite has shown that it has the leverage to challenge the way traditional video game companies do business. For example, Epic Games — Fortnite's developer and publisher, has been very outspoken about its disdain for the way that loot boxes and microtransactions have become increasingly common in games. The company has even taken steps to customize these features from Fortnite, allowing players to see the contents before purchasing, hopefully setting a precedent for other companies to follow.
How has Fortnite changed the gaming industry? It's been drastic. There's no denying that Fortnite has had a profound impact on the gaming industry, and it shows no signs of slowing down in the near future.
Conclusion
As any Fortnite fan knows, Funko Pops are the perfect way to show off your love for the game. This line of Funko Pops has become extremely popular, with many different in-game characters to choose from. So it's safe to say that Funko Pop figures are more than just a passing fad. They're here to stay, and their complete list is sure to grow.
If you're looking for a unique and fun gift for someone or even for yourself, Funko Pops are definitely worth checking out. With so many different characters to choose from — including some rare ones — there's sure to be a Pop that suits anyone's interests.
If you haven't jumped on the bandwagon yet, now is the time! So pick up your very own Fortnite Funko Pop today. Who knows, maybe your collection will be worth a fortune one day.
ggCircuit is a part of Esports Entertainment Group (GMBL).