An Esports Center's Guide to a Fortnite Birthday Party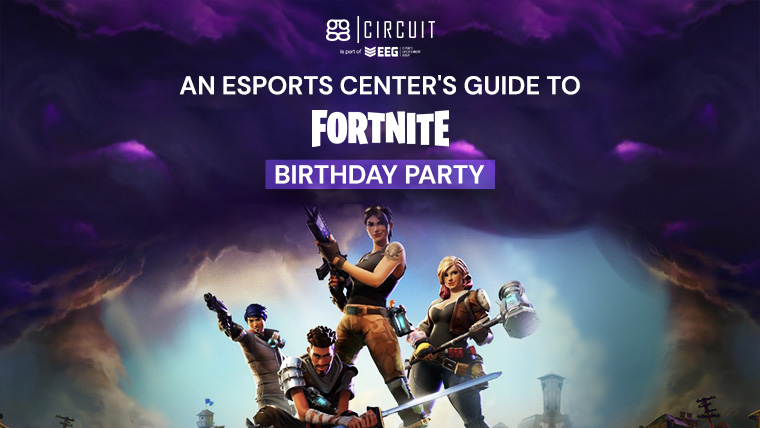 It's not every day that you can find a game that's an excellent theme for a party. Of course, Minecraft and Roblox are obvious choices for kids' parties, but if you want to impress the older kids, up the ante with a Fortnite birthday party!
Hosting a Fortnite party will have the celebrant and guests shooting and fragging away. And they'll do this and more as they sip on Fortnite slurp juice and recover their energy with medkit-shaped oatmeal bars.
But how do you host one?
Check out our fun Fortnite birthday party ideas, and older esports fans will drop into your esports center in no time!
---
---
What is Fortnite?
Fortnite is a third-person open-world shooter game. The game was developed in 2017 by Epic Games and fellow game development company, People Can Fly. At the time of writing, Fortnite is available on all platforms, including iOS and Android.
Besides multi-platform availability, Fortnite is one of few games of its genre with cross-platform playability. In other words, you can be playing on your desktop against a person who's playing on their Xbox.
In Fortnite, players can team up and battle husks or zombies. They fight off waves of husks as they create forts that will serve as defensive positions. In other modes, players can play against each other in a true battle royale fashion.
Fortnite features three game modes. Save the World is the game's original mode, the only one available in Fortnite's debut year. Save the World features a player-versus-environment sort of gameplay that allows solitary play. Later, Epic Games added two more modes to give players more options — Battle Royale and Creative.
Battle Royale allows players to play against each other. In Battle Royale, up to 100 players can duke it out until one last player is standing.
On the other hand, Creative Mode serves as more of a practice game. It features instant respawns, allowing players to practice their skills. True to its name, Creative enables players to bring their fun ideas for forts to life.
Each of these game modes has been a fun addition to the game. Besides eliminating monotony, the addition of these modes allows players to play Fortnite at no extra cost.
To play Fortnite, players need to log into a lobby. Next, players group and begin a mission or campaign in the lobby, depending on their selected game mode. Then, before the battle starts, everyone parachutes into a map where the game will transpire.
Once players land, they'll search for resources or husks to eliminate. They can get additional resources by securing supply drops ahead of other players. Supply drops are available in the Battle Royale game mode and contain weapons, ammo, supplies, and a launchpad.
Given the game's mechanics, Fortnite is a cross-genre game of sorts.
The zombie-killing element screams survival horror themes (if not for the trippy outfits and weapons that look like Nerf guns). In addition, the free creation of forts and defensive structures adds a creative element to the game.
This, combined with opportunities to wander an open world, makes it an open-world exploration game. The meandering takes you back to what it's like to wander the Final Fantasy world map on your Chocobo.
Fortnite is an esports hit, one of the country's most played PC games. So if you throw a party with a Fortnite theme, you're heading in the right direction in promoting your esports center.
What is a Fortnite Birthday Party?
A Fortnite party is precisely what it sounds like — it's a party with all the goodies and food with Fortnite themes. It also blends activities in both the real world and in Fortnite so that everyone has a great time.
It's like the other esports birthday party events we mentioned in this post.
Real-world activities can be party games, from eating the most Fortnite cake or shooting Nerf guns. And since the party is about Fortnite, the birthday kid and the friends can play Fortnite on any mode they fancy.
Need more Fortnite birthday party ideas? Read on!
How to Host a Fortnite Party
These days, you won't have to try so hard to get party decorations online or from the dollar store — balloons are a dime a dozen. And Fortnite party supplies and ideas for Fortnite party favors are all over the internet. The internet also takes the guesswork out of Fortnite-themed food!
In short, there's no shortage of places to get supplies for a cool Fortnite birthday party.
But it takes more than a yellow helium balloon and Fortnite cake to throw a fun Youtube-worthy Fortnite party.
Everything needs to be in sync. Just because the sign or label says "Fortnite party theme" on the label doesn't mean it's perfect for the Fortnite party you'll host.
Follow these simple Fortnite party ideas, and your esports center will be a fortress of husk-fragging birthday fun!
Fortnite Party Theme Decorations
You can't go wrong with starting with the basics like Fortnite party favors (which we'll get into later) and the celebrant's name on a Fortnite banner. Don't skip the balloons, kiddie party supplies, and llama pinata!
You also don't want to go overboard on Fortnite party decorations since kids who play Fortnite tend to be a little older. Instead, putting more effort into the food and games will be your best bet.
Fortnite Themed Food and Drinks
Besides candy, the Fortnite cake and cupcakes are where you need to up your decorating game. Luckily, pastry shops that cater to birthday parties can create the cake for you.
As for the Fortnite-themed cupcakes, you can have them baked in the shape of medkits and other supplies in the game. Have some Fortnite slurp juice on hand to wash the food down.
Fortnite Games Setup for the Celebrant and Guests
First, you will need to ensure that each guest has an account. There's probably a slim chance you'll run into a situation where a kid does not have an account. Don't worry; creating an account for Fortnite is free and can be done quickly in a few minutes.
After that, you'll want a terminal for each player. If you lack PC terminals, remember that Fortnite is a cross-platform title, meaning some of the kids can play on consoles. To make the party even more fun, have the kids compete against each other in the game's Battle Royale mode via a private server.
Check the details below:
How to Create a Private Server in Fortnite?
As of this writing, custom or private server match is only possible via the Support-A-Creator program. Aside from being able to create private servers, this is Epic Game's affiliate program that will allow creators to earn via revenue share on the Epic platform for a game or in-game purchase using referral links or Creator Code.
Make sure to check Epic Games' FAQ for the Support-A-Creator program.
How Do I Create a Match on my Private Server?
Have the celebrant select the game mode in the lobby.

Go to Settings and check that you and the guests are in the same region.

Click Custom Key on the bottom right and select Custom Matchmaking Key.

After creating the custom key, click Accept and then click Play.

Wait for the kids to fill the server, and then click Start Match to begin the game.
Note: You can join the game or ask someone to play using the Creator account.
How Can the Kids Join in the Private Server?
Ensure that each guest is in the correct server region in Settings.

Click Change and choose the game mode that the celebrant selected.

Enter the custom key in Custom Matchmaking Key, and then click Accept.

Click Play and wait for the game to begin.
Mini-Tournaments and Prize Giveaways
Host a Fortnite tournament with prizes awaiting the winners. Of course, no party games are complete without prizes. For Fortnite party ideas on giveaways, you can't go wrong with free passes to your esports center, membership discounts, or Fortnite stuff.
Of course, all participants must grab something at the end of the party or tournament. This is where the party favors come in!
Fortnite Party Supply Drop Bags
Anyone can hand a child a goodie bag, but if you're going all out, you might as well hand in the party favors Fortnite style — or should we say drop instead of hand in?
Mimic the game's supply drop by having party favors suspended and dropping them on the celebrant and guests. The supply drop bags can contain anything from lanyards of your esports center or pendants resembling V-bucks.
Why Having a Fortnite Birthday Party Is a Good Thing for Esports Centers?
Hosting a Fortnite party can go a long way for the popularity of your esports center.
Besides positioning yourself as a fun place with amazing Fortnite party ideas, you're also opening yourself to a new market. In particular, your Fortnite party tells everyone that your esports center is a fun place for parties.
Because you'll be seen as the go-to place for parties, you can host other events for esports enthusiasts.
Putting yourself out there as more than a competitive arena tells everyone, "celebrate with mouse and keyboard!" But, more importantly, you'll be doing esports a favor by being a site of discovery. You can be the place where friends, youth groups, and even future competitive gamers get introduced to Fortnite and esports.
These are just some reasons a Fortnite party will do wonders for your esports business. Execute your Fortnite party ideas to perfection, and you'll reap all the above benefits and more!
Summary
Fortnite party ideas will help ensure that the Fortnite party you host is fun for everyone in attendance. The Fortnite party ideas shared in this post are general, meaning they'll suit most of your husk-fragging clients.
Of course, the best thing to do is consult the celebrants and take their two cents on what they want in a party.
So what are you waiting for? Throw a Fortnite party that'll put your esports center on the map.
Be sure to check out our other articles to learn more!
ggCircuit is a part of Esports Entertainment Group (GMBL).