UNTTS Gaming Lounge sets the bar high for gamers in Madrid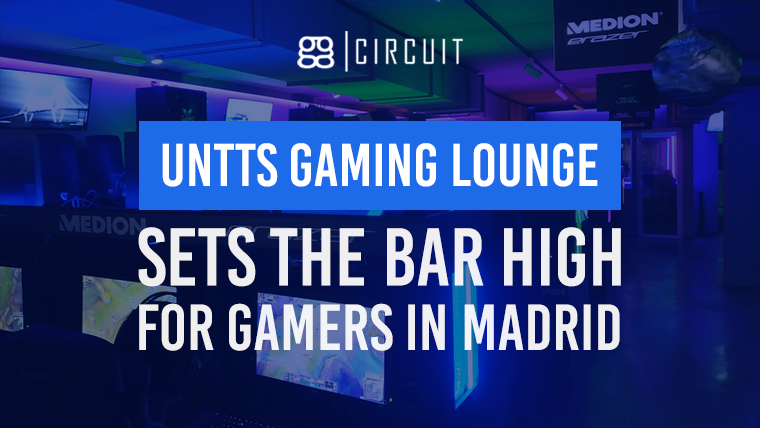 UNTTS Gaming Lounge is gearing up to be one of the high-end gaming centers in Spain. Gaming never sleeps in Madrid as they are open 24/7! This esports venue offers cutting-edge gaming machines and high-speed internet to meet the world benchmark of esports gaming.
The esports gaming community is very active in Spain and has high standards in gaming. They will not be disappointed with what UNTTS has to offer.
Game, Eat and Repeat
UNTTS Gaming Lounge is designed to be a place where gamers can hang out and enjoy the company of their friends. The location is a large 5,000 square feet center where it houses their gaming PCs, snack bar, lounge area, arena, and esports bootcamp facility!
The snack bar is right near the center's entrance where customers can order food or drinks. A hungry gamer will not be able to perform well in their game and UNTTS' snack bar is up to the task.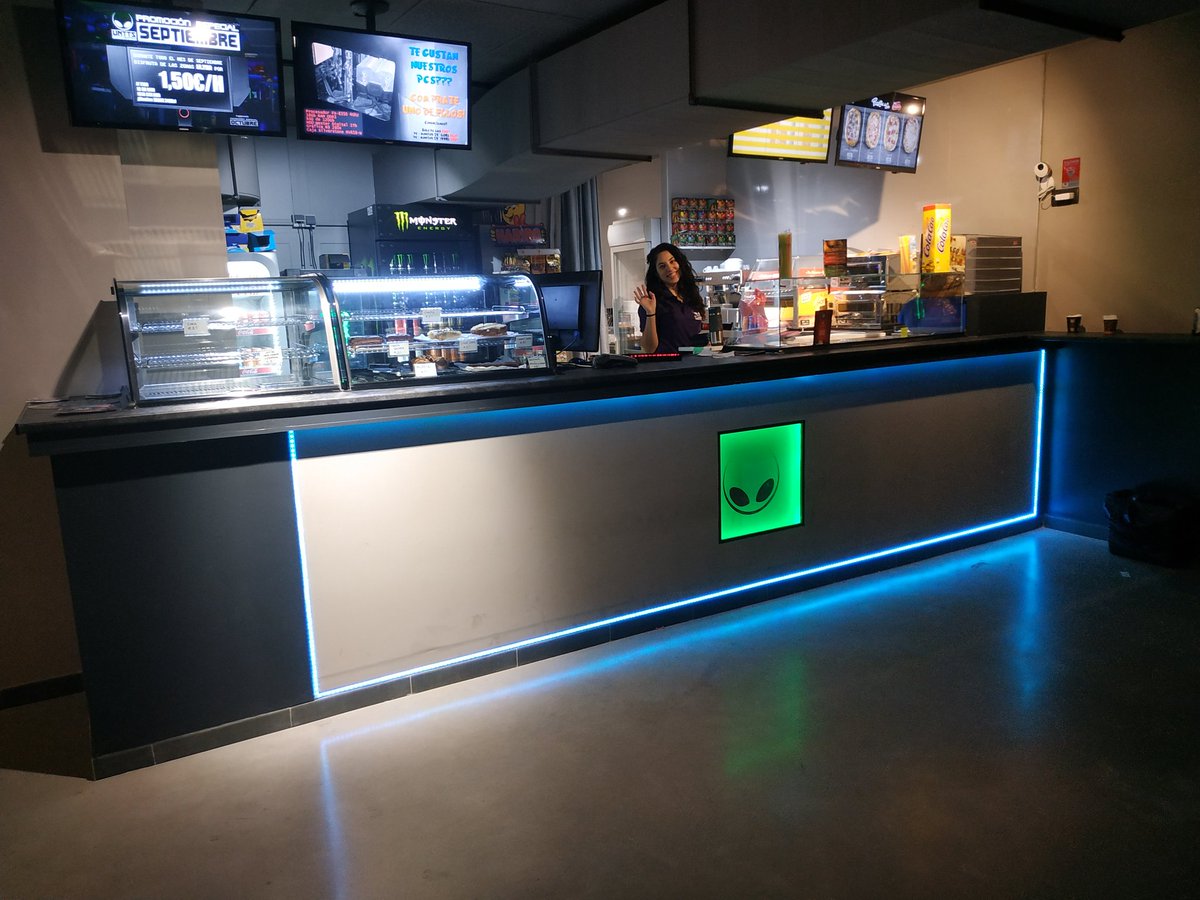 Customers of UNTTS can purchase food and drinks from their snack bar
The space near their Arena section is the lounge where customers can hang out when they are not playing. The lounge can also be utilized for other esports events or important functions.
Sign up for ggCircuit Updates!
Gaming Equipment
UNTTS Gaming Lounge offers the best gaming equipment a player can experience in their esports center. Their PCs and equipment consist of brand names such as Corsair, Logitech, Medion, Trust, and Zowie.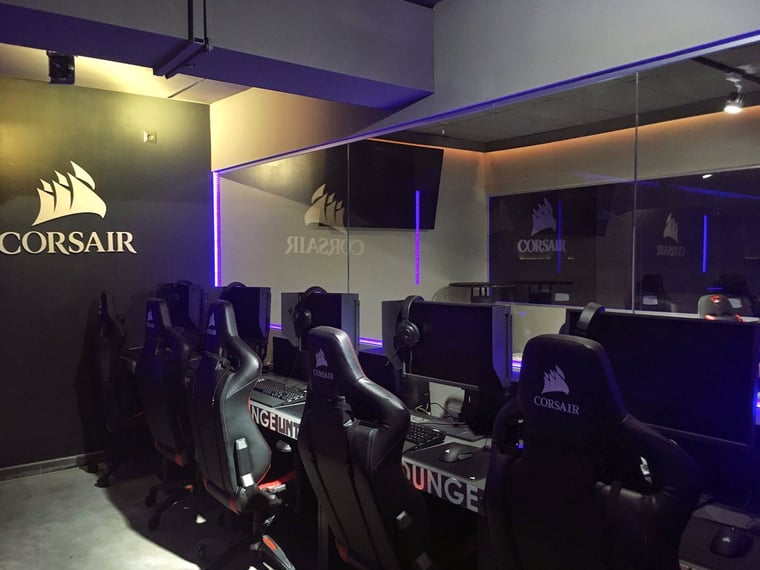 UNTTS' PC peripherals and gaming equipment are from well-known brands
Premium
This is UNTTS's "entry" level PCs and they charge €1.30 per hour. Despite being the basic PCs in the center, the specs are nothing to scoff at.
CPU: i7
Memory: 16GB RAM
GPU: GTX 1060 6GB
Display: 144Hz
Ultra
This section consists of the "mid" range specs. Pricing is only slightly higher than that of the Premium level PCs at €1.80 per hour.
CPU: i7
Memory: 16GB RAM
GPU: GTX 1070 8GB
Display: 240Hz
VIP
Players who want nothing less with their gaming experience should always choose to play in this esports venue's section. The price per hour is only €2.
CPU: i7
Memory: 16GB RAM
GPU: RTX 2070 8GB
Display: 240Hz
Streaming
Streamers that do not want to compromise and ensure the highest quality of their content will be glad that UNTTS offers dedicated streaming stations. The rental price is ridiculously low at €3 per hour!
CPU: i7/i9
Memory: 32GB/64GB
GPU: GTX 1080ti 11GB/RTX 2070 8GB
Display: Dual screen 24" 244Hz + 32" 144Hz
Peripherals: Cam BRIO, Pro mic, Chroma, and more!
Click here to test the ggLeap client!

Esports events and tournaments
Being a premiere gaming center, one of their main attractions is their arena. Their arena is separated into 2 rooms with 6 gaming stations each. This setup is perfect for team-based esports games such as Rainbow Six, League of Legends, CS:GO, Valorant, and more.
Their lounge can also be repurposed for other esports events. Despite being very spacious, the lounge will be jam-packed with players and spectators during events!
UNTTS has had console events where players from all over Spain come over to duke it out in Smash Bros. They also had several events for the popular handheld game title, Pokemon.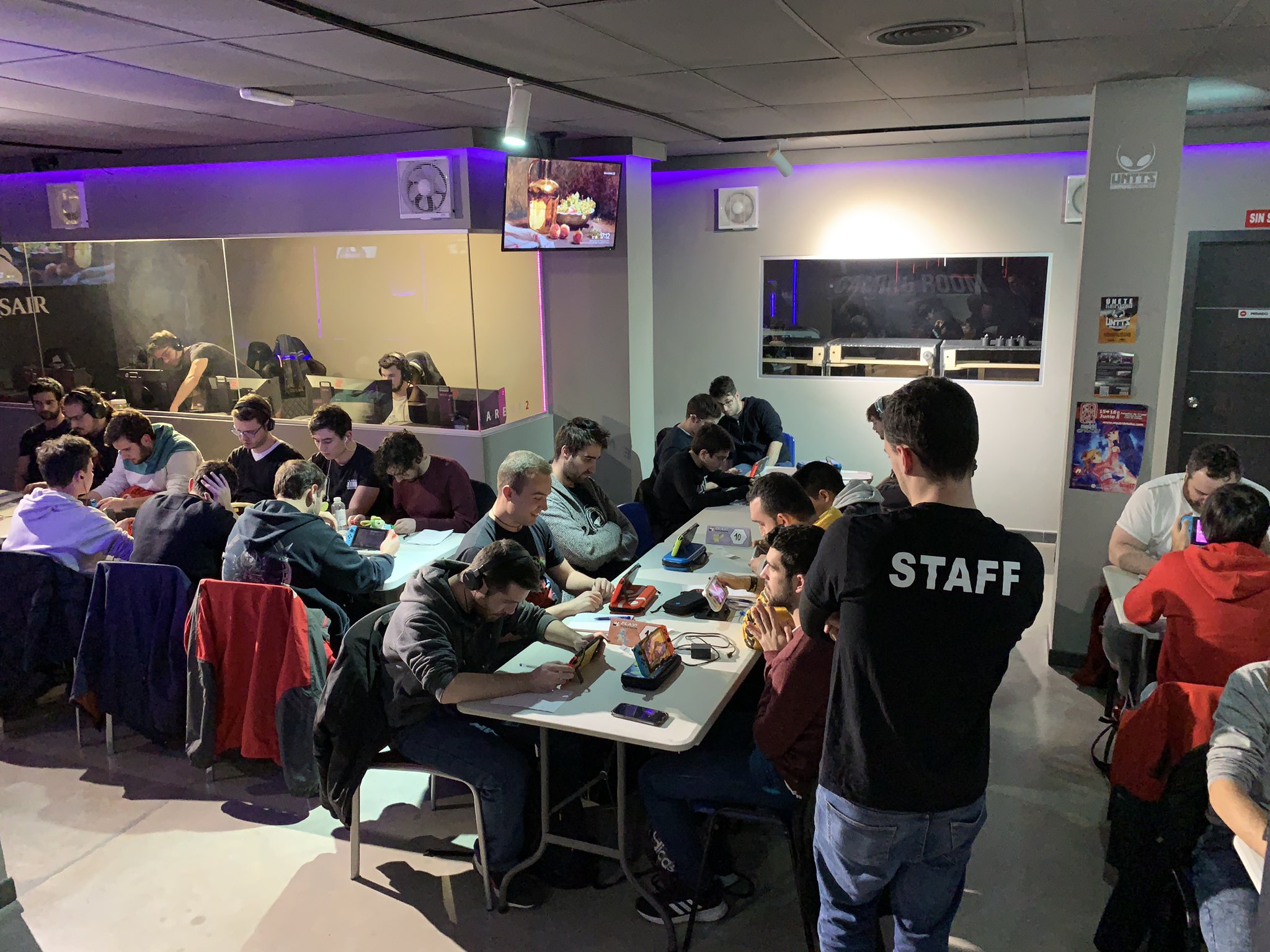 UNTTS gives handheld gamers the center stage in their Pokemon Sword and Shield Challenge event
Spain has a very active competitive esports players and UNTTS has partnered with other centers in the country to hold regular esports events. They also had esports events sponsored by Monster Energy, RedBull, and ZOWIE by Benq!
UNTTS Gaming Lounge is also one of the esports venues where Riot's League of Legends World Championships finals were shown back on November 3, 2018. Then in October 2019, Riot again held an event during League of Legends' 10th anniversary in UNTTS Gaming Lounge.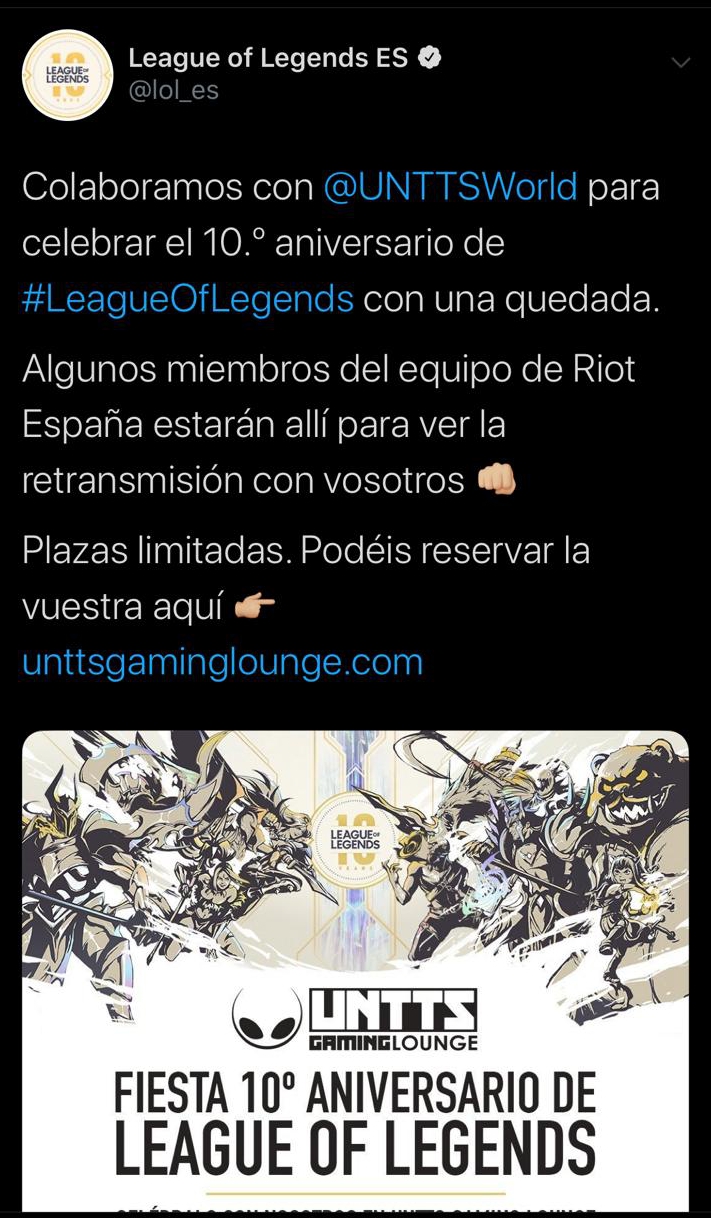 A tweet from League of Legends ES inviting fans to join the event at UNTTS
Professional esports facility and other services
UNTTS Gaming Lounge also offers services for individuals interested in joining the esports industry. They offer training for amateur and professional players, creation and management of esports teams, and promotion of esports brands, just to name a few.
They have a facility so that esports players can train and lodge for esports bootcamp training. The facility has important amenities such as a toilet, shower room, resting room, and gaming PCs for aspiring esports professionals.
We at ggCircuit are very glad to be able to cater to UNTTS Gaming Lounge's needs for premium esports center management software. Esports is a global phenomenon that is constantly evolving and UNTTS has kept abreast with the technological changes throughout the years.
Suffice to say that players in Madrid will not be lagging behind the world stage of professional esports with UNTTS Gaming Lounge.
Special thanks to Victor Tlai Tali of UNTTS Gaming Lounge for providing images. Some images are taken from UNTTS Gaming Lounge's website and Twitter page.