VOV is Bringing an Unparalleled Gaming Experience to Riyadh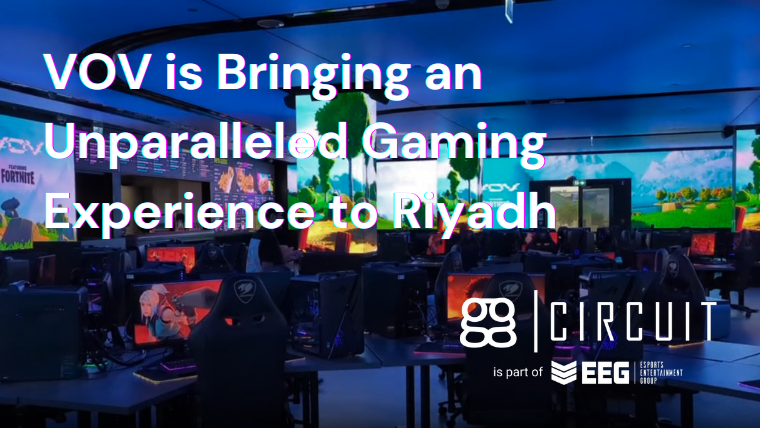 The ggCircuit team has seen plenty of great-looking esports venues during our many years of working in this industry. So seeing a new venue with all the bells and whistles that would make it stand out is unique in the gaming center industry. However, when the team saw the pictures and videos of our SpecOps team when they made a trip to Riyadh, Saudi Arabia for an on-site service assignment, our expectations were blown away.

VOV is THE look of future esports venues in the present. Think of Blade Runner or Cyberpunk 2077's (minus the grit and feeling of a dark foreboding atmosphere) ambiance, and make things a little brighter and gamer-friendly. But that's just me.

Movie and game references aside, VOV Gaming has managed to catch our attention and get our approval that their esports venues are unequivocally awesome. The ggCircuit team is sure that pictures and videos don't do it justice, just imagine how it would look in person. And gamers in Riyadh have the privilege to grace it for their daily gaming session.
---
---
Locations
VOV Gaming has two active locations and one currently under construction in Riyadh, Saudi Arabia. All branches are strategically located at premium shopping centers in the city where there is plenty of foot traffic. Additionally, all VOV Gaming branches utilize ggLeap and ggRock for their esports center management and diskless boot.
Sign up for ggCircuit Updates!
VOV Reef Village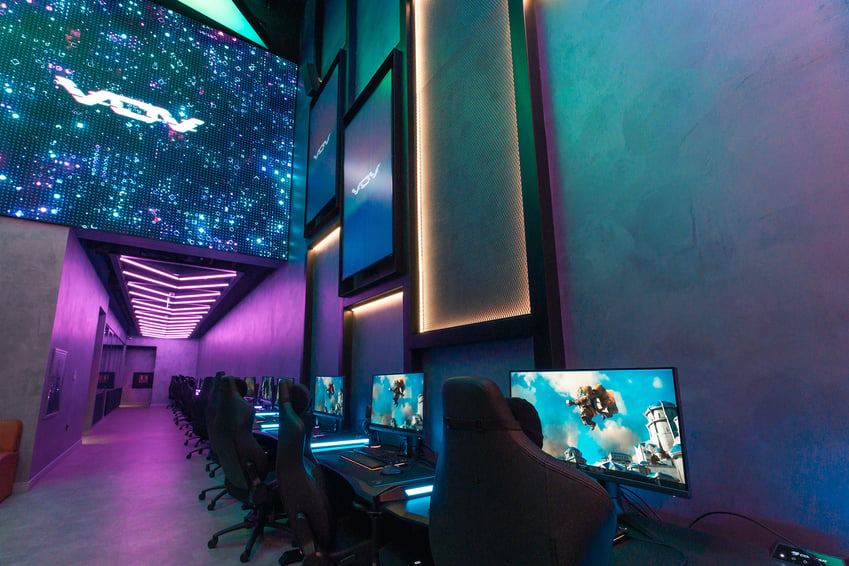 Image: VOV Gaming
This branch of VOV Gaming is located in The Reef Village shopping center in Al Nakheel, Riyadh. The venue is 5,024.92 square feet and is packed to the brim with amenities such as a snack bar, merchandise shop, gaming area, private gaming rooms (PC and consoles), and streaming room. Guests can also hang out at the sofa lounges and coffee table where they can have food and drinks.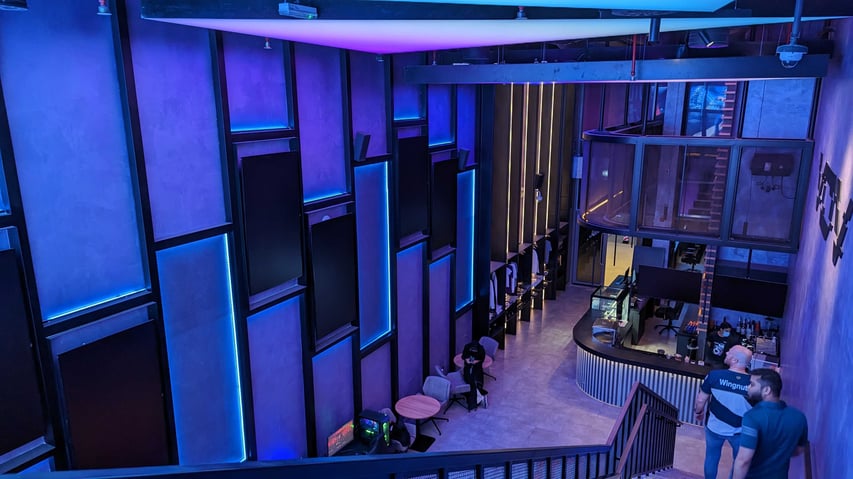 From the entrance, you'll notice the high ceiling is equipped with several programmable lighting that stretches all the way to the venue's large screen for displaying gameplay or other stuff. The right wall is equipped with several monitors and lighting strips. The venue's second floor contains private gaming and streaming rooms.

VOV The Zone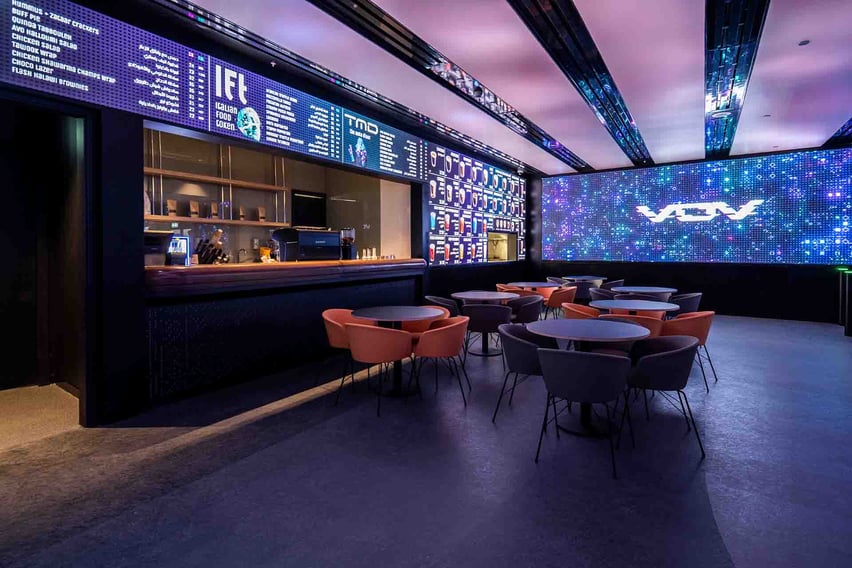 Image: VOV Gaming
Located in The Zone shopping center in Riyadh, VOV TZ is a 12,453.84 square feet venue with a 90-seat capacity. This branch's wall and pillars are wrapped (quite literally) in modular monitors that can display videos or themes for whatever they have going on at any given time. The ceiling has programmable lighting too.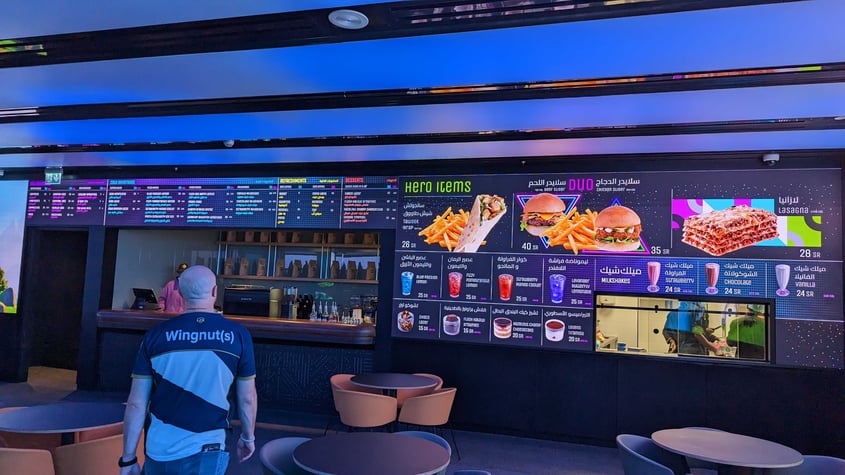 Amenities-wise, VOV TZ boasts several private gaming rooms, gaming lounges, a merch store, and a snack bar. Did we mention that they also have a VR room? Aside from gaming, guests can enjoy the wide variety of items on the snack bar's menu. Several tables are available in the facility for dining in.

VOV TZ has also been the venue for several major gaming events, including the launch party of Call of Duty: Modern Warfare II which was the first in the Middle East.
VOV Riyadh Front Mall
The most recent addition to VOV Gaming's growing premium gaming center chain, VOV Riyadh Front Mall is a HUGE facility that also features modular monitors on the walls and pillars that can display videos for themes and events. This is the only branch to have a dedicated esports arena where spectators can watch live gaming events.
Just like its predecessors, VOV RFM amenities include a snack bar, merch store, and private gaming rooms. A VOV gaming center will not be complete without lounges where guests can dine in and hang out after a long gaming session.

Our Spec Ops team has the privilege of setting up this branch's ggLeap configuration as well as a ggRock diskless boot server and PXE setup.
Gaming Events
VOV Gaming is shaping up to become a global brand in esports and gaming. As such, VOV Gaming has partnered with several major companies in this industry and provided a venue that pioneered some gaming events in the Middle East.
Call of Duty Modern Warfare II Launch Party
Call of Duty is a massively successful game franchise that spans several games released worldwide including in Saudi Arabia, but never had a launch party in the region. However, that changed when VOV Gaming hosted the Call of Duty Modern Warfare II launch party. The event happened in the VOV The Zone branch and was attended by several social media gaming celebrities.
PUBG Mobile Design Contest
The contest was a partnership among VOV Gaming, PUBG Mobile, and Endless Studios to invite university and high school students to submit design concepts for the highly popular mobile game. The contest was launched in an event that took place in VOV The Zone. Endless Studio founder, Matt Dalio; industry professionals; and local students attended the event.
FIFA 23 Venue to Venue Tournament
VOV Gaming and Cool Down Gaming hosted a tournament featuring FIFA 23. The tournament took place at both parties' gaming centers. VOV Gaming's The Zone branch hosted their side of this successful tournament.
Click here to test the ggLeap client!

Final Words
VOV Gaming raises the bar of the "premium" experience of an esports venue. ggCircuit, on the other hand, elevates a user's gaming experience via ggLeap's sleek and modern client UI. Administrators of VOV Gaming certainly have an easier time getting games up to date with the ggRock diskless boot solution.
Dustin Dudley, ggCircuit Director of Professional Services, commented: "I was instantly captivated by VOV RFM (Riyadh Front Mall) the moment I entered its doors. The sheer magnitude of the place and the stunning integration of video panels throughout the facility left me in awe.
"VOV promises to provide each visitor with an unparalleled and unforgettable experience, creating lasting memories that will endure for years to come."
Dudley is among the first members of the ggCircuit's Spec Ops team and has been on several on-site assignments around the world, ensuring successful opening and daily operations of esports venues.

VOV Gaming gives gamers more reasons to go out and play with other people. Cool interiors, a great crowd, and delicious food are just some of the things you can expect in a VOV esports venue. It certainly makes me wonder why movies depict futuristic settings in such a way that you'll be afraid of it when VOV Gaming shows that it shouldn't.

ggCircuit is a part of Esports Entertainment Group (GMBL).