Uptime Esports: Boston's Premier Youth Oriented Gaming Center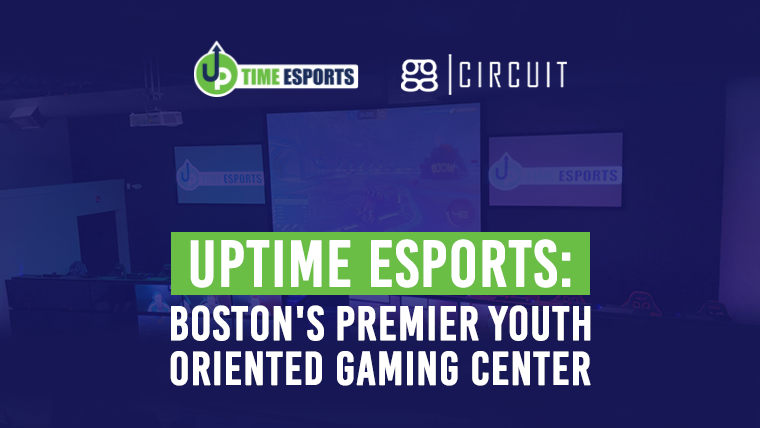 Established in 2019, Uptime Academy, otherwise known as Uptime Esports, is a premium esports gaming center located in Hanover, MA, Bedford, NH, and Exeter, NH. This esports venue aims to provide a venue where aspiring young gamers can train to join the world of professional gaming.
The owners of this center (who are parents to gamers) wanted to remove the stigma often associated with video games and provide a space for young gamers to meet their friends and other like-minded people.
So they created Uptime Academy and added educational programs called STEAM (Science, Technology, Engineering, Art, and Math) along with their holistic approach to help kids get the skills needed for professional gaming. Their core values are Balance, Teamwork, Respect, and Positivity.
The center's programs are primarily youth-oriented and are designed to be competitive, to help a gamer towards a pro-player career. The facility of Uptime Esports lends itself well to the competitive nature of esports, and mature players will feel right at home.
Esports Center Amenities
Gamers looking for a great esports gaming experience will not be disappointed with Uptime Esports! The main location in Hanover, MA, has several sections that can cater to casual and competitive gamers. In addition, the venue's 7,000 square feet of space is perfect for a birthday party and any type of private event.
The location uses three-dedicated internet connections that ensure gaming will never be interrupted, and an onsite PXE server guarantees that games will always be up to date. This venue also generously offers free WiFi to visitors.
Sign up for ggCircuit Updates!
Gaming Area
This is the main area where all of the center's 50 high-end gaming PCs are located. Uptime Esports has wisely utilized ggLeap esports management software to enhance their customers' experience and efficiently manage their PCs.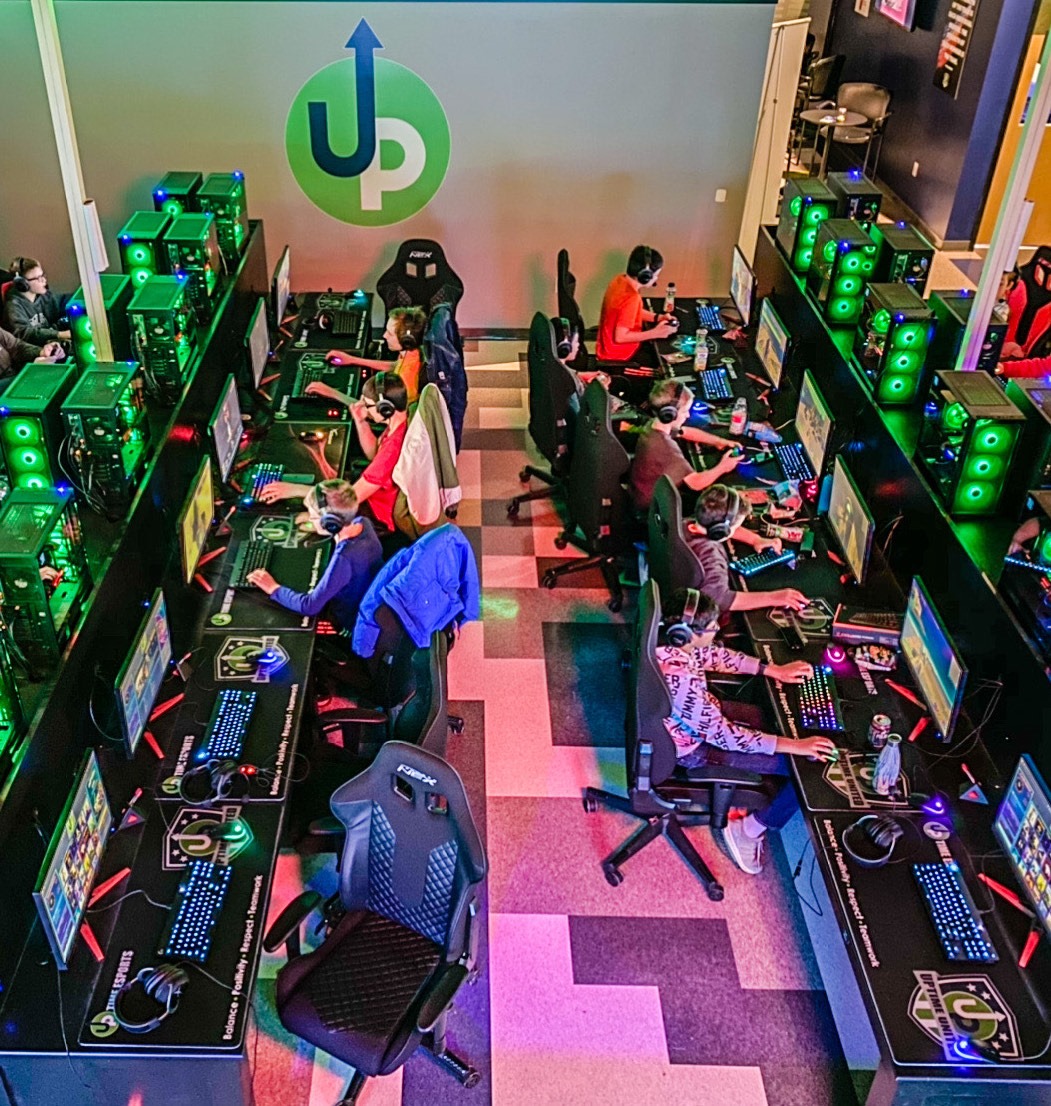 Gaming Area
Players can rent a PC for $7 per hour or get a day pass (up to 6 hours of gaming) for only $20! In addition, any gamer that is looking to get better with games can opt for a private lesson for $45 per hour.
The Arena
This aptly-named section of Uptime Esports is where they host various gaming tournaments and events. The stage has 12 high-end PCs with webcams and two rows of audience-facing 40" monitors that will show each player's webcam and gameplay.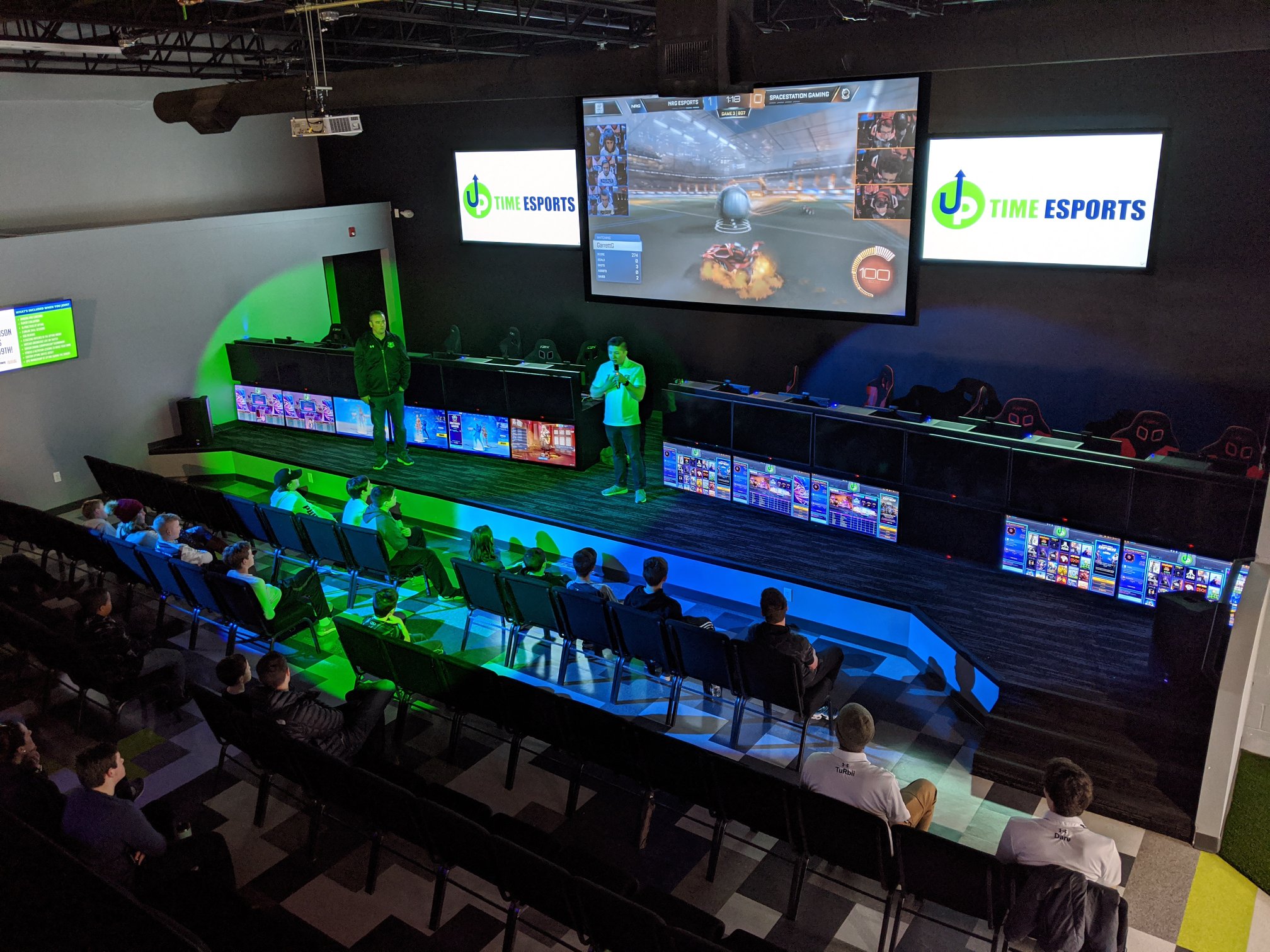 The Arena
The Arena also has a 200" screen and 120" side screens with projectors that are perfect for showing a game event's highlights or slideshows of a corporate event.
Console players are not left out, as there are 6 PS4s and 6 Nintendo Switches. In addition, esports events can be broadcasted on Twitch and Youtube. This area is very spacious, and spectators can watch in comfort as there are 100 dedicated seats facing the stage.
The Pit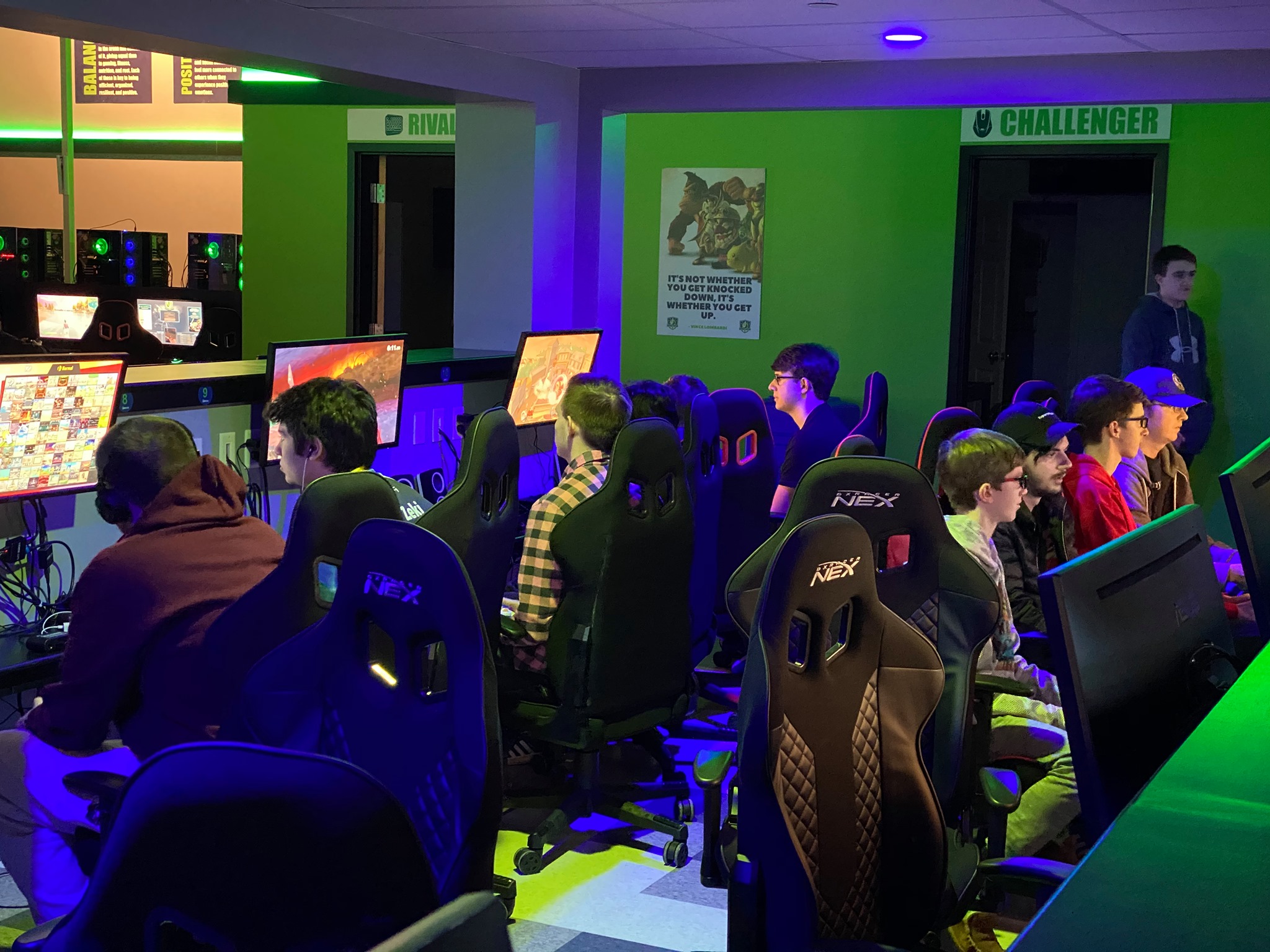 The Pit
The Pit is where Uptime Esports' console gaming happens! Each of the ten stations has Nintendo Switch and Playstation 4. A console station can have up to 2 players, and their game time is monitored via the ggLeap web admin.
Team Rooms
These are Uptime Esports' dedicated team rooms for training or if a group of players simply wants to have privacy while gaming. Each room accommodates six players and comes with a monitor and whiteboard for analyzing game strategy and tactics.
The Nest
The Nest is the center's in-house production and broadcast studio. It has all the necessary content creation, game streaming, and broadcasting equipment. In addition, all the center's tournaments and events are live-streamed from here.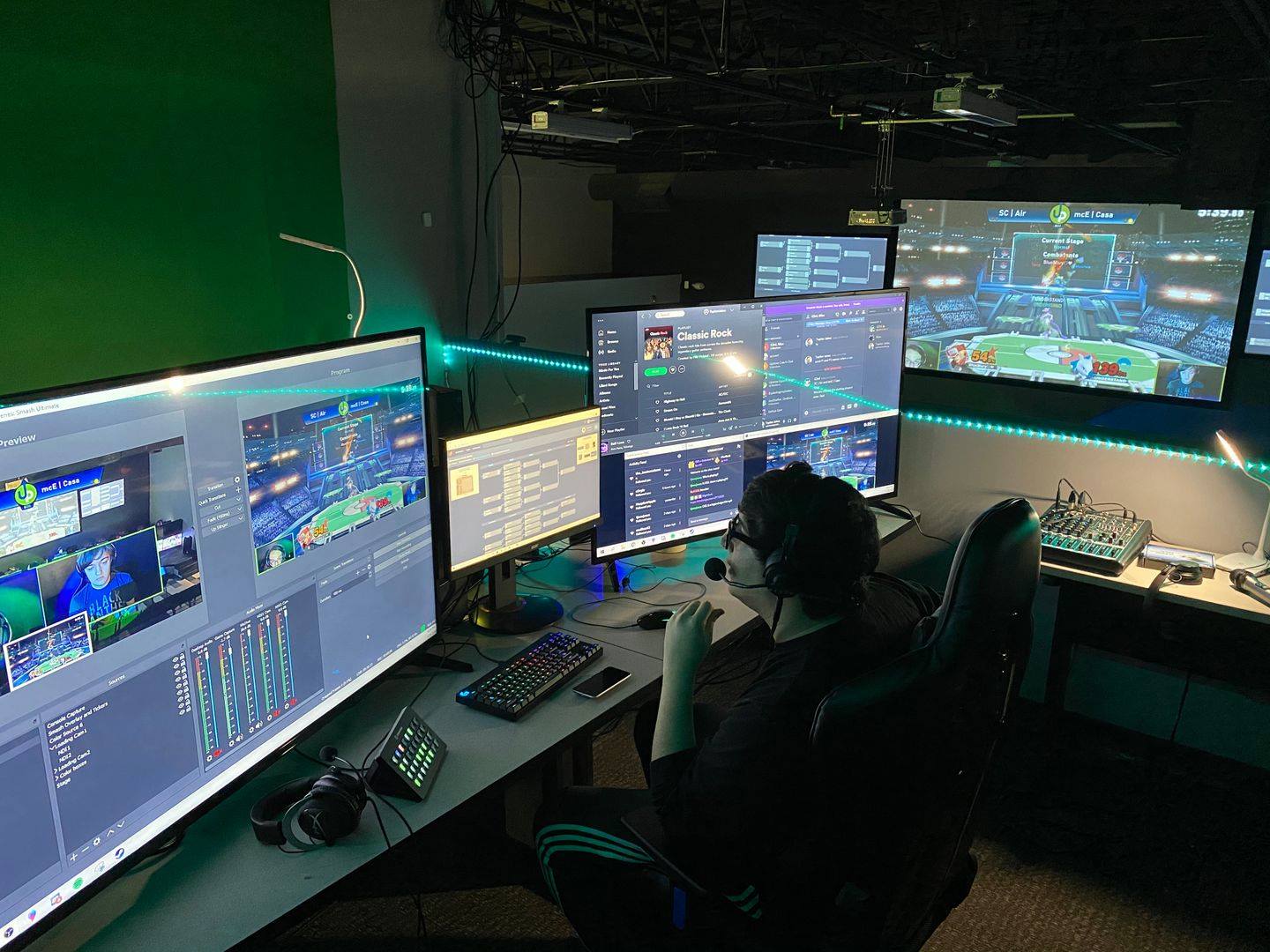 The Nest
Interested in learning how to live stream? Any interested person can sign up for Uptime Esports' Broadcast Academy, a program that teaches the fundamentals of producing, streaming, and broadcasting content.
AFK (Away From Keyboard)
This section of Uptime Esports perfectly embodies their philosophy about having balance in life. This area is complete with artificial turf and toys such as hula hoops, jump ropes, and a giant Jenga to encourage players to move.
Click here to test the ggLeap client!

Uptime Esports' Gaming Equipment
Gaming PC
This esports center has high-end gaming PCs and equipment that ensure a competitive edge in any esports title.
CPU: i7 9700K
GPU: GeForce RTX 2070
Peripherals: Logitech Pro Gaming Keyboard and Mouse, 24" Acer Gaming Monitor
Virtual Reality
Any gamers that are looking for a more immersive experience can rent Uptime Esports' VR equipment for $10 for 20 minutes.
Consoles
Gamers have a choice between two gaming console platforms in Uptime Esports.
Playstation 4
Nintendo Switch
Uptime Academy NH Locations
Uptime Academy's mission of bringing esports competition and education has led them to branch out to NH, where they have two locations. Both locations have the same premium gaming experience that players can expect from Uptime Esports.
Bedford, NH Location
This is a 1,100-square-foot facility that houses high-end gaming equipment and VR stations. The location is perfect for birthday parties and any esports and gaming events.
Uptime Esports' core values are regarded at the highest level in this facility.
Equipment:
18 high-end gaming PCs equipped with i7 CPU and RTX 2070 GPU. Each station comes with a 240Hz gaming monitor.
6 gaming consoles - Playstation 4 and Nintendo Switch
Oculus VR stations
Exeter, NH Location
This location was born out of a partnership between Rinks at Exeter and Uptime Academy, with the latter bringing their esports and STEAM programs to the local gaming community. Of course, gamers can get a chance to step up their game and join the ranks of Uptime United club teams in this 1,000-square-foot location.
Equipment:
30 high-end gaming PCs equipped with i5 9600k CPU and RTX 2070 Super GPU.
8 gaming consoles - Playstation 4 and Xbox One
Uptime United Esports Program
The owners of Uptime Esports found it difficult to find an esports program so their teenage sons could play on a team and get professional coaching. Aside from that, they did not find any program that teaches players how to balance gaming and life while maintaining physical fitness and nutrition. Finally, it dawned upon them that they needed to spearhead this undertaking, and Uptime United was conceived.
Uptime United is a youth-oriented esports program centered around the center's core values. It allows gamers to participate in and join gaming events, content creation, and a chance to play in their professional team. To be a member of their professional team, a player must join Uptime Esports' Club teams, which primarily aim to improve a player's gaming skills.
Events and Competitions in Uptime Esports
Uptime Esports' gaming events and competitions are never in short supply! The Events section of their website has a long list of upcoming events ranging from competitive esports gaming to social gaming days that allow kids to interact with other kids.
They also have a great Super Smash community which is evident by their weekly competition (as of this writing) for this highly popular Nintendo game.
Positive Gaming Experience
Providing an outlet for kids to pursue their passion while guiding them to make correct choices and emphasizing game/life balance will remove the incorrect perception of esports and video games. However, like any other form of entertainment, there are things to be learned and career paths to pursue in esports.
Uptime Esports provides the venue and programs that foster competitive gaming in a very positive way. We can all agree that our industry needs more of these types of programs that will ensure financial success for center owners and give young gamers great values that they can use with the other aspect of their lives.
All images are taken from Uptime Esports' Facebook page.
ggCircuit is a part of Esports Entertainment Group (GMBL).