The Esports Cave: State-of-the-Art Gaming Center in Texas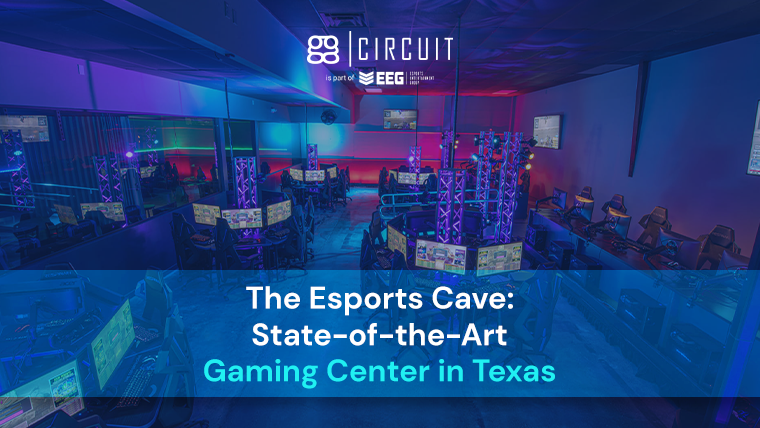 Over the past several years, the popularity of esports and online gaming has grown rapidly. Today, it's normal to see teams of professional video game players compete against teams from other states or countries.
In recent years, Texas is slowly climbing the ranks with the most per capita esports locations in the U.S. In particular, the Dallas-Fort Worth area has become quite the esports hotbed.
Austin also has a very active esports gaming community. Several popular and high-tech esports gaming centers are located within Austin. There's no shortage of online games and tournaments for the city's esports gamers.
One of these esports game centers is our amazing customer — The Esports Cave.
All About The Esports Cave
The Esports Cave is a relatively young esports gaming center. Opening its first location only in June 2020, the game center has made it its mission to bring fun and excitement to the Austin gaming community.
The company strives to do so by providing players with cutting-edge gaming equipment for a smooth and enjoyable gaming session. Its esports venues are designed to provide an optimum gaming environment and experience to both adult and young players. Here, customers can not only improve their gaming skills but also make friends and create their own esports team.
The Esports Cave was able to ride the pandemic wave and emerge victorious — all thanks to the warm welcome they received from the community.
Aside from their top-of-the-line equipment and affordable rates, the commitment of the esports gaming center to the health and safety of their customers earned them a lot of regular gamers.
And this year, The Esports Cave continues to prove its success as it opened a second location in Cedar Park.
The Original Cave in Austin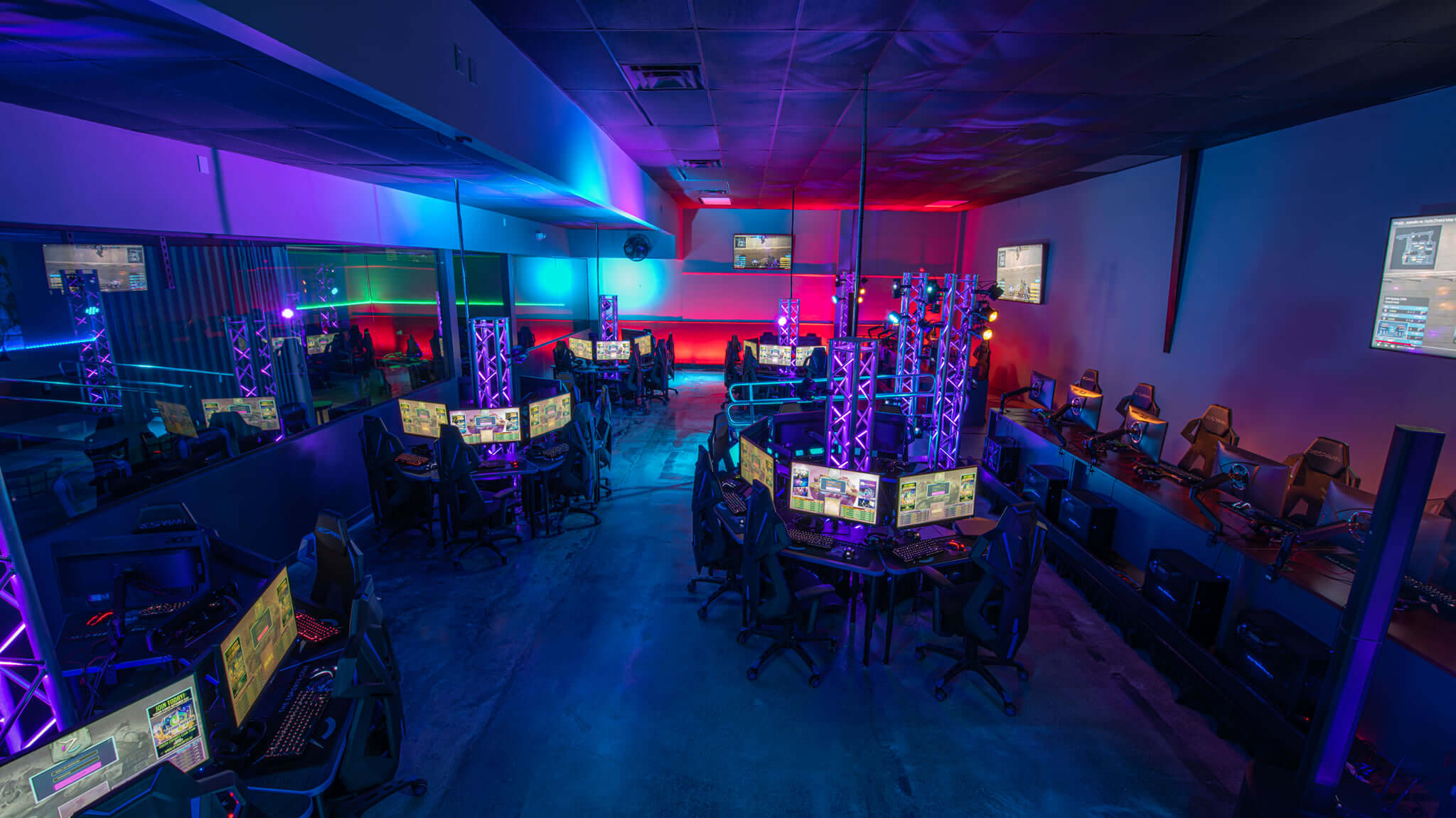 The Esports Cave's Austin location
The Esports Cave's original game center is the largest one in the entire Austin area. With over 4,600 square feet of space, the gaming lounge was able to properly follow social distancing and occupancy guidelines.
Located along Anderson Mill Road, The Esports Cave is a family-friendly and welcoming esports venue. Customers can choose from a wide variety of games, have snacks, hang out, and make new friends in the Austin gaming community.
It hosts weekly and monthly tournaments and many other special events. It also accepts bookings for celebrations, such as birthday parties and bachelor or bachelorette parties.
The original Esports Cave charges an affordable fee of $6 per hour or $15 per three hours and $20 per five hours. They also offer day passes (good from shop opening to closing) for $25 and night passes (from 5PM to closing) for $20.
The esports game center also has an ongoing promotion every Wednesday, where players only need to pay $15 for a whole day pass.
Sign up for ggCircuit Updates!
The New Cave in Cedar Park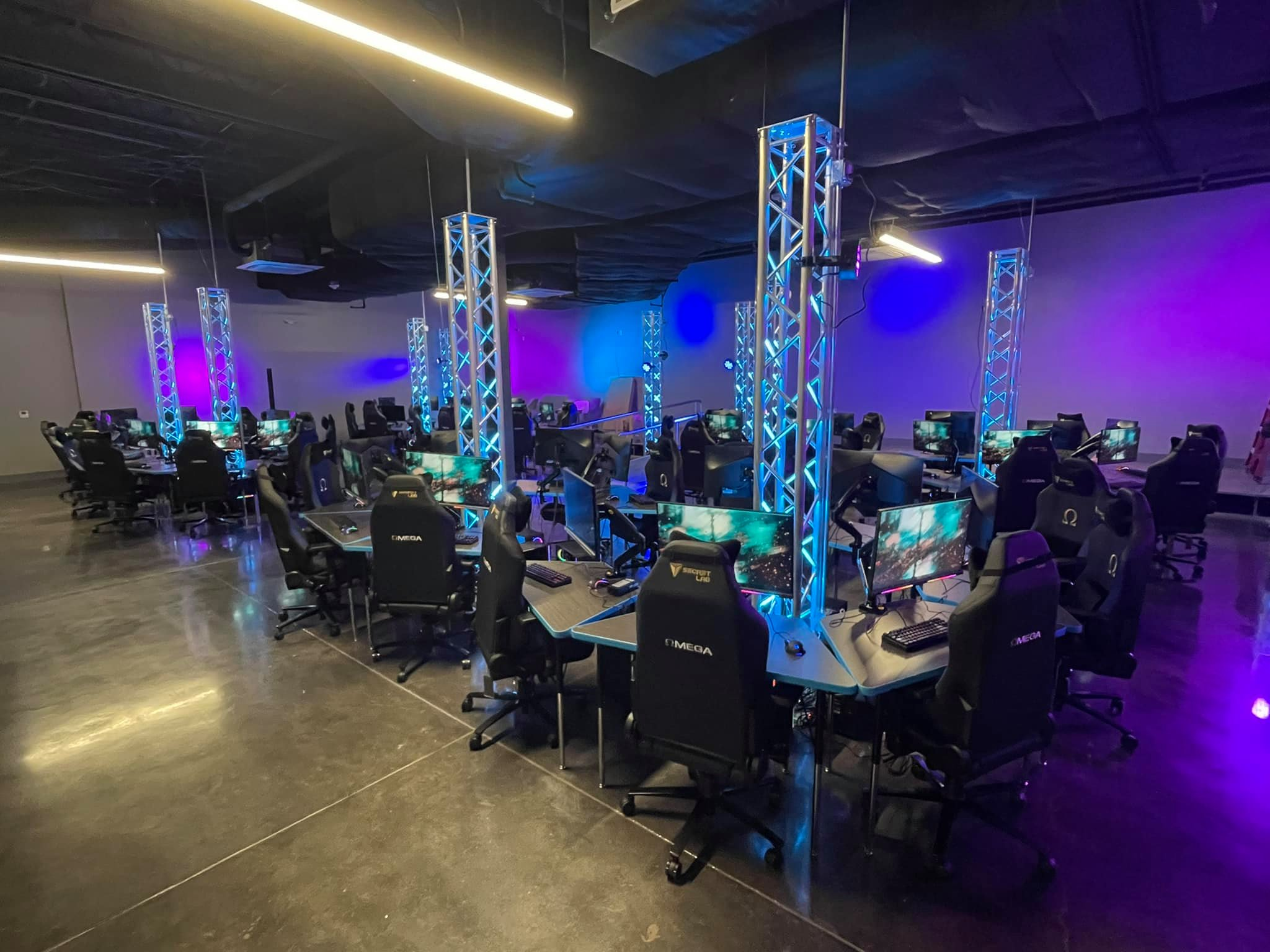 The Esports Cave's Cedar Park location
The Esport Cave's second branch is located at The Crossover in Cedar Park. Despite once again opening at the height of the COVID-19 pandemic, this time amid the Delta virus spike, The Esports Cave still had a very successful launch.
Choosing The Crossover as their second location has helped The Esports Cave to further expand their customer base and grow their community. Aside from competitive gamers and casual gaming enthusiasts, this new location gets plenty of new regulars from the parents and siblings of kids who visit the Chaparral Ice rink just across the lounge.
The Crossover Esports Cave location has slightly higher rates than the original. Hourly rates are $7, rates per three hours are $18, and per five hours are $25. Gamers who are in for the long haul can purchase 20 hours worth of gaming time for $80. Both day and night passes remain the same as their original location.
State-of-the-Art Equipment and Facilities
Both the original and new locations of The Esports Cave boast the best state-of-the-art equipment. From high-speed gaming PCs to top-notch gear, there isn't anything more that a serious competitive gamer would need.
Both locations of The Esports Cave gaming rigs are equipped with arguably the best graphic cards for games: Nvidia RTX 3070s and 3080s on the main stage. This gives gamers the speed, definition, and clarity they need to concentrate better in their matches.
Beyond Just Gaming PCs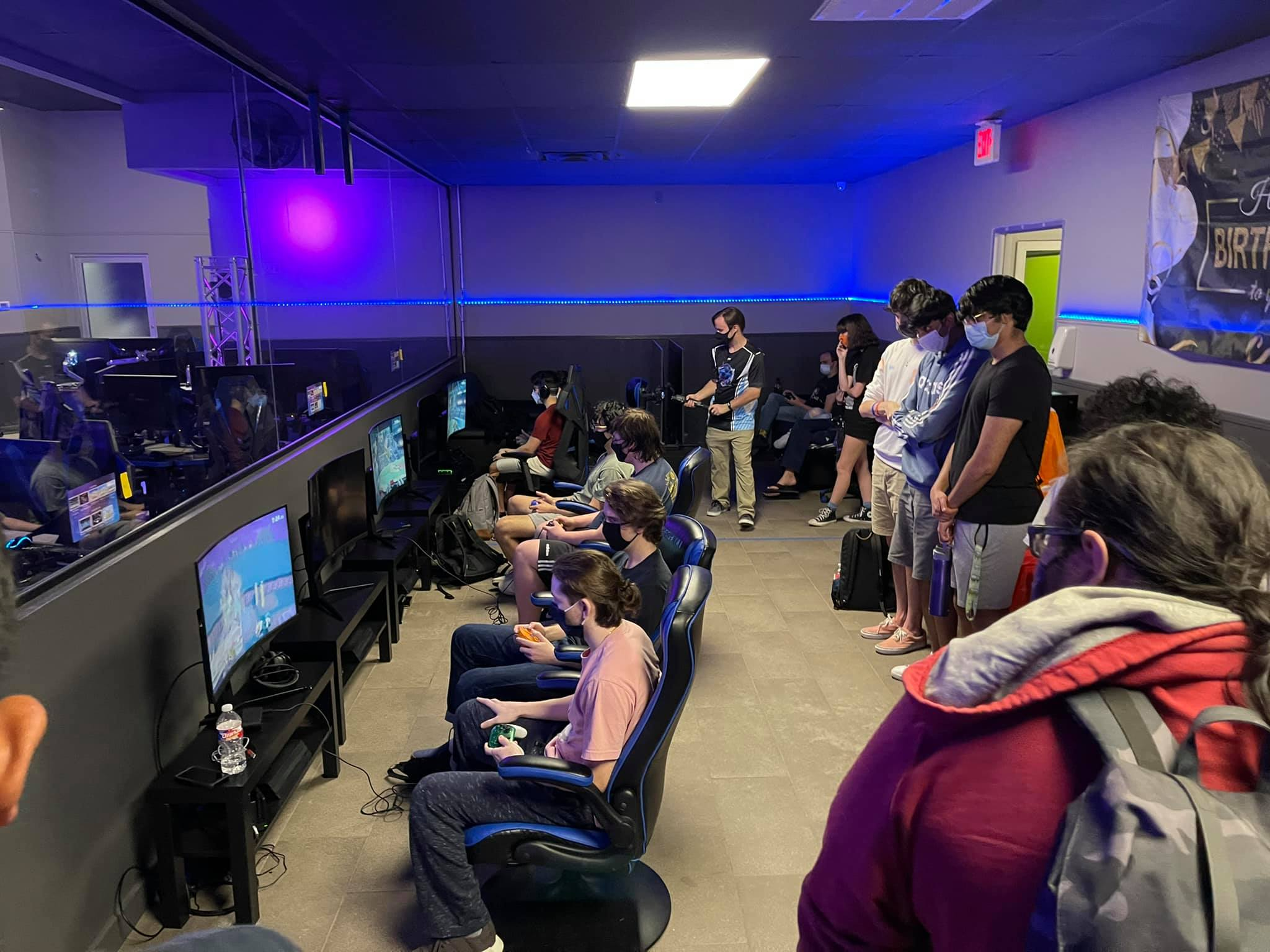 Console gaming action in The Esports Cave
Aside from souped-up gaming PCs, The Esports Cave also rents out a few Nintendo Switch and Sony PlayStation 4 consoles. In fact, one of the esports venue's most attended events is its weekly Nintendo Switch Super Smash Bros tournament.
A Vast Gaming Library
The Esports Cave has licenses for many fan-favorite games on all gaming platforms. Here are some of the games the game center carries.
PC Games:
The Elder Scrolls IV

Call of Duty: Black Ops III

Doom Eternal

Horizon Zero Dawn

PlayerUnknown's Battlegrounds

Half-Life 2: Deathmatch
PlayStation Games:
Minecraft

Apex Legends

Destiny 2

Overwatch

FIFA 20
Nintendo Switch Games:
Super Smash Bros. Ultimate

Super Mario Party

Mario Kart 8 Deluxe

Fortnite Battle Royale
A Convenient Snack Ordering System
As one of ggLeap's customers, The Esports Cave offers its players a quick and easy way to order snacks or add more hours to their gaming accounts — all from the comfort of their deluxe gaming chairs.
Since players can order both drinks and food from their terminals, they don't have to worry about going AFK and missing any of the action when they play their games.
Click here to test the ggLeap client!

Game On: Competing in Style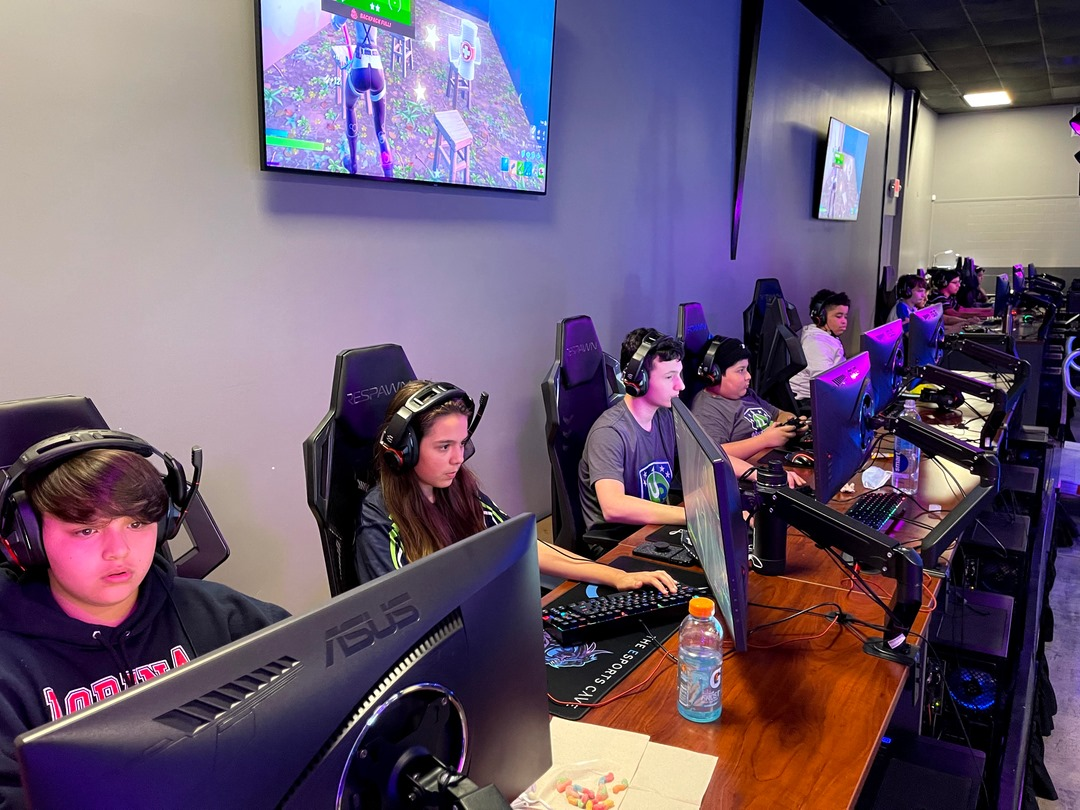 The Esports Cave has regular gaming events, check out their calendar for more info
The Esports Cave does not only provide amazing private gaming stations, but they also have an awesome gaming stage for team or league tournaments. Its tournament stages are designed for maximum showmanship and enjoyment for both the competitive players and their adoring audience.
The premier tournament stage is large enough to fit a six-player team to compete against each other. The tournament stage PCs have Nvidia 3080 graphics cards and 24-inch gaming monitors with a 240hz refresh rate for an optimum game experience.
High-quality peripherals, professional show lights, ambient lighting, stream support, and large displays for the audience complete The Esports Cave stage setup.
A Lively Gaming Community
The Esports Cave strives hard each day to deliver on its mission to provide the Austin and Cedar Park gaming enthusiasts with everything they may need to grow as an esports player.
They also continue to build a strong and positive gaming community through their weekly and monthly gaming events, esports games summer camp, and more. They truly live up to their reputation as one of the premier esports game centers in Austin.
For more information about The Esports Cave, please visit their website www.theesportscave.com.
All images are taken from The Esports Cave's Facebook page.
ggCircuit is a part of Esports Entertainment Group (GMBL).