Grow Your Amusement Center Business Revenue With Esports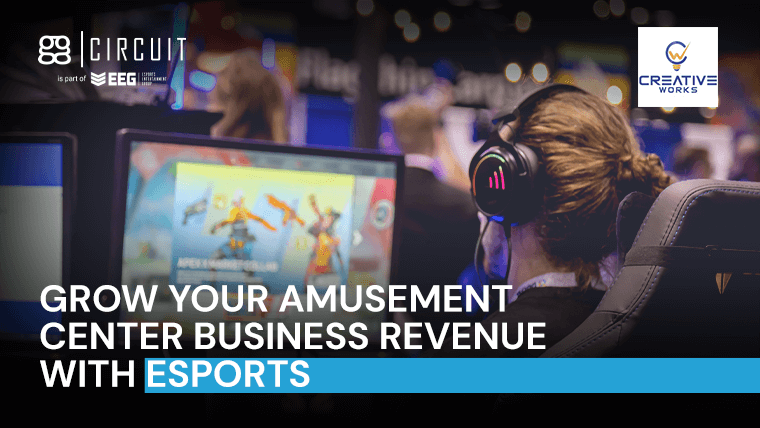 Some amusement centers have a decent amount of underutilized space, but there's a way to make the most out of it. Bumper cars and go-karts are still fun attractions for all ages, but a new trend is forming in amusement destinations: esports.
Esports is a rapidly growing market with increasing viewership and participants. However, it can be difficult for amusement owners to get in on the action without proper infrastructure and equipment.
Here are answers to how you can tap into the competitive gaming market as an amusement center operator.
---
---
What is Esports?
Also known as electronic sports, competitive (video) gaming, or pro gaming can be defined as a multiplayer video game played competitively for spectators. It even rivals traditional sports now in audience reach and prize money awarded.
Professional gamers compete in matches to play the newest popular games like Fortnite, League of Legends, and Valorant. In addition, there are other game genres that contribute to the market, such as fighting games and first-person shooters.
In terms of revenue, esports is already a billion-dollar industry with expected growth to nearly $2 billion in 2022. That's a lot of money spent on casual play, events, tournaments, venues, merchandising, etc.!
However, what often gets lost in the term "esports" is also those just wanting to play casually or reach achievements in-game. Focusing on competition leaves a large portion of gamers out in the cold. So while your gameplay section is called "esports" make it as inclusive as possible.
How Can Amusement Centers Benefit From Esports?
The location-based entertainment industry has evolved from amusement parks and arcades to indoor family entertainment centers with multiple venues, food options, and activities. While amusement centers currently compete for guests against each other and everyone else in the entertainment world, esports offers a unique way to attract patrons who wouldn't usually come into your venue.
Esports offers amusement center owners a chance to add more value to their entertainment packages. Plus, amusement parks and arcades provide suitable locations for esports since they've already got the space and amenities necessary - amusement centers wouldn't need to make any major renovations or completely revamp their business model.
Sign up for ggCircuit Updates!
How ggCircuit Can Help You Use Esports to Grow Your Amusement Center Revenue
We want to help YOU get a slice of the revenue pie. So why sit on the sidelines when you can be generating money from the esports craze?
Often, entertainment operators think that esports is a set-it-and-forget-it attraction. Unfortunately, this could NOT be further from the truth.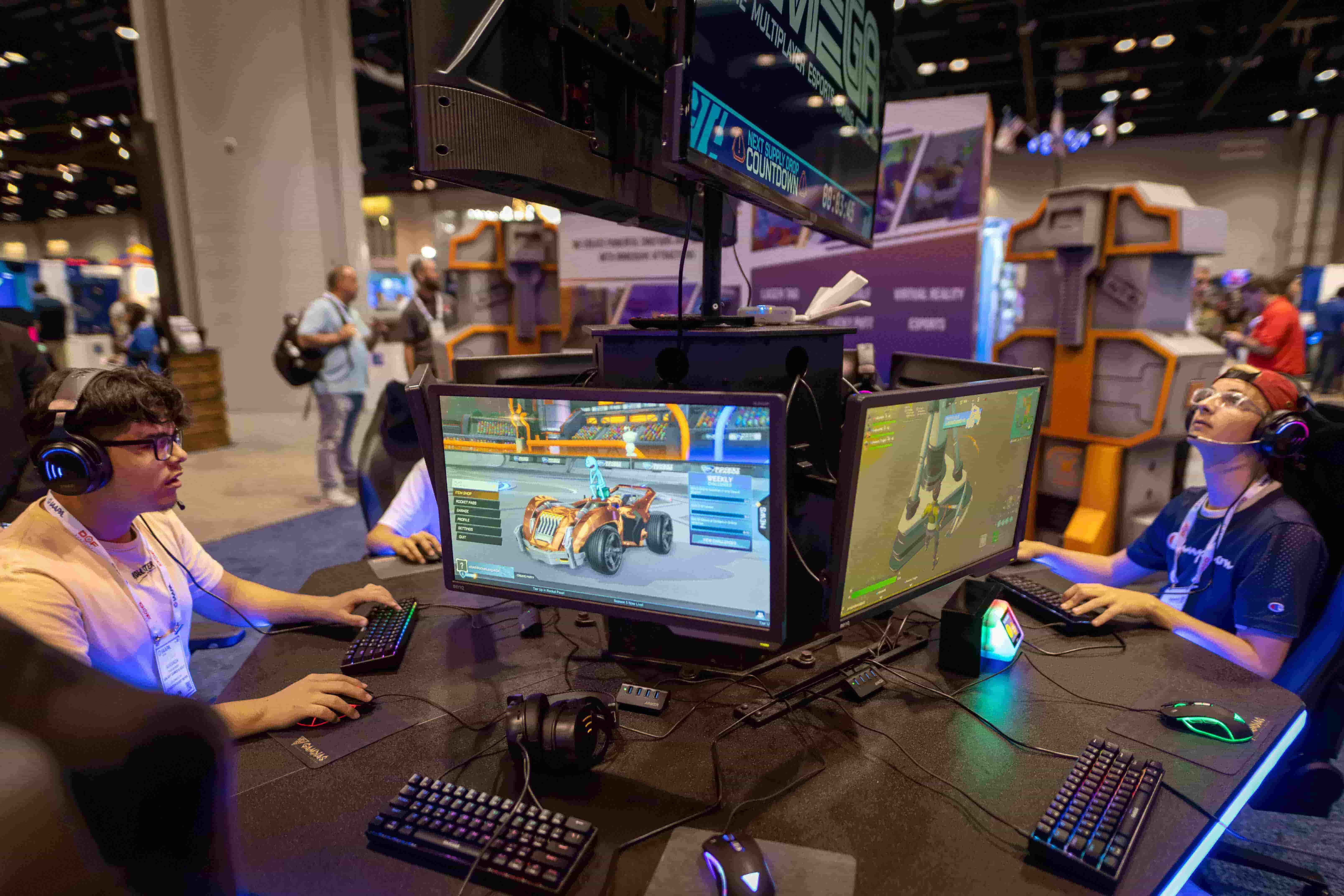 An esports attraction can bring more customers to an amusement center
The esports experts at ggCircuit have developed a solution in partnership with Creative Works: Game Up Esports. It is a turnkey esports arcade solution that will add esports to an amusement center. It utilizes the OMEGA (Online Multiplayer Esports Gaming Attraction) esports operating system to bring a heightened gaming experience in the form of a self-service esports attraction.
It's the ultimate way for amusement center operators to generate revenue and benefit from the esports industry while requiring minimal effort and no additional staffing.
What is the Game Up Esports Package?
Game Up Esports comes with the latest and most advanced equipment, including computers, peripherals, gaming desks, gaming chairs, server hardware, automated events, and payment integration.
ggCircuit provides the OMEGA operating system, which keeps players engaged by the hour. Players play popular esports titles, and everyone has a percentage chance to win the hourly prize drop.
The experts at Creative Works & ggCircuit provide everything needed, and their expert installers can get this esports arcade online within a couple of days once shipped.
Example of the OMEGA Esports Attraction OS with custom branding.
ggCircuit also recently introduced game card swipe integration to the OMEGA software. As a result, players can now use the same game card system that the rest of your facility is using.
This makes the attraction self-service, and players don't have to wait in lines to pay or have someone set up the computer for them. They can sit down, use their game card, and play.
Why Choose Game Up Esports Solution?
Adding Game Up provides your amusement center with an experience that gamers can't get at home. It's every gamer's dream, and it's all fully included.
This solution can add a visually stunning centerpiece attraction. While some think that throwing your esports computers in the corner or a backroom will suffice, Game Up Esports is designed to be front and center at your amusement center.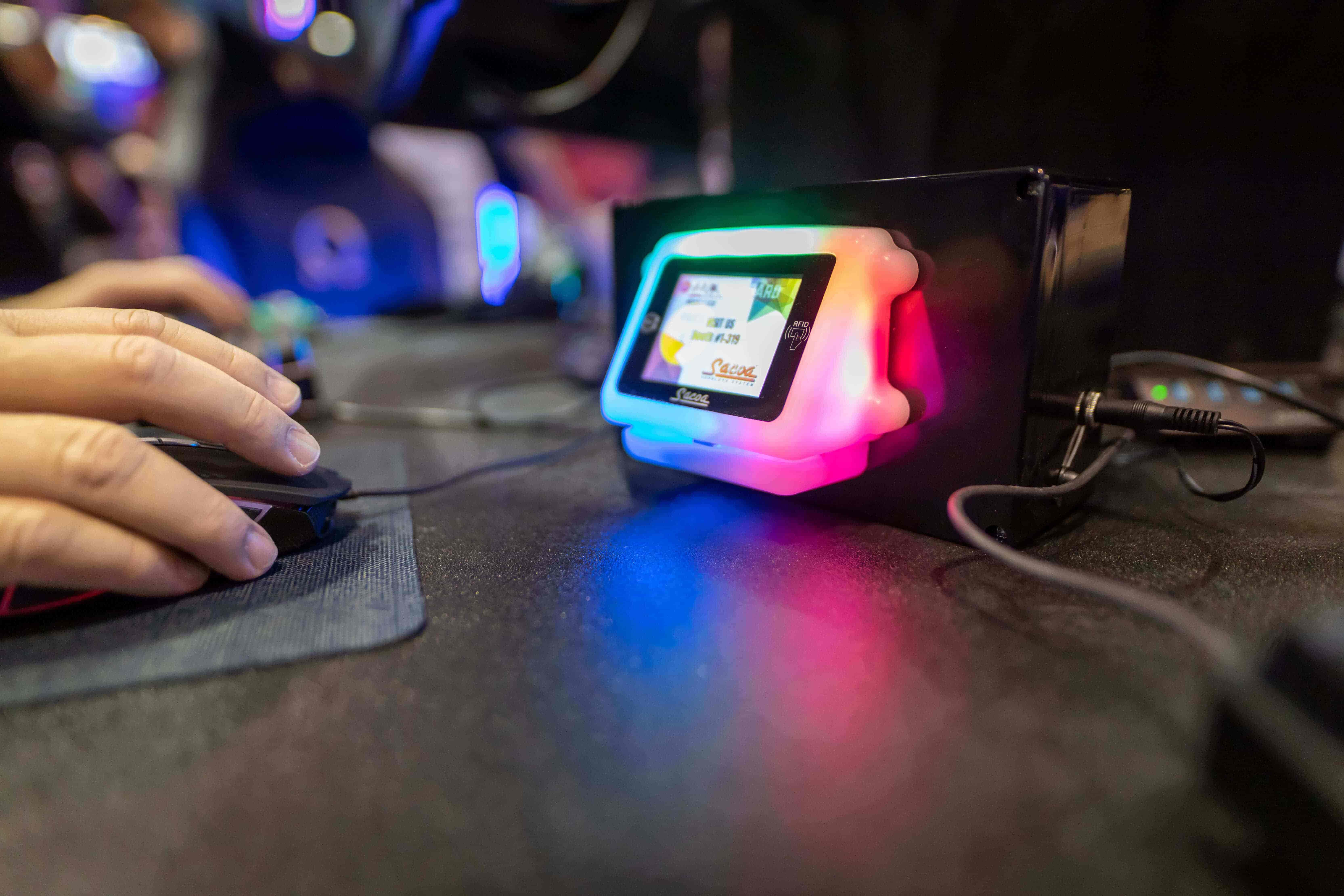 OMEGA game card swipe integration will automate time purchase transaction
Integrated lighting and effects, commercial-grade desks and chairs, and second-screen media for spectators make it feel like an arena or stadium setup. As a result, every guest who visits your amusement center will notice esports and become intrigued.
Esports is also a social attraction where friends can come together to enjoy a few hours of gaming. Instead of being confined to speaking over headsets, players can hang out and talk in person in a social setting. Your amusement center can become the go-to spot for groups of gamers to gather together and play.
Minimal Work, Maximum Profit
The OMEGA offering from ggCircuit has many built-in features designed to make it very easy for you, the operator, to generate revenue. OMEGA is a compact, casual esports experience designed to be a self-service additional revenue opportunity for an existing business. Overall, Game Up Esports has a small footprint, and the layout is flexible. You can customize your desk configurations to get the most out of your space.
Another sub-feature of OMEGA is ggCrypto. ggCrypto allows your Esports computers to generate revenue for you while they're idle. Once the hardware is installed, computers that are not being used by gamers will begin mining for crypto automatically. The mining process will stop if a player logs into a computer that is currently mining. When not being used, this allows the computers to generate additional revenue for esports operators and facilities. This is literally money in your pocket, and your amusement center will receive a monthly check.
OMEGA also has an hourly prize drop. There are jackpots every hour where every player has a chance to win additional credits that can be redeemed for prizes. ggCircuit takes care of the setup for all of this, so you don't have to worry about anything on your end. This feature incentivizes players to come back and keep playing.
Another significant advantage of OMEGA is the outstanding support you get. Simply put, you're getting the best experts to stand with you every step of the way and ensure the success of your attraction.
The team does not walk away once the attraction is installed. Daily maintenance is done on the attraction to ensure that all games are ready for play. It ensures that no last-minute game patches will affect the operation and keep customers happy.
Creative Works (fabricators and installers of the Game Up Esports attraction) and ggCircuit work extremely closely together throughout the process of creating, installing, and supporting your attraction. You will have top-notch experts always at your calling for anything you might need, including support and maintenance. You will also have 24/7 private chat support for whatever you may need.
In summary
OMEGA from ggCircuit makes it very easy to cash in on Esports popularity while requiring minimal effort or attention from you. The goal of OMEGA is to make Esports 99% self-service so that you can add esports without the hassle of managing many variables.
We know you're extremely busy in the day-to-day grind of managing your amusement center. OMEGA is the game-changing esports addition that makes you money without additional staffing, frustrations, or hassle.