ggLeap Software Update Release - September 2022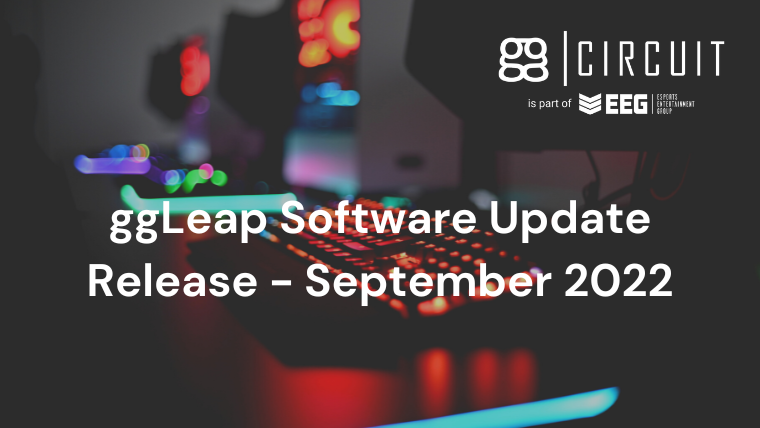 The ggCircuit development team has just released new updates to our booking system and several others, including bug fixes to known issues in the web admin and client. We are excited about these new features and expect they will help esports venues get more revenue from gamers looking to book gaming sessions ahead of time.
More AAA game titles are released across the many game platforms online, and esports venues requested an expanded list of supported game platforms to cater to a broader demographic of gamers. We can only say that we are more than happy to comply and have added a new platform to the license manager and fixed issues surrounding some of the existing ones. The ggCircuit team will add new gaming platforms soon to the list and is working diligently to get them quickly released!
---
---
Booking System Updates
Early this year, ggCircuit released the booking system to enable LAN centers to take reservations online via the Players Web Portal. The Players Web Portal can be embedded in a center's web page or can be used by itself.
The initial version of the booking system is useful enough by itself to enable gaming centers to monitor and manage reservations effectively. However, center owners should be able to do more with our esports management solution. So our team has added more useful functions to the booking system that will significantly improve the quality of life of center managers and gamers' user experience.
Please see below for the list of updates in the booking system:
The center owner and admins can now view the daily summary of the booking display with a click of a button. Additionally, admins can also create bookings from the daily summary view.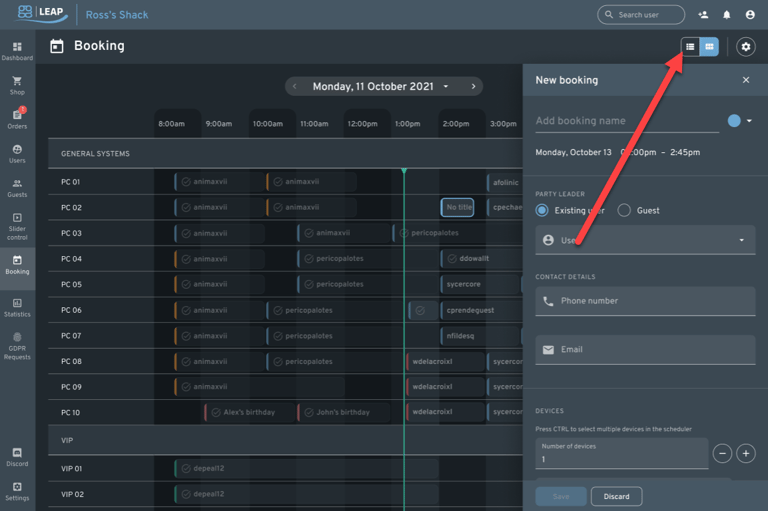 Daily summary view button
The player did not show up? No problem! You will now be able to cancel a booking for a no-show customer, which should allow other customers to use the PC/s.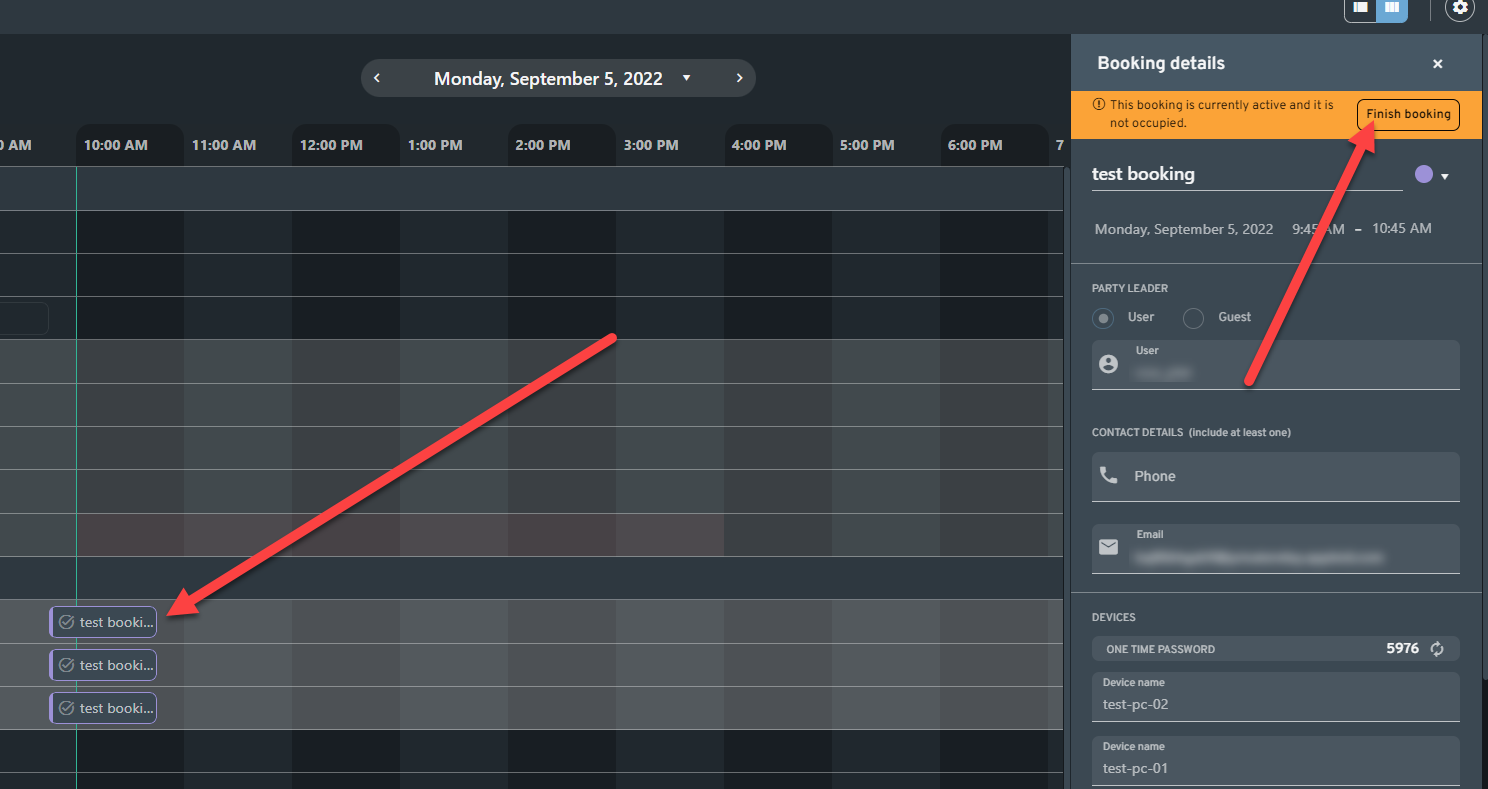 Cancel a booking using the Finish booking button
There is now an option to exclude devices from the booking system.

Get notified of booking notifications by adding your email address to the web admin.

An option to end a booking ahead of time is now available if a player decides to leave early. This will allow another gamer to use the PC, which would otherwise go unused in this situation.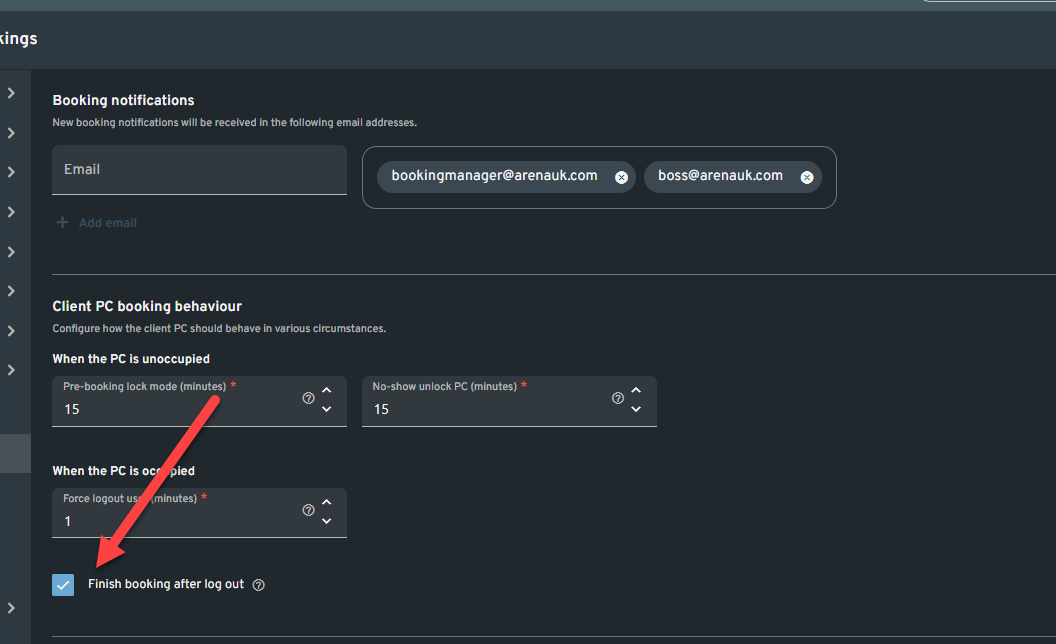 Finish booking after log out will end a booked session if a player leaves early
You can now require a pre-payment of the gaming time to reserve PCs. Additionally, you can also charge your customer a one-time processing fee on top of the hourly price. The processing fee can be customizable per PC group, per booked PC, or booking. On the other hand, the price per hour can be customizable per PC group.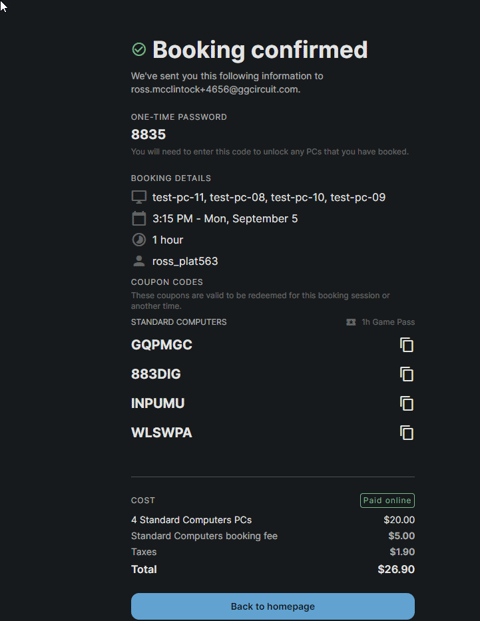 The booking summary screen will show the amount of the booking fee and Game Pass
An option has been added to set a time limit on how long before a customer can cancel a reservation to get a full refund.

The system will now send coupons to the email address of the party leader (person who made the booking) for reserving multiple PCs. The party leader may also access the coupons by viewing their upcoming bookings in the Players Web Portal. These coupons will need to be used by the other guests to claim their Game Pass by logging in to the gaming PCs and by redeeming the code in the client shop.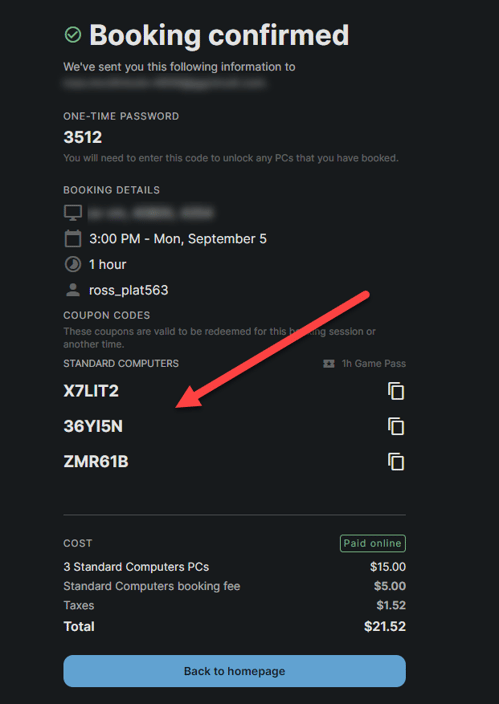 Coupons will be needed by the players to redeem their Game Pass
Client PC Updates
The ggCircuit dev team added several features to the ggLeap client. These features are available in the ggLeap client ver. 2.5514.
Users can now view the details of a Game Pass in the client shop.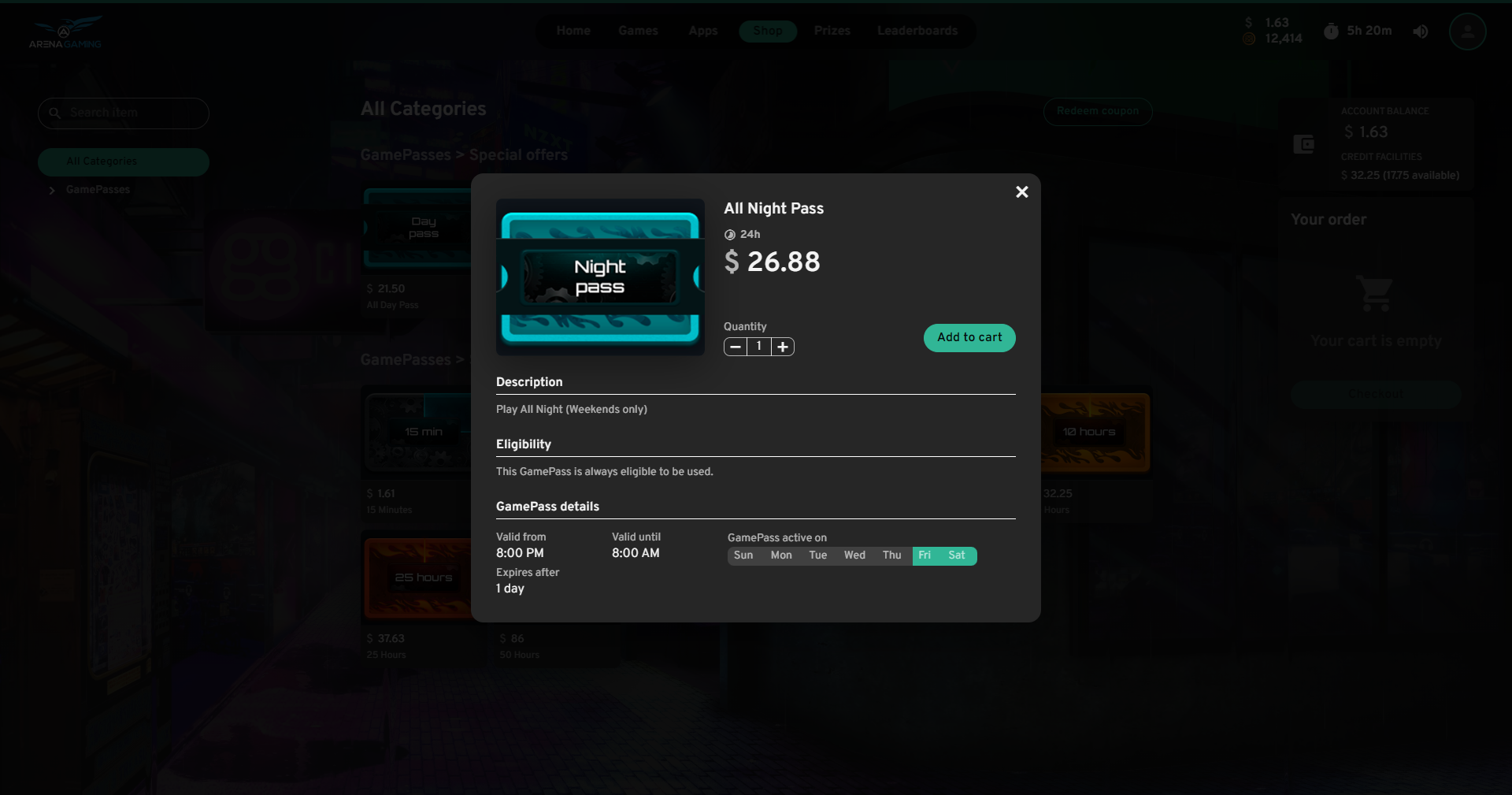 Game Pass summary
Xbox autologin has been added.

This feature is currently in beta, and we will need feedback from esports arenas or centers that will utilize this.

A locked PC can no longer be unlocked by rebooting.

We have added a slide for the ggLeap client home screen with a QR code that players can use to book PCs using their phones. Center admins can enable this from the customization settings, and the system automatically generates the QR code.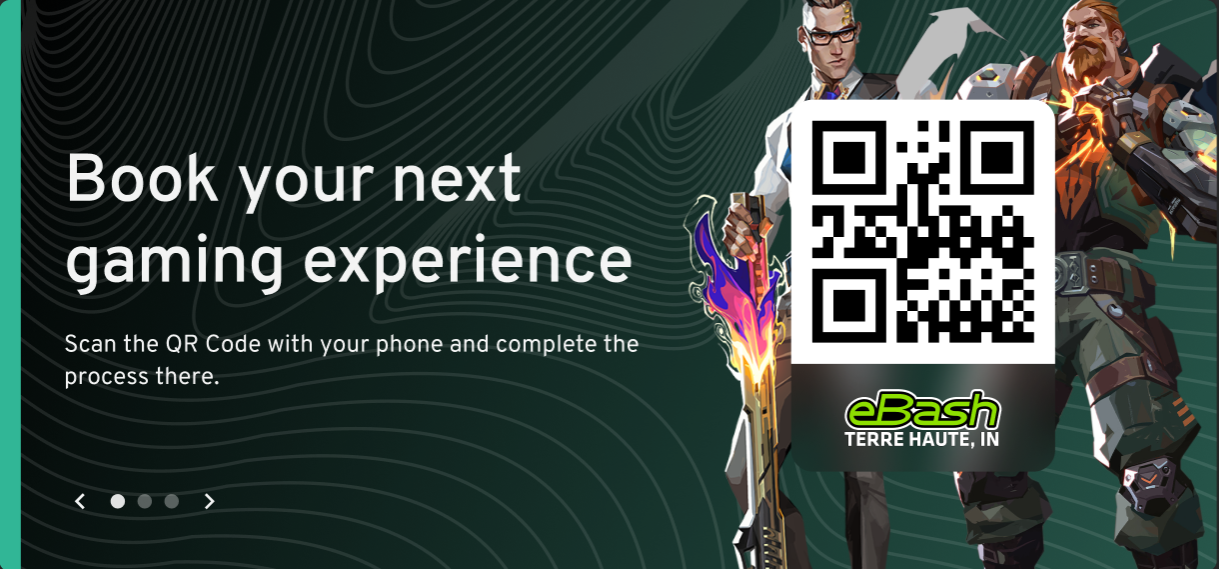 Slide with QR code for booking
We added a new security feature wherein any gamers who will try to circumvent the ggLeap client will now be met with a bluescreen
Sign up for ggCircuit Updates!
Web Admin Updates
The web admin also received some improvements, which are now available in the Settings tab.
Microsoft Store accounts and Xbox games can now be added to a center's game licenses.

Toggle for web admin audio alerts has been added.
Click here to test the ggLeap client!

Other Fixes and Updates
The ability to refund membership fees from the Activity Tracker has been added.

Fixed an issue that prevented subsequent refunds to an order that had already been given a refund.

Fixed issue with Rockstar autologin.

Fixed Fortnite tracking issue.

Fixed League of Legends tracking issue.

Fixed issue with Call of Duty not closing when the user runs out of time.

Fixed issue with Riot autologin

Fixed translation issues when categories are renamed.

Transaction details can now be viewed by clicking anywhere in the transaction row that you want to view in the Orders tab.

Fixed issue with refunding guest transactions.

ggLeap installer UI has been overhauled.
The Future of Esports Looks Bright
ggCircuit expects the esports business industry to continue growing in the years to come. Gamers want to hang out with other gamers after being confined for almost two years, and it can be expected that more people will be coming to esports venues. Our booking feature can help with user management and ensure players can get a seat at their preferred time.
Esports center owners can also expect a new marketing functionality with the coupon system. We are looking for a release in the next update cycle, and stay tuned for news about this feature.
In the meantime, make sure to comment on what other features you want to see in the ggLeap platform. If you don't have ggLeap yet, make sure to contact our sales team to get a trial of our software.