ggCircuit's New Subscribers and Esports Center Industry Updates - November 2021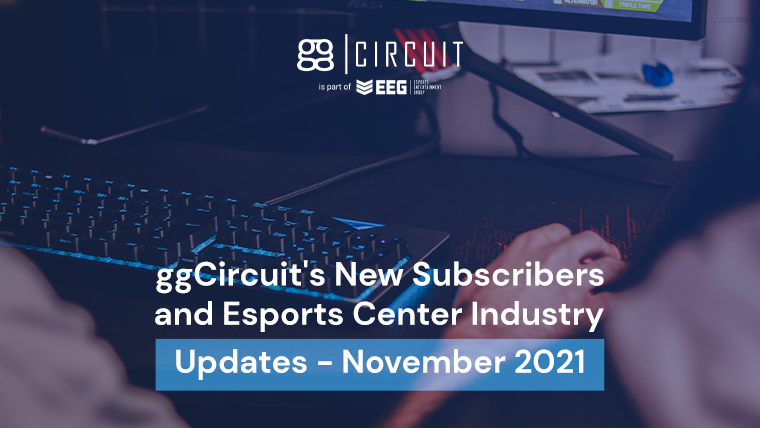 ggCircuit is constantly drawing in new esports venue subscribers to be their partners. For this month, we are proud to announce a batch of new centers that will be part of our growing network.
These new esports gaming center affiliates are:
Pixel Paradise_MA

Redemption Gaming Lounge

The Bug SRLS

Titan Internet Cafe
ggCircuit is ecstatic to have all of these new subscribers included in its expanding network. As always, the goal is to become the top esports community that will guide each and every gaming center in the world of competitive video gaming.
The group welcomes all of these new members and will gladly be of service for all of their esports needs.
November Industry Updates for Esports Venues and Gaming Centers
With the world recovering rapidly from the COVID-19 pandemic, the ggCircuit network continues to see great results from its campaign. The latest industry updates are below:
Active Centers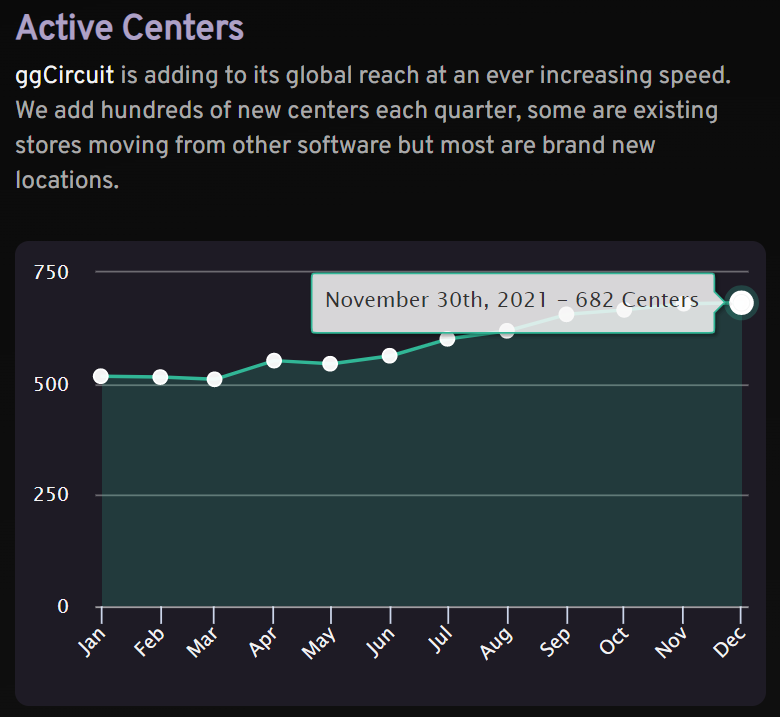 The number of active esports gaming centers increased by 0.29%
For November 2021, the number of active centers increased by 2. This means that ggCircuit now has a total of 682 eSports venues.
Sign up for ggCircuit Updates!
Players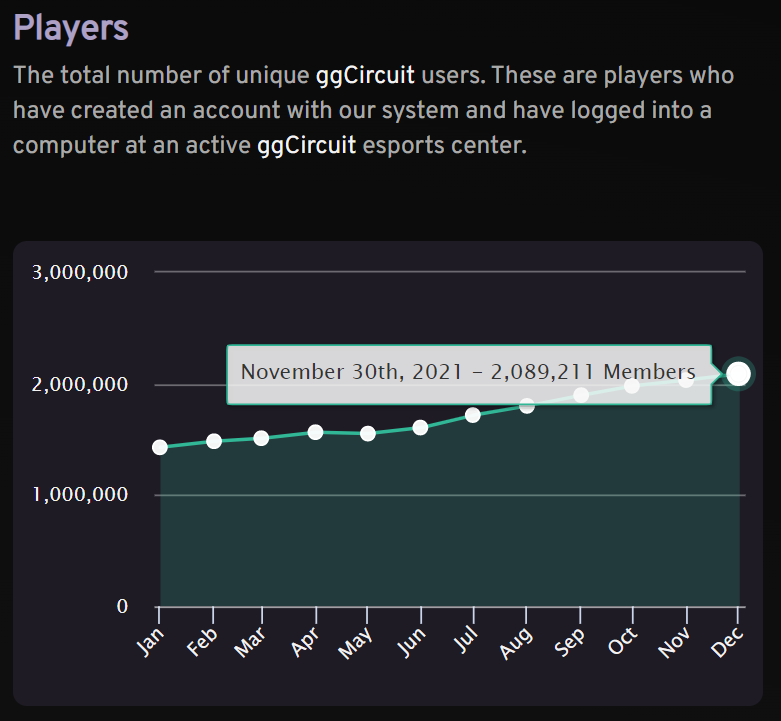 The number of gamers playing on an esports venue with ggLeap increased by 2.75%
Droves of new esports center players have taken part as well. ggCircuit has recorded a total of 2,089,211 players for November – a significant leap from the 2,033,214 players two months ago. This means that a whopping 55,997 new gamers have started playing on our servers.
To give you more information on this metric, these are game center players who have created a new account from their location and have logged in with it at an esports venue with a ggLeap subscription.
PCs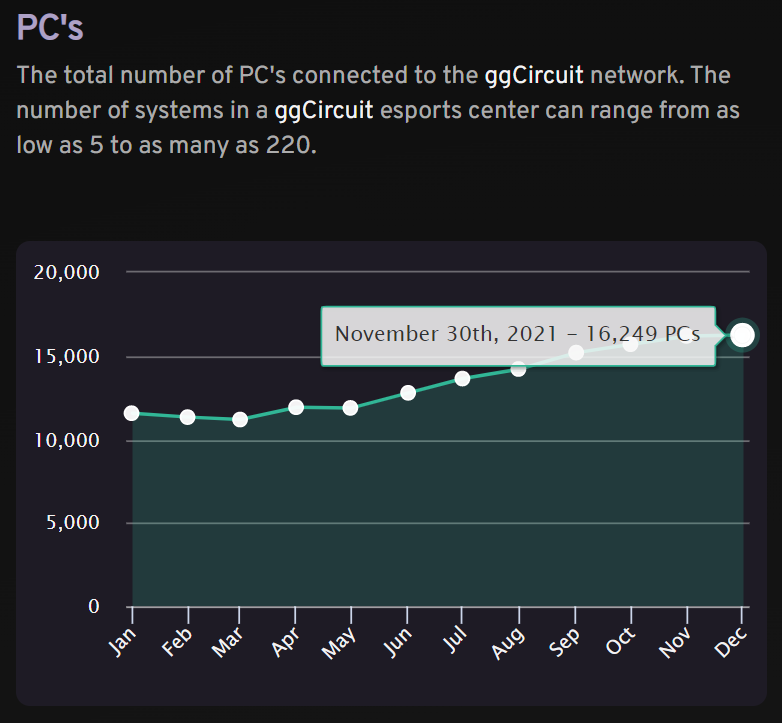 The PC count in the ggCircuit network rose by 0.30%
As for the number of personal computers that have connected to ggCircuit last month, an additional 49 PCs were connected to the network. These PCs have increased the total to 16,249 units, which is a great indication for this industry.
Consoles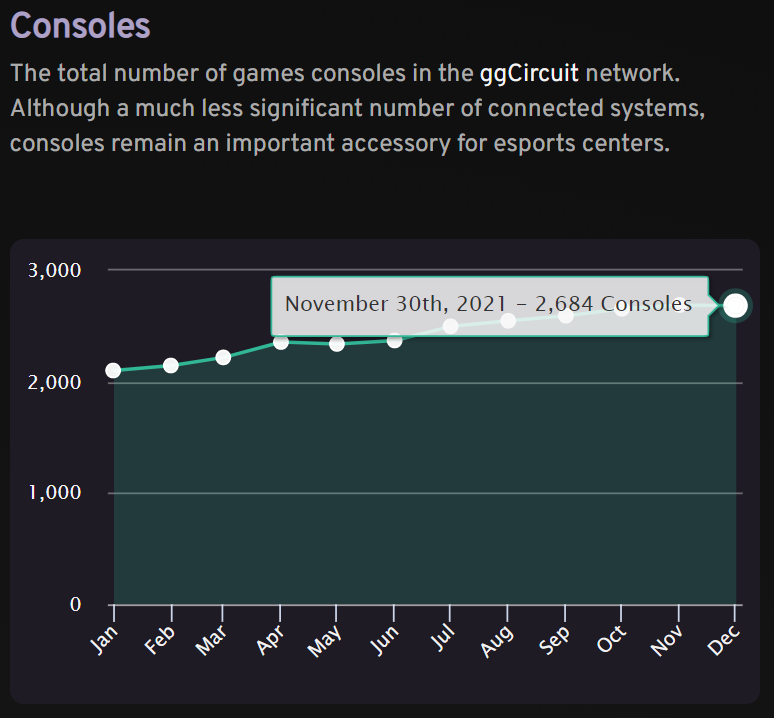 Gaming consoles saw a -0.22% decrease in the network
Consoles are also part of the ggCircuit network and the release of the current generation hardware only means that players have more choices for their platform of choice. However, November saw a decrease in the total number of connected consoles. There are now 2,684 consoles linked to the ggCircuit network.
Click here to test the ggLeap client!

Top Games Played (Global)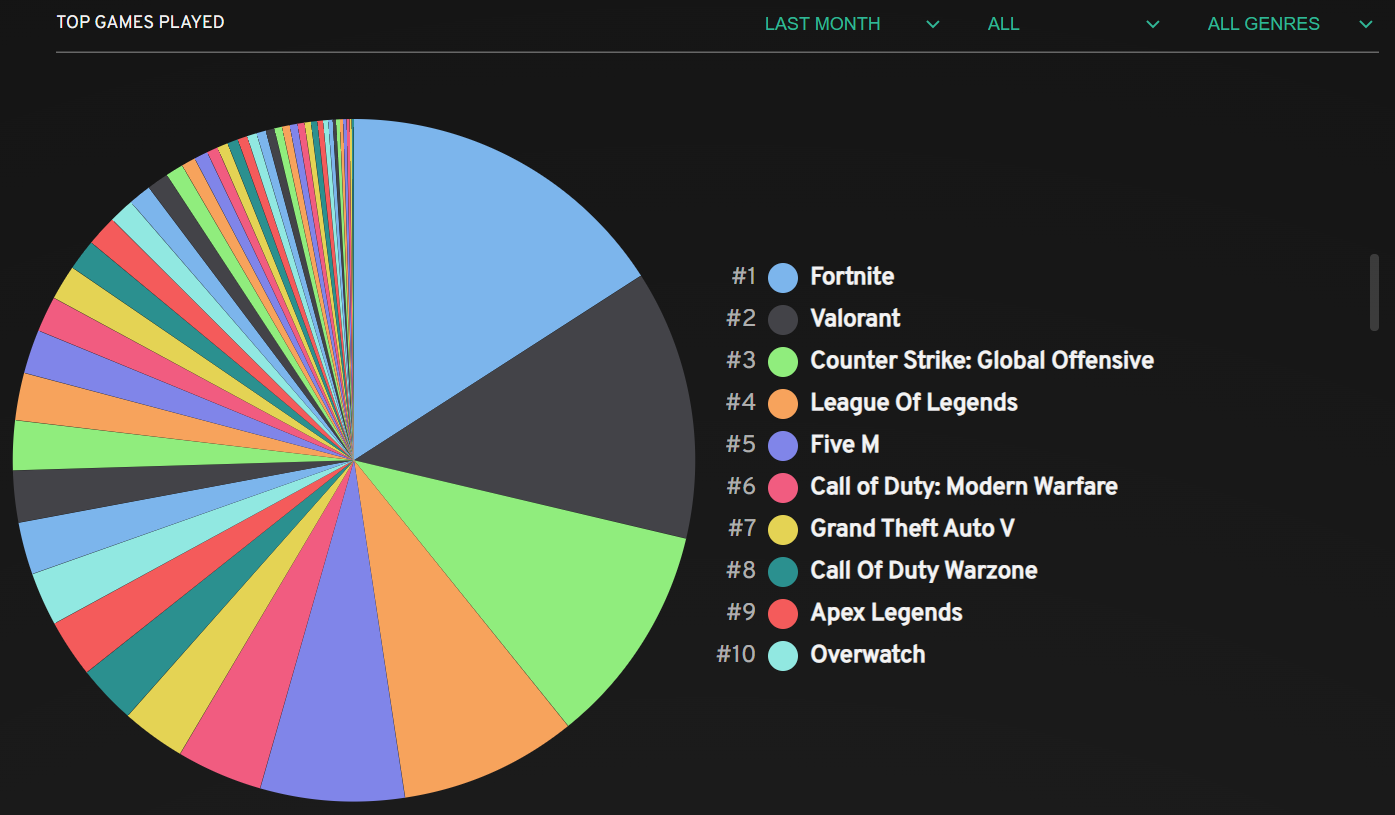 When it comes to the top games played overall for the month of November, Fornite is still the most popular title of them all. It has a total number of game launches sitting at 157,917 and the total hours played has reached 178,533.
Valorant continues to reign at the number 2 spot with 126,738 game launches and 155,610 total hours played. The average total playtime for Valorant players reached 6 hours and 8 minutes.
Counter Strike: Global Offensive and League of Legends sit at numbers 3 and 4 respectively. These two team-based video games are well-liked by many players worldwide, and have remained in the top games played charts for some time now.
Honorable mentions go to Five M, Call of Duty: Modern Warfare, Grand Theft Auto V, Call of Duty Warzone, Apex Legends, and Overwatch.
Top Games Played (North America)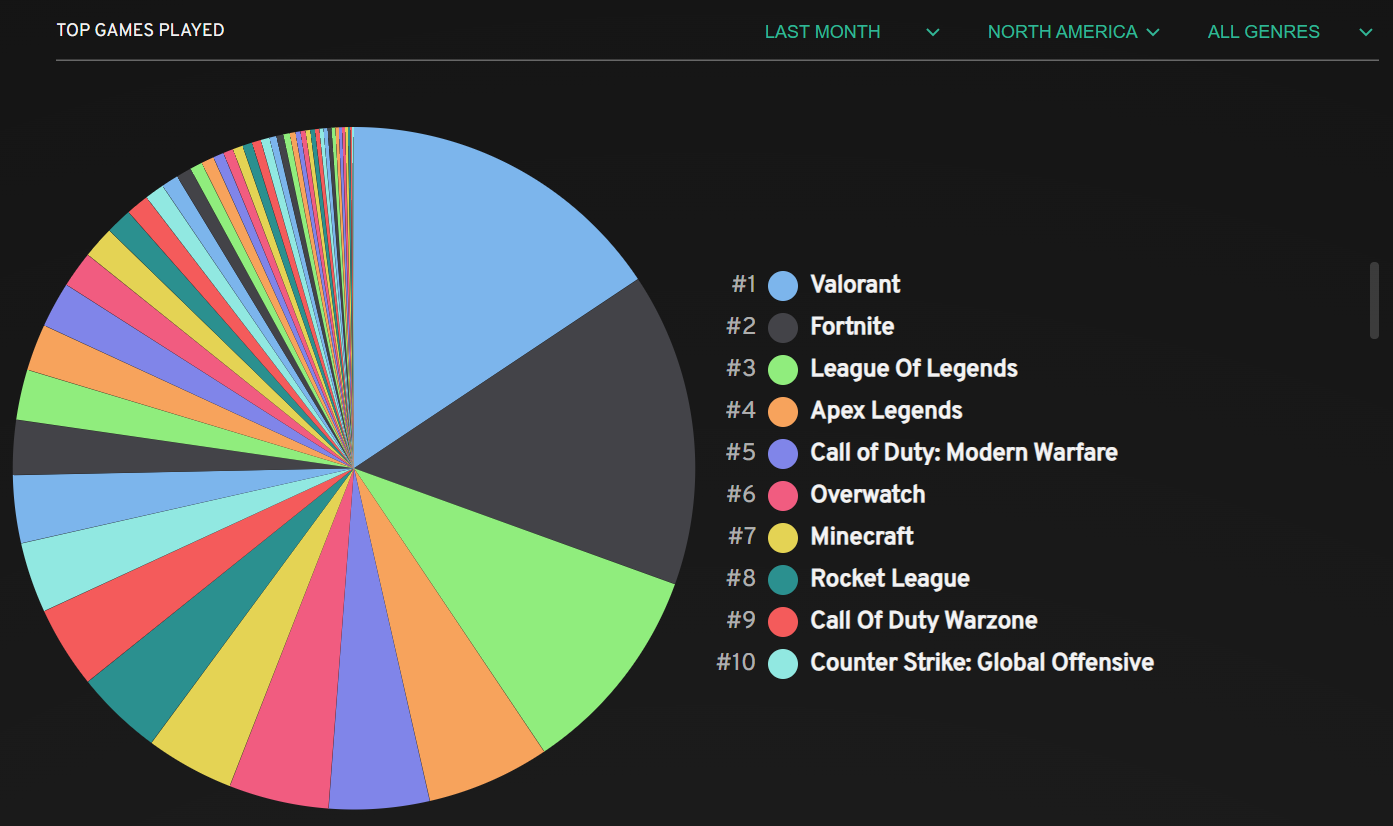 Just like most of the players around the world, North American gamers find Valorant and Fortnite quite the fun games to play. The total number of game launches for Valorant in NA is 38,858 while Fornite had recorded 36,854.
League of Legends has propelled itself to the 3rd most popular game in the region. It recorded a total of 24,981 game launches and 31,583 total hours played. This surge in the game's popularity might have to do with Riot's new Arcane series which has been well received by critics.
Meanwhile, Apex Legends is the 4th most played game in North America based on the November report. The total game launches for Apex Legends is 14,503 and the total hours played is 18,715.
Call of Duty: Modern Warfare remains a trending video game in NA. The game has 11,814 total launches as well as 10,475 total hours played. Its unique player count of 2,900 is a respectable number for a game that was released 2 years ago.
The other top games that were played in North America last month are Overwatch, Minecraft, Rocket League, Call of Duty Warzone, and Counter Strike: Global Offensive.
Conclusion
Video games play a major role in the lives of many people. When used appropriately, these games can improve hand dexterity, teach people to become better problem solvers, and even increase social skills. Many people love playing video games to de-stress while other players do so for competitive reasons.
These are the reasons why ggCircuit exists. The network is here to help gaming venues by providing a platform and service that create a great social gaming experience.
With the data shown on our Statistics Center home screen, the month of November provides good signals of positive things to come in the esports world.