Esports and LAN Centers with The Gamerpreneur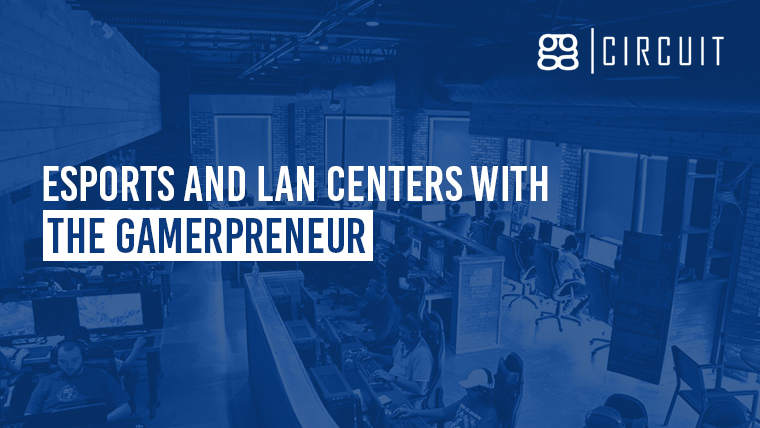 The Gamerpreneur podcast interviews Jason McIntosh from ggCircuit where he discussed topics about gaming, esports, and business with the podcast's host, Dr. Bradford Carlton. This post talks about the history of how he got into esports, the origins of ggCircuit and what it takes to build an esports business.
IT education and professional background
Jason McIntosh graduated from Purdue University in information systems and built websites through self-learning. He increased his skills by building practice sites that were related to gaming. It dawned upon him that web skills could be used in any business.
His employment background was across many industries. All where he used web skills to provide unique projects. Pharmaceuticals, IT, freelance, insurance, entertainment, and more areas where web skills were applied. Then he graduates from a master's program in New Media.
In 2012, health issues made him decide to start a business with Zack Johnson (ggCircuit's CEO), with whom he had been working on some website projects since 2004. They started a gaming center in Indianapolis (eBash Indianapolis) in 2013, which eventually transitioned into the robust esports center management software that we know and love called ggLeap.
Gaming background
Being a podcast related to gaming, Dr. Carlton eventually asked McIntosh about gaming and what kind of games played. McIntosh grew up with video game consoles (he had an Atari 2600, Atari 7800, and Super Nintendo) and would take every opportunity to go to an arcade (which became a family tradition).
A traditional athletics background in high school led him to become a very competitive individual and it carried over to the esports business.
Sign up for ggCircuit Updates!
Being an esports center owner and starting ggLeap
Dr. Carlton discussed topics around the esports center business and competitor management software for esports venues were discussed. ggCircuit began connecting with other esports venues around the US to do online tournaments in 2013. In order to collect stats for League of Legends, their software (which utilizes the Riot API) was built on top of the a competitor's management software.
It got to a point that the competitor's software was not able to keep up with how they wanted to get things done. ggLeap was started and it took a year and a half of development before it went operational. ggLeap was completely cloud-based and they believe that it was the first cloud-based solution for esports centers.
Everyone involved with ggLeap had to reach out to esports venue owners and offer pioneer programs (which enables esports center owners to save money) and helped the company fuel the development.
Transitioning of Jason McIntosh's role in ggLeap
From being a manager of an esports center to starting a SaaS (Software as a Service) business model was no small feat. Dr. Carlton curiously probed the path from being a manager of a game center to having to run a business with ggLeap. This was replied to by wearing many hats and inserting work where needed.
Being a developer, McIntosh was not well versed in approaching people to do sales. It forced bringing out personality to help the company sell software. Eventually, more people came into the company and his role had become manager, support director, marketer, and still some sales.
Dr. Carlton asked about adjusting from doing a multi-role job in the company to being a manager. It was hard to trust people because McIntosh is so invested in the company's success. Being a doer to just telling people what to do can be quite an adjustment.
Click here to test the ggLeap client!

Failure and going back in time
Dr. Carlton asked about any experiences with failure and what happened to the eBash Indianapolis esports venue was discussed. One of the problems that eBash Indianapolis had was the venue had poor visibility from the street. Another issue was when popular employees leave, some of the customers lose interest and do not come back.
One of the questions Dr. Carlton asked was what advice McIntosh will give himself to do things better. Esports centers should have more revenue options aside from waiting for customers to rent PCs. There should be a plan prior to starting the business where you should have plans B, C, D, etc. Gaming, tournaments, events, concessions, should all be a piece of backup revenue paths.
Another thing to consider is to approach high schools in the area that are interested in having an esports team. There's a good chance that if a high school does not have a dedicated facility for practice, your esports venue can accommodate their need for one.
Advice for anyone interested in SaaS business
Dr. Carlton asked what advice to give anyone interested in starting their own SaaS business. They will need a good sales and development team, a company will have to find individuals that are willing to work beyond the working hours. They will also need to make sure that the business is scalable. And lastly, the business owner should take into account that they might find themselves working 10 plus hours a day.