Erin Simon interviews Zack Johnson about the LAN center industry and AtHome gaming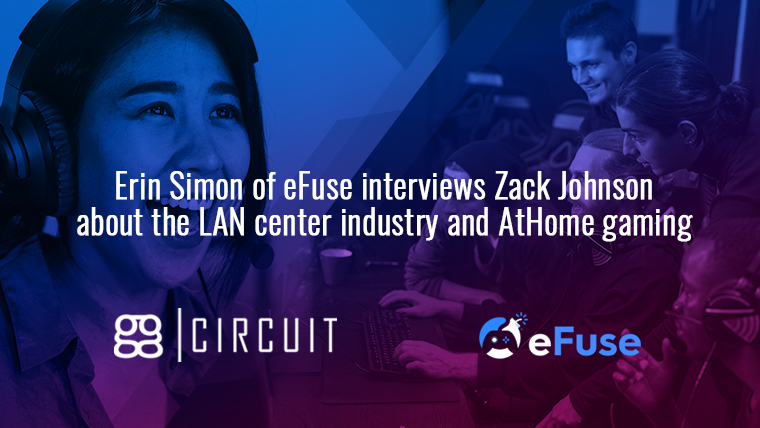 Last year, eFuse's Erin Ashley Simon interviewed our CEO, Zack Johnson, to talk about how ggCircuit came to be, the LAN center industry, and AtHome gaming during the pandemic. We were about to release our AtHome client during the time of the interview.
This article will discuss how the AtHome client was ggLeap's response to the massive closure of esports venues happening during the height of the Coronavirus global pandemic that began in March 2020. It allows players to join video game events from their esports venue while playing online games at home.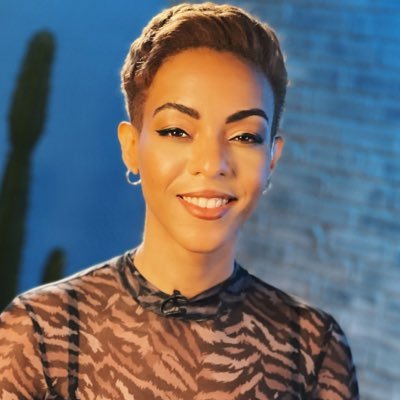 Erin Ashley Simon is well-known in the esports media world -Image is taken from her Twitter account
ggCircuit's early history with gaming events and LAN centers
Simon started the interview by asking about ggCircuit and the AtHome client. Zack Johnson gave a brief history of how he started his first LAN center in 2004. To which he told Simon that he's a "grandpa in the LAN center industry" and "an old guy in esports". Johnson started running video game competitions between 2008-2009 with 30 other esports venue owners using ggCircuit.
Every Saturday they would run LAN game tournaments where one team will win at the end of the event. The winners from each LAN center will come back the next day to compete against each other for a prize pool of $2,000 or $5,000.
Johnson thought that they have been doing too much manual work running those events and operating the LAN center. ggLeap was developed to overcome this problem and esports venues all over the world are now using it. Johnson added that 98% of those centers have closed because of the widespread Coronavirus pandemic. To address the business closure of esports venues, AtHome was added to our software.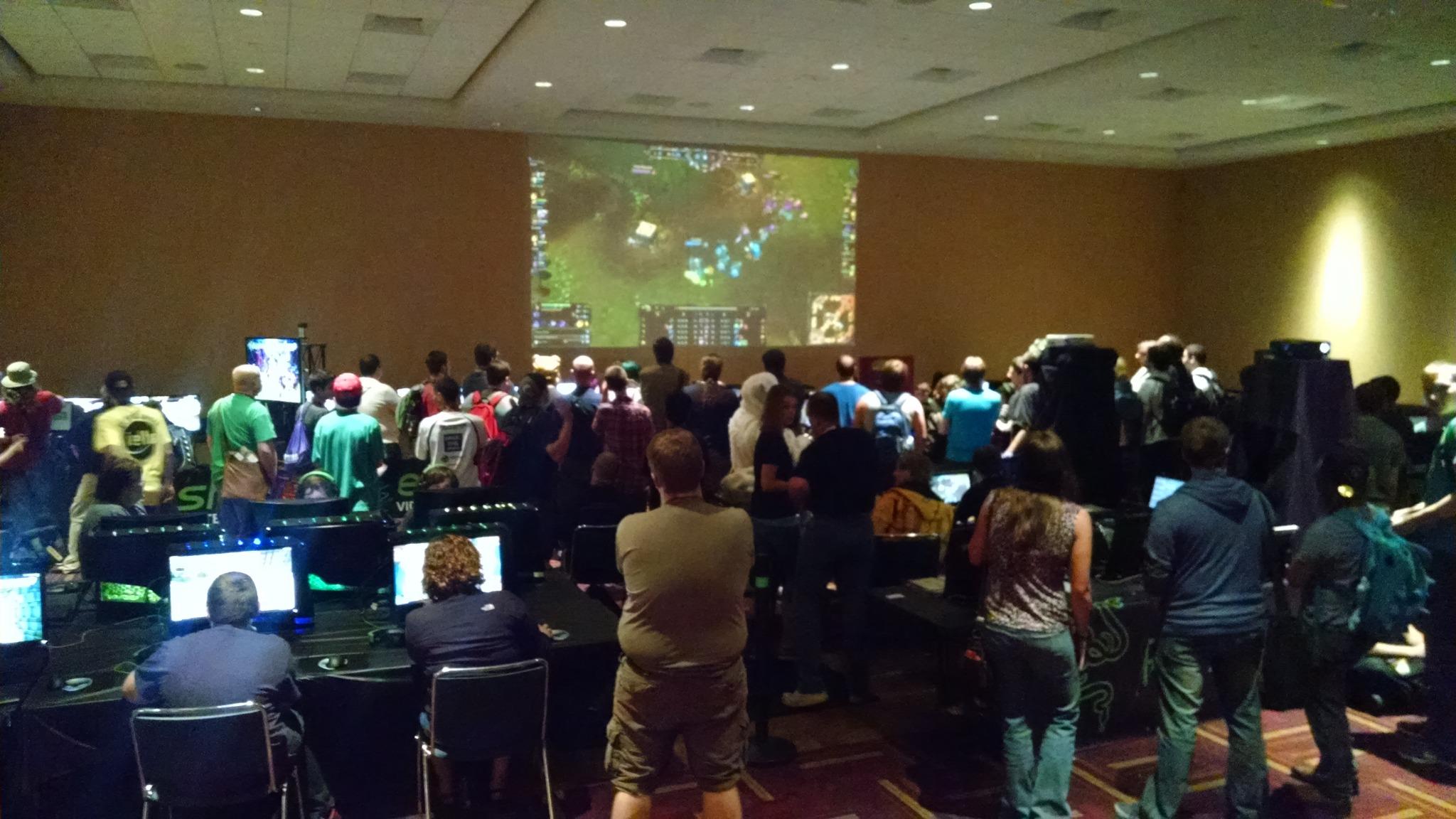 ggCircuit allowed gaming center to connect and play in PC & console tournaments
Sign up for ggCircuit Updates!
How AtHome connected gamers around the world
When the media first reported the news of the Coronavirus, a lot of countries went into lockdown, and players were forced to stay at home. Simon brought up the question of how the players, who frequently play in a LAN center, connect with each other.
Johnson said that the thing he loves about LAN centers is that people usually knew each other in it. Compared to when playing video games with strangers on the internet, the connection of being with other people you know is unparalleled.
AtHome is designed to connect players with the esports venue where they are registered. It will replicate being in a physical location wherein when players log in, they will see which of their friends are available or in a game at the moment. They will also see their friends' rank in the client and what games they are playing.
Among the many features of AtHome is the ability to compete with another gamer from a different esports venue. There's also LAN center versus LAN center where each esports center's players' points will determine the winner of the match-up.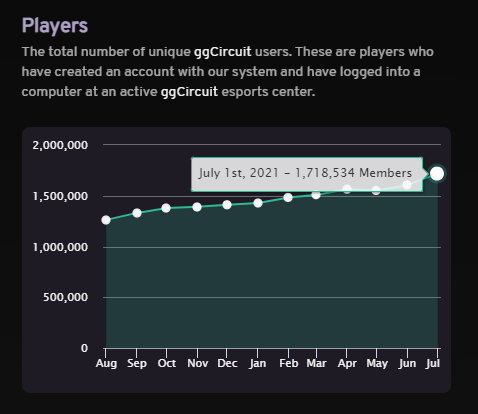 ggCircuit has retrieved over 1.7 million gamers since September of 2014. -Image is taken from ggCircuit State of the Industry
AtHome leaderboards and game data tracking
Video game leaderboards are a major part of competitive gaming. Simon asked how the stats and information are accumulated to track the leaderboards in the client. Johnson mentioned that ggCircuit partnered with Overwolf, which does in-game overlay app. They implemented the feature that will allow the client to collect game data from the gamer's computer and then post them to the leaderboards.
Johnson expounded that the AtHome client runs just like you would any game launcher on a gaming PC. Then the client will "watch" the games and then it will associate the points to that gamer and the esports center. He also mentioned looking into developing for console as well.
Johnson also explained that when a player is pitted with another player, the winner of that match-up will rank up (or level up). The next day, each player will be matched against players with the same rank.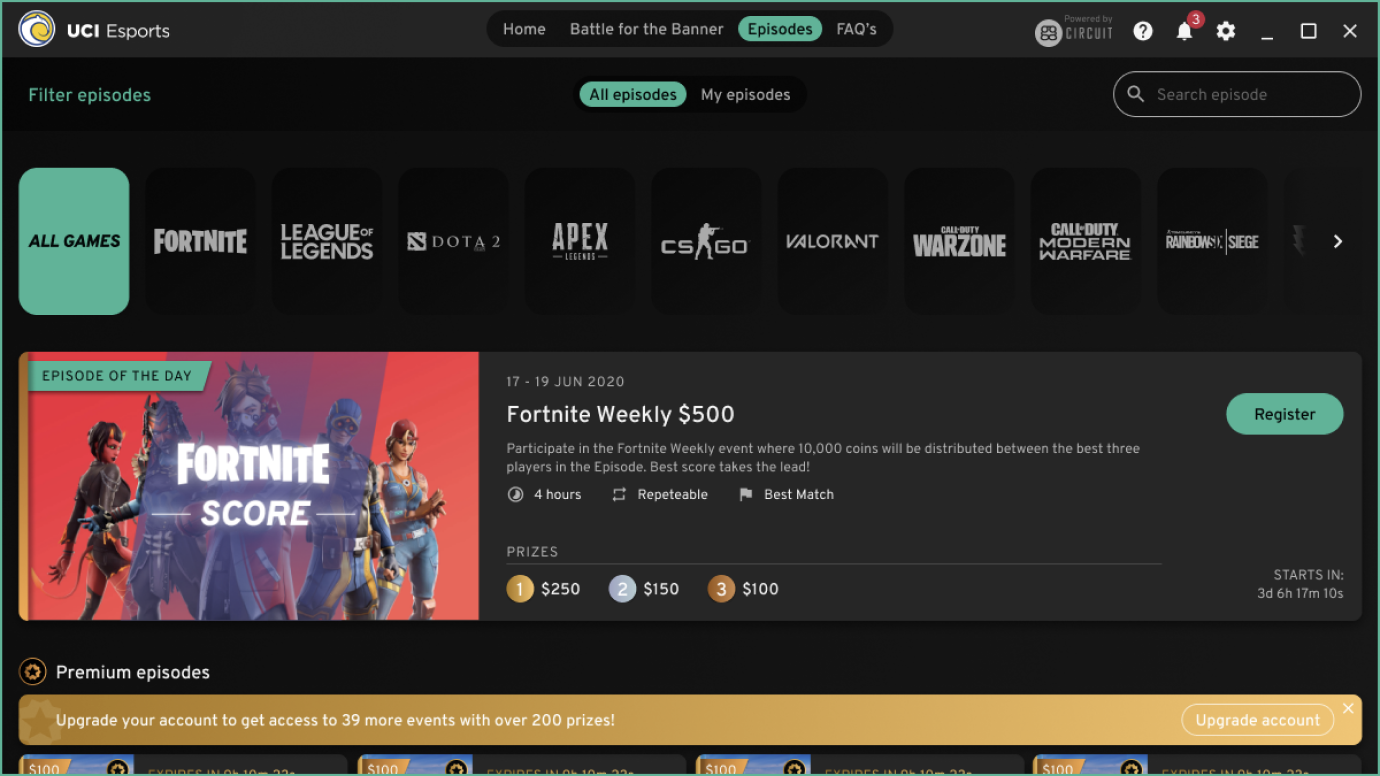 Players in the ggCircuit network can compete in gaming events via the AtHome client
AtHome's impact on esports and home gaming
Simon asked how the AtHome platform can contribute to the esports and gaming ecosystem during the pandemic. Johnson admitted that a lot of esports venue owners were scared of the AtHome client. He followed up that their business earns money because players come to the venue and pay to play. The fear comes from the idea that players may never want to go again to the venue.
However, the esports venue owners were able to see the bigger picture that once things have returned to normal, gamers will be looking for a gaming experience that they do not normally get when at home.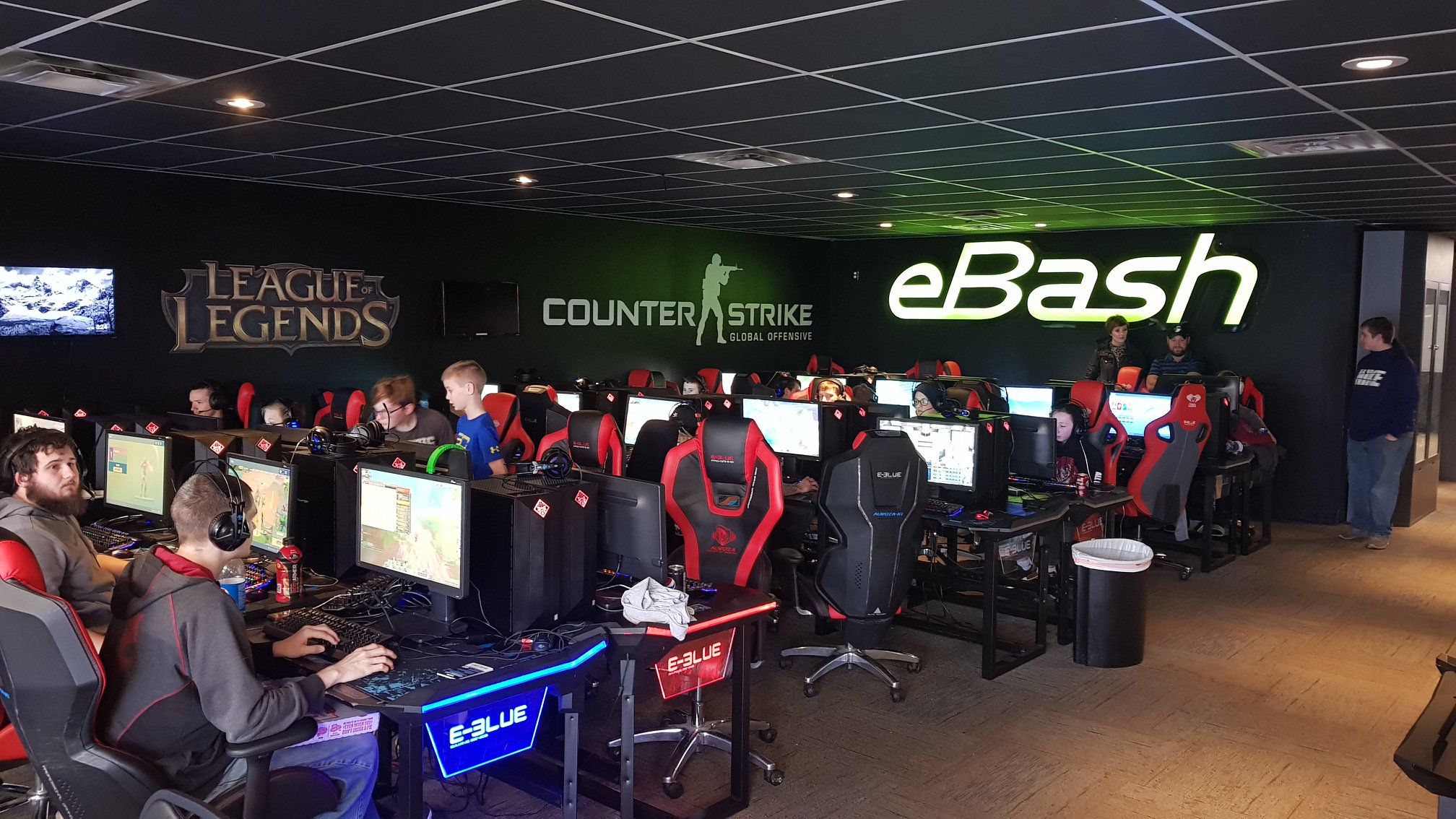 LAN centers provide video game experience that can never be attained when playing games at home
Johnson shared an anecdote where his 71 years old father saw NASCAR iRacing on TV. His father asked if NASCAR iRacing is esports, to which he responded that it is. Johnson's father was not convinced since the "players" were real drivers, so he explained that these are things that the esports industry can do without the need to travel.
Johnson added that companies and sponsors have a newfound interest in doing grassroots community events. He gave an example that Staples Center can't gather 20,000 people due to lockdown, how can they reach 20,000 people outside of it? Companies and sponsors have started looking at a grassroots community like the ggCircuit network to reach out to over a million people that they normally would not be able to reach conventionally.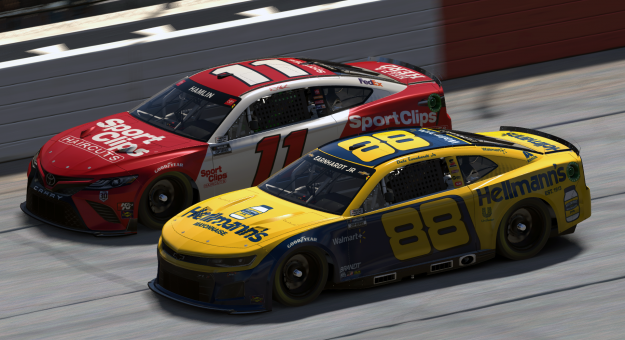 NASCAR iRacing is a good example that video games are a good way to continue traditional sports - Image taken from eNASCAR.com
Click here to test the ggLeap client!

Online gaming experience vs in-person gaming experience
The lockdown definitely paved the way for the online experience to get more attention and competitive gaming definitely saw growth. Simon asked how that will impact the in-person experience once everything is back to normal and how the esports industry will couple online and in-person experiences. Johnson said that big-time video game tournaments will never have a level playing field for participants gaming at home, stating an example with fighting games where connection and response time are very hard to attain. That kind of event will have to be in person.
Johnson stated that esports venues can fill the missing gap of in-person esports events. If players need to start on a certain level, they will need to go somewhere with LAN.
Fighting games are a good example that some gaming events need to be held in-person - Image is taken from the Evolution Championship Series FB page
Gaming in a local area network or specifically in an esports venue will ensure that each player will get the same type of hardware, response time, pings to the servers, and monitor refresh rate. Since there are several esports venues all over the world, players do not really have to travel far to join a game tournament.
Johnson added that he hopes that the lockdown situation may be used as an opportunity to bring major attention to esports, open different levels of competition, and create a better path for players. As he believes that there's currently no available good alternative for players. He did state that Fortnite gave a good opportunity by letting players play from home and get invited to championships in New York the previous year. But esports remain difficult to partake in for those who are interested.
Please visit the eFuse website to see the video of the interview.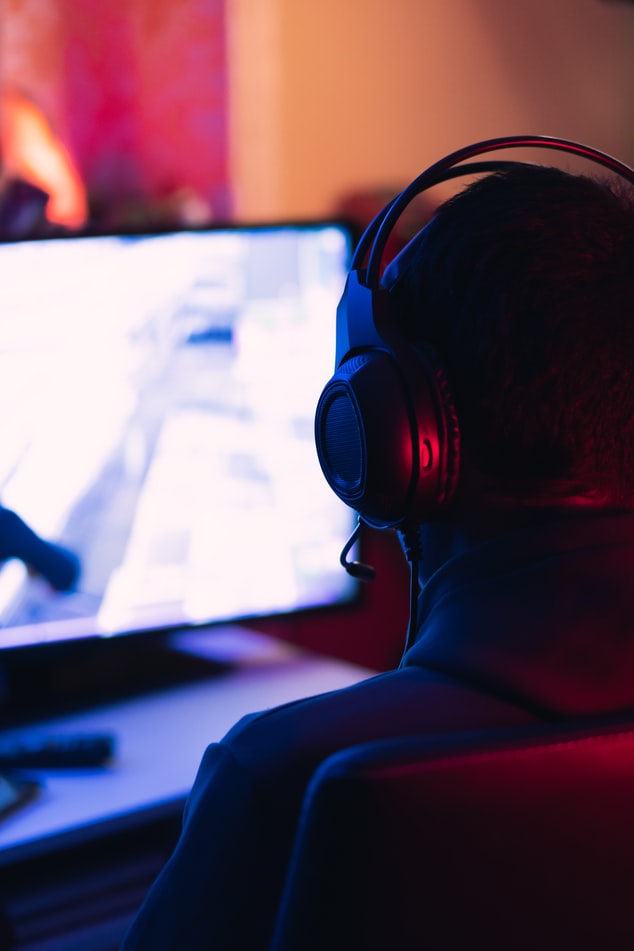 AtHome gave players the opportunity to join gaming events from their respective LAN center