Pricing Announcement for ggRock Diskless Boot 1.0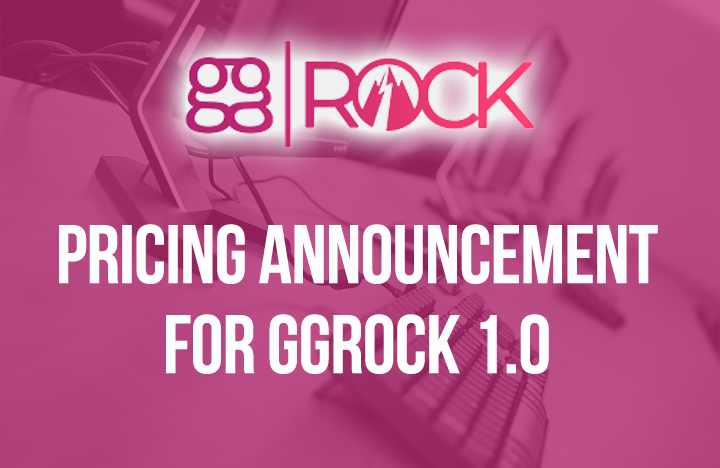 ggCircuit is thrilled to announce pricing for our ggRock diskless boot service following our version 1.0 release. Over the last year and a half ggRock has been the choice for 180 esports venues and gaming centers electing to choose our pre-release experience over the competition. Incredibly we are closing in on 5,000 machines total and ready to welcome more.
ggRock is a standalone product and it doesn't make much sense to charge per PC. Charges will be based on the total number of machines in the center:
| | |
| --- | --- |
| Number of Machines | ggRock Base Price / Month |
| 1-40 | $99 |
| 41-80 | $249 |
| 80+ | $399 |
This pricing reflects our understanding of different feature sets that are utilized by centers of a certain size.



The base price includes 24/7 Tier 1 support that allows you to reach our trained team of support engineers with access to the knowledge base and internal troubleshooting articles, as well as 72 hours (3 business days) escalation policy to ggRock Tier 2 support for issues the Tier 1 team is unable to address.
Going forward, ggRock 1.1 will be released on September 1st and will introduce self-signup and automatic payments via credit card instead of PayPal payments for all services.
About ggRock Diskless Boot
ggRock is a foundational diskless boot system. It allows you to run your entire PC floor from one server. You can remove the hard drives from all Client Machines, and the data will be fed into them over Ethernet cables. PXE and iSCSI targets over the ZFS file system with RAM caching.


Learn more about ggRock Diskless Boot

ggRock Advantages
Massive reduction in maintenance costs

Time, staff & hardware savings

Automation around game updates

Server virtualization

Remote image updates

Adding hardware at scale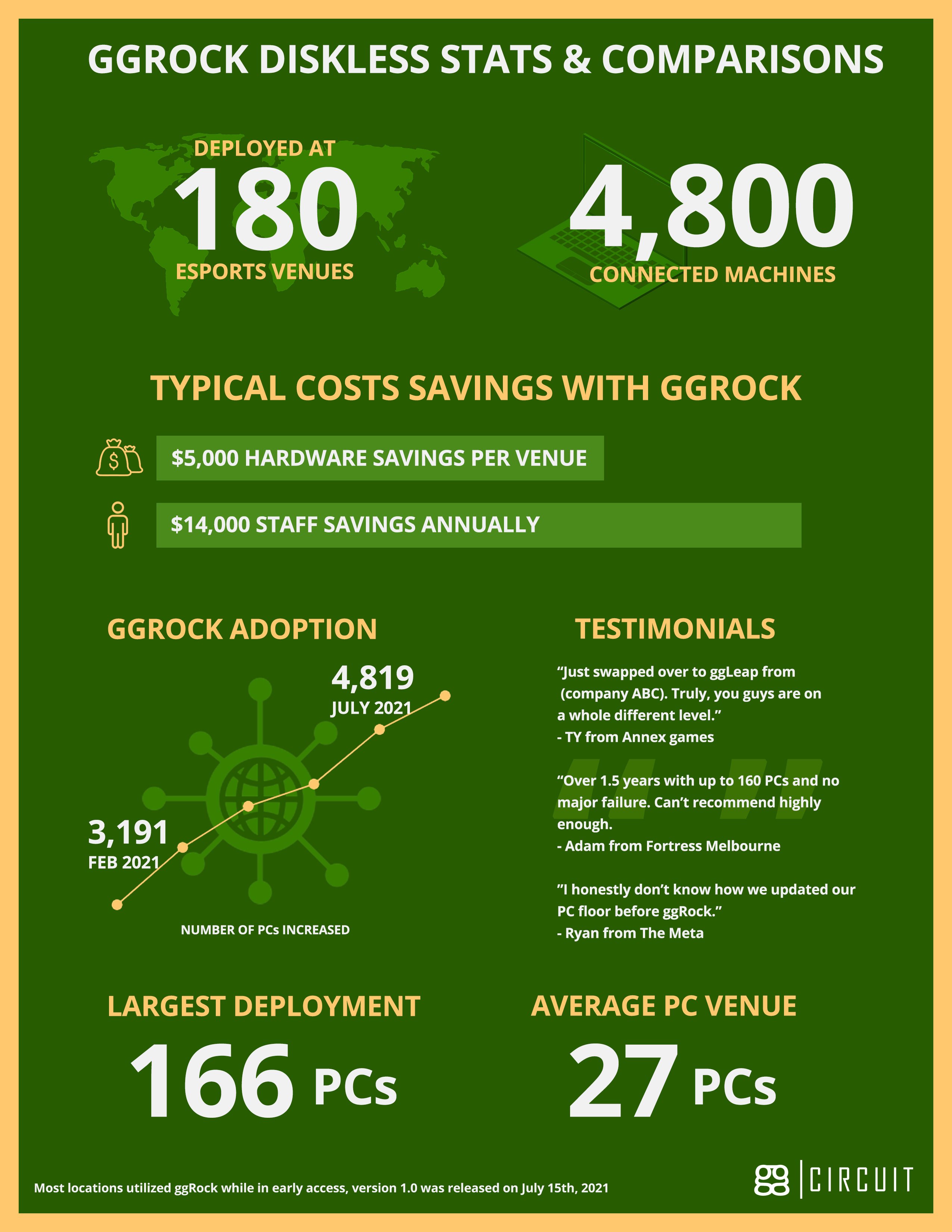 ggRock can be used independently in any environment needing to virtualize and image. Schools, businesses, and especially esports venues save thousands of hours of work maintaining large groups of PCs.
ggRock 1.0 will include a set of add-on features that every client will be interested in to add on to their existing ggRock experience:
Tier 2 Support ($2000/year)
A Tier 2 support subscription allows expedited access to Tier 2 support. This means that for any ggRock-related issue you will be routed by Tier 1 support staff to the Tier 2 chat and reached out to immediately, even on Weekends. If your center has suffered an irreversible software failure, and is unable to further operate, we will bring Tier 2 team online to make sure your business continues running.
Center branches and resellers
We recognize that some of you are running multiple centers, or servicing multiple centers under our reseller program. We will be providing a discounted rate for supported locations:
First location: $2,000 per year
Every following location: $500 per year
This pricing will only be valid in case that the main center's staff / reseller staff will be in charge of training and troubleshooting the issues for their dependent centers. In case of separate teams working on the support they will be charged separately at a normal rate.
Automatic Game Updates ($199/month, tentative)
Currently in development is an automatic game update feature that runs custom scripts to update games via ggRock virtual machines and launchers installed in the image. We will be rolling out a trial period for the feature for free, improving the coverage of game launchers and executables, as well as addressing any feedback.
Cloud Image Subscription ($249/month/Image, tentative)
An exciting feature that will allow centers to subscribe to an unchangeable Game image. This means that we will allow, in preparation, to have more than one game image. Once subscribed, a ggRock VM will be used to integrate the game image with your current system images, and every game update will be automatically downloaded to your ggRock server as soon as they are available.
System Image Cloud Backup ($99/restore, tentative)
We want you to be secure with ggRock and know that you can always get your data back. System Image Cloud Backup will allow backup of your system image with certain limitations (maximum size, storage, number of images, other limitations, etc.), to ggRock servers. In the event of a catastrophic array failure (or no redundancy in place) you will be able to restore your system Image for a flat fee of $99, allowing you to save hours reinstalling all software and re-running the seamless boot with your machines.
Restoring game images the same way makes little sense to get your business up and running faster. For example, in order to restore a 3TB image over a 1Gb downlink from the ISP would take about 7 hours, in which case it seems simpler to re-download games by hand, slowly starting your center after the failure.
Failover / Redundant servers
For customers that currently are running several servers for redundancy/failover reasons we will provide a 50% discount for servers co-located in the same location. Be mindful that using failover servers alongside main servers is not the intention and sharing capacity will be against the ggRock terms of service.
ggRock Transition Plan
We want to make sure we are transparent with our transition plan and give plenty of warning. Therefore, important dates to remember for the ggRock pricing rollout will be:
August 3rd. Announcing ggRock Licensing and Pricing.
September 1st. Releasing ggRock 1.1 with subscription system and payment processing.
October 1st. All versions prior to ggRock 1.1 will be discontinued and will stop working.
Please make sure to provision in advance and update in a timely manner to retain service.
ggRock Pricing Summary
This announcement of ggRock 1.1 and pricing will provide the best diskless boot experience on the market starting at just $99 per month. The release coming out September 1st will allow you to sign-up and pay with your card just like anywhere else. Until then please check with us in Discord to enable a ggRock subscription. Starting October 1st all versions prior to 1.1 will cease to function and will require an update.
Once ggRock 1.1 is out we aim to deliver even more new, rich functionality to save you time, money and headache every day. These functions will initially be rolled out for free so they can be evaluated as an opt-in add-on feature.
For more information on ggRock, you can sign up here to become part of the ggRock email list.