ggLeap's free crypto mining feature gets a new update!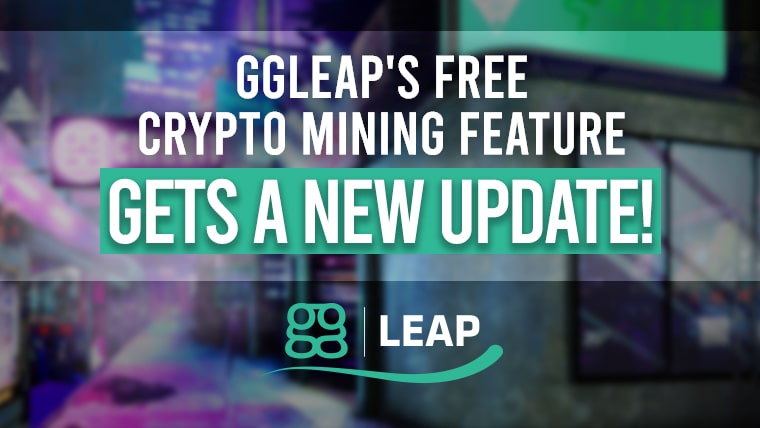 We at ggCircuit have good news for esports centers that are using the ggCrypto feature! The crypto mining feature was added in early 2021 to enable centers that are connected to the ggLeap network to earn additional revenue on top of their gaming center business operation. This free feature was an astounding success but there was a clamor for features that will enable GPU overclocking.
ggCrypto will now allow esports venue owners to manually tweak settings that will enable them to maximize their GPUs' potential.
As always, the option "Can access mining config" should be enabled for an employee account before the new settings for ggCrypto can be accessed. Optimized Safe Settings should be disabled in order for the Overclocking Profile to be utilized.
Importance of being able to overclock your GPU for mining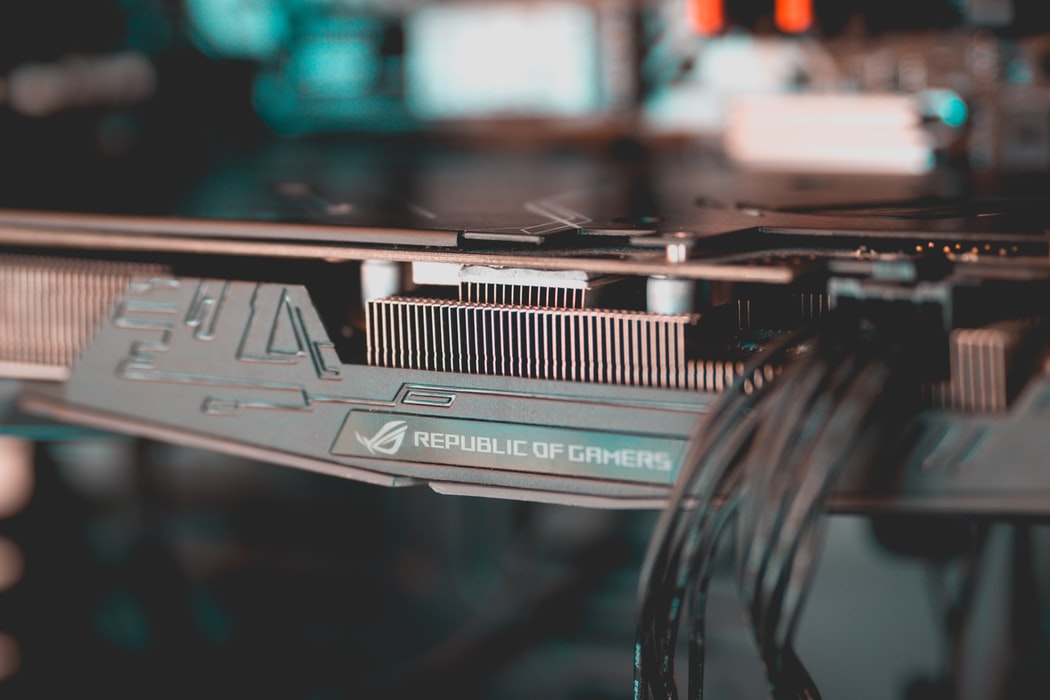 Powerful GPUs could potentially yield more hash rate by overclocking
Let's face it, there will be times that an esports venue will not be able to draw in gamers for a variety of reasons. An admin having control over how a computer can earn money for an esports venue can be a massive game-changer on how the business can yield more profit.
The market value of a cryptocurrency can fluctuate and an esports venue owner may choose when to mine based on the market price. Overclocking GPUs in computers can make that happen by allowing them to gain more hash rate during the mining process.
Sign up for ggCircuit Updates!
Managing the Overclocking Profile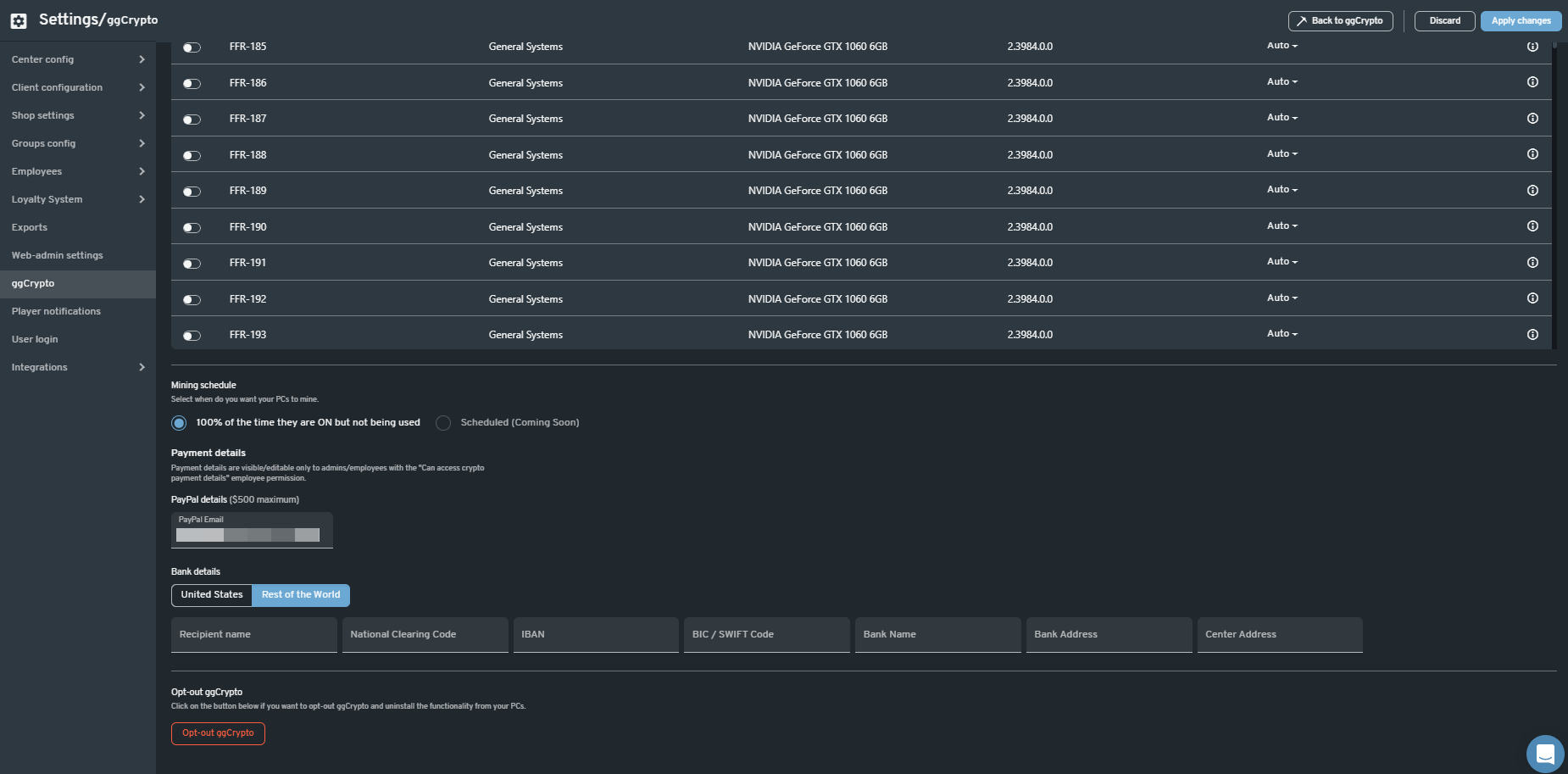 The Overclocking Profile feature will enable an esports venue to have specific settings for each GPU model
This new setting in ggCrypto lets an esports center admin create profiles for each type of GPU that they have. An esports gaming center typically has several GPU models on its computers and there may be a need to have a specific configuration for each GPU model when overclocking.
Having several profiles also enables an esports gaming center to make adjustments depending on the season. For example, an administrator can create two profiles for each GPU model so that during the summer they can choose the profile that draws lower power consumption (to prevent GPU overheating) and another profile that will enable their GPU to maximize overclocking during winter.
In the esports center business, it's important that GPUs are in tip-top condition in order to be able to run games smoothly. After all, one of the primary services of an esports venue business is to enable customers to play online games.
Having a good ggCrypto Overclocking Profile setup is one key to preventing GPUs from having an early retirement.
GPU profile setup
The GPU Profile setup modal is where the overclocking settings can be configured
The ggCrypto GPU profile setup is where an admin can create (or edit) an Overclocking Profile. Before proceeding with setting up a new profile, it is important to remember that having an improper overclocking setup could potentially damage a GPU.
As mentioned above an esports center may have several types of GPU models, but will an Overclocking Profile for, let's say, RTX 2060 work for RTX 3060? No, the profile can only be used for its specific GPU model.
GPU overclocking settings include core clock, memory clock, and power limit, respectively. Other featured options relevant to temperature settings are also available.
Click here to test the ggLeap client!

Is mining a better business than an esports venue?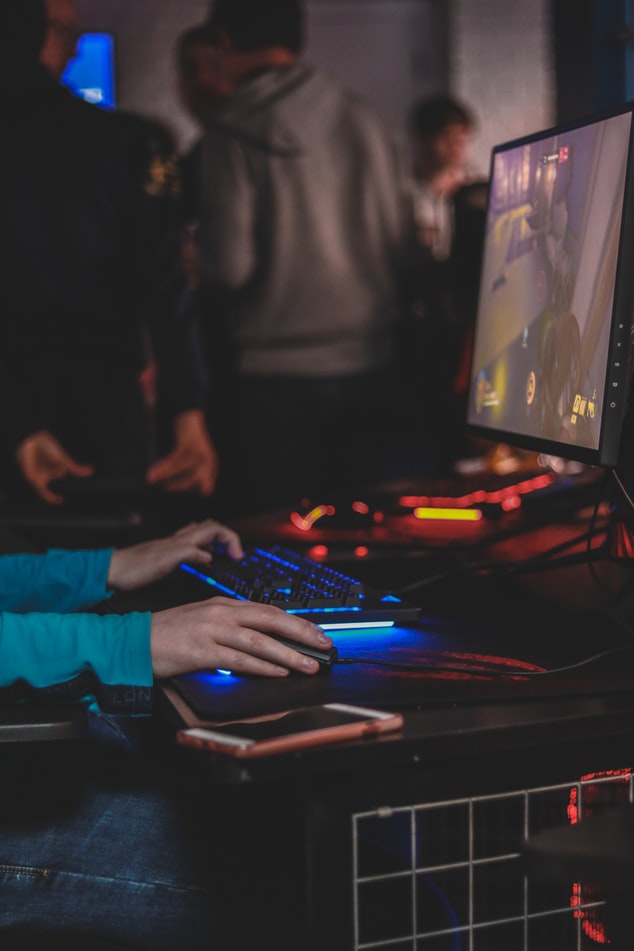 Esports centers have the advantage of becoming a "mining center" during days when there are few customers
The answer to this may vary and can depend on a lot of factors. 2021 saw a lot of potential and interest for cryptocurrency, and it came to the point of crippling GPU supplies. ggCircuit is an esports first company, with many years of brick and mortar LAN center experience. You will earn more and have better revenue by having gaming customers in your location versus just utilizing the ggCrypto function. The purpose of providing the ggCrypto function is to continue to earn revenue while the PCs are not being used for gaming.
Additionally, ggCrypto was added to help esports centers in our network take advantage of their powerful GPUs. It also allows esports venue owners to get started in cryptocurrency without the need for hours of research or technical know-how.
Make sure to check out this help article to learn more about this new addition to ggCrypto.