ggLeap September 7, 2021 features release information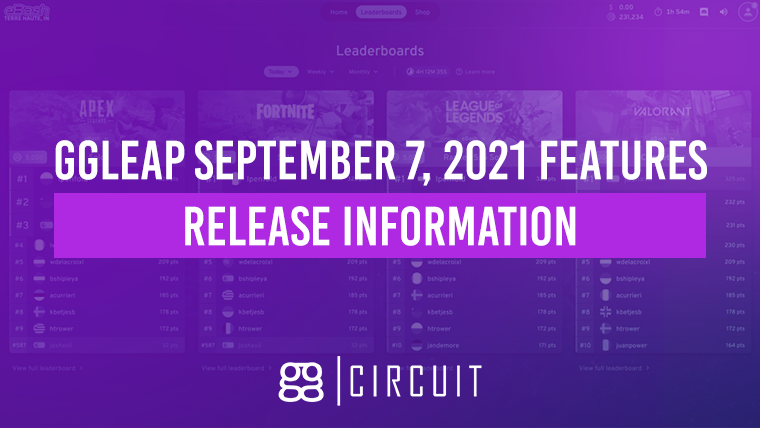 ggCircuit is proud to announce the latest release to the ggLeap platform which includes our latest feature update - automatic leaderboards with coins payout!
This new feature can help your esports center business by improving customer loyalty and engagement. By providing an additional competitive element, gamers can compete against others, not only in your center but across the millions of players in the global ggCircuit esports venue network.
This is the first in a series of updates that focus on player engagement.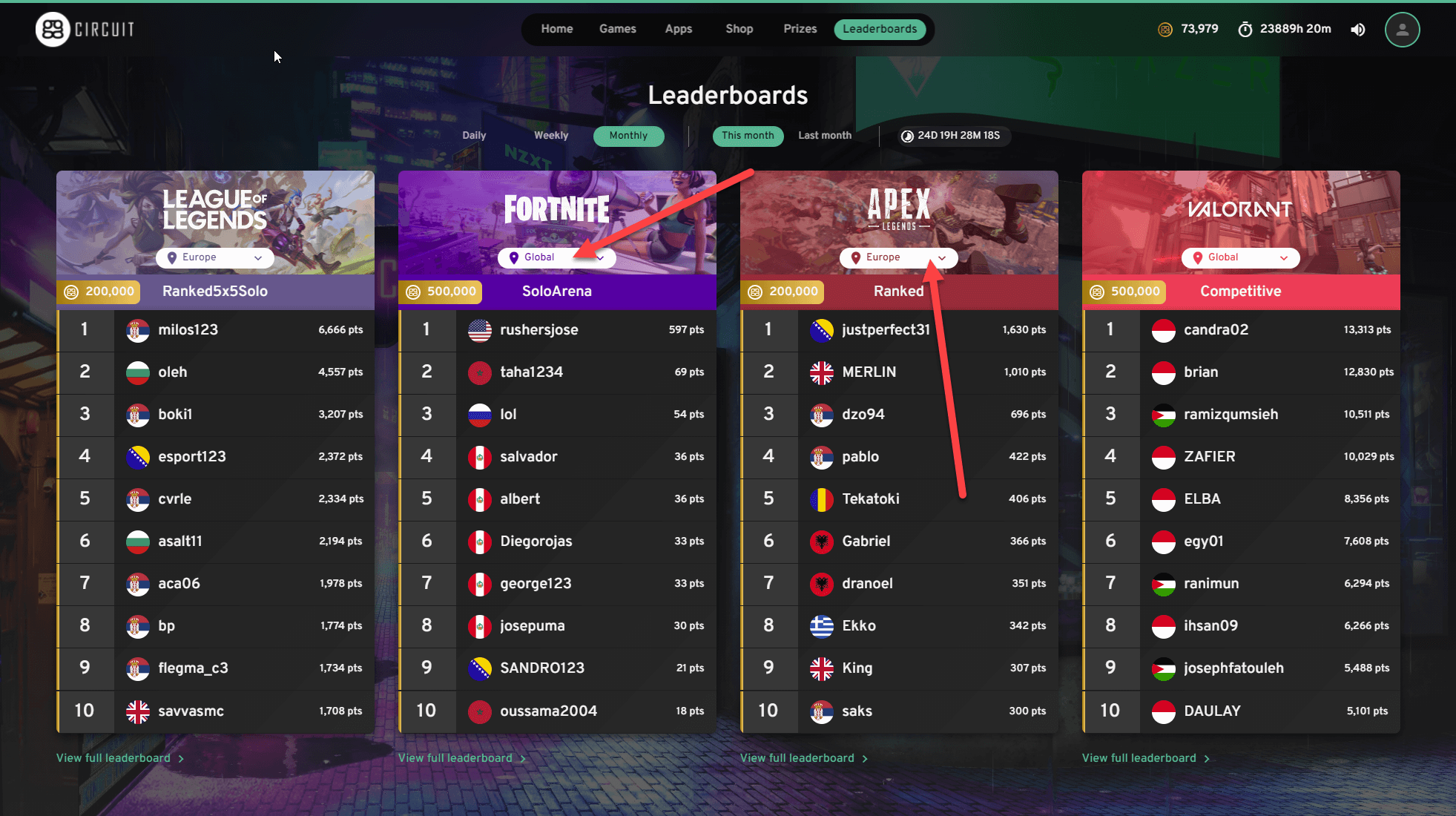 You can also choose to enable regional or global leaderboards
New and improved leaderboard system
The new and improved leaderboard features a more robust stat tracking for supported esports titles with the added ability to automatically payout coins for players that will reach the top ranks. Coins can then be spent on prizes. This will ensure that players will be more invested to play in your esports center since they know that something can be attained for their efforts.

You can enable 4 popular esports titles for the leaderboards - more coming soon!
Currently, there are 4 supported esports titles on the leaderboards. Note that your customer will have to play in a specific mode in each game to earn points (shown in ggLeap client UI).
Apex Legends
Fortnite
League of Legends (Riot)
Valorant
How to setup automatic coins payout for your center
The configuration for the leaderboards is done exclusively in the ggLeap web admin (Settings -> Competition -> Leaderboards). You can choose to enable coin payouts for Local (your center), Regional, and World leaderboards across daily/weekly/monthly timeframes.
Universities, on the other hand, have the option to set the regional and world leaderboards to only show other universities in the ggCircuit network.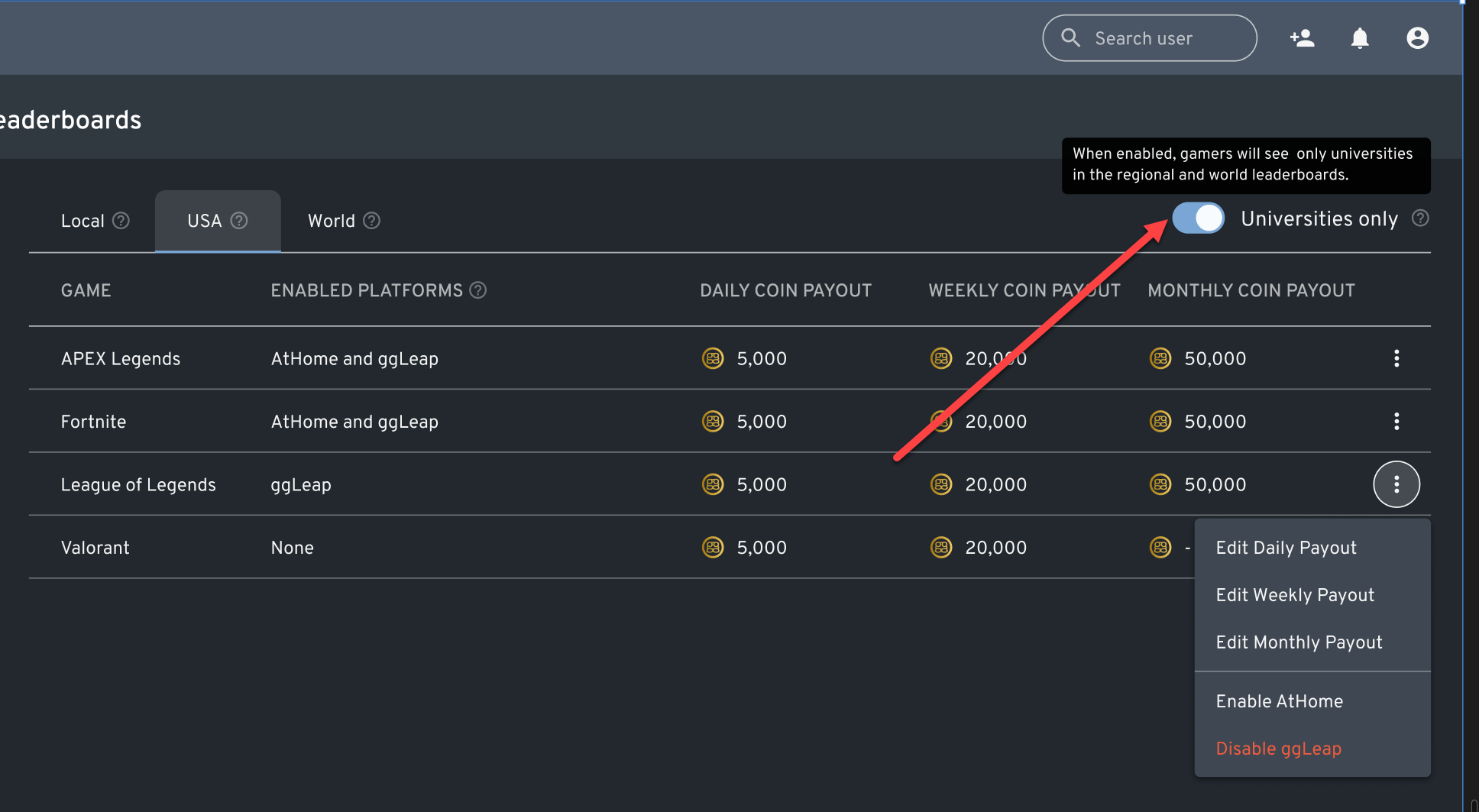 Universities can opt to remove non-universities from their leaderboards
The leaderboards can be enabled for both the ggLeap and ggHome clients which is to be released early in October.
You can set the number of coins that can be won by players in each duration as shown below. Each center should decide the number of coins that can be won in any leaderboard competition.
Sign up for ggCircuit Updates!
Notable features of the new leaderboards
This release lets you choose which games you want to enable for the leaderboards. This can be a very useful option since a game's popularity can vary in every esports venue.
There's also the addition of the coin payout history so you can review how many coins were given out and which players earned them. Reviewing the past performance of players based on their coin earnings can be helpful for center admins that are scouting professional players to represent them in esports events.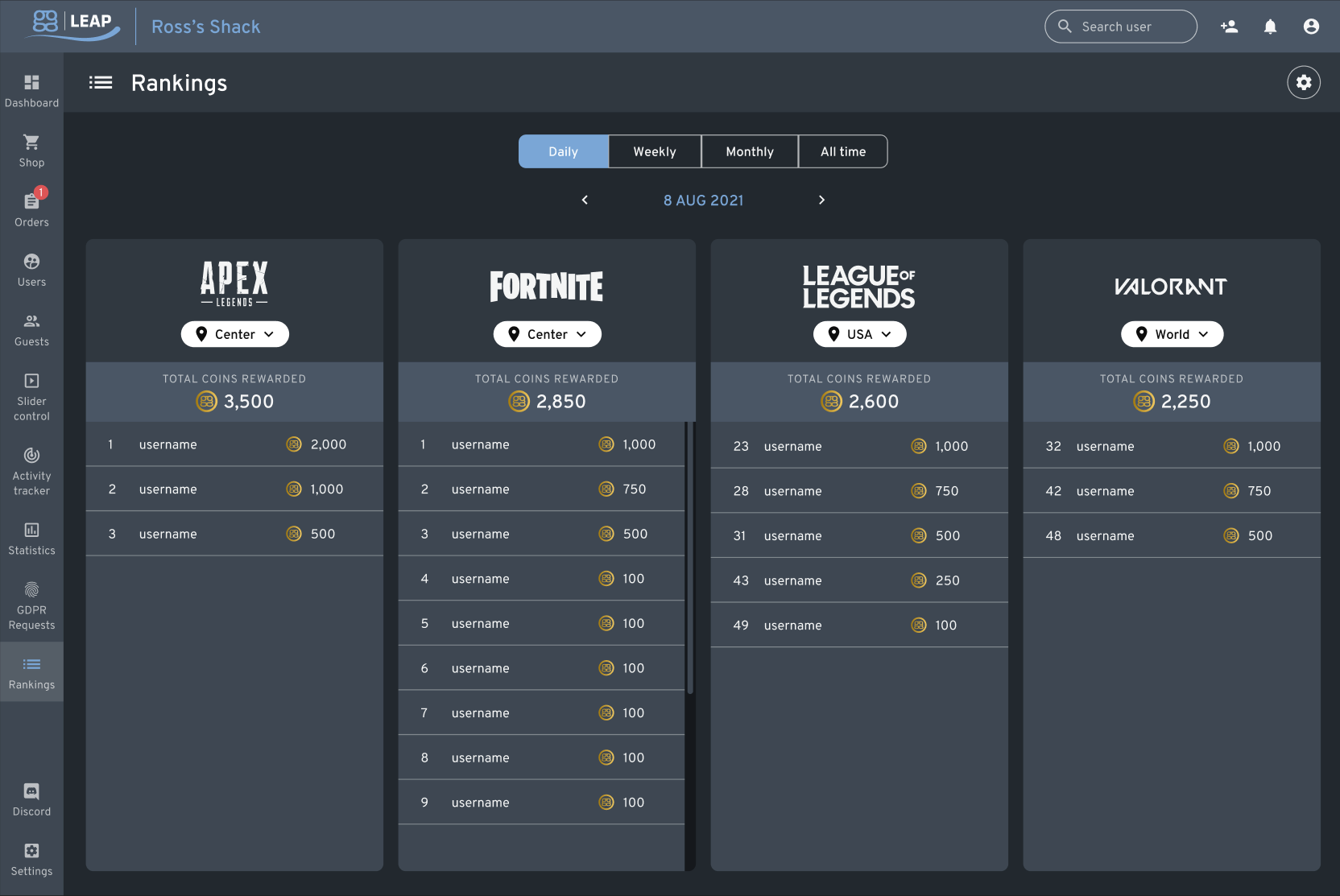 The new coin payout history should enable you to monitor how much coins you have given away
On the client side, players that participated will receive a message to notify them of the result of their efforts once a leaderboard's duration is over. A winning player will be notified that they earned X amount of coins, while a losing player will be informed that they failed to reach the minimum rank to win coins.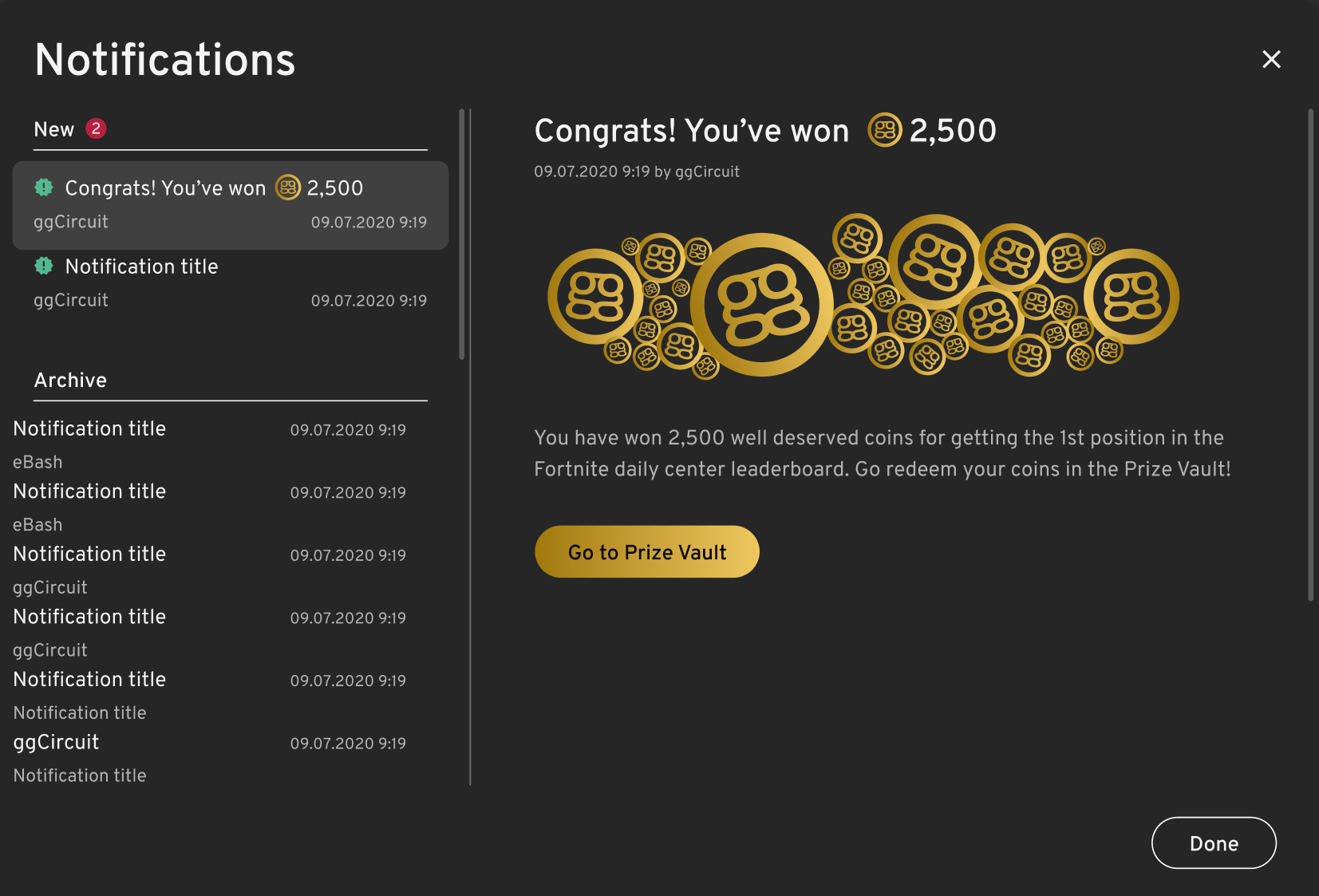 Here's what a winning player will receive in their notifications
Other improvements with the update
The recent update also saw other minor improvements on the web admin and client.
Ability to expand the catalog menu in the client shop if there are more than 12 items being shown in a category.
Updated the error message when trying to install ggLeap on another machine after the subscription limit has been reached.
Addressed the issue with the health gauge of Guest sessions.
Additional Info field added under the Bank Details section of the ggCrypto settings.
UTC is removed in the date/time field of the Schedule PC reservation modal.
Video background preview in Customization page has been improved.
The default PC/User groups are no longer auto-selected when creating a new license pool.
Click here to test the ggLeap client!

More features coming soon
We are not done yet improving how the ggLeap client can enhance the gaming experience of your customers and streamline the way you manage your esports center business. Watch this space!
More information about the release and FAQs can be found on our changelog. Don't hesitate to contact us if you have questions about the update.