ggCircuit Welcomes the New October Esports Venue Subscribers and Industry Updates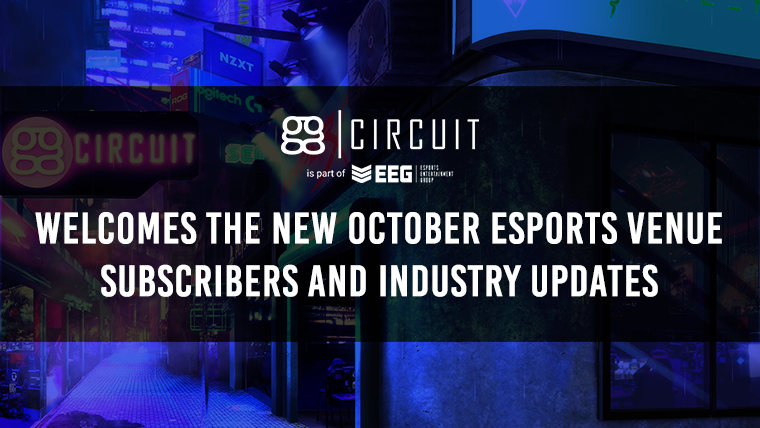 ggCircuit is excited to announce the new esports venue subscribers to join our network last October. These esports gaming centers include:
Banana's Gaming
Reeves Gaming
ElyzzLabseSports Inc.
RGB Gaming Center
ggCircuit welcomes all of the new subscribers listed above. Our team is sincerely happy to have these amazing esports venues join our network and take part in the best esports community in the world.
As always, ggCircuit will work with all of these gaming centers to help with any of their esports needs.
ggCircuit's October Industry Updates for Esports Venues and Gaming Centers
There have been a lot of positive changes with the ggCircuit network in the month of October. Below are the latest updates on the following categories:
Active Centers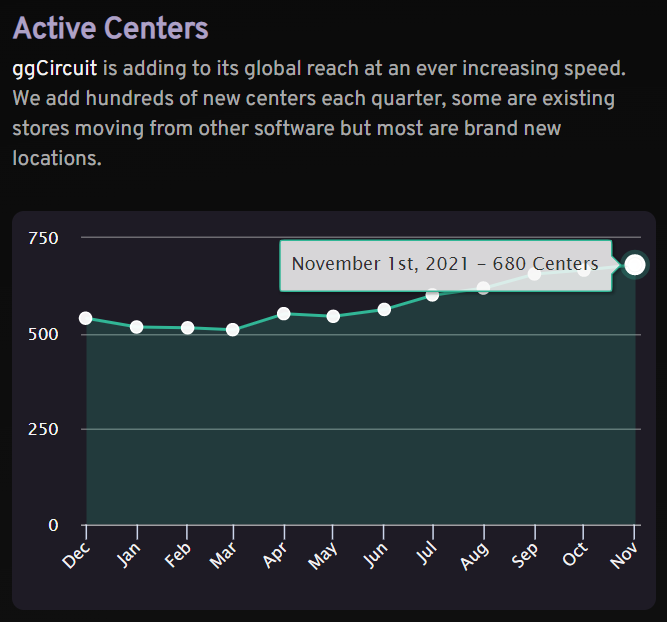 October saw a 2.1% increase in the active centers in the network
As of October 2021, ggCircuit now has a total of 680 active centers that have joined the network. This means that 24 new esports centers have joined since August 2021.
Players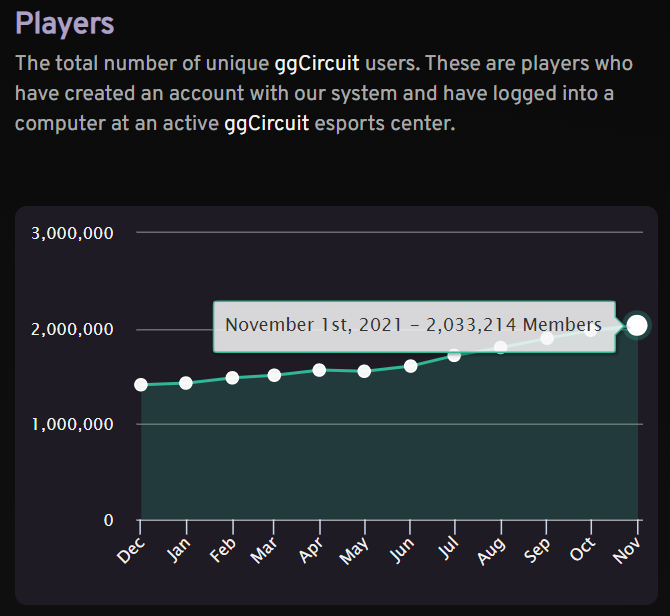 The player count grew by 2.61% in a span of one month
ggCircuit continues to see indications that people still love competitive esports gaming events and want to continue supporting their preferred gaming arena. We have recorded a total number of 2,033,214 players from all esports venues connected to our network.
Compared to the player counter a couple of months ago which was at 1,897,637, ggCircuit has seen an increase of more than 130,000 players last October. Such statistics show that the industry is beginning to recover from the COVID-19 pandemic and that people are starting to return to gaming, which is exciting news for many.
If the trend continues to go up we can probably expect esports centers to hold more local tournaments in the future.
Sign up for ggCircuit Updates!
PCs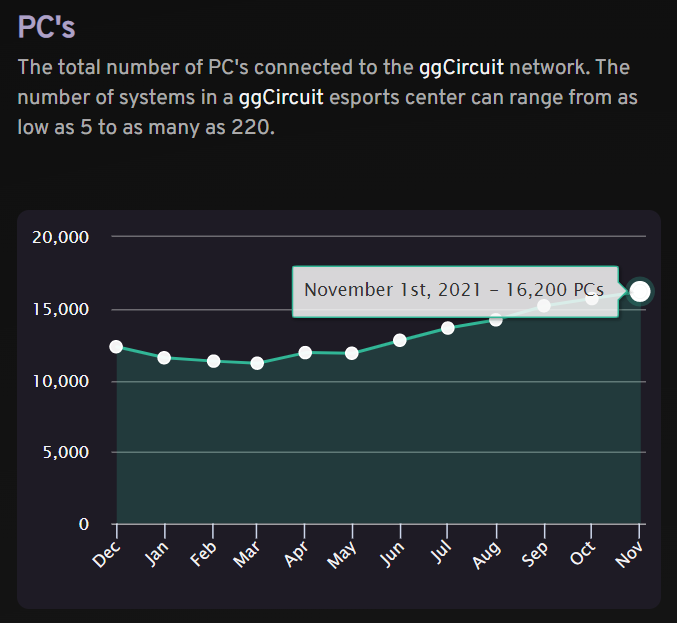 The total number of PCs went up by 3.17%
For the total number of PCs that are now part of the ggCircuit network, there are now 16,200 personal computers connected to the ggLeap platform. Each esports center is capable of supporting anywhere from around 5-200 computer systems on their premises. Of course, the number of units will also depend on the size of the location.
Consoles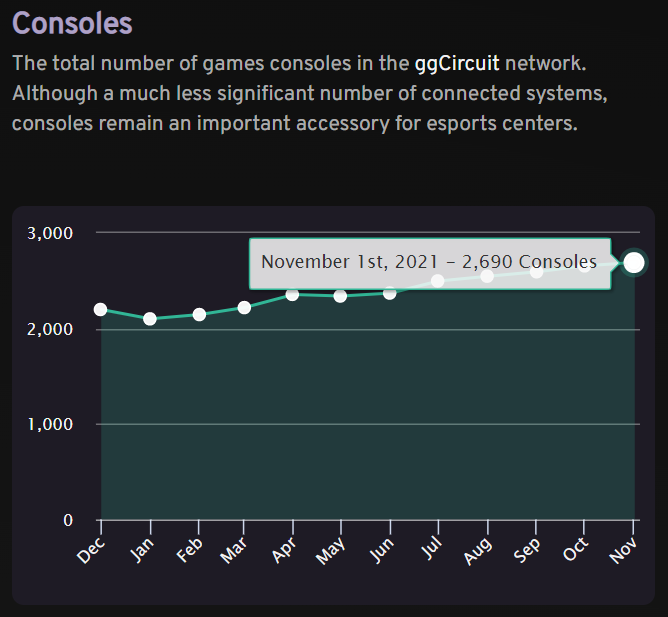 Consoles had a 1.28% growth in October despite having shortages in the supply of current-generation gaming hardware
For console users and esports venues that support these devices, they have seen an increase in the numbers connected to the ggCircuit network. From 2,594 consoles last August, there are now a total of 2,690 units reported for the month of October.
Click here to test the ggLeap client!

Top Games Played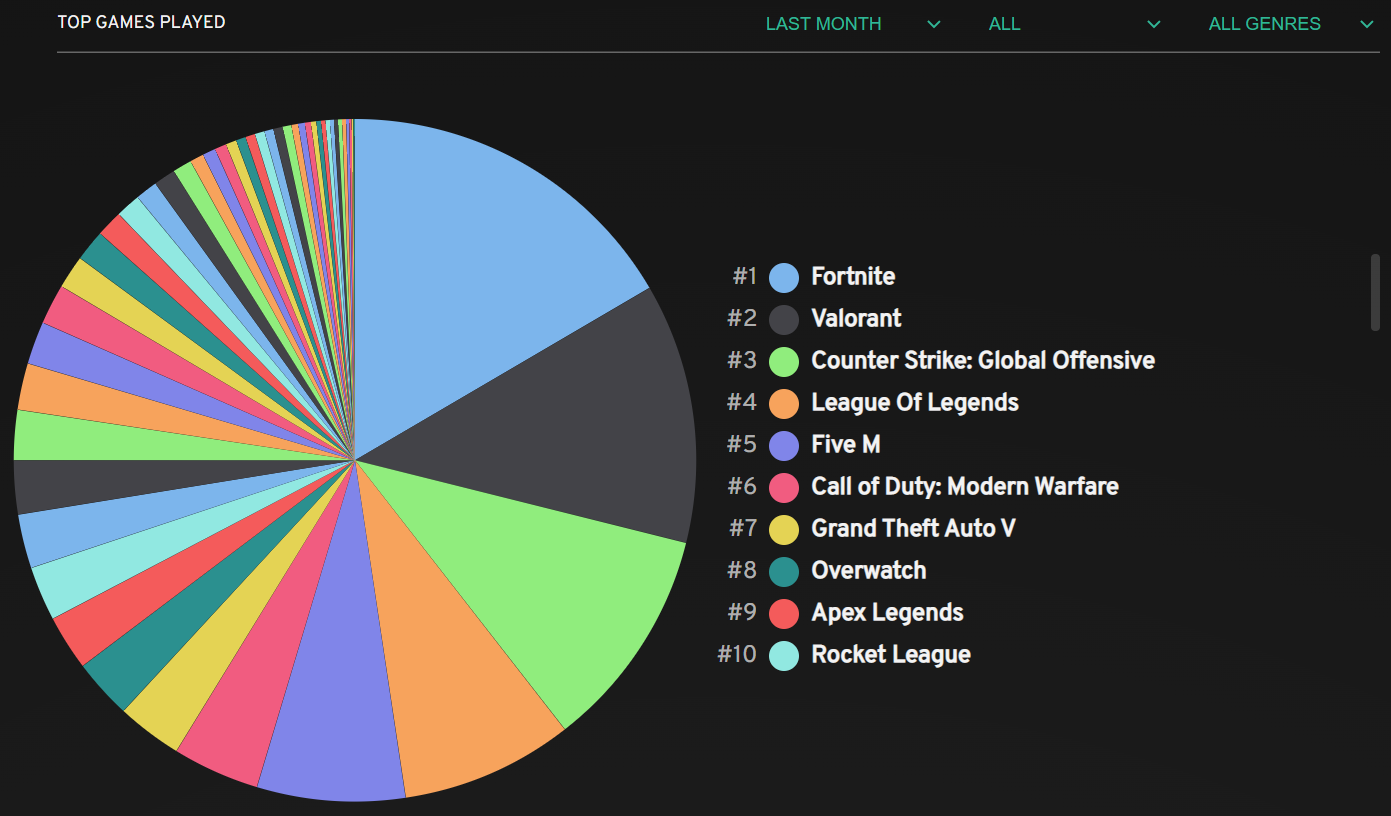 Fortnite is still the undisputed esports title in the ggCircuit network in the world
Moving on to the top games that were played in the previous month, Fortnite still sits at the top of the chart as the game with the highest number of event game launches, hours played, and unique players involved. The average total playing time for players here amounted to about 5 hours and 12 minutes.
The second game that also reigns supreme on the list is Valorant. It has a total of 130,663 game launches and 26,125 unique users that play the free game. The total hours played for this game reached 154,076 with an average total playtime of 5 hours and 53 minutes.
As for the third top video game, Counter-Strike: Global Offensive also maintains a grip on its ranking. It had a total of 111,995 game launches and 21,129 new players added to its records. The average total playtime for Counter-Strike is higher than the top video game at 5 hours and 47 minutes.
Number four on the top video games list is League of Legends with a total number of game launches sitting at 86,722. The MOBA had 17,152 unique players added and game time averaged at about 6 hours and 16 minutes.
These are the other video games that have topped the games list in the month of October:
Five M
Call of Duty: Modern Warfare
Grand Theft Auto V
Overwatch
Apex Legends
Rocket League
Dota 2
Call of Duty Warzone
Minecraft
Player Unknown's Battlegrounds (PUBG)
Among Us
Call of Duty: Black Ops Cold War
Fall Guys
Rainbow Six Siege
Roblox
Conclusion
That concludes our industry updates for the month of October. The above statistics show that there are a growing number of people who are investing in esports gaming centers and that gamers around the world are coming back into the fold.
It also goes to show that esports communities can rise up once again despite this being one of the toughest years in history. ggCircuit is looking forward to seeing the esports centers get back on their feet and provide countless gaming hours to players around the world.