ggCircuit Welcomes the New August eSports Venue Subscribers and Industry Updates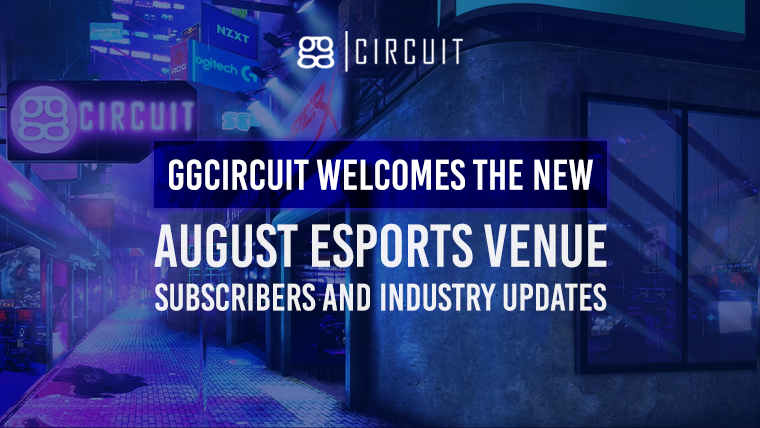 ggCircuit is proud to announce and welcome our newest paid subscribers of August 2021!
As you already know, we've been working hard with other esports centers to develop a huge community where all of their players can play video games and interact with fellow gamers.
Our new subscribers as of August 2021 are listed below:
Gametime - Riyadh
PC BANG SARL
SektorCyberClubVL-LG
Last Games Cafe
We are truly ecstatic to have all of you join us here at ggCircuit and we are ready to take your online events to the next level.
To all our new esports venue subscribers, we'd like you to know that everyone here at the company is looking forward to having harmonious relations with each of your establishments.
Now that we've introduced our awesome new subscribers, let's discuss the industry updates next.
ggCircuit's Industry Updates for eSports Venues and Gaming Centers
So how has the esports industry changed in the past month? As of last August 2021, the total number of active gaming centers under ggCircuit is 656.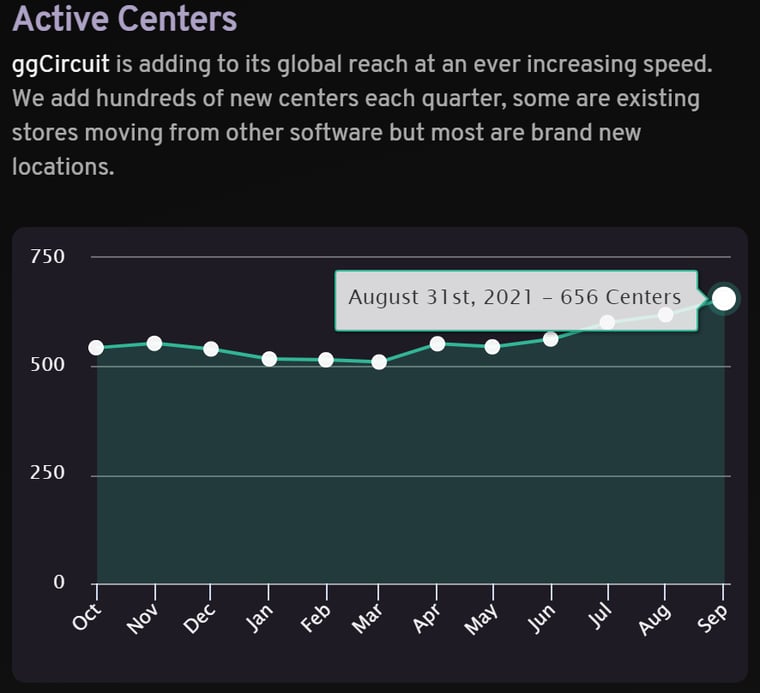 The recent uptrend shows that esports centers are slowly re-opening their business
We continue to see a continuous increase in our global reach at bringing esports venues into our fold. For instance, we were able to connect to more than a hundred new centers from April 2021 to August 2021 alone.
This growth in our subscriber count is a sign that the esports venue industry is as strong as ever despite the challenges presented by the ongoing COVID-19 pandemic.
Sign up for ggCircuit Updates!
At ggCircuit, we are constantly adding hundreds of new gaming centers every quarter. Some of these locations are already established venues that are transferring to our platform but many of them are brand new.
The total number of unique users in our ggCircuit platform has reached 1,897,637 and counting. All of these players are individuals who have set up an account using our system and were able to log into a computer through one of our active esports facilities.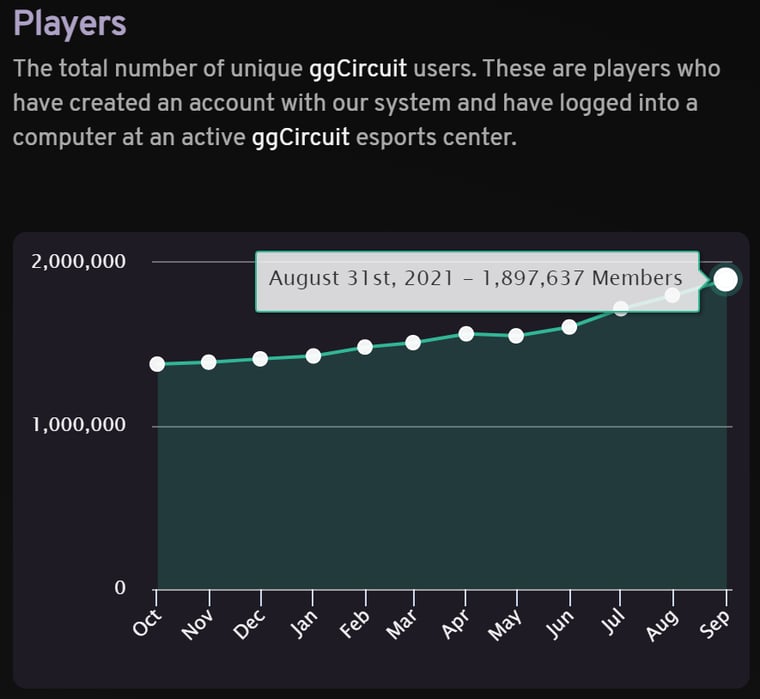 This graph shows the total number of users in the ggCircuit network around the world
We also take into account the total number of PCs that have connected to the ggCircuit network. There have been 15,200 personal computers thus far that linked up to our platform since August 2021. To put this in perspective, an esports gaming center can have as little as 5 or as many as 220 computer systems available.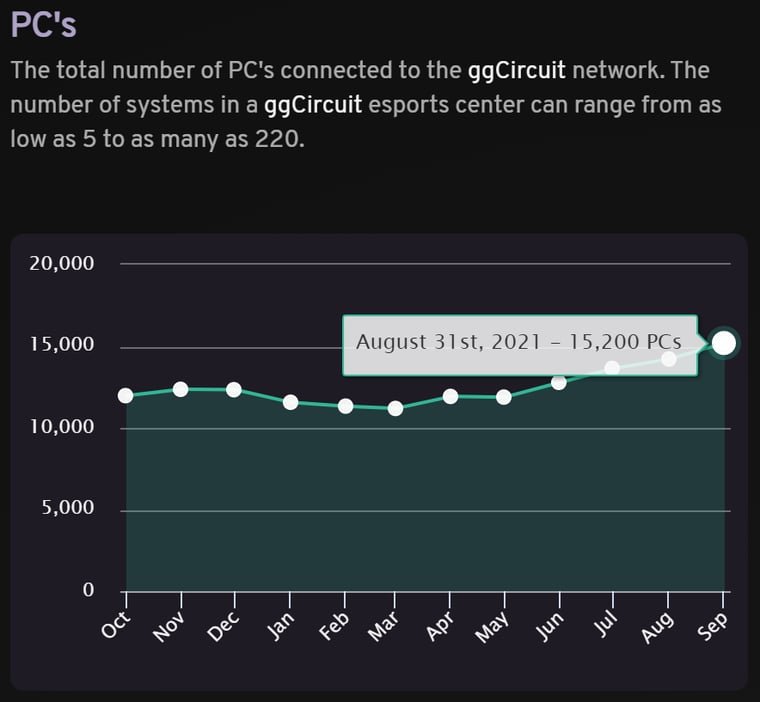 The connected PCs in our network has been growing steadily in the past few months
But we don't limit ourselves to desktop and laptop computers only – we also let console gamers join and have fun in our community. Console gaming can be quite competitive as well especially when there's a major tournament happening at the site.
As of August 2021, a total number of 2,594 consoles were recorded in the ggCircuit platform. Despite being a lesser number compared to computers, consoles are still a vital accessory in modern esports centers.
While not as popular as PCs when it comes to esports games, consoles have been an integral part of an esports center
Finally, let's discuss the top games that were played in the previous month. I'm sure you're as interested as we are in the statistics that have been recorded by our system.
So the video game that had the highest number of event game launches, hours played, and unique players was Fortnite. It is followed by Valorant in second place, Counter Strike: Global Offensive at third, League of Legends at number four, and Call of Duty: Modern Warfare at the fifth spot.
One can only imagine the number of newbie and even professional players who took part in hosted matches per hour and dedicated tournaments each week.
Click here to test the ggLeap client!

The other games that people had been playing most after the top five are:
Grand Theft Auto V
Apex Legends
Call of Duty Warzone
Player Unknown's Battlegrounds (PUBG)
Call of Duty: Black Ops Cold War
Dota 2
Overwatch
Rocket League
Minecraft
Among Us
Rainbow Six Siege
Fall Guys
Counter Strike 1.6
Roblox
Player Unknown Battlegrounds (PUBG)
mobile
Left 4 Dead 2
GameLoop Emulator
Dead By Daylight
Garena Free Fire
Rust Online
Battlefield V
Genshin Impact
Phasmophobia
Warface
Osu!
Call of Duty Black Ops 4
World of Tanks
FiveM
FIFA 21
Brawlhalla
Destiny 2
Team Fortress 2
Garry's Mod
Classic World of Warcraft
Black Squad
Tom Clancy's Rainbow Six Siege (Uplay)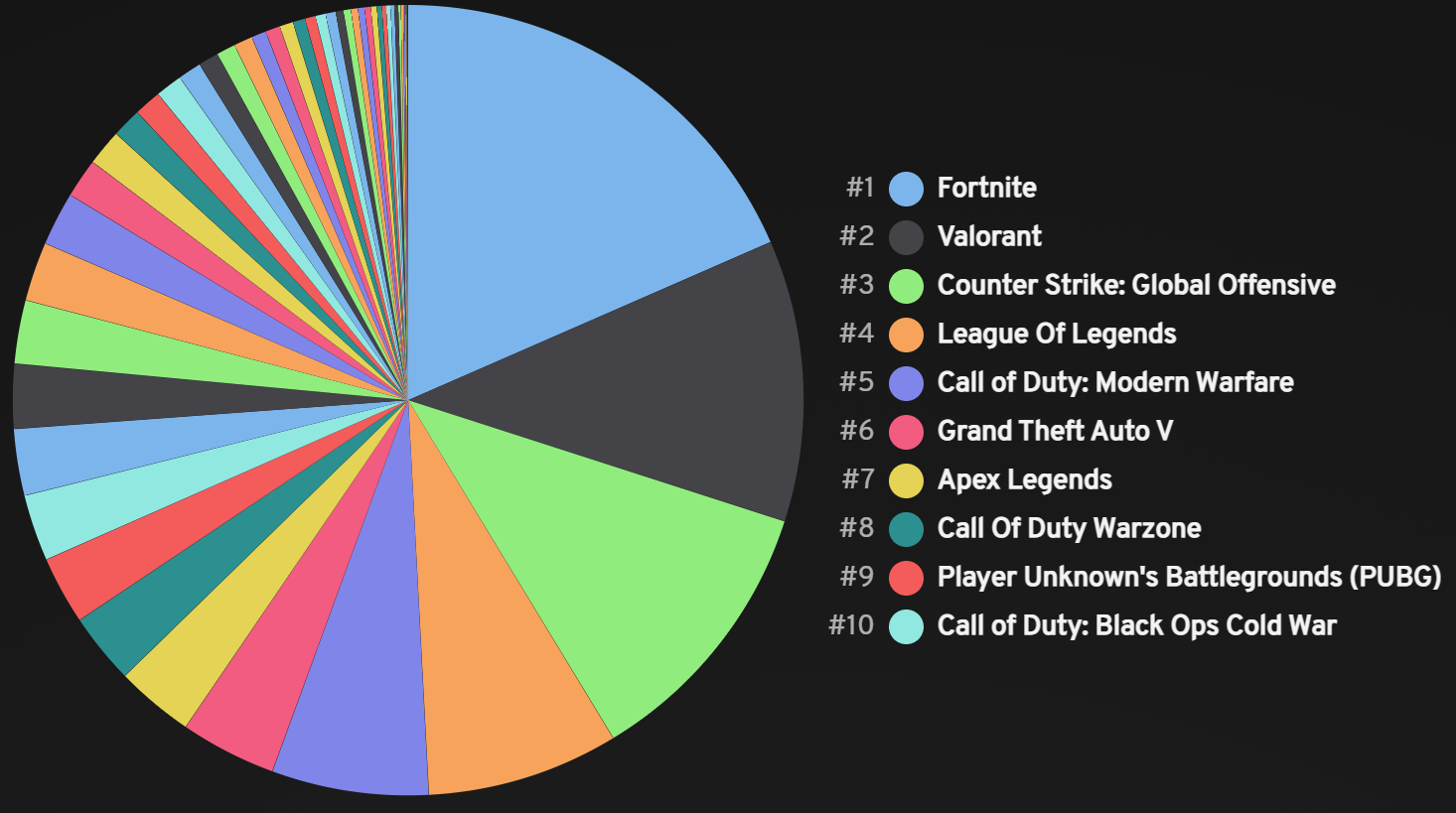 Our last month's top played games
Conclusion
With our new gaming center subscribers and the positive metrics shown on the industry updates, we can see that the future of esports gaming continues to grow. These are important because they show that people are becoming more interested and involved despite the setbacks caused by the pandemic.
Once again, we welcome our new subscribers to the ggCircuit community and we hope you enjoy the ride.
Here's to a booming business in the coming years!