ggCircuit Townhall #15 - OMEGA Esports Gaming Attraction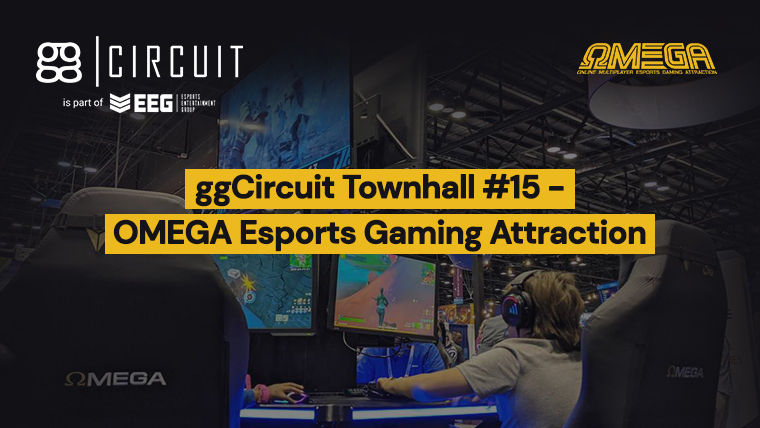 The ggCircuit guys are back for another episode of the ggCircuit Townhall video discussing ggCircuit's new esports attraction package, OMEGA.
We announced this product at the IAAPA Expo 2021, and many of you have contacted us looking for more OMEGA (Online Multiplayer Esports Gaming Attraction) information. We hope to provide relevant information about this new esports business package in this article.
Reinventing The Gaming Experience
Nowadays, it's easy to play video games at home, and apps such as Discord have made social gaming a strictly online affair. Therefore, esports venue operators must be creative and develop programs such as birthday parties, events, LAN parties, lock-ins to keep them afloat financially.
OMEGA will provide a fun esports experience for gamers
And to keep the gamers coming back to their center, venue owners have to provide something unique and can't be experienced at home. ggCircuit has always been an advocate of providing a social setting for gamers, and that's why we had built a system that will engage gamers and incentivize playing in an esports venue via ggLeap's loyalty system and automated game tracking.
Those features will also be present in OMEGA and will provide a fun and casual immersive gaming experience unlike they have seen in a regular esports venue. In addition, OMEGA will allow players to win something even if they are not particularly competitive and will be more focused on fun, an aspect that is now sadly overlooked in gaming centers.
ggCircuit's concept of OMEGA was based on the coin-operated arcade machines. For example, a movie theater can place arcade cabinets in its lobby. Players can casually insert a quarter and start playing without a long-term investment and have fun.
This self-service concept lends itself perfectly to businesses with existing revenues as they do not need to have a dedicated staff to run the esports attraction. OMEGA can practically run itself... well, almost.
Sign up for ggCircuit Updates!
Self-Service Features and Automatic Game Tracking
ggCircuit has added a QR code payment system to allow gamers to conveniently and safely pay to use a PC. NFC card systems as a payment method are also supported.
The OMEGA package includes high-end computers and custom desks with LED lighting
OMEGA's automatic game tracking system will collect data from our supported esports games and allow a gamer to earn "credits." Prizes such as gift cards can be redeemed using credits earned by playing or completing objectives and tasks in games.
These features can and will work even without an employee. An excellent example of this is a movie theater, we can place an OMEGA set up in the lobby, a gamer can play for a couple of hours, earn some credits, and redeem a movie ticket that they can use in the exact location!
Due to the self-service nature of OMEGA, the only reasons to hire someone are to make sure that the hardware does not get stolen and maintain the cleanliness of the stations.
Stimulating Visual and Experience
In order to heighten the experience with OMEGA, ggCircuit has added LED lighting in the included custom desks in the package that will visually tell gamers that something exciting is happening, such as the hourly "supply drop" (which is tied to OMEGA's lore) that will enable them to earn more credits.
Information will then be posted on the TV monitors to tell gamers how much time remains for a supply drop and the usernames with the highest percentage of winning it. These will be accompanied by auditory cues that will heighten the gamers' excitement level at what's happening.
Players with high points will be given a higher percentage of winning the prize. But winners will be selected via a roulette-style selection system, which means casual players can still participate. So a gamer's logged hours or skills in an esports title will not hinder them from being included in this exciting event with OMEGA.
ggCircuit will be adding a feature that will allow regular esports venues to utilize OMEGA mode on their PCs and may see a January or February 2022 release.
OMEGA Faction System
OMEGA is not only a solo journey but can also provide competitions for teams. In the OMEGA system, this is called a faction. Each six-station OMEGA system is given a faction name and mascot. This becomes a nationwide competition as well with faction leaderboards. Our initial OMEGA pilot locations in Indiana and Arizona have taken part in testing OMEGA's faction system. The participating players began taking pride in faction loyalty.
ggCircuit is planning to give away jerseys as a prize for the weekly top player of a faction as another prize option. There will be no additional work to determine the top player as OMEGA's leaderboard will automatically show it.
Another thing that we are looking forward to once there are sufficient OMEGA locations around the world is the "faction vs. faction" events which will promise bigger supply drops!
Why Esports Attractions is The Future of This Industry?
We at ggCircuit think there is still a place for esports video game competitions, but it only accounts for a tiny percentage of players, and we developed OMEGA to cater to the 5 Cs of gaming. The billion-dollar industry that is esports has caught the attention of other business industries that want to cash in on its success.
We developed the OMEGA platform to fit into existing business models such as family entertainment centers, movie theaters, hotels, and casinos. These businesses can add esports using OMEGA, and they will not worry about losing focus of their primary business. Also, this package can be operated without being technologically savvy or need to hire a dedicated IT person to manage it.
Concerns Regarding ggCircuit's Stance About The Esports Venue Industry
ggCircuit has been an esports company since its inception, and we believe in bringing together gamers from all walks of life using our software. However, our recent stance regarding esports venues has caused some operators to be concerned about this industry.
We want to reiterate that we are still very optimistic about this industry, and esports tournaments are still an essential aspect of social gaming. However, esports is an ever-changing business landscape, and to survive, we need to adapt to the changes. We believe that the esports venue model is more effective when added to an existing business as an attraction.
Having another revenue stream to complement esports is another effective way to stay in business. Some video game arcades have adopted this and have successfully done so. We are, in fact, in talks with several companies in Europe, including one that operates a chain of bowling alleys. They are interested in adding esports to their existing revenue stream to cater to the audience interested in playing video games.
It has been observed during our many events and tournaments that only a tiny percentage of players are interested in participating. While the old esports venue business model can still be profitable, the chance of actually being successful is very slim.
Are Esports And Gaming The Same?
In our humble opinion that esports and gaming, in general, are the same thing. However, esports focuses more on the competitive aspect of gaming, and it doesn't matter if it's a multiplayer or points-based type. The introduction of gaming tournaments has contributed to the growth of the video games industry, but single-player games remain as popular as ever.
So it is only wise that we attract every gamer, not just the competitive ones. The OMEGA platform incentivizes gaming regardless of a gamer's skills, and the focus on the fun aspect of gaming will keep them coming back for more!
Head to our OMEGA website for more information and contact our sales team at sales@ggcircuit.com if you are interested in having your esports attraction.