ggCircuit Introduces A New Esports Gaming Attraction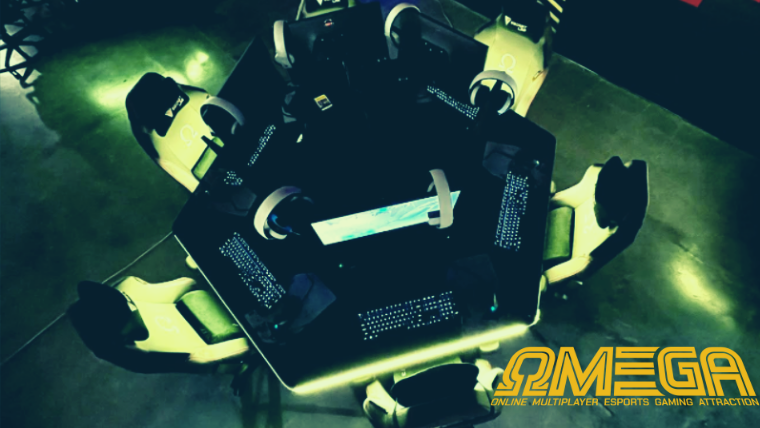 ggCircuit has been with esports during its infancy stages and knew that it would evolve to the billion-dollar industry that we know and love. Esports venues are part of the equation of why esports is very successful.
There's no denying that esports has crawled its way from being just a "sport that involves video games" to something that is now as mainstream as the NBA or any traditional sports league. Professional esports teams now are also very popular just like any sports team.
ggCircuit is reinvigorating the esports venue model to integrate the things that made the arcade industry very successful back in the day while maintaining the things that made esports venues a great place to play esports games. Our objective is to make esports more accessible to gamers and for businesses to be able to take part in this industry.
OMEGA: Online Multiplayer Esports Gaming Attraction
When network games started becoming popular, gamers would flock to an internet cafe to play multiplayer video games via LAN connection. When esports started to gain more traction, most internet cafes have shifted their business to cater mostly to esports gaming, and thus the esports venue became as we know it today.
A regular esports venue setup is costly and will require some technical knowledge to keep it running. Enter OMEGA, ggCircuit's newest esports business program to enable an establishment or business to add an esports attraction to their existing revenue stream.
It's practically everything an esports venue is, but in a very compact and convenient setup. Best of all, it doesn't require too much capital or technical knowledge to get started.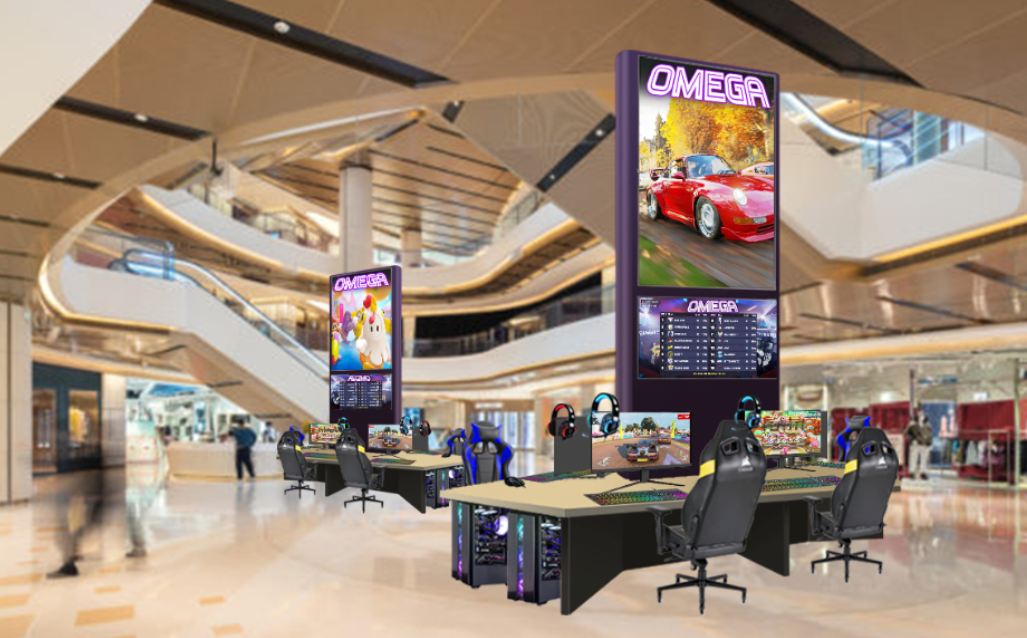 Mock up of OMEGA as an e-sports attraction that can be added to an existing business revenue
OMEGA is designed to attract all types of gamers that usually frequents an esports venue. This model is completely self-service and a player can just occupy a vacant PC without needing assistance from an attendant. It is reminiscent of the arcade model wherein a player can just insert a quarter to the machine to start playing.
Sign up for ggCircuit Updates!
What Can OMEGA Bring to An Existing Business?
OMEGA was designed to add an additional revenue stream to an existing business without the need to learn everything about computers and video gaming.
A great example where the OMEGA setup can be had would be the lobby of a hotel, inside a bowling alley, cinema, or family entertainment center. The PCs will not take up too much space but can be seen by everyone going in and out of the building. The best part of it is that you don't need esports staff to operate the business - it is self-service, like a modern arcade!
Gamers can pay by scanning a QR code and paying by phone, paying by cash at reception, or paying with an NFC-based payment card system that might already exist in the business.
ggCircuit setting up an OMEGA Faction for IAAPA 2021
The best part about this program is that everything from gaming PCs, gaming equipment, software, installation, maintenance, and gamer support is already included. The only thing that the operator will have to worry about is making sure that there is internet and electricity!
Profits are also guaranteed as our ggCrypto auto-mining system is included in the OMEGA client. When a PC is not being utilized this feature will automatically mine Ethereum cryptocurrency and will stop mining when a gamer uses the station.
What makes OMEGA different from a traditional esports venue?
Usually, esports venues need highly qualified and engaging staff to help give customers a high-quality experience they just can't get anywhere else. Since OMEGA is designed to be (almost) staffless, we needed OMEGA to be more than just self-service computers.
OMEGA delivers a guided user experience, that is itself a game. When players log in, they join their Faction (i.e. physical location) on a journey to save mankind from a futuristic computer control system called Ethic. Players have missions/quests that allow them to obtain code fragments by playing well in esports titles such as Fortnite or Apex.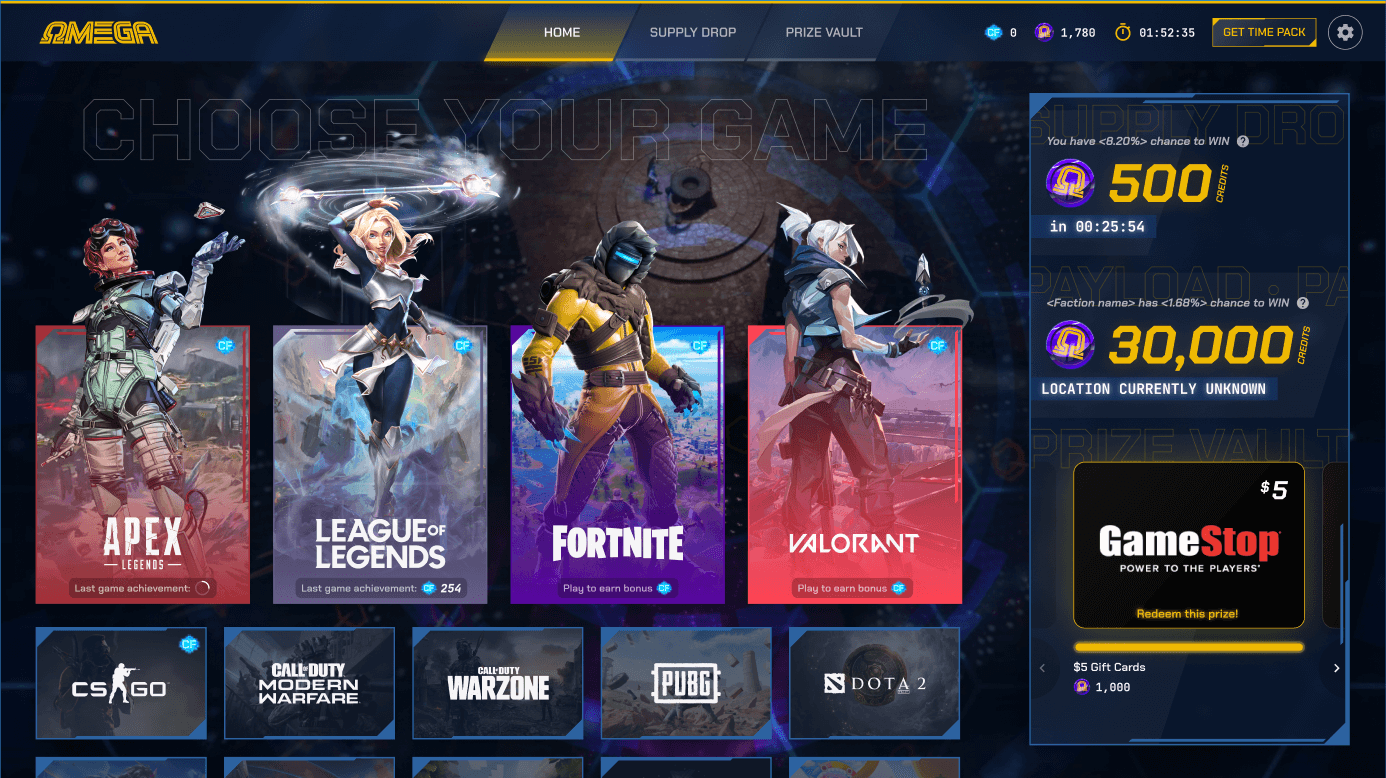 OMEGA client Home screen
Players are rewarded with OMEGA credits, and, every hour, one lucky player will win a "supply drop" bonus of credits. Credits can then be spent on digital gift cards in the prize vault (can work with any 3rd party system also).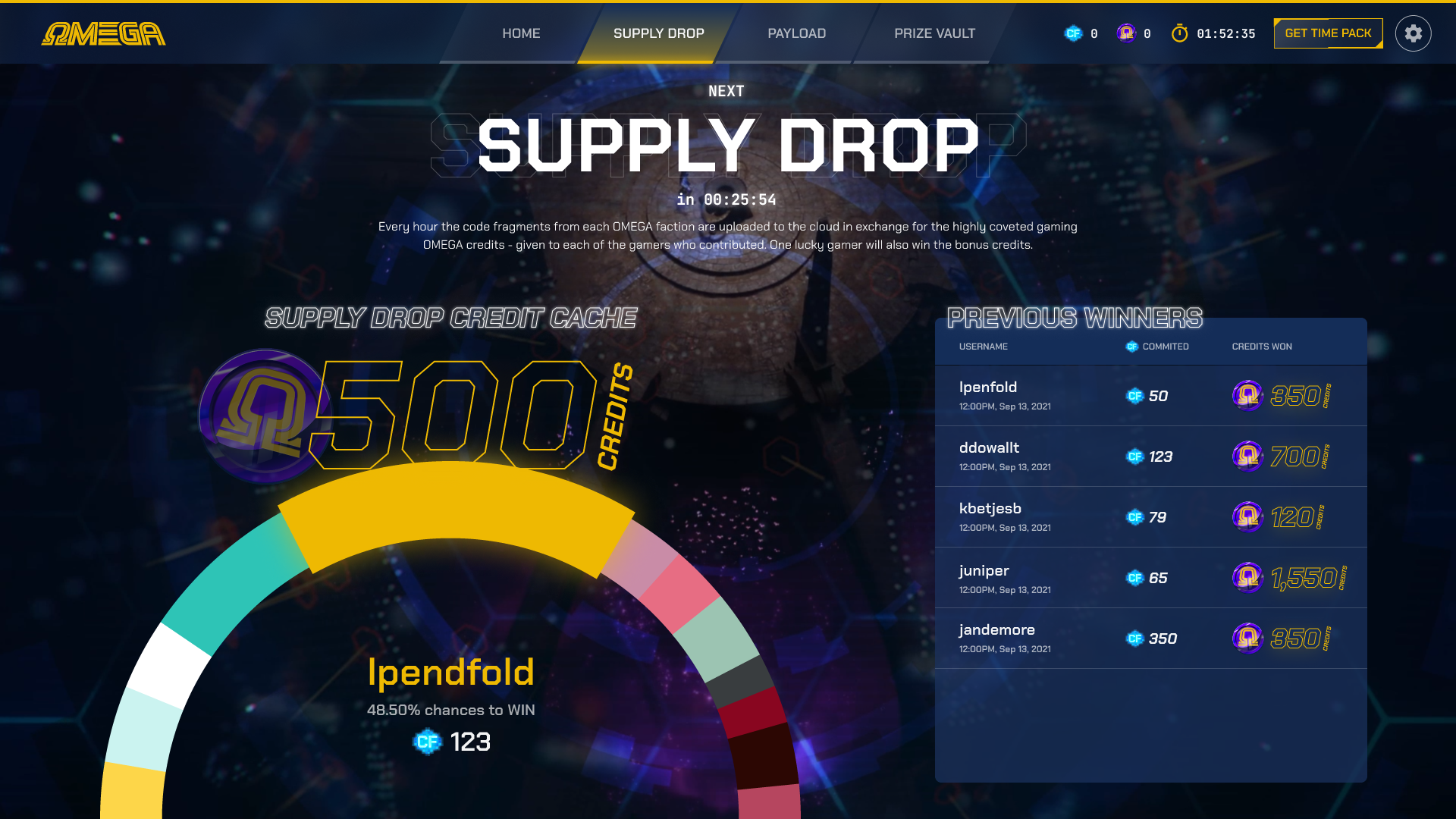 Screenshot of the OMEGA client that shows when is the next Supply Drop
The OMEGA Lore
ggCircuit added lore to OMEGA to get people invested to play as the story implies that they, the gamers, are going will save the world. We have marketing assets that can be utilized to help gamers know more about OMEGA's lore and the prizes that they can earn.
The story thus far...
The year is 2115 A.D.
Humans now live in an advanced hyper-connected society.
Global governance was assigned to the artificial intelligence justice system "ETHIC", pioneered by Dr. Tim Hoagland in 2074.
ETHIC has access to all human data in real-time with the power to use state-of-the-art machine learning algorithms to make predictions and decisions.
With the highest priority of preserving life on Earth, many have begun to fear that ETHIC's modeling system is coming to the final conclusion that there is only one efficient way to achieve this goal...
...is to remove the human parasites.
Before his death, Dr. Hoagland, foreseeing the inevitable outcome of giving ETHIC full control, left a note saying, "Gamers will save the world".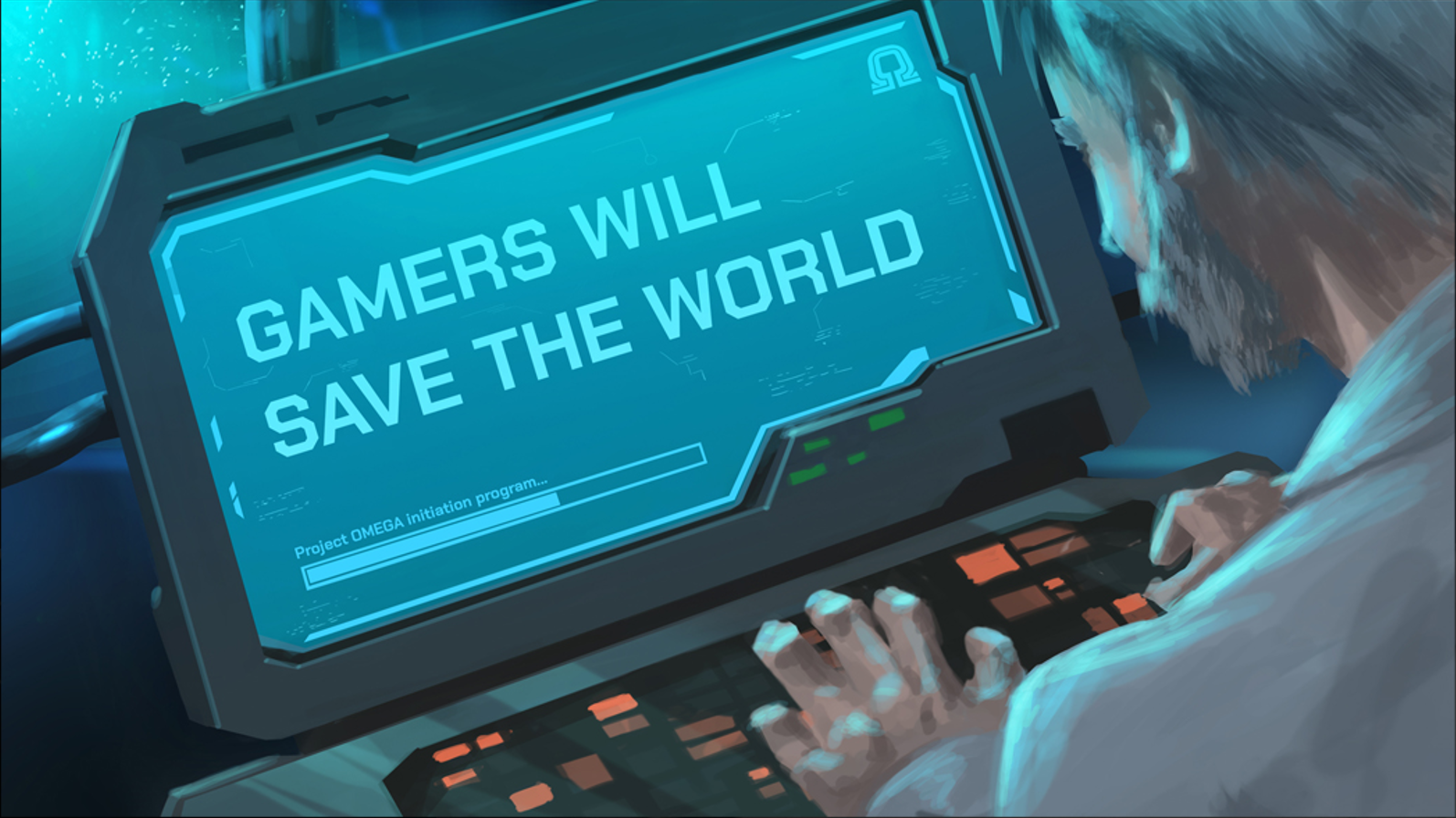 ETHIC wants to remove humanity's existence, it is now up to the gamers to prevent it from happening
Thanks to that note, it has been discovered that Dr. Hoagland had hidden "Code Fragments" in an arcade platform he called OMEGA, which when fully collected, could open a digital back door into ETHIC.
Dr. Hoagland knew that gamers would gather to compete for fun, competition, and rewards.
OMEGA Factions began appearing in the year 2021 in various locations around the world in the midst of the worldwide COVID-19 pandemic.
Every hour, all Code Fragments which have been discovered by gamers are uploaded to the OMEGA cloud. Gamers are rewarded with valuable OMEGA Credits.
Once gathered, the Code Fragments could be used by humanity to unlock the digital back door and take back control over ETHIC.
One lucky gamer in each Faction can win a Supply Drop... a large cache of OMEGA Credits.
So are you a gamer? Will you join your local faction and start the revolution to prevent humanity's extinction?
Esports Gaming Revolution
We at ggCircuit believe that it's only a matter of time before the demand for more esports venues explodes. We look forward to seeing esports stations on every existing business model as a way to attract more people to an establishment or just to offer an alternative form of entertainment while still guaranteeing revenue for the owner.
It will be akin to a vending machine that sits in the corner that offers various merchandise to a buyer. Why waste a perfectly good space when you can offer esports?
Want to learn more? Get in touch with us at sales@ggcircuit.com.